Logistic Management
Optimizing Logistical Packaging for Product Distribution
26 February 2023
| Process Steps | Optimization | Possible Challenges |
| --- | --- | --- |
| Collating and consolidating items at production point | Using eco-friendly, minimal resources packaging materials | Need for investing in additional resources and recruitments |
| Shrink-wrapping or boxing the items | Choosing packaging with potential for reusing, recycling, or composting after use | Awareness of and compliance to eco-friendly packaging processes |
| Ensuring packaging is strong enough to withstand shocks, moisture, and other external conditions | Optimizing container selection to reduce deficiencies and damages | Incorporating a wider variety of container sizes and shapes |
| Reducing product damage while storing and transporting | Using RFID tags for better tracking and inventory management | Increased need for data handling and analysis skills |
| Organizing items for easy identification and counting | Further optimization through digital tracking and inventory management software | Training personnel in using advanced digital tracking tools and software |
| Reducing labor costs associated with product distribution | Training personnel in advanced logistical practices and container usage | Need for further training and possibly, staff recruitment |
| Packing larger volumes in fewer containers | Using a combination of air, ground, and sea transportation to reduce transport costs | Understanding and conforming to transport regulations of different countries |
| Reducing packing and transportation costs | Implementing real-time visibility across the entire logistical network | Ensuring adequate technical support and systems for real-time digital tracking |
| Reducing product waste | Using biodegradable, non-toxic packaging materials | Sourcing such materials consistently and economically |
| Ensuring smoother product distribution | Continually reviewing and upgrading in response to latest techniques and regulations | Balancing cost, resources, and regulation requirements efficiently |
Product distribution is one of the most important aspects of modern Supply Chain Management. It involves deploying a product from its production point to its final destination, ensuring that it reaches the right people in the right quantities and in a timely and efficient manner. Logistical packaging is a vital part of this process, as it helps to ensure that products are properly stored and transported. This blog post will examine the process of logistical packaging, discuss how it can be optimized and improved, and provide some valuable resources for further information.
The Logistical Packaging Process
Logistical packaging is securing, protecting, and packaging products for storage, transport, and delivery. This process starts at the point of production, where items need to be collated and consolidated. Once the products have been grouped, they are either shrinkwrapped or placed in boxes or sacks, depending on their size and weight. Ideally, the packaging should be strong enough to resist shock, moisture, and other external conditions so that the products remain in their original state throughout their journey.
There are several benefits to the logistical packaging process:
First, it helps reduce the potential for damage while the products are stored and transported.

It allows for more accessible organization, allowing teams to quickly and accurately identify and count items.

It reduces the labor costs associated with product distribution.
Businesses can pack larger volumes in fewer containers, reducing packing and transportation costs.
Optimizing the Proces
It is possible to make several suggested improvements to the process of logistical packaging. Firstly, businesses should consider how their packaging can reduce product waste. They should ensure that the materials used to package the items are free of toxins, non-toxic and biodegradable, and use minimal resources. They should also ensure that the packaging is designed to be reused, recycled, or composted after use.
Secondly, businesses should focus on optimizing their container selection. Using a variety of sizes and shapes can reduce deficiencies, overruns, and damages in the supply chain. Companies should also consider using RFID tags, which allow for better tracking and inventory management of their products.
Finally, businesses should focus on the optimization of their transportation methods. They should use a combination of air, ground, and sea transportation to reduce their transport costs and pay close attention to the regulations of each country they are shipping to. They should also consider using digital asset tracking software, enabling real-time visibility across the entire logistical network.
Challenges of Implementation
There are several challenges that businesses need to consider when it comes to implementing the suggested improvements. Firstly, companies need to ensure that they have sufficient resources to implement the proposed improvement measures. This may mean investing in additional storage facilities and recruiting more staff to manage the process. Secondly, businesses must ensure their teams are properly equipped to handle data. For example, introducing RFID tags and digital tracking software will require increased data handling and analysis. Finally, companies must be aware of the regulations surrounding their transportation methods, which can vary from country to country.
Conclusion: Logistical packaging plays a vital role in product distribution, helping to reduce damage, wastage, and labor costs. However, businesses can further improve their packaging process to optimize their Supply Chain Management. Suggested improvements include reducing product waste through eco-friendly packaging, optimizing container selection, and optimizing transportation methods. While these measures can bring various benefits, businesses must also consider the resources, data handling, and regulatory requirements involved in their implementation.
Adequate logistical packaging can help ensure smoother product distribution.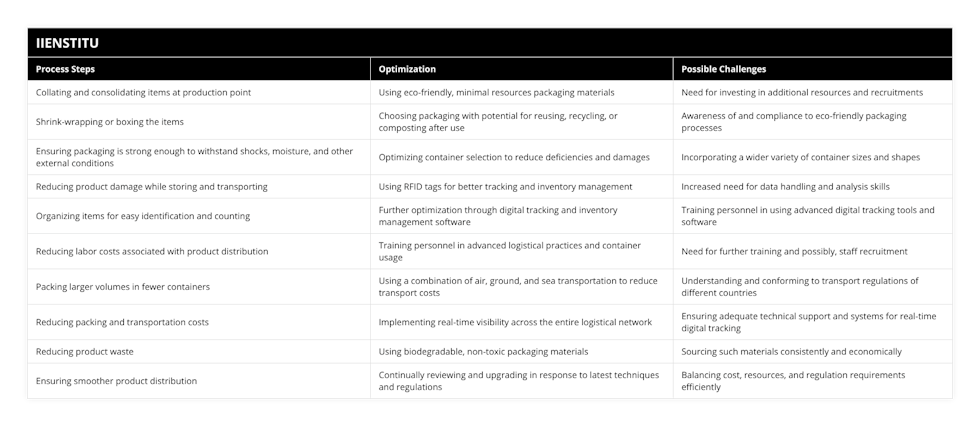 Product distribution
supply chain management
logistical packaging
storage
transport
delivery
shrinkwrapping
boxes
sacks
shock
moisture
organization
packing
transport costs
product waste
toxins
biodegradable
reuse
recycle
compost
RFID tags
air
ground
sea
transportation
digital asset tracking
data handling
regulations
resources
optimization.

Dr. Murray Craig
Academic
Dr. Murray Craig is an academic and researcher who has dedicated his life to the study of human behavior. He has a particular interest in how people interact with their environment, and how that interaction can be used to improve their lives. Dr. Craig has spent many years teaching and conducting research at universities all over the world, and he is widely respected for his work in the field of behavioral science.
Related Posts
Our team of experts is passionate about providing accurate and helpful information, and we're always updating our blog with new articles and videos. So if you're looking for reliable advice and informative content, be sure to check out our blog today.