SEO
Navigating Vertical and Local Intent
08 March 2023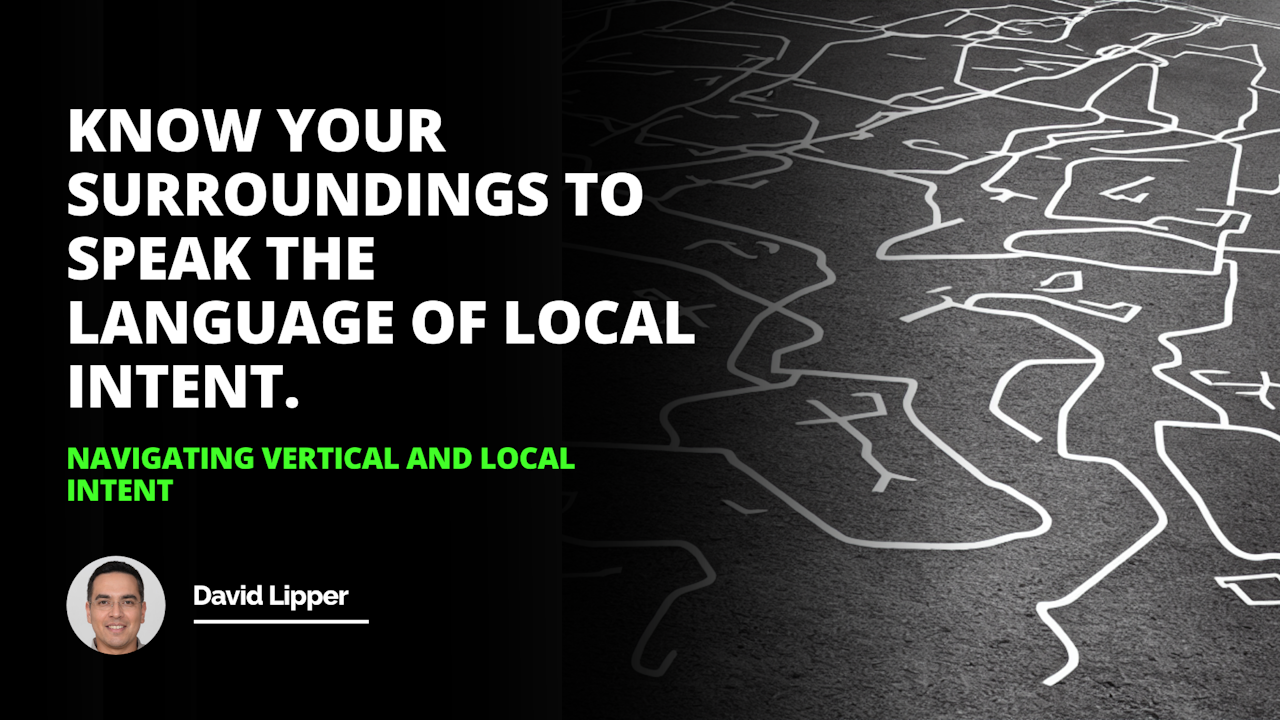 | Concept | Definition | Key Strategies or Benefits |
| --- | --- | --- |
| Vertical Intent | The type of intent a user has when researching a specific topic or category of products or services without a specific product or service in mind. | Focusing on visibility. Targeting broad terms and topics. Showcasing industry expertise and thought leadership. |
| Local Intent | The user's intent when looking for a specific business or products/services available in a local area, often leading to a quick purchasing decision. | Emphasis on purchase decision. Complete and consistent local listing. Usage of local keywords. |
| Combining Vertical and Local Intent | A combined SEO strategy that leverages both vertical and local intent to maximize visibility and conversions. | Greater visibility and higher conversion rates. Tailored advertising campaigns and messaging. Local SEO optimization. |
| Benefits of Combined Strategy | The tangible and intangible returns achieved from intersecting both vertical and local SEO strategies. | Increased visibility and web traffic, engagement with potential customers, tailored messaging, and local audience targeting. |
| Targeted Advertising | Promotions specifically directed at a particular audience. Can be used within the combined vertical-local strategy. | Audience-specific messaging, precision, personalized content. |
| Local SEO optimization | Improving the visibility of a business on location-based searches. | Getting listed on local directories and websites. Consistent use of local keywords. |
| Visibility & Conversion | Two key objectives in any SEO strategy, which can be significantly enhanced by aligning vertical and local intent. | Driving both web traffic (visibility) and customer action (conversion). |
| Thought Leadership | Underscoring expertise and knowledge in a specific industry or subject, an important aspect of vertical intent. | Establishes credibility, attracts traffic, encourages return visits. |
| Keyword Usage | A critical component in SEO strategies, relevant in both vertical and local intent. | Helps with ranking on search engine results, attracts the right audience. |
| SEO Strategies | Tactics and techniques used to increase the amount of visitors to a website by obtaining high-ranking placement in the search results page. | Increased visibility and web traffic. Higher brand credibility. Return on investment. |
Introduction

Definition of Vertical and Local Intent

Exploring Vertical Intent

What is Vertical Intent?

Benefits of using Vertical Intent

Local Intent - Search & Evaluation

What is Local Intent?

Differentiating Local from Vertical Intent

Constructing a Combined Strategy

The Benefits

Vertical & Local aligned Goals

Conclusion

Summary of key points

Next Steps
Introduction: Search engine optimization (SEO) has become essential in digital marketing. With the sheer competition among companies in any particular market, SEO is a great way to increase visibility and maximize website traffic. As search algorithms evolve, many digital marketers leverage both vertical and local intent SEO strategies. But what do these terms mean, and how do they work when combined?
Related Course: Digital Marketing Free Course
Defining Vertical and Local Intent
When discussing vertical intent, we refer to the type of intent a user has when researching a specific topic or category of products or services. It's important to note that the user may not have a specific product or service in mind but is instead conducting research to understand a particular industry better.
On the other hand, local intent refers to the user's plan when looking for a specific business or products/services available in a local area. It's important to note that this type of intent is particular and usually results in a quick purchasing decision.
Exploring Vertical Intent
So what is vertical intent, and why is it important for SEO? Sheer intent SEO is about focusing on targeting topics and categories related to a particular business. By doing this, digital marketers can demonstrate their knowledge of the industry and display their expertise in a specific subject. Ultimately, this will help the website rank higher in searches and attract potential customers to learn more about a particular topic.
Regarding vertical intent, the key is to focus on visibility rather than quick conversion. By targeting broad terms and topics, businesses can drive traffic to their website without offering specific goods or services. Additionally, companies have the opportunity to promote their thought leadership by providing informative content related to their market.
Related Course: Online Leadership Course
Local Intent - Search & Evaluation
Now let's explore local intent and the differences between it and vertical sense. With a regional plan, the user is looking for a specific product or service available in the area. Unlike sheer intent, which focuses on visibility, local goal focuses more on making a purchase decision quickly.
Regarding local intent, businesses must ensure their listing is as complete as possible. This includes getting listed on local directories and websites and using consistent information. Additionally, companies should utilize local keywords such as "near me" or "in [location]" in the meta tags to optimize visibility in local searches.
Constructing a Combined Strategy
Now, let's consider how vertical and local intent SEO can be combined to maximize visibility and conversions. By combining both strategies, digital marketers can increase visibility for specific topics and generate leads with a higher conversion rate.
The benefits of such a strategy are clear; businesses can connect with potential customers, regardless of whether they're looking for a broad research topic or a specific product. Companies can also use targeted advertising campaigns and messaging to better engage with the local audience.
Ultimately, the goal of intersecting vertical and local intent is to create a strategy that aligns with the vertical and regional objectives of the business. Companies must ensure their content is made with the proper targeting and messaging. Additionally, when using local intent, companies must ensure that their website content is optimized for local searches.
Conclusion
In conclusion, navigating vertical and local intent is an excellent way for businesses to increase visibility and web traffic. By combining both strategies, digital marketers can better engage with potential customers, regardless of whether they're looking for information or a specific product. Additionally, businesses can use targeted messaging and local SEO optimization to ensure their content is visible and helpful to their local audience.

To fully maximize the potential of such a combined strategy, businesses must ensure their content is crafted for the right target and that their local SEO is optimized. Doing so will ensure that companies make the most of their visibility and drive traffic to their website.
Now that you are more familiar with navigating vertical and local intent SEO, consider taking the following steps. First, research more into the topic and look into the helpful tools available to ensure your website's visibility is at its best.
Know your surroundings to speak the language of local intent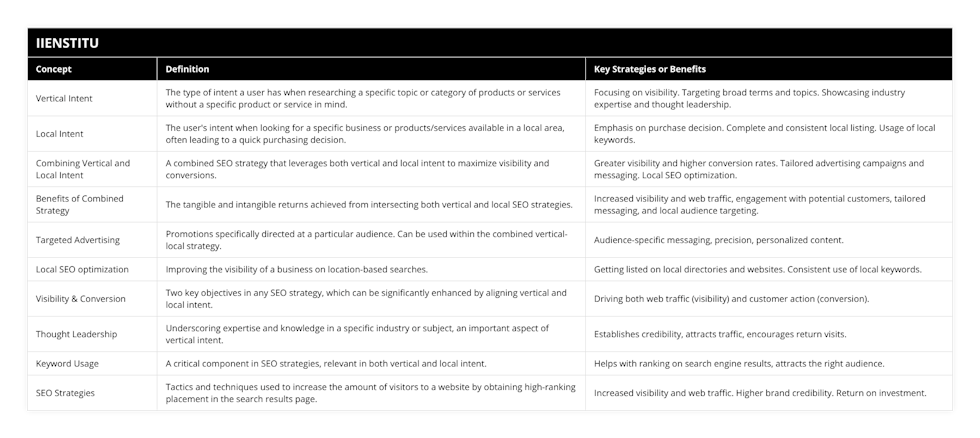 Search Engine Optimization (SEO)
Digital Marketing
Vertical Intent
Local Intent
Visibility
Website Traffic
Search Algorithms
Product/Services
Local Area
Local Keywords
Near Me
Meta Tags
Lead Generation
Targeting
Advertising Campaigns
Targeted Messaging
Vertical Goals
Local SEO
Tools
Website Visibility
David Lipper
SEO Professional
David Lipper is an experienced and successful SEO professional. He has worked in the industry since 1997 and has been with his current company since 2006.
David is a highly sought-after consultant and speaker and has given presentations on SEO at various conferences worldwide. He is also a contributing writer for Search Engine Land.
When he's not working or writing about SEO, David enjoys spending time with his wife and two young children.
Related Posts
Our team of experts is passionate about providing accurate and helpful information, and we're always updating our blog with new articles and videos. So if you're looking for reliable advice and informative content, be sure to check out our blog today.