Life Coaching
Movies About Life Coaching
16 June 2022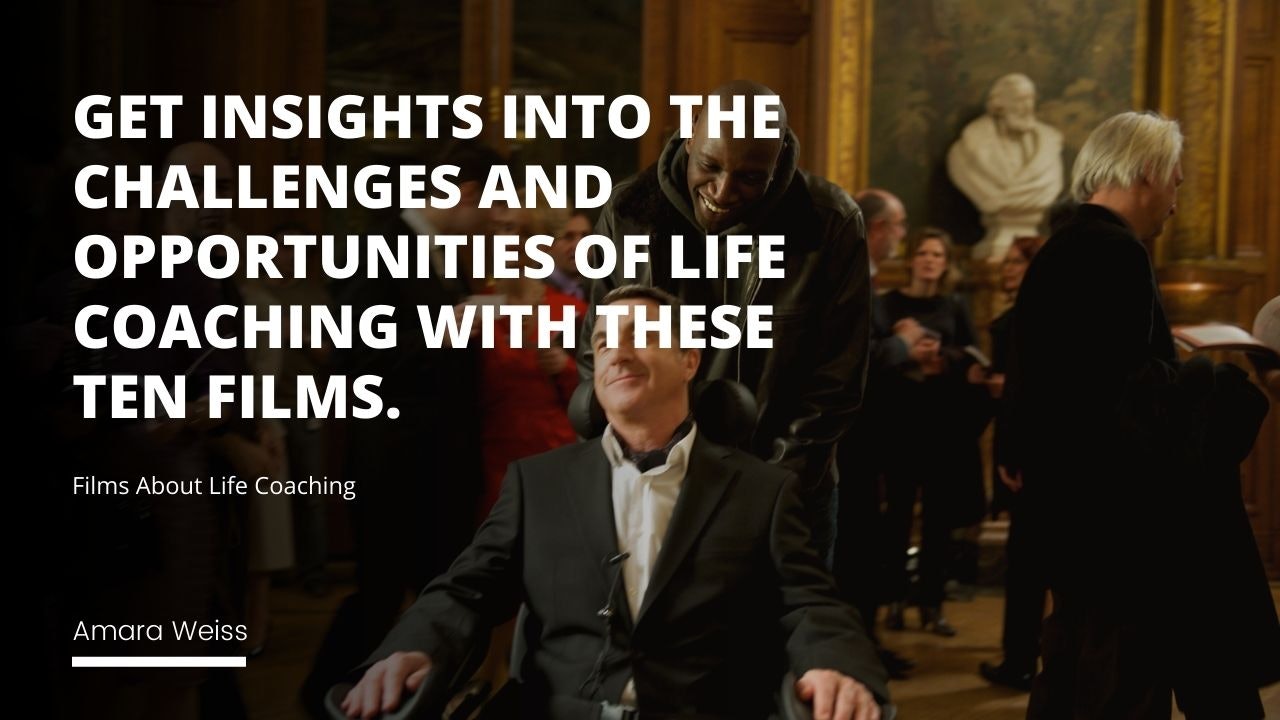 | Movie Title | Life Coaching Theme | Brief Description |
| --- | --- | --- |
| The Dead Poet's Society | Inspiration and Pursuing Dreams | Shows how a life coach can transform the lives of their clients by encouraging them to pursue their passions. |
| Good Will Hunting | Overcoming Challenges | Depicts how life coaching can aid clients in overcoming personal obstacles and reaching their full potential. |
| The Pursuit of Happyness | Positivity in Difficult Times | Highlights the importance of maintaining a positive outlook in life, even when faced with extreme hardship. |
| Pay It Forward | Kindness and Compassion | A heartwarming movie about the power of kindness and compassion, and the ripple effect it can have. |
| The Intouchables | Adjusting to New Lifestyle | An uplifting French movie about a quadriplegic man and his life coach, depicting themes of friendship and trust. |
| Coach Carter | Accountability and Principles | An inspirational tale about a coach driven by love and morality to hold his team accountable for on and off court activities. |
| Connie and Carla | Finding Love | The story of best friends starting a life coaching business and dealing with matters of love. |
| Mr. Nobody | Reflection and Choices | A philosophical movie that explores the concept of living one's life again, emphasizing living in the moment. |
| The Blind Side | Overcoming Adversities | The true story of Michael Oher, who overcame a disadvantaged background with the help of his mentors and life coaches. |
| The Pursuit of Happyness | Resilience and Hope | Chronicles the life of Chris Gardner who overcame homelessness with his determination, epitomizing the power of hope and hard work. |
Films about life coaching can be a great way to learn more about the profession and the challenges and opportunities that come with it. They can also offer some great insights into how life coaches work with their clients and what kinds of results they can achieve. Here are four films that explore different aspects of life coaching:
Get insights into the challenges and opportunities of life coaching with these ten movies.
Anyone considering a career in life coaching should watch these ten films to get a better understanding of the challenges and opportunities involved. "The Dead Poet's Society" shows how a life coach can help transform the lives of their clients by inspiring them to pursue their dreams. "Good Will Hunting" demonstrates how life coaching can help clients overcome their challenges and reach their full potential. "The Pursuit of Happyness" illustrates the importance of having a positive outlook in life, even when faced with difficult circumstances. "Pay It Forward" is a feel-good film about the power of kindness and compassion. These films provide insights into the challenges and opportunities of life coaching, and will help anyone considering this career to make an informed decision.
1. The Intouchables
The Intouchables is a heartwarming French film about an unlikely friendship between a wealthy quadriplegic man and his life coach, hired to help him adjust to his new lifestyle. The film explores the themes of loss, friendship, and redemption as the two men learn to rely on and trust each other. The Intouchables is a touching and uplifting film that will leave audiences laughing, crying, and ultimately inspired.
2. Coach Carter
As a sports fan and a lover of good old-fashioned underdog stories, I have always had a special place in my heart for Coach Carter. Based on the true story of high school basketball coach Ken Carter, this film tells the story of a man who is driven by his love for his team and his strong sense of ethics and morality. Despite facing fierce criticism from both his players and the community, Coach Carter stands firm in his commitment to hold his team accountable for their actions both on and off the court. Ultimately, he shows that it is possible to succeed both in sports and life when one stays true to one's values and principles. Over 15 years after its release, Coach Carter remains an important film that inspires us to be better people and reach our full potential. So if you're looking for a meaningful movie with an uplifting message, look no further than Coach Carter – it truly is a classic.
3. Connie and Carla
Connie and Carla are two best friends who have always been there for each other. However, they quickly find themselves at odds when they decide to start a life coaching business together. Connie is a natural person who loves helping others find love and happiness. On the other hand, Carla is more interested in the business side of things. When they take on their first client, Connie immediately begins to coach him on how to find love. However, she soon realizes that she may be falling for him herself. Will she be able to help him find happiness if she can't find it herself?
4. Mr. Nobody
Mr. Nobody is a philosophical sci-fi film that explores the idea of what would happen if you could live your life over again. The main character, Nemo, is allowed to do just that, and his life coach helps him make the most of it. The film follows Nemo as he tries to make sense of his new life and ultimately realizes that happiness comes from living in the moment and appreciating what you have. Although it may not be the most exciting or action-packed film out there, Mr. Nobody is sure to leave you thinking about your choices in your own life and how you would change them if given a chance.
5 - The Pursuit of Happyness
The 2006 film "The Pursuit of Happyness" is based on the true story of Chris Gardner, a man who overcame homelessness to become a successful stockbroker. The film follows Gardner's life as he struggles to provide for himself and his young son while living on the streets and working as a life coach. While the film is ultimately uplifting, it gives a powerful reminder of homeless people's challenges daily. In addition to showing life's difficulties on the streets, the film also highlights the importance of hope and determination. Gardner's story is an inspiring example of what can be achieved when someone is willing to work hard and never give up.
6 - The Blind Side
The 2009 film The Blind Side tells the true story of Michael Oher, a young man from a complex background who was taken in by a wealthy family and given a chance to succeed. The film follows Michael as he grows up, struggles in school, and eventually becomes an All-American football player. While the film is ultimately a feel-good story, it also highlights the importance of life coaching. Various mentors guide Michael throughout the film and help him navigate his difficult life circumstances. These mentors provide him with the support and guidance he needs to succeed. They listen to him, offer advice, and help him stay on track when things get tough. As a result, life coaching can be a powerful tool for assisting people to overcome challenges and achieve their goals.
7 - Million Dollar Baby
Million Dollar Baby is a film about life coaching. The film follows the life of a young woman who is trying to make it as a life coach. The film is inspirational and motivational, and it provides some great insights into the life coaching industry. The film is worth watching for anyone interested in life coaching or personal development.
8 - Karate Kid
The Karate Kid is more than just a classic martial arts film. It is also an inspiring story of life coaching and personal growth. Through the main character's experiences, we see firsthand the transformative power of mentorship and self-belief. He gains new insights into himself throughout his journey and develops vital life skills such as discipline, focus, and resilience. Whether you're a seasoned athlete or just starting your development journey, The Karate Kid has something to offer you. So if you're looking for life coaching and uplifting guidance, look no further than this iconic film. At its core, it's about striving to be your best self despite all obstacles and setbacks. And that's a message that can truly change your life for the better.
9 - The Help
The film The Help is about life coaching. It is set in the modern-day and follows the life of Mia, a successful life coach who has everything going for her. However, when she is diagnosed with cancer, she realizes that she has been living her life for others and not herself. With the help of her friend Ellie, Mia starts to learn how to live for herself and find happiness again. The Help is an inspiring film that will leave you feeling motivated to make changes in your own life.
10 - Freedom Writers
The Freedom Writers film is based on the true story of Erin Gruwell, a first-year high school teacher who tries to make a difference in the lives of her at-risk students. Faced with a class of students who are disdainful of authority and have little interest in learning, Ms. Gruwell uses unconventional methods to reach them. She assigns them to keep journals, which they use to express their feelings about their lives and their world. They also read and discuss literary works that deal with social issues such as racism and prejudice. Through her efforts, Ms. Gruwell helps her students find their voices and begin to turn their lives around. The film is an inspiring tale of how one person can make a difference in the lives of others.
Intouchables, Coach Carter, Connie and Carla, Mr. Nobody, The Pursuit of Happyness, The Blind Side, Million Dollar Baby, Karate Kid, The Help, and Freedom Writers are all inspiring films that show the importance of having a positive coach or teacher in someone's life. These movies also demonstrate the power of words and how they can be used to change people's lives for the better. Our life coaching course is designed to help you become a more effective coach or mentor in your community. If you're looking for a way to impact someone's life, our course may be just what you need. So enroll today and start making a difference!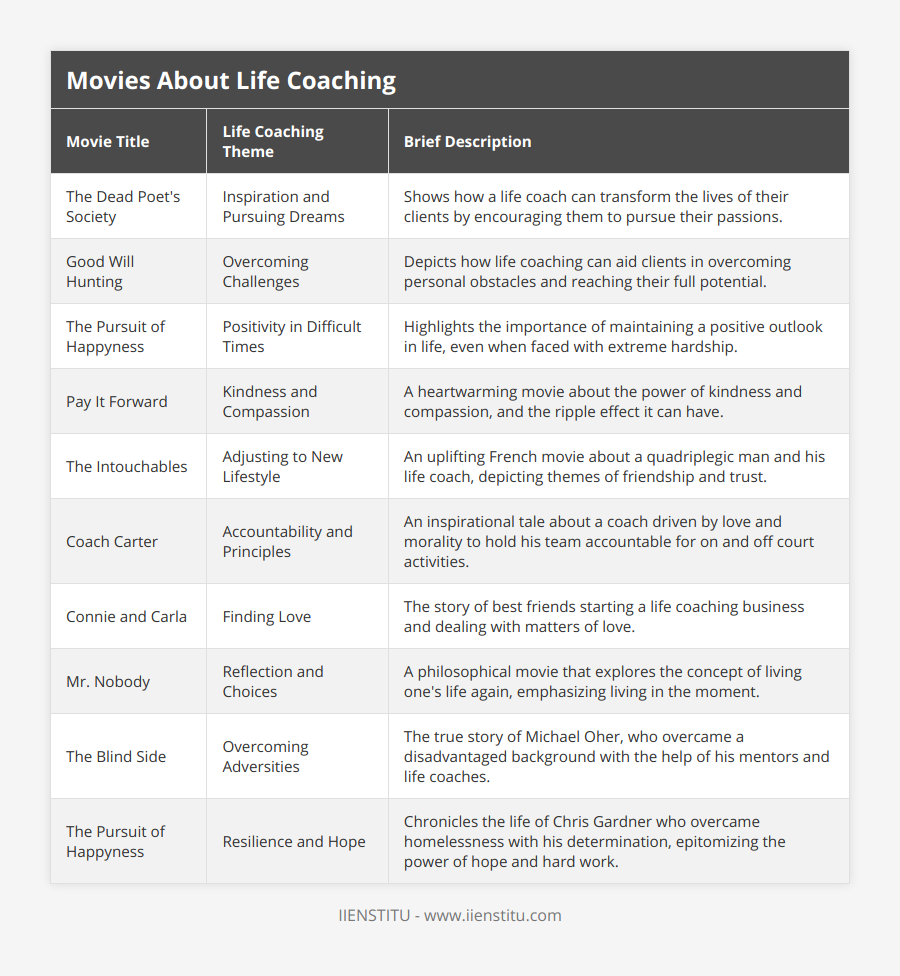 Freedom Writers
The Help
Karate Kid
life coaching

Amara Weiss
Institute Secretary, Author
I am Amara Weiss and for many years I have worked in the field of education, specifically in the area of technology. I firmly believe that technology is a powerful tool that can help educators achieve their goals and improve student outcomes. That is why I currently work with IIENSTITU, an organization that supports more than 2 million students worldwide. In my role, I strive to contribute to its global growth and help educators make the most of available technologies.
Related Posts
Our team of experts is passionate about providing accurate and helpful information, and we're always updating our blog with new articles and videos. So if you're looking for reliable advice and informative content, be sure to check out our blog today.