Personal Development
My Own Worth Moving on From Jealousy
25 February 2023
| Subject | Description | Strategy |
| --- | --- | --- |
| Nature of Jealousy | Jealousy is based on perceived threats to relationships, or valued traits or possessions. Common triggers include feeling of exclusion or seeing someone enjoy something you desire. It can cause feelings of anger, anxiety, and inadequacy. | Recognizing triggers can help manage the intensity of the feelings of jealousy. |
| Impact on Self-Worth | Jealousy can diminish self-worth, causing feelings of inadequacy, shame, and insecurity. It can promote negative self-talk and comparisons with others. | Focus on your own successes, strengths, and abilities. Avoid comparisons. |
| Counteracting Jealousy | Using constructive strategies to deal with jealousy is critical for preserving and enhancing self-efficacy and self-esteem. | Acknowledge triggers, develop mindfulness, exercise self-compassion, and normalize feelings of jealousy. |
| Acknowledging Triggers | Becoming aware of what triggers your jealousy can help shift your focus away from others and onto your own accomplishments. | Redfine your triggers, pause and recognize the feelings they generate, and engage in positive activities. |
| Developing Mindfulness | Being present and accepting your emotions can form healthier relationships. Concentrating on your physical and mental well-being can aid in reducing tension and increasing control. | Appreciate the present moment, be aware of your own emotions, and accept them without judgment. |
| Building Self-Compassion | Engaging in a kind, non-judgmental self-talk can help in building self-trust and self-respect. | Practice gratitude and engage in self-care activities such as relaxation, meditation, and getting enough sleep. |
| Impact of Self-Compassion | Self-compassion can boost your confidence and foster a sense of inner peace and self-worth. | Practice self-love and create a positive self-dialogue. |
| Moving Past Jealousy | Successfully navigating through feelings of jealousy can lead to a positive and empowered mindset. | Implement the counteracting strategies, focus on yourself, hone your skills, nurture your self-worth, and replace jealousy with inspiration. |
| Your Self-Worth | Your worth is not determined by comparison to others but lies within yourself. | Realign your thinking to not allow jealousy to cloud your self-worth. |
| Maintaining Healthy Relationships | Jealousy can adversely affect relationships, leading to behaviours such as possessiveness, rage, and depression. | Center communication, build trust, and focus on shared happiness to maintain healthy relationships. |
The Nature of Jealousy

The Impact of Jealousy on Self-Worth

Strategies for Counteracting Jealousy
Jealousy can be a powerful and destructive emotion that can damage relationships, sap energy, and undermine self-worth. It can be based on insecurity and a lack of self-esteem and self-confidence. Yet, it is possible to develop strategies to counteract these feelings and focus instead on improving our self-worth. In this article, I will discuss the nature of jealousy, its impact on self-worth, and the strategies that can help us move past it and foster our worthiness.
The Nature of Jealousy
Jealousy is an emotion experienced when we perceive a threat to a relationship, valued possession, or characteristic. It can range from mild or moderate to intense or extreme. For example, it can be triggered by simple things like seeing someone enjoying a meal or spending time with friends or more serious threats such as infidelity or exclusion from an influential group. It can manifest itself in various ways, including feelings of anger, anxiety, and inadequacy, and lead to destructive behaviors such as possessiveness, rage, and depression.
The Impact of Jealousy on Self-Worth
Jealousy can take a heavy toll on our self-worth, causing us to feel like we're not good enough. This can lead to feelings of inadequacy, shame, and insecurity. It can also lead to comparisons of ourselves with others and a sense of being 'less than,' fueling negative self-talk and damaging our self-esteem.
Strategies for Counteracting Jealousy
We can employ several strategies to counteract jealousy and help us focus on building our own self-worth. These include:
Acknowledging and managing triggers: Becoming more aware of what triggers our jealousy and taking action to reduce its intensity can help us to shift our focus away from others' successes and onto our own. This could include redefining our triggers, learning to pause and recognize the feelings that come with them, and engaging in activities that help us move to a more positive emotional state.

Developing mindfulness: Acknowledging and accepting our emotions can help us stay present and form healthier attachments with others. Focusing on our physical and mental states can reduce tension and give us a greater sense of control. Additionally, developing an appreciation of the present moment and the beauty around us can help to nurture a sense of inner peace and self-worth.

Building self-compassion: Engaging in a kind and non-judgmental dialogue can help build self-trust and self-respect. Practicing gratitude and self-care rituals such as relaxing, meditating, exercising, and getting enough sleep can help boost our confidence and foster a sense of compassion and Self-Love.
Jealousy can be a destructive emotion that can disrupt relationships and undermine our self-worth. Yet, there are strategies we can employ to counteract these feelings and foster our own self-worth. These include acknowledging and managing our triggers, developing mindfulness, and practicing self-compassion. By focusing on ourselves and nurturing our self-worth, we can extend the strength and resilience needed to move past feelings of jealousy and into a more positive and empowered mindset.
Your worth is not determined by what others have or have not achieved. So don't allow jealousy to cloud your self-worth.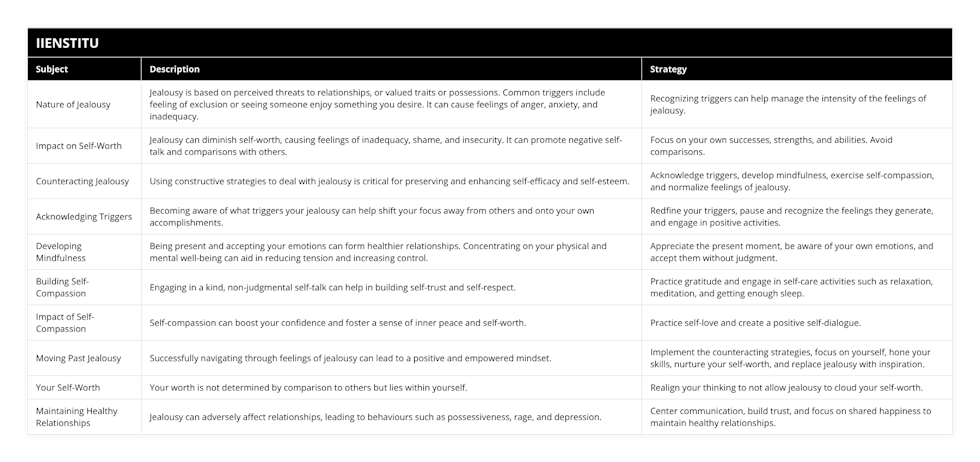 Jealousy
powerful
destructive
emotion
insecurity
self-esteem
self-confidence
self-worth
triggers
impact
strategies
counteract
develop
mindfulness
compassionate
improve
relationships
energy
undermine
acknowledge
manage
focus

Amara Weiss
Institute Secretary, Author
I am Amara Weiss and for many years I have worked in the field of education, specifically in the area of technology. I firmly believe that technology is a powerful tool that can help educators achieve their goals and improve student outcomes. That is why I currently work with IIENSTITU, an organization that supports more than 2 million students worldwide. In my role, I strive to contribute to its global growth and help educators make the most of available technologies.
Related Posts
Our team of experts is passionate about providing accurate and helpful information, and we're always updating our blog with new articles and videos. So if you're looking for reliable advice and informative content, be sure to check out our blog today.