Logistic Management
Maximizing Convenience with Product Unitizing
28 February 2023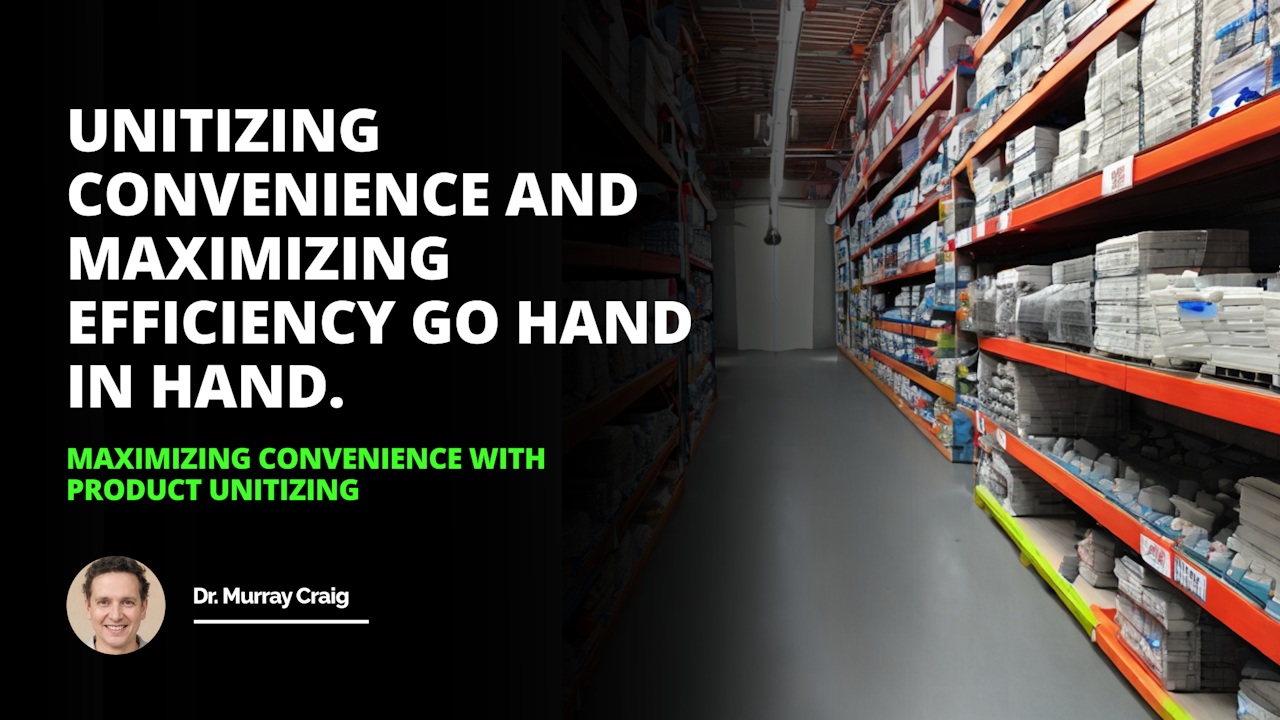 | Concept | Details | Benefits |
| --- | --- | --- |
| Product Unitizing | Process of dividing bulk shipments into smaller units for the purpose of packing, delivery, and storage. | Allows customers to purchase in exact amounts they need, optimal space utilization. |
| Unitization Approaches | These include unitizing for space efficiency, cost-effectiveness, and flexibility. | Enables easy adjustment to changes in demand, potentially lowers transport and labor costs, and helps in optimum utilization of storage space. |
| Key Considerations for Unitizing | Establish unitizing goals, inventory size, packaging options, package speed, and accurate inventory data. | Increased efficiency in operations, better accuracy and control over inventory. |
| Unitizing Strategies within Warehouse | Maximizing existing space, investing in automation systems for efficient case packing and palletizing. | Saves time during product retrieval, streamlines labor-intensive processes, and overall warehouse efficiency. |
| Benefits to Customers | Allows purchase in exact amounts, eliminates need for weighing, easy packaging disposal. | Improves customer experience, increase in sales due to bulk buying convenience. |
| Space Optimization | Incorporate wheeled carts, shelving units for organized physical storage. | Saves time during product retrieval, optimizes available space. |
| Automation in Unitizing | Invest in automated systems for processes like case packing and palletizing. | Significant time and money savings, improves overall efficiency. |
| Seasonal Fluctuations | Unitizing for flexibility helps adjust to fluctuating product availability. | Reduces loss from outdated stock, increases customer satisfaction through consistency. |
| Inventory Management | Effective management ensures accuracy of unitizing data. | Prevents stock loss, enhances predictability and planning in supply chain. |
| Warehousing Efficiency | Better utilization of space and automation results in overall warehouse efficiency. | Reduces operational costs, improves productivity, and streamlines product retrieval process. |
Exploring Different Approaches to Unitizing

Identifying Key Considerations for Unitizing

Strategies for Unitizing within a Warehouse
Product unitizing refers to the process of dividing bulk shipments into smaller units for the purpose of packing, delivery, and storage. Increasingly popular for grocery stores, companies, and other businesses, product unitizing is a great way to maximize convenience and efficiency in the sale and distribution of products. This article will explore the benefits of product unitizing for customers, the various approaches to unitizing, the considerations associated with successful unitizing, and the strategies for unitizing within a warehouse.
One of the key benefits of product unitizing is that it allows customers to purchase products in the exact amounts they need. For example, a customer may buy a box of 30 cans of soda or 3 units of 10 cans each. This flexibility allows customers to purchase the exact amounts they need while still providing them with the convenience of bulk buying. Furthermore, product unitizing will enable customers to shop without the hassle of weighing multiple items or dealing with packaging and disposing of large quantities.
Exploring Different Approaches to Unitizing
There are several approaches to unitizing products. One method is to unitize for space efficiency. This may include dividing a single large bulk shipment into smaller boxes or cartons to create a smaller footprint for storage. Another approach is to unitize for cost-effectiveness. This involves dividing a product or load into smaller units to save on transport and labor costs. Finally, businesses may unitize products for flexibility. By making multiple units of the same product, companies can more easily adjust to changes in customer demand or seasonal fluctuations in product availability.
Identifying Key Considerations for Unitizing
In addition to the unitizing approaches, businesses should consider several key elements when constructing a successful unitizing system. First and foremost, companies should establish goals for the unitizing system and determine what inventory size and packaging options are needed to reach those goals. They should also consider how each product is packaged and how quickly they can be separated for individual customers. Finally, businesses must manage their inventory carefully to ensure the accuracy of their unitizing data.
Strategies for Unitizing within a Warehouse
There are several strategies businesses can use to maximize convenience and efficiency in the warehouse when unitizing products. To start, companies should make the most of existing space by incorporating wheeled carts, shelving units, and other items to help maintain organized physical storage and save time during product retrieval. Additionally, businesses may invest in automation when unitizing products. Automation systems can streamline labor-intensive processes such as case packing and palletizing, allowing companies to save time and money when unitizing products.
In conclusion, product unitizing is essential to running a successful business. Unitizing not only allows customers to purchase the exact amounts they need, but it also allows businesses to maximize warehouse efficiency. In addition, by incorporating space optimization and automation strategies, companies can further enhance their unitizing operations and maximize customer convenience. Ultimately, investing in product unitizing will help businesses maintain a competitive edge and pave the way for future opportunities.
Unitizing convenience and maximizing efficiency go hand in hand.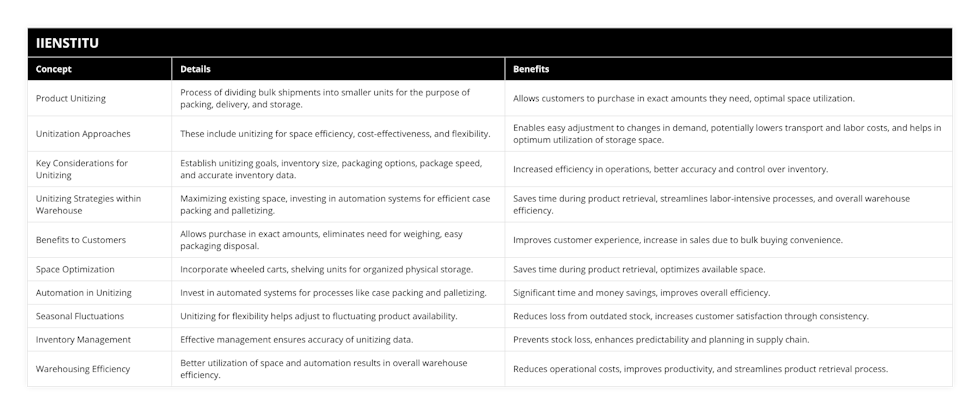 Product unitizing
space efficiency
cost-effectiveness
flexibility
goals
inventory size
packaging options
product retrieval
automation
case packing
palletizing
space optimization
convenience
efficiency

Dr. Murray Craig
Academic
Dr. Murray Craig is an academic and researcher who has dedicated his life to the study of human behavior. He has a particular interest in how people interact with their environment, and how that interaction can be used to improve their lives. Dr. Craig has spent many years teaching and conducting research at universities all over the world, and he is widely respected for his work in the field of behavioral science.
Related Posts
Our team of experts is passionate about providing accurate and helpful information, and we're always updating our blog with new articles and videos. So if you're looking for reliable advice and informative content, be sure to check out our blog today.