Logistic Management
Unlock the Power of Logistics: A Comprehensive Definition
28 February 2023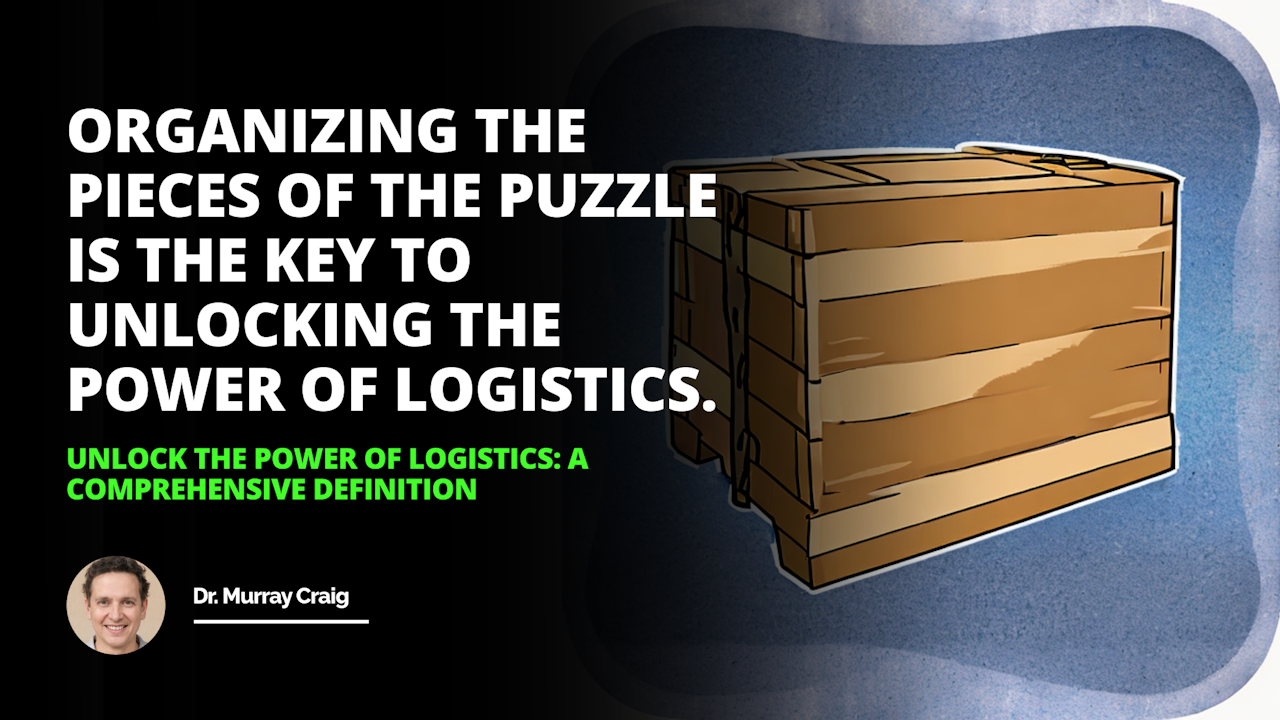 | Category | Description | Benefit |
| --- | --- | --- |
| Definition of Logistics | Coordination of resources and services necessary to fulfill customer requirements. | Optimizes resource utilization, reduces costs, improves efficiency. |
| Components of Logistics | Includes inventory management, warehousing, packaging, transportation, and distribution. | Efficient workflow and management throughout the production process. |
| Logistics's Role in Business | Drives profits, reduces costs, improves efficiency with increased flexibility. | Helps businesses adapt quickly to changing needs and trends. |
| Key Benefits of Logistics | Increases productivity, reduces costs, offers competitive advantage. | Allows capacity to meet customer demand quickly, reduces risk of shortages. |
| Impact of Logistics on Companies | Can provide competitive advantage by increasing product availability and reducing costs. | Helps create a more efficient and responsive supply chain. |
| The Future of Logistics | Predictive analytics, machine learning, 5G networks, IoT, artificial intelligence and robotics. | Creates data visibility and automates tasks, thus improving productivity and cost-efficiency. |
| Inventory Management | Tracking and control of goods and inventory at all stages of production. | Avoids stock outs and shortages, increases efficiency. |
| Warehousing | Storing and protecting inventory in protective environments until needed. | Protects company assets, ensures goods are available when needed. |
| Packaging | Ensures safe and secure transportation of goods. | Protects the product during transit and reduces spoilage and damage. |
| Transportation | Physical movement of goods to their intended destination. | Ensures timely delivery to the customers. |
Definition of Logistics

Components of Logistics

Logistics's Role in Business

Key Benefits of Logistics

Impact of Logistics on Companies

The Future of Logistics
What is logistics? The term "logistics" is often used in business circles, but many people don't fully understand it. Logistics is more than just shipping goods and managing inventory; it's the backbone of a running business. To understand the power of logistics, one must gain a comprehensive definition of the term.
Definition of Logistics
Logistics is defined as the coordination of resources and services that are necessary to fulfill customer requirements. This includes the movement of goods, equipment, people, and information. Logistics has all the activities related to the particular product that needs to be created, produced, distributed, and managed. The ultimate goal of logistics is to optimize the utilization of resources to reduce cost and improve efficiency.
Components of Logistics
Logistics include inventory management, warehousing, packaging, transportation, and distribution. Inventory management is the tracking and control of goods and inventory at all stages of production, from raw materials to finished goods. Warehousing is storing and protecting interests in a protective environment until needed. Packaging ensures the safe and secure transportation of goods. Transportation involves the physical movement of goods to their intended destination. Finally, distribution is the actual delivery of goods to the customer.
Logistics's Role in Business
The power of logistics lies in its ability to drive profits, reduce costs, and improve efficiency for businesses. It also offers increased flexibility, allowing companies to adapt quickly to changing customer needs and trends. Logistics can also provide businesses with valuable insights into customer expectations and preferences so that companies can provide a better product or service.
Key Benefits of Logistics
The key benefits of logistics are the ability to increase productivity and reduce costs. Logistics helps to ensure the efficient and effective transportation of goods, providing businesses with a competitive advantage. Additionally, logistics can provide companies with the capacity to meet customer demand quickly, minimizing the risk of stock-outs and inventory shortages. Logistics also helps companies to create leaner supply chains, reducing total costs while increasing flexibility and responsiveness.
Impact of Logistics on Companies
The impact of logistics on companies is far-reaching. Logistics can provide companies with a competitive advantage by increasing product availability and reducing costs. It can also help create a more efficient and responsive supply chain, enabling companies to adapt quickly to customer needs and preferences. Furthermore, logistics can help to increase customer satisfaction and loyalty by ensuring timely deliveries and products of the highest quality.
The Future of Logistics
The future of logistics lies in technology and artificial intelligence. Technologies such as predictive analytics, machine learning, 5G networks, and the Internet of Things (IoT) can provide businesses with the data and visibility necessary for effective decision-making. Additionally, artificial intelligence and robotics can automate tasks that often require manual labor, helping to improve productivity and reduce costs.
In conclusion, logistics is an essential component of modern business. It helps companies to reduce costs, increase efficiency, and remain competitive. Logistics can also help to provide businesses with valuable insight into customer expectations and preferences. As technology and automation become more prevalent within the industry, companies must be mindful of how these technologies will impact their operations. The power of logistics lies in its ability to provide businesses with the tools necessary to remain agile and innovate.
Organizing the pieces of the puzzle is the key to unlocking the power of logistics.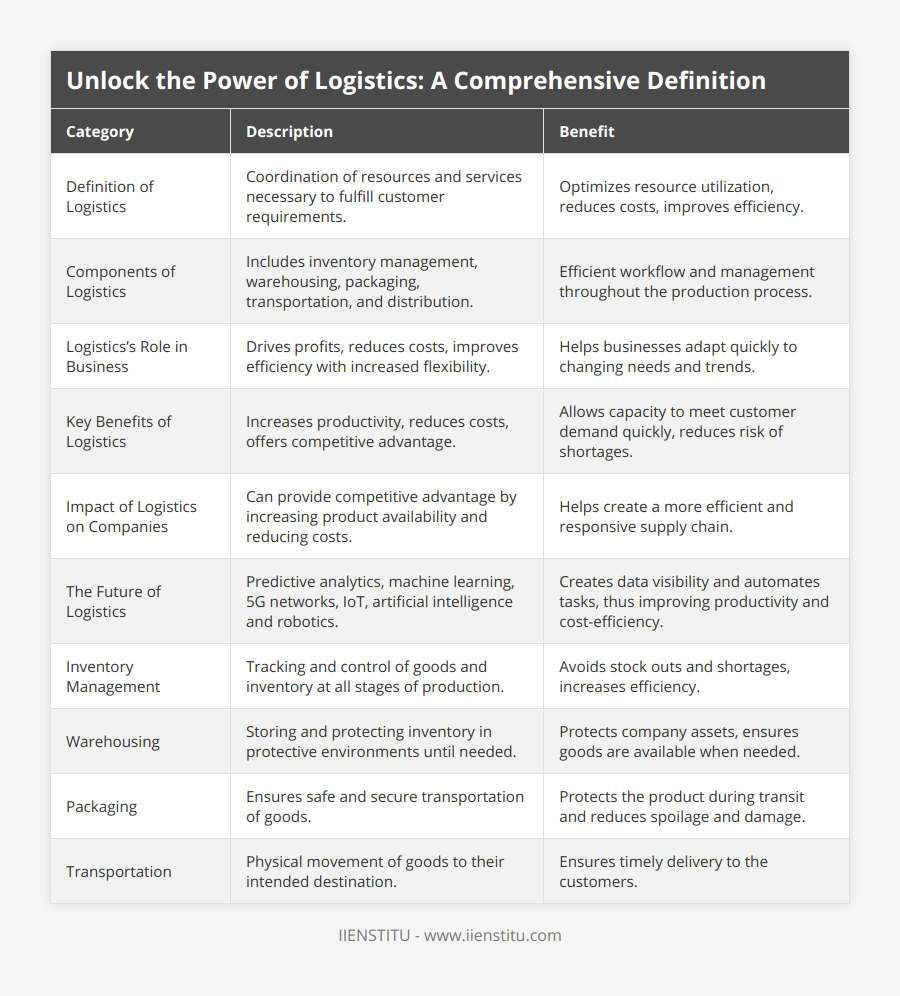 Logistics
inventory management
warehousing
packaging
transportation
distribution
customer requirements
reduce cost
improve efficiency
competitive advantage
customer demand
stock-outs
inventory shortages
improve productivity
reduce costs
visibility
predictive analytics
machine learning
5G networks
Internet of Things (IoT)
artificial intelligence
robotics
technology
automation
customer expectations
customer satisfaction
loyalty.

Dr. Murray Craig
Academic
Dr. Murray Craig is an academic and researcher who has dedicated his life to the study of human behavior. He has a particular interest in how people interact with their environment, and how that interaction can be used to improve their lives. Dr. Craig has spent many years teaching and conducting research at universities all over the world, and he is widely respected for his work in the field of behavioral science.
Related Posts
Our team of experts is passionate about providing accurate and helpful information, and we're always updating our blog with new articles and videos. So if you're looking for reliable advice and informative content, be sure to check out our blog today.