Interview Questions
Interview Question: How Do You Handle Time Management in Collaborative Projects?
26 September 2023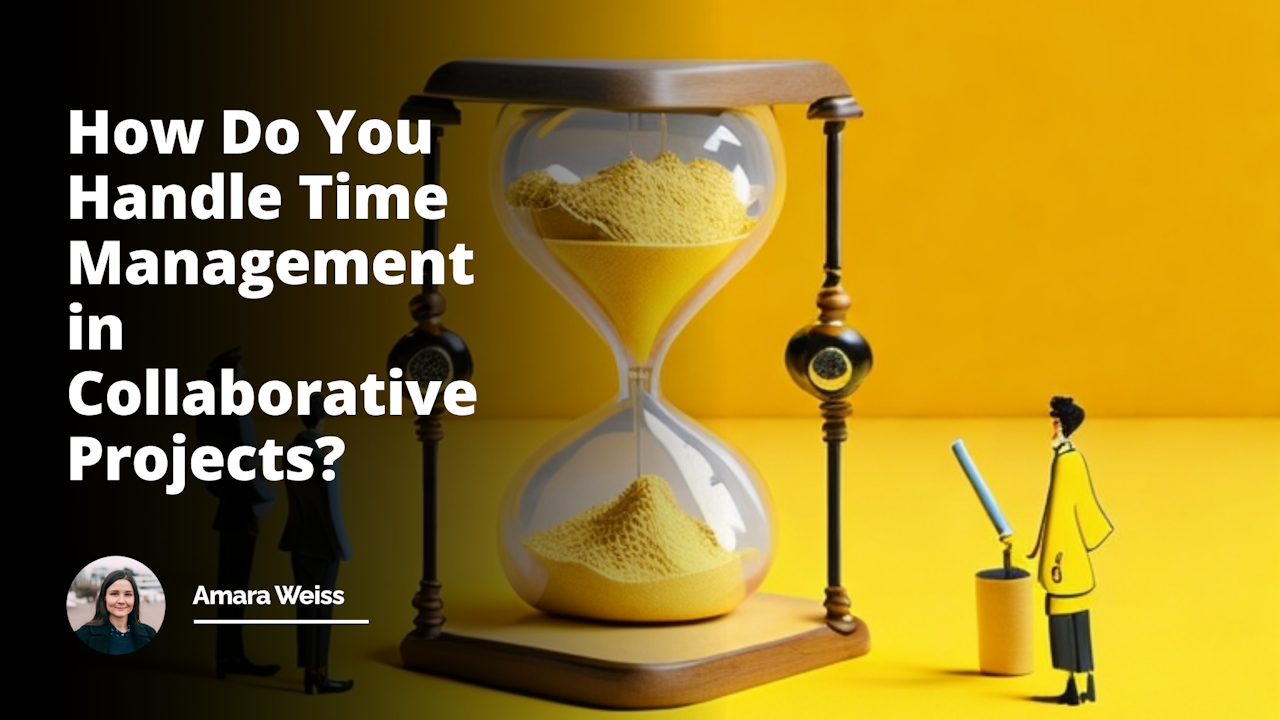 | Key Concept | Detailed Explanation | Examples/Strategies |
| --- | --- | --- |
| Purpose of the Question | Checking candidates' abilities to manage time in collaborative projects. Assesses your adaptability and teamwork skills. | Having a good track record in previous projects. |
| Importance in Interviews | Demonstrates ability to function well within a team setting and manage time effectively. | Providing examples to demonstrate team efforts and handling unforeseen changes. |
| Interview Level | Applicable across all interview levels, from entry-level to managerial positions. | Speak from experiences relevant to the career stage. |
| Expectations from Candidates | Evidencing skills in planning, organizing, prioritizing tasks, and collaboration. | Utilizing time management tools, setting goals, maintaining flexibility. |
| Planning and Organization | Key to effective time management in any collaborative project. | Usage of tools like Asana or Trello. |
| Communication | Maintaining regular contact with team members aids time management. | Regular team meetings or updates, open channels for discussion. |
| Handling Unforeseen Changes | Staying flexible and adjusting plans when unavoidable changes occur. | Replanning timelines or resetting priorities. |
| Prioritization of Tasks | Determining urgency level of tasks to manage timetable effectively. | Assigning urgency levels or deadlines to tasks. |
| Goal Setting | Setting SMART (Specific, Measurable, Achievable, Relevant, Timely) goals for effective project management. | Breaking down project into manageable tasks/goals. |
| Delegation of Responsibilities | Assigning tasks based on team members' skills and strengths helps keep project on schedule. | Delegate tasks based on team members' expertise or skills. |
Few questions are as integral to the successful operation of a workspace as "How do you handle time management in collaborative projects?" This seemingly straightforward question emerges in almost every interview for roles that require a mix of team collaboration and effective time management.
Related Course: Time Management Free Online Course
The query's frequency underlines the importance of displaying a candidate's competency in successfully navigating the intricacies of time management, especially in the realm of collaborative work.
Why is this Interview Question Asked: How Do You Handle Time Management in Collaborative Projects?
Understanding the "why" behind this common yet crucial question is central. In the realm of collaborative projects, time management is a non-negotiable requirement. Employers ask this question to examine your mindset on teamwork, your strategies for handling diverse tasks, and your proficiency in organizing your workload effectively.
In essence, "How do you handle time management in collaborative projects?" is an opportunity for you, as a candidate, to sell your skills and experiences. It shines a spotlight on your abilities to work synergistically within a team while maintaining high efficiency standards.
The Purpose of The Question
This question serves two major objectives. The first is to test your ability to efficiently utilize time, while the second is to evaluate your functionality within a team setting. Both aspects play a pivotal role in driving productivity within a workspace.
Highly professional environments often demand work on collaborative projects, where the dynamics of time management can fluctuate significantly. Your response provides employers with a snapshot of your adaptability amid shifting tasks, priorities and deadlines, which are par for the course in collaborative work.
At What Interview Level is It Asked?
The question transcends the interview hierarchy. Be it an entry-level applicant or a seasoned professional vying for a managerial role, everyone needs to demonstrate their capabilities in managing time effectively in collaborative scenarios.
By probing into this topic, interviewers can surmise your skills and strategies, irrespective of your career stage.
What Kind of Answer is Expected from the Candidate?
The answer to "How do you handle time management in collaborative projects?" should reflect a candidate's aptitude for planning, organizing, and prioritizing tasks in collaboration with others. Ideally, concrete examples from past experiences will illustrate your ability to meet deadlines and excel as a team player.
Your response should showcase your proficiency in using technological tools for time management, ability to multitask, set smart goals and maintain flexibility in changing situations. Avoid providing generic answers. Instead, focus on highlighting your unique skills and experiences to stand out from the crowd.
Possible Answers to Consider
A model reply could include your diligent utilization of scheduling and planning tools, strategy for prioritizing tasks based on urgency, and ability to maintain regular communication with team members. You could say something like,
"In previous projects, I effectively used tools like Asana or Trello to stay organized. Regular communication and breaking down the project into manageable components were key. Each task was tagged with an urgency level, helping me prioritize accordingly."
You could also showcase your ability to adapt in changing situations. For instance,
"In my last role, we faced an unexpected issue that required us to re-plan our entire project timeline. I initiated a team discussion where we reassessed our duties, reset priorities and implemented a new timeline. By maintaining our flexibility, we successfully completed the project two days under our revised deadline."
Your ability to manage "time" in "team" is a testament to your professional capabilities. "How do you handle time management in collaborative projects?" offers you the platform to illustrate just that. So seize the moment, share your tried-and-tested strategies and let the employer know how your skills make you an ideal candidate for their team.
Strategies for Distributing Tasks in Collaborative Projects
| Strategy | Description | Example |
| --- | --- | --- |
| Assigning based on expertise | Tasks are assigned to individuals based on their specific skills and knowledge. | Assigning a programming task to the team member with the most experience in that programming language. |
| Rotating responsibilities | Each team member takes turns being responsible for different tasks. | Rotating the role of meeting facilitator or project manager in each meeting. |
| Equal division | Tasks are divided equally among team members to ensure a balanced distribution of workload. | Dividing a research project into smaller sections and assigning each section to a different team member. |
| Considering availability | Tasks are assigned based on each team member's availability and availability constraints. | Assigning a task with a tight deadline to a team member who currently has fewer commitments. |
| Self-selection | Team members have the freedom to select tasks based on their personal interests or strengths. | Providing a list of available tasks and allowing team members to choose which tasks they want to work on. |
| Delegating based on authority | Tasks are assigned based on the hierarchical structure or authority within the team. | Assigning a task to a team member who holds a leadership position or has decision-making authority. |
An Overview of Various Aspects Related to Time Management in Collaborative Projects
| Aspect of Time Management in Collaborative Projects | Description |
| --- | --- |
| Importance | Time management in collaborative projects is crucial for meeting deadlines, maintaining productivity, and ensuring project success. |
| Challenges | Collaborative projects often involve multiple team members, diverse tasks, and shifting priorities, making time management complex. Communication barriers and differences in work styles can also pose challenges. |
| Strategies | Effective time management strategies include setting clear project timelines, using project management tools (e.g., Trello, Asana), assigning responsibilities, and regular team meetings to track progress. |
| Role of Technology | Technology plays a significant role, with the use of calendars, task management apps, and communication tools (e.g., Slack, Microsoft Teams) facilitating time management and collaboration. |
| Communication | Open and clear communication is essential. Team members should regularly update each other on progress, obstacles, and changes in project timelines. |
| Prioritization | Tasks should be prioritized based on urgency and importance. The Eisenhower Matrix and similar frameworks can help in making effective prioritization decisions. |
| Flexibility | Adaptability is key. Teams should be prepared to adjust schedules and plans when unexpected issues or changes arise. |
| Time Tracking | Time tracking tools can help monitor individual and team efforts, identify bottlenecks, and allocate resources more efficiently. |
| Delegation | Delegating tasks according to team members' strengths and expertise can optimize time management and project outcomes. |
| Accountability | Establishing accountability within the team ensures that everyone is responsible for their tasks and deadlines. |
| Feedback and Improvement | Regularly evaluating time management practices and seeking feedback can lead to continuous improvement in collaborative project efficiency. |
Tools Utilized for Time Management in Collaborative Projects
| Tool | Description | Benefits |
| --- | --- | --- |
| Gantt chart | Visual representation of project schedule | Helps with planning, tracking and coordinating tasks |
| Kanban board | Visualizes project workflow with cards and columns | Enhances team collaboration and task prioritization |
| Project management software | Platform for organizing, tracking and managing projects | Centralized communication, document sharing, and task management |
| Task management apps | Mobile or web-based apps for individual task tracking | Enables individuals to stay organized and focused on their tasks |
| Team calendars | Shared calendar to track project deadlines and events | Keeps everyone informed about upcoming milestones and meetings |
| Time tracking software | Records and monitors time spent on tasks | Allows for accurate time estimation and better resource allocation |
Similar interview questions:
What strategies do you use to manage time in collaborative projects?

Can you describe your experience with time management in team projects?

How do you schedule tasks to ensure efficient time management in a team setting?

What processes do you implement to ensure effective time management in a collaborative project?

What techniques do you find most effective for handling time management during collaborations?

When leading a team, how do you organize the tasks to manage time effectively?

How do you delegate responsibilities to keep things on schedule in a collaborative project?

How do you avoid time mismanagement when working collaboratively on a project?

How do you overcome delays and avoid time wastage during team projects?

In what ways do you ensure that time is managed efficiently in a collaborative project scenario?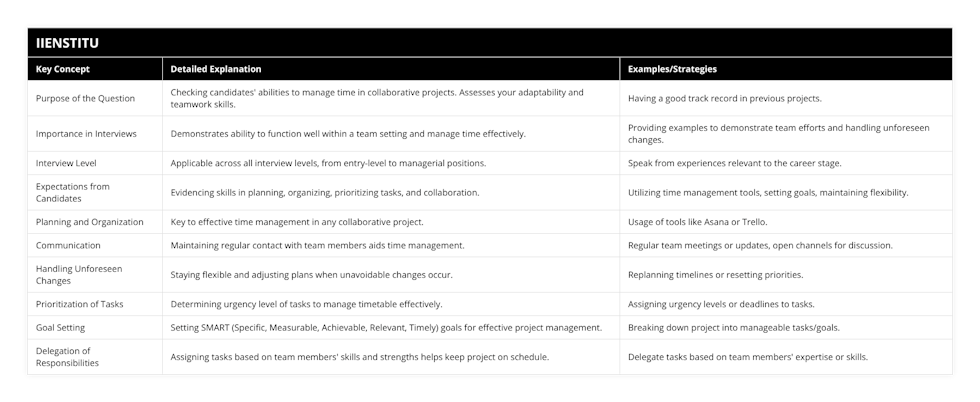 How Do You Handle Time Management in Collaborative Projects?
how do you handle time management in collaborative projects
how do you handle time management in collaborative projects?

Amara Weiss
Institute Secretary, Author
I am Amara Weiss and for many years I have worked in the field of education, specifically in the area of technology. I firmly believe that technology is a powerful tool that can help educators achieve their goals and improve student outcomes. That is why I currently work with IIENSTITU, an organization that supports more than 2 million students worldwide. In my role, I strive to contribute to its global growth and help educators make the most of available technologies.
Related Posts
Our team of experts is passionate about providing accurate and helpful information, and we're always updating our blog with new articles and videos. So if you're looking for reliable advice and informative content, be sure to check out our blog today.