Human Resources Management
How to Optimize Your Performance Appraisal Process
14 November 2022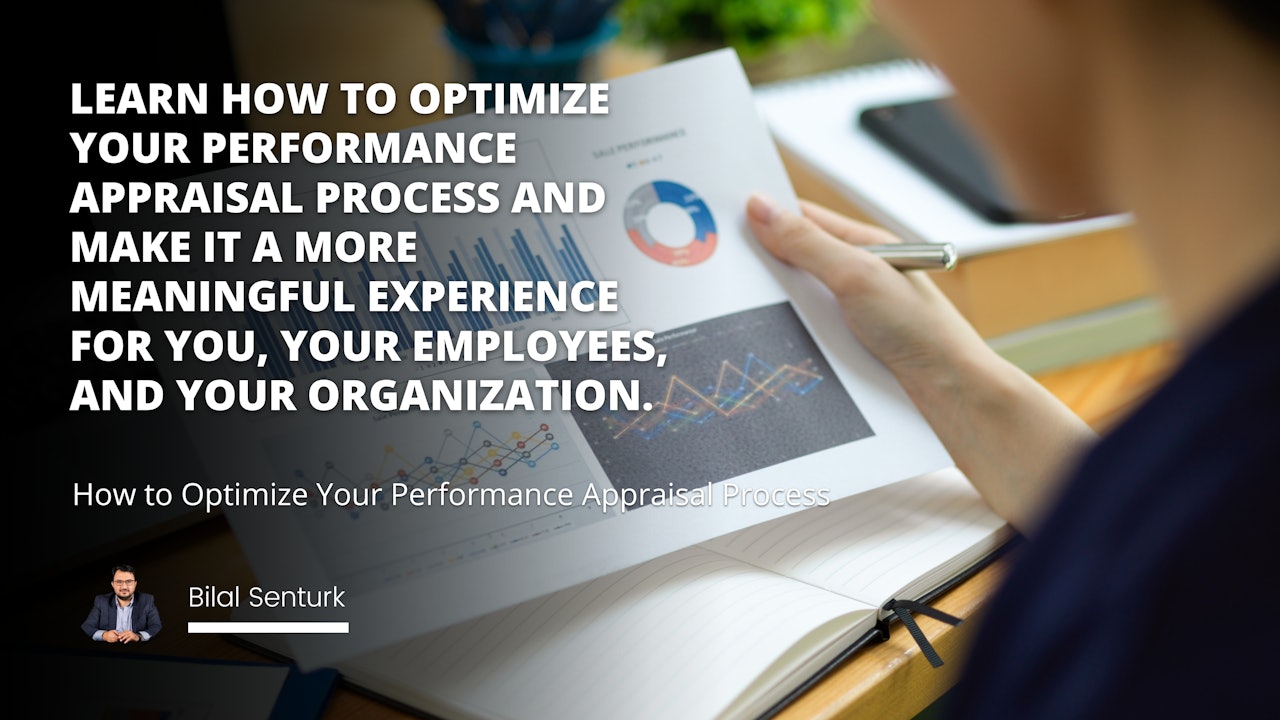 | Action | Benefits | Implementation |
| --- | --- | --- |
| Creating clear job descriptions | Ensures that everyone has the same expectations and responsibilities. | List out the tasks, competencies and skills each role in the organization requires. |
| Calibrating rating scales | Produces accurate and meaningful evaluation of performance. | Define what each score on the scale represents and ensure consistency across the organization. |
| Periodic check-ins | Allows the tracking of progress and provision of feedback throughout the year. | Set regular meetings to discuss performance and provide guidance. |
| Setting clear and measurable objectives | Provides a clear direction and improves communication between managers and employees. | Establish Key Performance Indicators (KPIs) and share them with employees. |
| Collecting feedback throughout the year | Identifies areas of improvement and makes employees feel valued. | Implement surveys, focus groups or an open-door policy. |
| Using standardized appraisal form | Ensures fair evaluation using the same criteria for all employees. | Develop a comprehensive and universally applicable form for all appraisals. |
| Assigning fair and accurate rating | Provides an objective assessment of employee performance. | Base ratings on specific criteria and include input from multiple sources. |
| Documenting feedback and ratings justification | Helps in improving future work and maintaining transparency. | Ensure all evaluations are documented and shared with employees. |
| Employees' input on their own rating | Promotes a sense of fairness and accountability among employees. | Encourage dialogue where employees can discuss their performance. |
| Revisiting and revising the appraisal process | Keeps the process relevant and effective as the company and its needs evolve. | Regularly review the appraisal process and adjust as needed. |
Few things in the business world are as dreaded as performance appraisals. Yet, they are a necessary evil for many organizations. If you want to make the most of your performance appraisal process, follow these tips. First, create a clear and concise job description for each position in your company.
This will help ensure that everyone is on the same page when it comes to expectations and responsibilities. Next, be sure to calibrate your ratings scales so that they are accurate and meaningful. Finally, use periodic check-ins to track progress and give employees feedback throughout the year. By following these tips, you can make the performance appraisal process a useful tool rather than a source of stress.
Understand the goals of the performance appraisal process
The performance appraisal process is a key tool used by businesses to assess employee productivity and identify areas for improvement. When done correctly, it can help to motivate employees and ensure that they are meeting the company's standards. The first step in any performance appraisal is to set clear and attainable goals. Once these goals have been established, it is important to provide employees with feedback on a regular basis.
This feedback should be both positive and negative, and should be given in a constructive manner.
Finally, the performance appraisal process should culminate in a formal review, during which employees are given an opportunity to discuss their progress and receive more detailed feedback. By following these steps, businesses can ensure that the performance appraisal process is an effective way to assess employee productivity and identify areas for improvement.
Set clear and measurable objectives for employees
Objectives are the foundation that all successful businesses are built on because they provide a clear and measurable guide for employees to follow. When objectives are set properly, they provide employees with a sense of direction and ensure that everyone is working towards the same goal.
Additionally, well-defined objectives help to improve communication between managers and employees, and they can also serve as a valuable tool for performance evaluations. By taking the time to set clear and measurable objectives, businesses can create a framework for success that will benefit both the company and its employees.
Collect feedback from employees throughout the year
In order to run a successful business, it is essential to collect feedback from employees throughout the year. This helps to identify areas where improvements can be made and also allows employees to feel heard and valued. There are a number of ways to collect employee feedback, such as conducting surveys or holding focus groups.
However, it is also important to create an environment where employees feel comfortable giving feedback on a regular basis. This can be done by establishing an open-door policy or encouraging employees to give feedback anonymously. By collecting feedback from employees throughout the year, businesses can make sure that they are always moving in the right direction.
Use a standardized appraisal form
There are many benefits to using a standardized appraisal form when conducting performance evaluations. Perhaps most importantly, it helps to ensure that all employees are evaluated using the same criteria. This can help to reduce unfairness and promote a sense of fairness and equity within the organization.
Additionally, standardized forms can help to improve the accuracy of evaluations by providing clear guidelines for appraisers. Finally, using a standardized form can also save time and effort by eliminating the need to develop new evaluation tools for each employee. Overall, the use of a standardized appraisal form can provide numerous benefits for both employees and employers.
Assign a fair and accurate rating to employee performance
A fair and accurate rating of employee performance can be a difficult task for any manager. There are a number of factors that need to be taken into account, and it is often difficult to find an objective perspective. However, there are a few steps that can be taken to ensure that the rating process is as fair and accurate as possible.
First, it is important to solicit feedback from a variety of sources. This could include colleagues, direct reports, and even customers.
Second, ratings should be based on specific and measurable criteria.
Third, employees should be given the opportunity to provide input into their own ratings. By following these steps, managers can ensure that they are providing a fair and accurate assessment of employee performance.
Document feedback and provide written justification for ratings
Any kind of feedback is important for improving future work, but it is especially important to document feedback and provide written justification for ratings. This allows the original creator to go back and look at what was said, and make improvements accordingly.
It also allows others who view the feedback to see how the rating was determined, and makes it more difficult for ratings to be manipulated. Furthermore, documented feedback can help to create a more accurate picture of someone's work, which can be helpful when making hiring decisions or considering promotion.
In short, documenting feedback and providing written justification for ratings is a practice that should be encouraged in all workplaces.
A performance appraisal is a review of an employee's job performance for the entire year. The purpose of this process is to identify areas where the employee excelled and where they need improvement. As a manager, it's important that you set clear and measurable objectives for your employees, collect feedback throughout the year, use a standardized appraisal form, assign a fair and accurate rating to employee performance, document feedback, and provide written justification for ratings. If you want to learn more about HR management, join our course.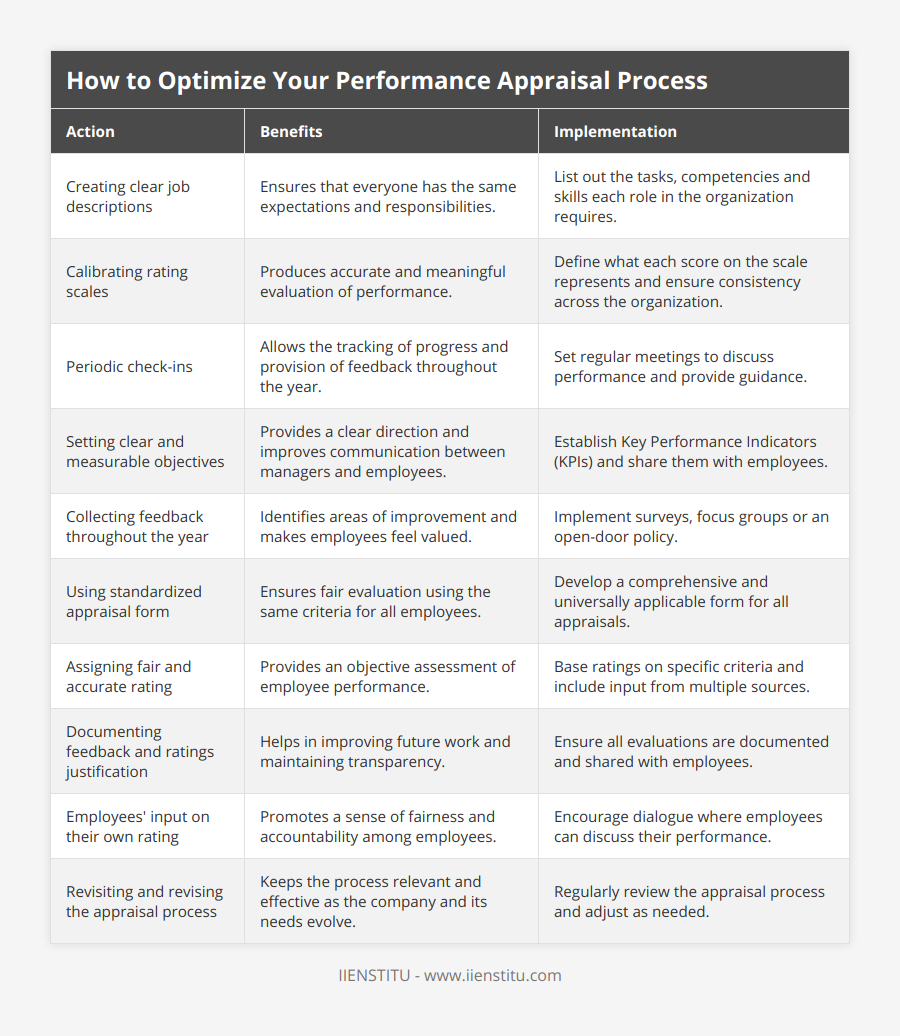 human resources
hr management
Bilal Şentürk
Blogger
He completed his undergraduate studies at Celal Bayar University, Anadolu University and Istanbul University, and a Master's degree with thesis on Human Resources Management at Yıldız Technical University and Business Management at Beykent University. He is currently writing a doctoral thesis on human resources and consulting businesses on human resources.
Related Posts
Our team of experts is passionate about providing accurate and helpful information, and we're always updating our blog with new articles and videos. So if you're looking for reliable advice and informative content, be sure to check out our blog today.