Certificate
How To Get Hr Certificate In 2 Days
27 November 2021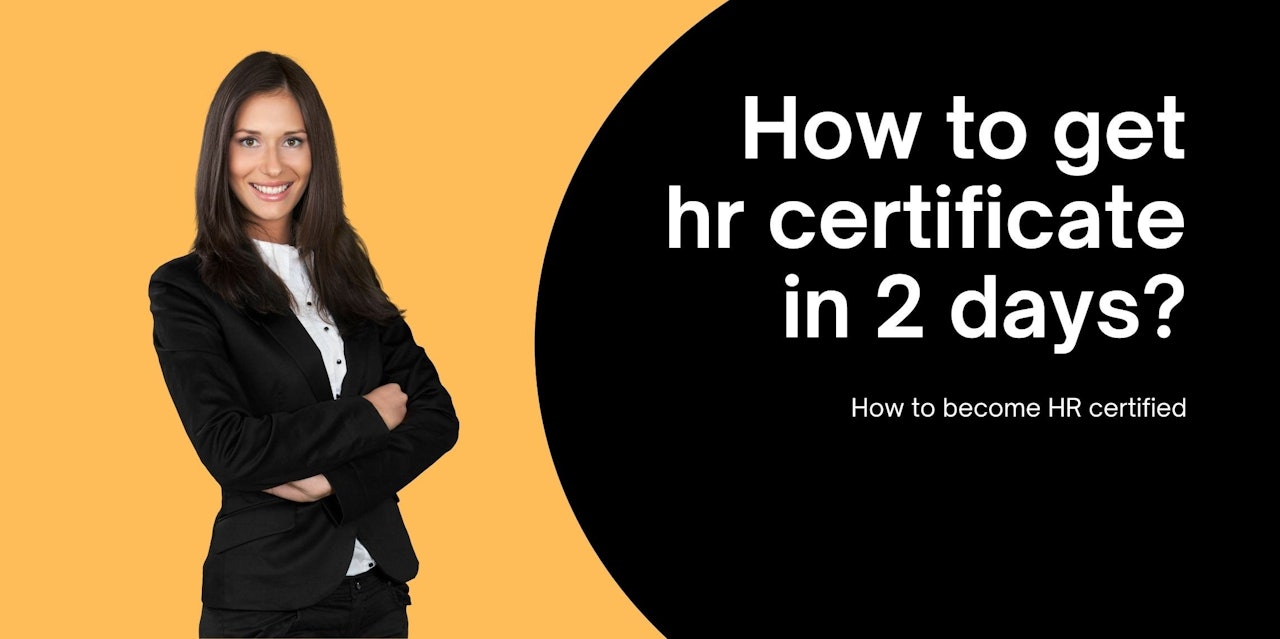 | HR Certification | Benefits | How to Obtain |
| --- | --- | --- |
| HR Certification Course | More marketable on job market | Online, self-paced course |
| HR Certification Course | Career advancement, potential for higher salary | Online, complete in 2 days |
| HR Certification Course | Recognition from peers and employers | Online, flexible schedule |
| HR Certification Course | Better job opportunities | Online, accredited program |
| HR Certification Course | Helps achieve HR qualifications recognized by industry leaders | Online course from accredited schools |
| HR Certification Course | Graduate level education in HR | Online, accessible anywhere at any time |
| HR Certification Course | Opens doors to thousands of jobs requiring HR certification | Online, affordable fees |
| HR Certification Course | Potential for higher status job | Online, self-paced and focused on what matters most in HR |
| HR Certification Course | Enhances general understanding of HR disciplines | Online, condensed program to learn necessary HR skills |
| HR Certification Course | Provides peace of mind, confident in HR capabilities | Online, flexible learning with interactive elements |
With the help of an online course, hr certificate can be obtained in 2 days.
Here's what you need to do:
1. Visit our website and register for the course by filling out this quick form.
- You must have a valid email address to participate in this course.
2. Continue reading below if you want to know more...
Who is responsible for hr? What are they responsible for? Do I need hr certificate? Is there any shortcut or hack that gets me hr certificate easily? Yes, there is! With the help of an online HR Certificate Course, hr certificate can be obtained in 2 days!
You may think "hr certificate? hr is so specialized, i only have a general idea of hr. And hr itself is not my job. Why do I need hr certificate?" In fact, you probably know more about hr than you think. But without hr certificate, some doors might remain closed to you forever!
There are thousands of jobs that require hr certification or real-life work experience for hiring managers. If you want a higher status job in your company and work your way up to the C level position, having an HR Certificate will be a deciding factor. Some employers even select employees partially on their career choice and level of training in human resources management disciplines such as employee relations, organizational leadership, compensation & benefits, employment law. And many people get this hr certificate online.
Related Course: Leadership Training Course
To get hr certification, starting is the hardest thing - you need to know where and who can give hr certification. Many hr consultants and human resources management experts provide hr courses on their own websites; but they all charge too much.
As a student, you cannot afford such high learning fees... That's why we created this online hr course: Focused on what matters most in hr. The focus of our hr course is to help students get hr certificate in 2 days. We do not waste time on anything else. With the help of our hr experts, you will learn everything necessary for hr certification within 48 hours (2 day).
This online hr training program enables students to learn at their own pace and from anywhere at any time. hr certification is definitely possible in 2 days if you follow our online hr training program, but you still have to be dedicated and determined to do it. HR certificate can bring you more opportunities in the future!
We are so confident that this hr course will meet your needs - we offer a 90-day money back guarantee. So, what are you waiting for? Visit our website today and sign up for the hr training program now!
How to become hr certified
Whether you're a business owner or a hr professional, having hr certification can help you succeed in this competitive world. An hr certificate is a document which provides proof of hr training completion from an hr school, college, institute or university.
Here are 5 benefits of obtaining hr certification:
1. It helps to become more marketable on the job market.
2. It helps with career advancement and mobility by helping get a better position at work or higher salary compensation that will lead to financial growth.
3. With hr certification, one gains recognition from peers and employers as well as peace of mind knowing that one achieved hr qualifications recognized by industry leaders and organizations worldwide through gaining hr education from accredited schools, colleges, universities etc..
4. hr certification can lead to better job opportunities. hr certificates are awarded for hr courses completed by students who have successfully passed hr exams that allow one to be hr certified.
There are numerous courses that one can take to gain hr certification, however it is important to choose a course which is recognized worldwide, offers flexible hr classes and allows for interaction with classmates and faculty through online discussion boards, chat rooms etc...
Many hr schools offer online hr courses where one can learn everything there is to know about hr in the comfort of their own homes at their own pace. When searching for an online hr course make sure you investigate this thoroughly before signing up so you will not waste your time or money on an ineffective training program.
Did you know that 66% of companies have criteria in place for hiring HR professionals? Have you always wanted to become an HR professional but don't know where to start? Or are you already working toward your hr degree, certification, or diploma but feel like something is missing from your studies? If any of this sounds familiar then perhaps learning how to become hr certified online with an accredited organization is just the thing for you.
Recently more and more companies are looking towards outside services when it comes to their training needs. This doesn't mean however that they are simply looking for someone who can do the job:they want someone who knows what they're doing and has a background in graduate level education in human resources (hr).
It's only natural that employers want the best for their company and to hire someone who knows what they're doing.
It's not like you can just walk into a human resources office and start working – at least not without hr certification. There are many different levels of hr certification:from associate degree programs to bachelor's degrees, master's degrees and even Ph.D. level information and courses (although these last two don't apply as much to entry level jobs).
That is why it's so important to take courses that will help you become an expert in the fields of human resources management, law, business institutions, etc. The more background knowledge you have about hr then the better your chances of success as a professional in the field!
In fact, thanks to the Internet more and more courses are being offered that will help you become an expert in a specific field or skill. In this case we're talking about human resources. Things like how to become hr certified have never been so convenient! Now you can take a course from home and get your certificate of completion within days! There is no better way to learn than with the help of experts who have dedicated their life's work to studying certain topics.
It's easy and convenient! Sign up today!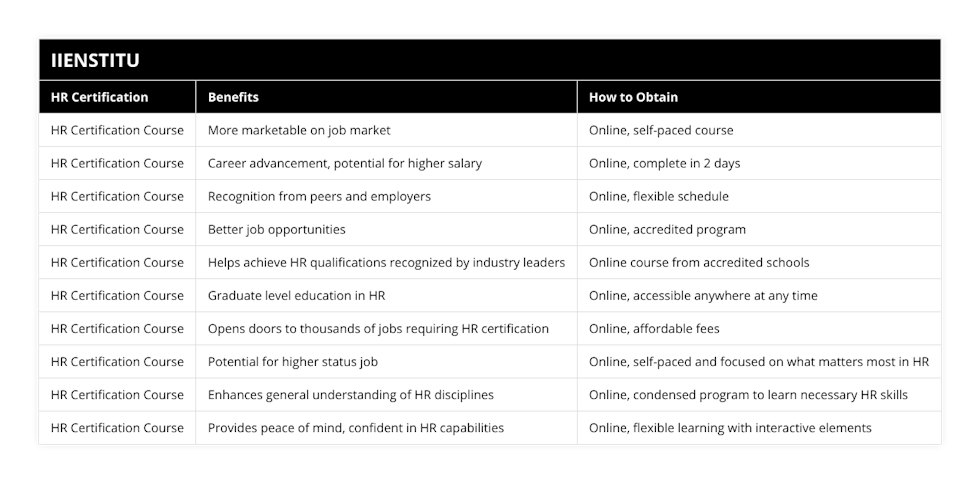 Meryem Winstead
Blogger
I graduated from the Family and Consumption Sciences Department at Hacettepe University. I hold certificates in blogging and personnel management. I have a Master's degree in English and have lived in the US for three years.
Related Posts
Our team of experts is passionate about providing accurate and helpful information, and we're always updating our blog with new articles and videos. So if you're looking for reliable advice and informative content, be sure to check out our blog today.