Human Resources Management
Essential Qualities for Corporate HR Success
20 February 2023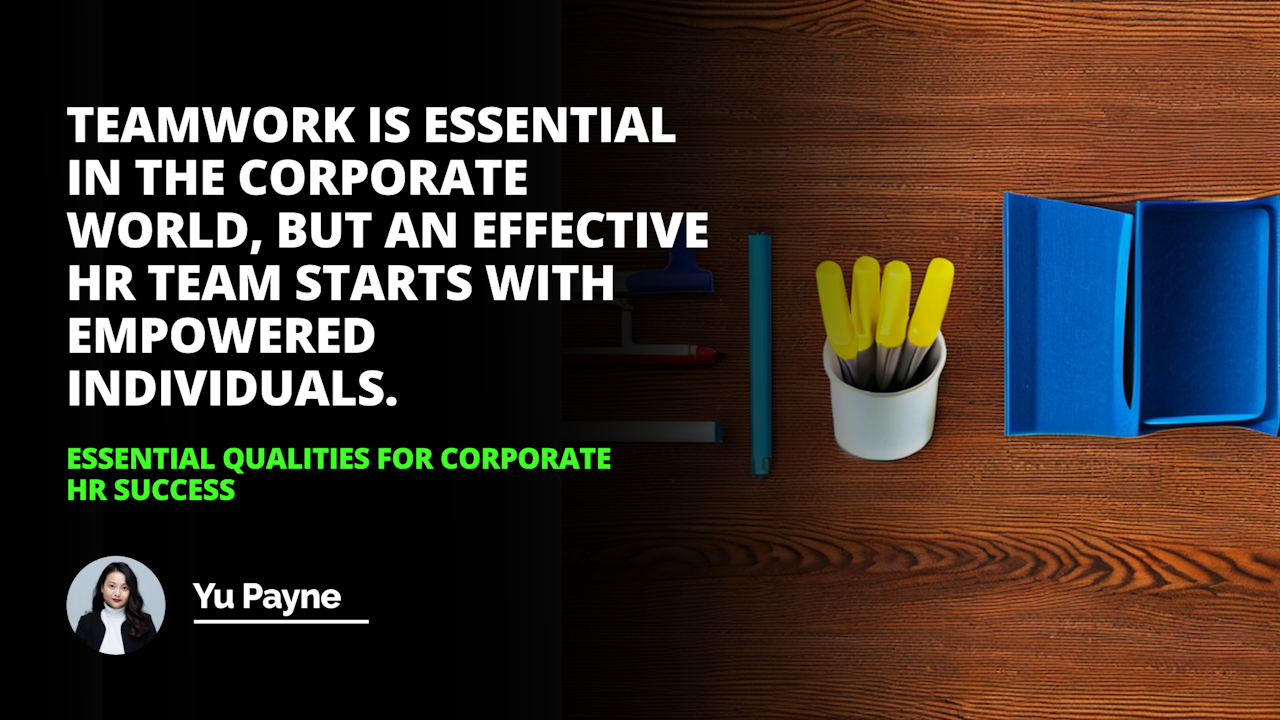 | Qualities | Description | Benefits to Organization |
| --- | --- | --- |
| Communication Skills | Ability to forge trust and facilitate difficult conversations. | Enhances dialogue and understanding among teams and management. |
| Organizational Capabilities | Capability to manage time and resources, drive projects, and grasp internal and external regulations. | Boosts company's efficiency in meeting corporate goals and objectives. |
| Conflict Resolution Abilities | The skill to handle internal and external issues and maintain the organization's culture. | Preserves and promotes a healthy and harmonious corporate environment. |
| Understanding of Regulatory Requirements | Comprehensive knowledge of labor laws, policies, regulations, and procedures. | Safeguards company against legal issues and facilitates proper implementation of HR operations such as training and recruitment. |
| Strong Leadership Qualities | Ability to manage effectively, delegate tasks, and build bridges between stakeholders. | Accelerates achievement of company goals and enhances personnel relationships. |
| Decision-Making Skills | Ability to make sound, data-driven decisions under pressure. | Helps in shaping an effective strategy and prevents major organizational blunders. |
| Interpersonal Skills | Ability to build relationships and communicate effectively with people at all levels in the organization. | Fosters a positive work environment and strengthens teamwork. |
| Strategic Thinking | Ability to align HR initiatives with the company's strategic goals. | Ensures initiatives integrates with the overall objectives of the company. |
| Adaptability | Ability to adapt and evolve as per changing market trends and business models. | Ensures HR practices stay relevant, ensuring cost-effectiveness and productivity. |
| Listening Skills | Ability to understand and act upon the inputs from employees. | Promotes growth and learning, and drives employee engagement. |
Communication Skills

Organizational Capabilities

Conflict Resolution Abilities

An Understanding of Regulatory Requirements

Strong Leadership Qualities
Related Course: Online Leadership Course
The foundation of a successful corporate Human Resources (HR) team is a holistic approach to both operations and personnel management. With roles in conflict resolution, policy implementation, training, and recruitment, the HR team sets the tone for the corporate environment and is responsible for long-term corporate health and growth.
While it is ultimately up to the HR team to determine the right fit for their organization, there are a few essential qualities that any excellent HR team must possess to be successful.
Communication Skills
The ability to communicate effectively is essential in any corporate environment, but particularly so in Human Resources. With multiple stakeholders, the ability to craft and deliver clear messages is a must. In addition, listing trust with team members, applicants, and management is paramount, as is the ability to facilitate difficult conversations and hold appropriate dialogues on any issues that may arise.
Organizational Capabilities
An HR professional must also be able to organize their own time and the organization's sources. This requires a deep understanding of the various functions of HR and the associated tasks. In addition, a solid grasp of the applicable regulations inside and outside the company is also necessary. Finally, organizing and driving projects and programs from start to finish is essential to ensuring the company meets its corporate goals and objectives.
Conflict Resolution Abilities
Conflict resolution is a cornerstone of being a successful HR Manager. Being able to manage both internal and external issues while keeping the peace and preserving the overall culture of the organization is a great skill to have. Being able to bridge two sides and find solutions everyone can abide by is a crucial skill that helps an HR professional fit in well with the organization.
An Understanding of Regulatory Requirements
No job in the HR sector is the same, but relatively, they all require the same sort of understanding. A comprehensive knowledge of labor laws and a thorough understanding of policies, regulations, and procedures is essential for any HR professional. Additionally, this knowledge helps HR professionals manage internal conflicts, provide guidance and guidance counseling, implement practical training and recruitment, and more.
Strong Leadership Qualities
Having strong leadership qualities is invaluable for an HR professional. Influential leaders are mainly concerned with individuals and can create a positive environment where different personalities and roles coexist. In addition, managing effectively, delegating tasks, and building bridges between stakeholders make better working conditions for all involved. It helps a company achieve its goals much faster.
In conclusion, the modern HR staff must possess various skills and qualities to succeed in their role. They must also understand the applicable laws, regulations, and procedures governing the employment of people, as well as a strong command of organizational capabilities and leadership skills. By combining these essential qualities, HR can affect change in the corporate workplace and help the organization reach its goals and objectives.
Teamwork is essential in the corporate world, but an effective HR team starts with empowered individuals.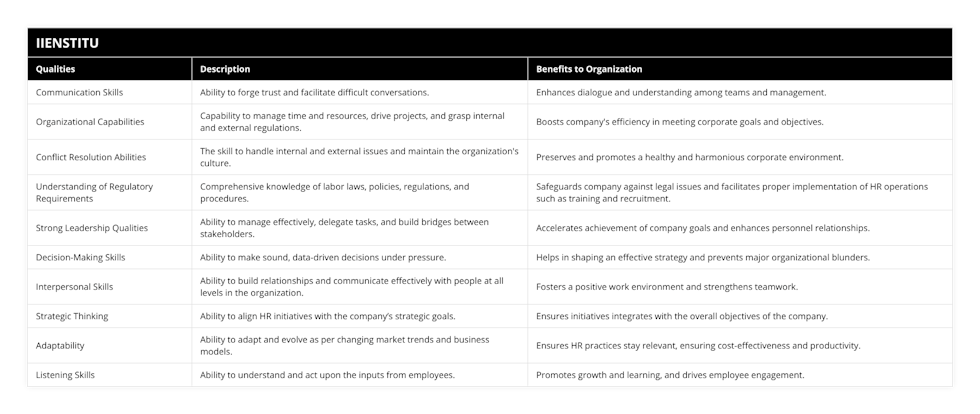 Communication Skills
Organisational Capabilities
Conflict Resolution Abilities
Understanding of Regulatory Requirements
Strong Leadership Qualities
Yu Payne
Blogger
Yu Payne is an American professional who believes in personal growth. After studying The Art & Science of Transformational from Erickson College, she continuously seeks out new trainings to improve herself. She has been producing content for the IIENSTITU Blog since 2021. Her work has been featured on various platforms, including but not limited to: ThriveGlobal, TinyBuddha, and Addicted2Success. Yu aspires to help others reach their full potential and live their best lives.
Related Posts
Our team of experts is passionate about providing accurate and helpful information, and we're always updating our blog with new articles and videos. So if you're looking for reliable advice and informative content, be sure to check out our blog today.