Stress Management
Effective Stress: How to Deal With It
23 August 2022
| Effective Stress Strategies | Description | Additional Information |
| --- | --- | --- |
| Identify the source of your stress | Understanding the root causes of your stress can empower you to avoid or manage such situations. | Tools such as mindfulness and journaling can aid in identifying stress triggers. |
| Develop a support network | Having people to lean on emotionally and practically can buffer the impacts of stress. | Support can come from various sources such as friends, family, mentors, or mental health professionals. |
| Take care of yourself | Maintaining good physical health can help your body better handle stress. | Regular exercise, nutritious food, and sufficient sleep are fundamental for overall well-being. |
| Talk to someone about your stress | Sharing your feelings and concerns with others can provide emotional release and valuable insights. | Counseling or therapy can be beneficial for developing more effective stress management skills. |
| Seek professional help | If stress management strategies aren't working, it may be beneficial to seek professional help. | Many therapists specialize in stress management and can provide personalized guidance. |
| Make use of resources available | Utilize resources like free online courses, books, and apps that provide stress management guidance. | Digital health platforms often provide access to stress management resources. |
| Practice stress reduction techniques | Techniques such as mindfulness, meditation, and deep breathing can reduce stress levels. | There are a variety of apps and online resources to guide you in these practices. |
| Leverage stress as motivation | Channel the stress into a force for achieving goals and improving performance. | Viewing stress in a positive light can promote resilience and growth. |
| Scheduling downtime | Plan regular rest periods to rejuvenate and relax, reducing stress buildup. | Rest can come in the form of hobbies, quiet time, or mindful exercises. |
| Adopt a positive mindset | Maintaining a positive outlook can mitigate the negative effects of stress, fostering resilience. | Positive psychology techniques, like gratitude journaling, can encourage a more optimistic perspective. |
Like most people, you have some effective stress in your life. Effective stress is caused by a demanding job, a hectic lifestyle, or other external factors. While adequate pressure can be challenging to deal with, there are some things you can do to make it more manageable.
There is a lot of information on stress, but most of it is the same. So, in this article, I want to talk about something different: Effective pressure!
We all know that stress can be harmful, but many people don't know that there are ways to manage and even use pressure to our advantage. For example, studies have shown that moderate stress levels can improve performance in specific tasks.
So how do we go about incorporating effective stress into our lives? Well, it's not as difficult as you might think. Here are a few tips:
Identify the source of your stress.
Effective stress management begins with identifying the sources of stress in your life. The more you can identify and label what stresses you out, the more control you will have over managing the stress. Once you know what stresses you out, try to avoid or remove yourself from the situation if possible.
If the source of your stress is something you can't change, like a demanding job, look for ways to cope with the pressure healthily. This might include exercise, relaxation techniques, or spending time with supportive people. Effective managing stress can help you feel better and function at your best.
Develop a support network.
Effective stress is the type of stress we experience in response to a perceived threat. It is the body's natural way of preparing us to deal with a challenge. Effective stress can be beneficial, as it can help us to perform at our best in times of need. However, when experienced on a chronic basis, effective stress can lead to serious health problems.
One way to protect against the harmful effects of effective chronic stress is to develop a family and friends support network. These people can provide emotional support and practical help when you need it. In addition, they can serve as a sounding board for your concerns and help you to develop healthy coping mechanisms.
Taking advantage of the support of those around you can protect your health and well-being in the face of chronic stress.
Take care of yourself.
Effective stress is a type of stress that occurs when the demands of a situation exceed your ability to cope. Effective stress can be beneficial and motivating to meet deadlines or perform well in competition. However, when effective stress becomes chronic, it can lead to physical and emotional health problems.
Therefore, taking care of yourself when you're under stress is essential. Eating a healthy diet, getting enough sleep, and exercising can all help you deal with effective stress. If you're struggling to cope with stress, don't hesitate to seek professional help.
Talk to someone about your stress.
Effective stress management begins with identifying the sources of stress in your life. This can be difficult, as pressure often develops over time and can result from many different factors. However, once you have identified the source(s) of your stress, you can begin to develop coping strategies. Talking to someone about your focus can be a helpful first step. Next, a counselor or therapist can help you identify your stress's root cause and develop healthy coping mechanisms.
In some cases, medication may also be recommended to help you manage your stress. Effective stress management is an essential part of maintaining a healthy lifestyle. If you struggle to manage your stress, seek help from a professional.
Stress is an unavoidable part of life, but it doesn't have to control you. There are many ways to take care of yourself and manage your stress effectively. Join our free online course on stress management for more tips and advice on living a less stressful life. You can make practical stress work instead of against you with a bit of effort.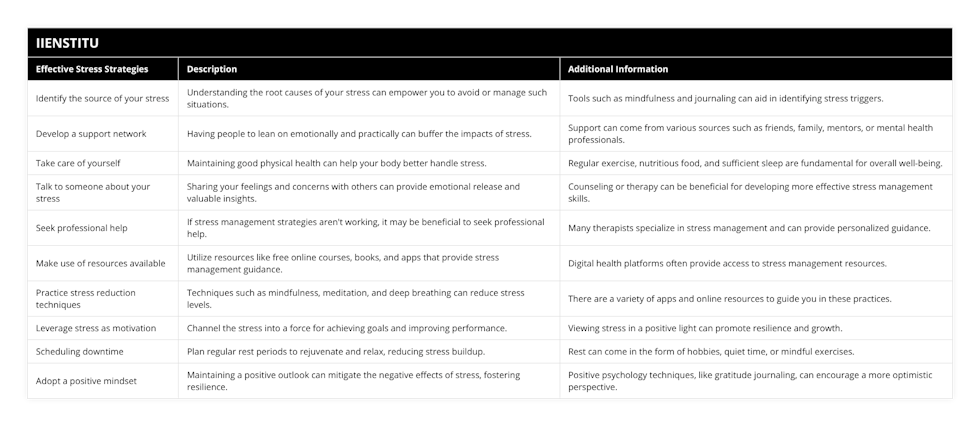 Eryk Branch
Blogger
He is a content producer who specializes in blog content. He has a master's degree in business administration and he lives in the Netherlands.
Related Posts
Our team of experts is passionate about providing accurate and helpful information, and we're always updating our blog with new articles and videos. So if you're looking for reliable advice and informative content, be sure to check out our blog today.