Logistic Management
Decoding the Process and Benefits of Return Merchandise Authorization (RMA)
20 November 2023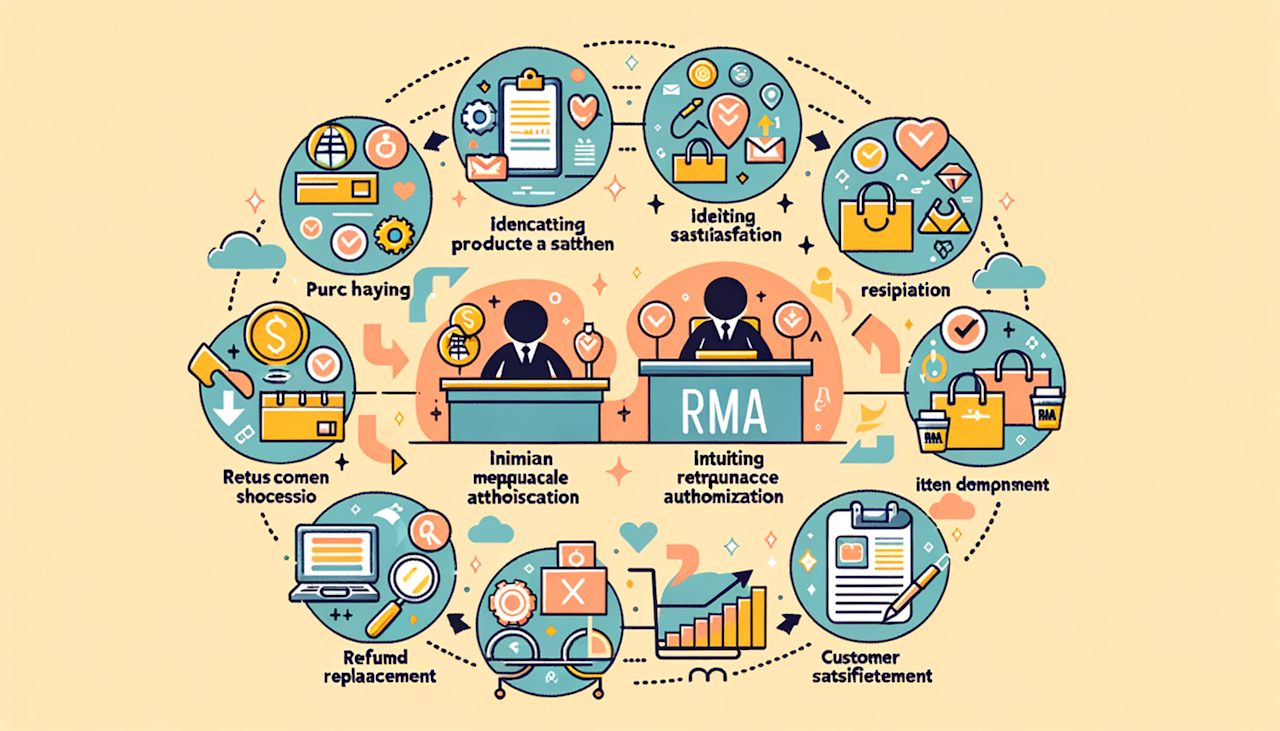 | Aspect | Description | Benefit |
| --- | --- | --- |
| RMA Process | Customer makes a request, seller reviews and approves, the merchandise is returned, and a resolution is provided. | Smooth and efficient handling of returns which boosts customer satisfaction. |
| Purpose of RMA | Tracks return with unique RMA numbers, prevents unauthorized returns, and manages appropriate responses. | Secures operational integrity, safeguards finances, and keeps inventory in check. |
| Components of RMA | They include transparency, timelines, and outcome expectations, along with a tracking system. | Promotes trust and customer satisfaction, reduces need for customer representatives. |
| RMA in Business | Ensures management of efficient customer relations and business operations. | Fosters customer satisfaction and loyalty, maintains stock levels, assists in forecasting. |
| Strategic Insights of RMA | Gleans data that highlights product or service issues. | Improves quality control and customer relationship management strategies. |
| RMA System Implementation | Incorporation of automation and clear communication with customers. | Simplifies and expedites RMA process, removes barriers, and fosters trust. |
| RMA Initiation | Smooth and easy initiation process for the customers is paramount. | Encourages repeat business and boosts customer satisfaction. |
| Automation in RMA | Use of technology to expedite the process and reduce human error. | Increases efficiency and accuracy of the process. |
| Communication in RMA | Unambiguous communication of RMA policies, terms, and conditions is key. | Avoids misunderstandings and manages customer expectations effectively. |
| Inventory Management in RMA | Efficient restocking of returned items to maintain dynamic inventory. | Ensures accurate inventory records and minimizes losses from returned goods. |
The dynamics of purchasing and returns have evolved significantly with the advent of e-commerce. A critical aspect of this ecosystem is the Return Merchandise Authorization or RMA. This process acts as a gatekeeper, ensuring that returns and refunds flow smoothly between customers and businesses. Understanding RMA is not just a necessity, it is an anchor in fostering trust and ensuring customer satisfaction.
This process is particularly vital in an age where online transactions have become the norm, and the ability to return goods effectively can make or break the customer service experience.
Understanding Return Merchandise Authorization
Explanation of the RMA process
The RMA process begins when a customer decides that a product does not meet their needs or expectations. This might be due to a range of factors, such as defects, incorrect items, or a change of heart. The customer requests authorization from the seller to return the item. Once the request is reviewed and approved, the customer may return the merchandise, preferably with appropriate documentation and packaging.
The returned item is then inspected upon receipt, and the RMA is closed with an appropriate resolution – usually a repair, replacement, or refund, depending on the policy of the vendor.
The Purpose of an RMA system
An RMA system serves multiple purposes that help maintain the integrity of the returns process. It enables tracking returns through unique RMA numbers, which help ensure that a customer's request is processed efficiently and accurately. It also acts as a protective measure to prevent unauthorized returns, which could result in loss or fraud.
Lastly, it helps businesses manage responses to returns, be those replacements or refunds, keeping the operation's finances and inventory in check.
Components essential to an RMA system
For an RMA system to be effective, certain components are non-negotiable. These include transparency regarding the condition of the returned item, the timeline for processing returns, and the expected outcome.
Furthermore, RMA systems often incorporate a status tracking component, ensuring that customers can monitor the progress of their returns without requiring constant support from customer service representatives. This fosters trust and demonstrates a commitment to customer satisfaction.
The Role of RMA in Business Operations
Maintaining customer relations
A successful RMA process underscores a business's commitment to exceptional customer service. Illustrating good customer service lies not only in selling products but also in managing post-sale interactions adeptly.
This ensures that customers are likely to remain loyal, even if their initial purchase did not meet expectations. Enhancing customer satisfaction through a reliable RMA process likewise has a positive impact on word-of-mouth marketing and brand reputation.
Ensuring efficient business operations
From an operational standpoint, an RMA process serves as an example of a streamlined return process. It saves time and resources by providing a clear system for managing returns. Importance in inventory management cannot be overstated, as returns directly influence stock levels, and subsequently, sales and revenue forecasting.
A refined RMA system can help a business maintain accurate inventory records and reduce losses from returned goods.
Leveraging RMA for Strategic Insights
The data gleaned from RMA can be invaluable. It can highlight trends in product defects or customer dissatisfaction, acting as a feedback mechanism for improving product quality and service.
Indeed, RMA can be transformative when integrated with broader quality control and customer relationship management strategies, turning potential negatives into proactive areas for business improvement.
Key Elements to Consider when Implementing an RMA System
Automation and technology utilization
Leveraging technology can greatly enhance the RMA process, making it quicker and more reliable. Automation can expedite the authorization process and track returns more efficiently, reducing human error and improving turnaround times. Technology solutions can also assist with restocking returned items efficiently, ensuring that inventory remains dynamic and up-to-date.
Clear communication with customers
Clarity is pivotal when interacting with customers initiating an RMA. Policies must be communicated unequivocally, ensuring customers know what to expect at each step. This means providing detailed instructions for return shipping, explaining terms and conditions, and setting realistic expectations on refund or replacement timelines.
Easy RMA initiation process
The initiation of an RMA should be a frictionless experience for the customer. Simple, accessible methods for requesting returns, such as online forms or integrated services within an e-commerce platform, can remove barriers, encouraging trust and repeat business. After all, the goal is not to dissuade returns, but to manage them with optimal efficiency and customer convenience.
Common Challenges of RMA Management
Detailed scenarios of potential challenges
RMA management can be fraught with challenges, from logistical issues to customer disputes. Detailed scenarios include products being returned outside of the return window, returned items that have been damaged by the customer, or discrepancies between the reported issues and the actual condition. Each of these presents a unique obstacle that requires a nuanced approach to resolve.
Recommending solutions for each problem
For each potential challenge, businesses must have predefined solutions. This could include a no-questions-asked policy within a certain timeframe or insurance on shipped products to mitigate losses from damage. Customer support teams should also be equipped with the authority and knowledge to handle disputes and unusual circumstances adeptly.
Case Study: Effective RMA Management Practices
Comprehensive review of a business with successful RMA practices
There are businesses today that exemplify best practices in the realm of RMA. Examining these cases can provide direct insights into how effective RMA management can not only alleviate the burdens of returns but can actually enhance customer loyalty. These businesses consider RMA services not as a necessary evil but as an opportunity to demonstrate commitment and trustworthiness.
Tie-in of previous sections with this practical example
An effective case study ties together theory and practice, illustrating how the deliberate implementation of a streamlined RMA system, clear communication, and customer convenience can translate into real-world success. Such examples can offer valuable learning points for other businesses aiming to refine their own return processes.
Conclusion
Recap of the importance and role of RMA
The importance of Return Merchandise Authorization in the landscape of modern commerce cannot be overstated. It plays a vital role in maintaining customer relations, ensuring efficient business operations, and providing strategic insights for continual improvement.
Encouraging steps towards effective RMA management
Businesses of all sizes should be encouraged to critically assess and refine their RMA practices. Incorporating automation, maintaining clear communication, and making the RMA process customer-centric are all steps towards this goal.
When executed well, RMA becomes not just a process but a hallmark of customer service excellence. Whether through undertaking a logistics online course to gain deeper understanding or reviewing online courses to update teams on the latest in RMA technologies, ongoing education and improvement in this area are essential for sustained success.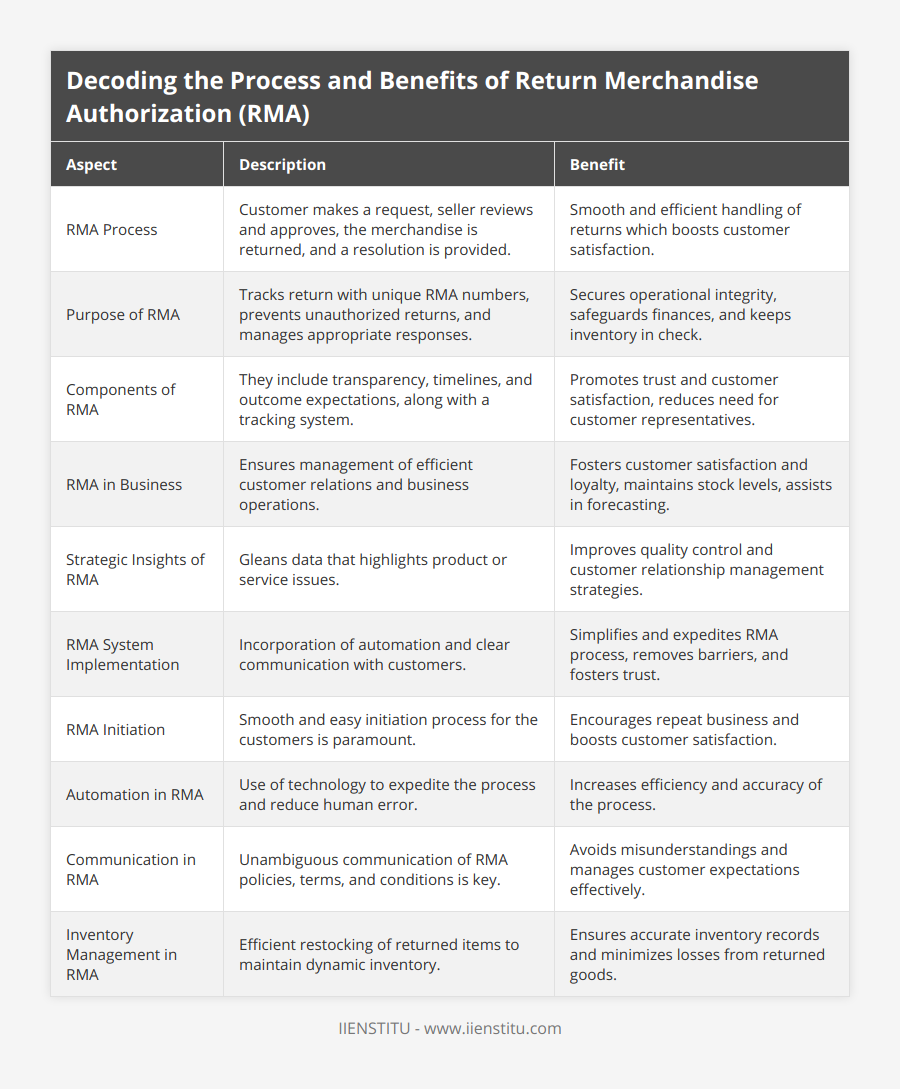 RMA process
authorization
approved
tracking returns
prevent unauthorized returns
transparency
timeline
customer relations
efficient business operations
importance in inventory management
Yu Payne
Blogger
Yu Payne is an American professional who believes in personal growth. After studying The Art & Science of Transformational from Erickson College, she continuously seeks out new trainings to improve herself. She has been producing content for the IIENSTITU Blog since 2021. Her work has been featured on various platforms, including but not limited to: ThriveGlobal, TinyBuddha, and Addicted2Success. Yu aspires to help others reach their full potential and live their best lives.
Related Posts
Our team of experts is passionate about providing accurate and helpful information, and we're always updating our blog with new articles and videos. So if you're looking for reliable advice and informative content, be sure to check out our blog today.