Logistic Management
Stock Financing: Innovation in Logistics Industry
27 February 2023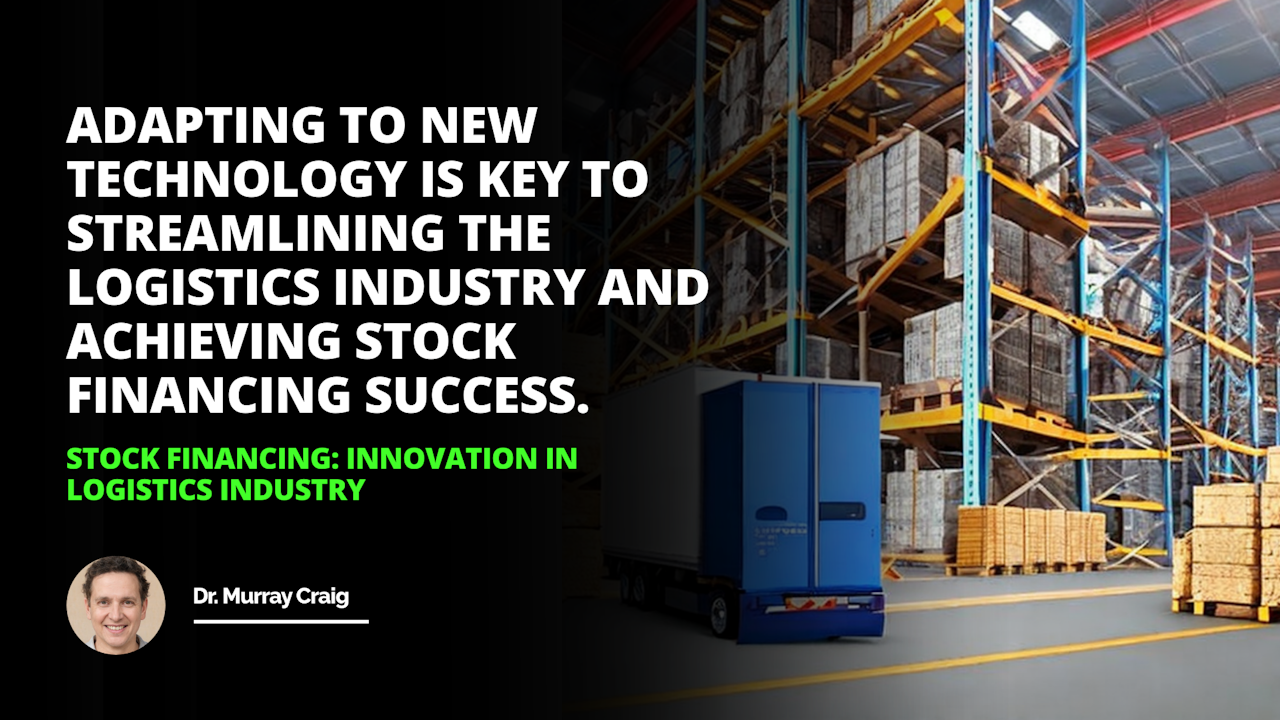 | Topic | Insights | Examples |
| --- | --- | --- |
| Stock Financing Definition | The practice of raising funds from the sale of stocks as a form of short-term financing, working capital, and debt restructuring. | Companies sell their shares to raise necessary capital. |
| Benefits of Stock Financing | Allows quick access to capital, offers cheaper financing options and improves cash flow management practices. | Companies are able to develop projects and invest in new technologies faster. |
| Effect on Logistics Industry | Facilitates increased efficiency, better financial flexibility, and competitive advantage. | Company A's operations have improved through their stock financing program. |
| Challenges of Stock Financing | Initial cost of the share sale, compliance with regulations, and the risk of a volatile marketplace. | Stock prices can fluctuate due to a wide range of external and internal factors. |
| Use in SMEs | Provides an affordable financing option and thus particularly appealing to small and medium-sized logistics companies. | SMEs access capital without paying high-interest rates typically associated with bank loans. |
| Effect on Cash Flow Management | Improvement in cash flow management as funds raised can offset potential financial losses. | Companies can maintain healthier cash flows and meet financial obligations more easily. |
| Regarding Growth | Can provide flexibility during growth periods for the company. | Companies are more capable of making accurate forecasts and planning for future growth with secured funds. |
| Use in Global Markets | Allows companies to finance expansion into global markets. | Company B has globally extended their freight services using stock financing. |
| Risk Management | Despite advantages, risks associated with stock financing must be considered and managed. | All companies must ensure compliance with relevant regulations and laws before embarking on stock financing. |
| Role in Innovation | Stock financing can promote innovation in the logistics industry by funding development of new technologies | Companies can quickly adapt to market changes and meet customer needs. |
Benefits of Stock Financing for the Logistics Industry

Challenges of Stock Financing for the Logistics Industry

Examples of Companies Using Stock Financing in the Logistics Industry
The logistics industry is a fast-paced, constantly evolving field that requires effective financial management to stay competitive. As such, impeccable cash flow management is critical to long-term success. With increasing competition and rising customer expectations, companies are beginning to recognize the need to explore innovative financing options, particularly stock financing.
So, what is stock financing? Stock financing is the practice of raising funds from the sale of stocks. By selling their stores, companies can access the capital necessary for short-term financing, working capital, and debt restructuring. This approach increases their chances of survival during turbulent times. In addition, it can provide added flexibility during periods of growth for a company.
Benefits of Stock Financing for the Logistics Industry
The logistics industry is highly competitive, and companies increasingly turn to new innovation and financing options to stay ahead. Leveraging stock financing can provide several benefits for a logistics business, such as increased efficiency, cheaper financing options, and better cash flow management.
Firstly, stock financing allows companies to access capital quickly without taking on time-consuming loan applications or burdensome debt repayments. As a result, companies can access the funds necessary to develop projects and invest in new technologies faster. This, in turn, helps businesses to become more efficient and agile, allowing them to respond to market changes and customer needs more quickly.
Secondly, stock financing offers a more affordable option than other financing sources, such as loans. As a result, companies can access the capital they need without paying the high-interest rates typically associated with bank loans. This makes it appealing to small and medium-sized logistics companies who may need more money for a large loan or a track record of profitability to back it.
Finally, stock financing can improve cash flow management practices for a business, as the funds raised through stock sales can offset potential financial losses. This approach can help companies to maintain a healthy cash flow and, therefore, more easily meet their financial obligations. A better understanding of their financial position can help businesses conduct more accurate forecasting and plan for future growth.
Challenges of Stock Financing for the Logistics Industry
Although stock financing offers many advantages for the logistics industry, there are also risks associated with it. One of the primary challenges of stock financing is the initial cost of the share sale. Companies can incur expenses related to the sale process. They must ensure that any shares sold comply with relevant regulations and laws. Additionally, the risk of a volatile marketplace must also be considered, as stock prices can be influenced by a wide range of external and internal factors.
Examples of Companies Using Stock Financing in the Logistics Industry
Despite the inherent risks of stock financing, several logistics companies are incorporating it into their financial strategies. For example, Company A has implemented a stock financing program to raise capital and increase efficiency in its core operations. Likewise, Company B has successfully used stock financing to finance the growth of its freight services in global markets.
In summary, stock financing is an innovative and cost-effective way to finance the logistics industry. Companies can access funds quickly without the prohibitive costs associated with other types of financing. They can increase efficiency through improved cash flow management. However, risks are associated with this approach, and businesses should conduct thorough research before making any stock financing decisions.
Adapting to new technology is key to streamlining the logistics industry and achieving stock financing success.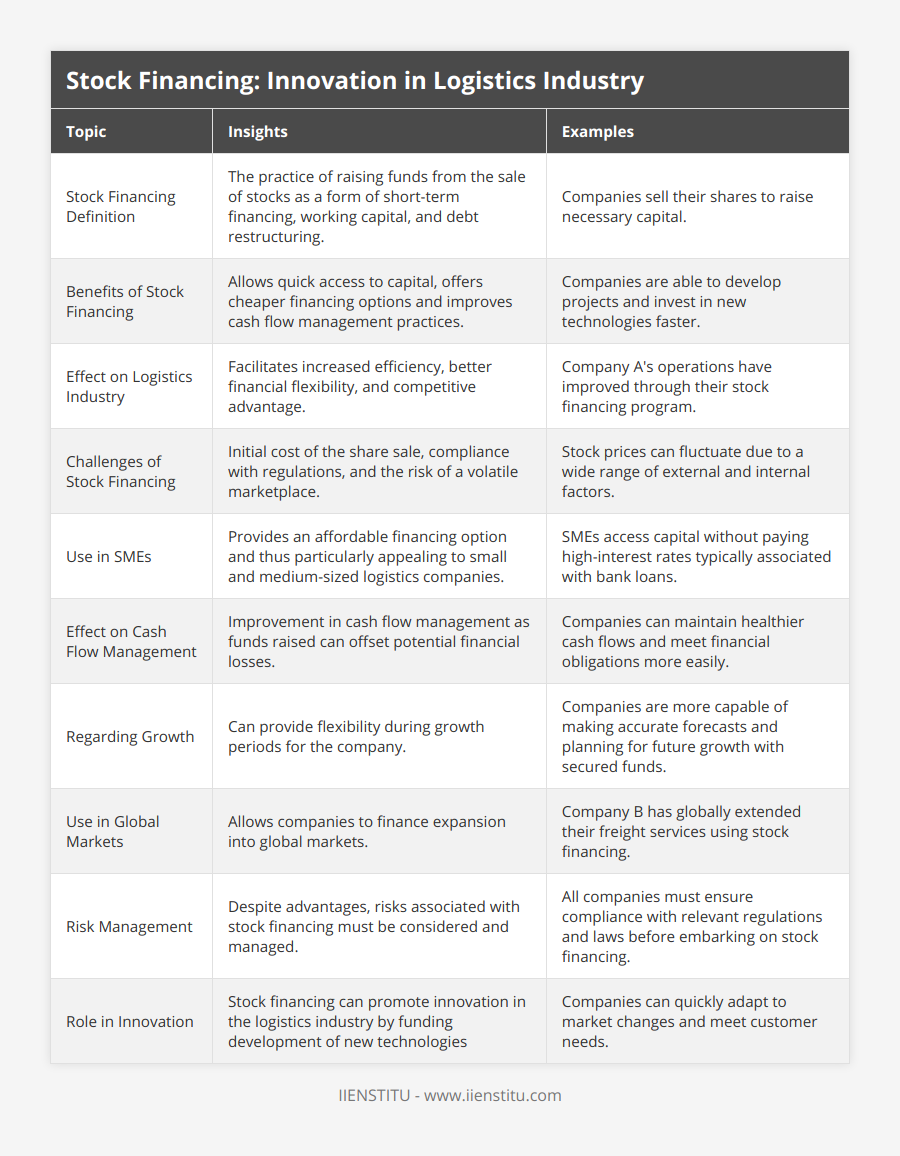 Logistics industry
Financial management
Cash flow management
Stock financing
Working capital
Debt restructuring
Increased efficiency
Cheaper financing
Better cash flow management
Bank loans
Volatile marketplace
Stock sale
Compliance
Regulations and laws
External factors
Internal factors
Core operations
Freight services
Global markets
Cost-effective way
Prohibitive costs
Research.

Dr. Murray Craig
Academic
Dr. Murray Craig is an academic and researcher who has dedicated his life to the study of human behavior. He has a particular interest in how people interact with their environment, and how that interaction can be used to improve their lives. Dr. Craig has spent many years teaching and conducting research at universities all over the world, and he is widely respected for his work in the field of behavioral science.
Related Posts
Our team of experts is passionate about providing accurate and helpful information, and we're always updating our blog with new articles and videos. So if you're looking for reliable advice and informative content, be sure to check out our blog today.