Logistic Management
Cold Chain Logistics: Strategies & Benefits
10 March 2023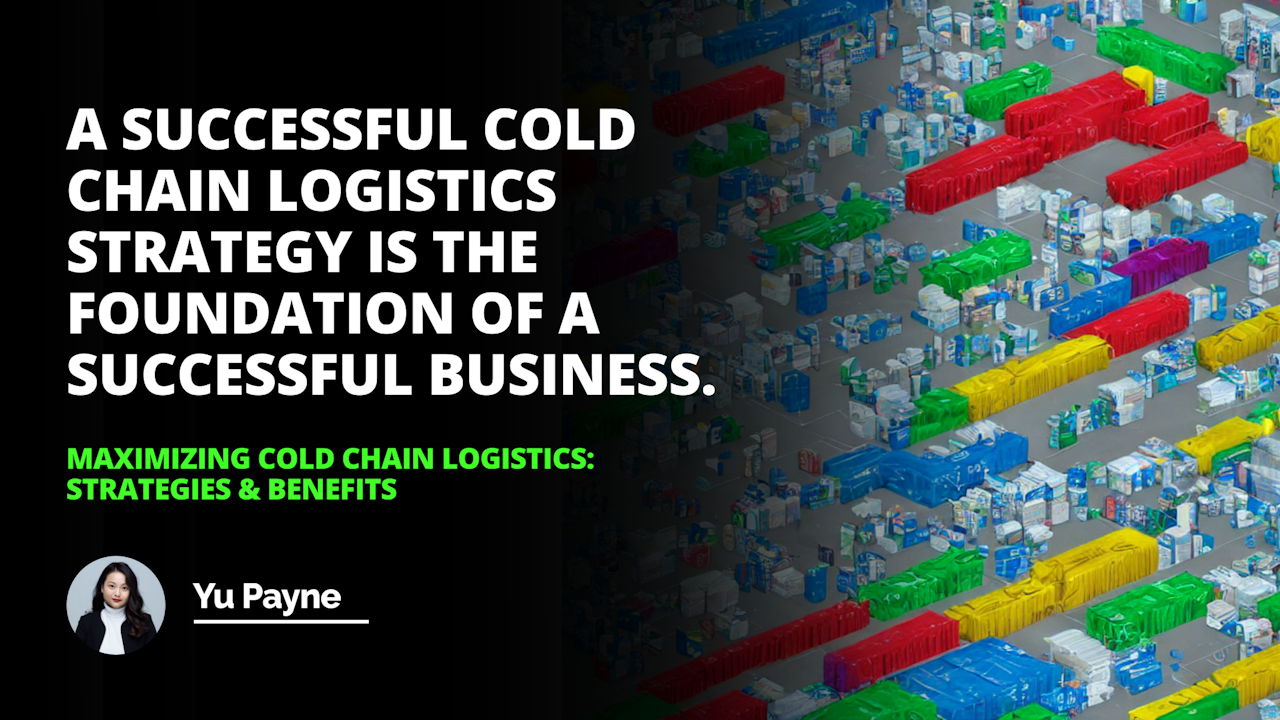 | Aspect | Details | Best Practices |
| --- | --- | --- |
| Understanding | Cold chain logistics involves temperature-controlled transportation and storage of goods. | Set clear objectives and goals for the cold chain logistics process. |
| Challenges | These include maintaining optimal temperature, high costs, need for specialized equipment, and contamination risks. | Regularly monitor temperature and humidity, and ensure use of proper equipment. |
| Benefits | It ensures product safety and quality, reduces spoilage and waste, and optimizes the supply chain. | Utilize proper packaging that protects the goods and maintains optimal temperature. |
| Technologies | RFID tags, temperature sensors, barcoding systems, temperature control systems are commonly used. | Use the right technology to monitor and control temperature. |
| Implementation | Implementing cold chain logistics requires careful planning and execution. | Train personnel adequately for using the right technologies and packaging. |
| Product Integrity | Maintaining product integrity is critical in cold chain logistics. | Ensure systematic monitoring to maintain optimal temperature. |
| Cost Effectiveness | Cold chain logistics can help to minimize transportation and storage costs. | Optimize the supply chain to reduce costs. |
| Timeliness | Timely delivery of goods is ensured through proper cold chain logistics. | Implement systems to ensure products are delivered in a timely and safe manner. |
| Consumer Satisfaction | Cold chain logistics ensures the quality of the products, thus increasing consumer satisfaction. | Regularly review cold chain logistics processes to maintain high quality standards. |
| Environmental Impact | Proper cold chain logistics can be more environmentally sustainable by reducing waste. | Adopt eco-friendly technologies and practices in the cold chain logistics process. |
Understanding Cold Chain Logistics

Challenges in Cold Chain Logistics

Benefits of Cold Chain Logistics

Technologies Used in Cold Chain Logistics

Best Practices for Implementing Cold Chain Logistics
Cold chain logistics is a form of supply chain management. It involves transporting and storing temperature-sensitive products, including food, pharmaceuticals, and medical products. Maintaining the integrity of these products is essential since they are often susceptible to spoilage and damage. This blog post will explore the strategies and benefits of maximizing cold chain logistics.
Understanding Cold Chain Logistics
Cold chain logistics refers to transporting and storing goods at temperatures optimal for their preservation. It plays a vital role in the supply chain, ensuring the safe and efficient delivery of temperature-sensitive products. Cold chain logistics involves controlling and maintaining the temperature of goods from the point of manufacture to the point of consumption. The temperature must be controlled throughout the entire supply chain, from when the product is manufactured until it reaches the consumer.
Challenges in Cold Chain Logistics
Cold chain logistics can be a challenging process. The most significant challenge is maintaining the optimal temperature of the goods throughout the supply chain. Temperature fluctuations can cause spoilage and damage to the products. In addition, there are other challenges, such as the cost of maintaining a cold chain, the need for specialized equipment, the need to monitor temperature and humidity, and the need to keep products safe from contamination.
Benefits of Cold Chain Logistics
Despite the challenges, cold chain logistics offers many benefits. It helps maintain the integrity of temperature-sensitive products, ensuring they remain safe and of high quality. It also helps to reduce spoilage and waste, as well as to optimize the supply chain. Cold chain logistics can reduce costs by streamlining the supply chain and minimizing transportation and storage needs. In addition, it helps to ensure that the products reach the consumer in a timely and safe manner.
Technologies Used in Cold Chain Logistics
There are a variety of technologies used in cold chain logistics. These technologies help to monitor and maintain the temperature of the goods. For example, RFID tags, temperature sensors, and barcode systems are used to monitor the goods' temperature and alert the supply chain if there is a temperature variation. In addition, there are temperature control systems, such as refrigerated containers and insulated packaging, that help maintain the goods' temperature.
Best Practices for Implementing Cold Chain Logistics
Implementing cold chain logistics requires careful planning and execution. Here are some best practices for implementing cold chain logistics:
Establish clear objectives: Understanding the goals of the cold chain logistics process is essential.

Utilize the right technology: It is essential to use the right technology to monitor and control the goods' temperature.

Utilize the proper packaging: Packaging must be designed to protect the goods and maintain the optimal temperature.

Monitor temperature regularly: It is essential to monitor the temperature of the goods regularly to ensure they remain within the optimal temperature range.

Train personnel: Staff must be adequately trained in using the right technologies and packaging.
Cold chain logistics is an essential part of the supply chain. It is vital to the safe and efficient delivery of temperature-sensitive products. This blog post has explored the strategies and benefits of maximizing cold chain logistics. By following the best practices outlined above, businesses can ensure the safe and efficient delivery of temperature-sensitive products.
A successful cold chain logistics strategy is the foundation of a successful business.

Cold Chain Logistics
supply chain management
transportation
storage
temperature-sensitive products
food
pharmaceuticals
medical products
spoilage
damage
strategies
benefits
controlling
maintaining
temperature
manufacture
consumption
temperature fluctuations
cost
specialized equipment
monitor
humidity
contamination
integrity
quality
reduce spoilage
waste
optimize
reduce costs
streamlining.
Yu Payne
Blogger
Yu Payne is an American professional who believes in personal growth. After studying The Art & Science of Transformational from Erickson College, she continuously seeks out new trainings to improve herself. She has been producing content for the IIENSTITU Blog since 2021. Her work has been featured on various platforms, including but not limited to: ThriveGlobal, TinyBuddha, and Addicted2Success. Yu aspires to help others reach their full potential and live their best lives.
Related Posts
Our team of experts is passionate about providing accurate and helpful information, and we're always updating our blog with new articles and videos. So if you're looking for reliable advice and informative content, be sure to check out our blog today.