Human Resources Management
Achieving Optimal HR Staff Ratios: The Key to Success
18 February 2023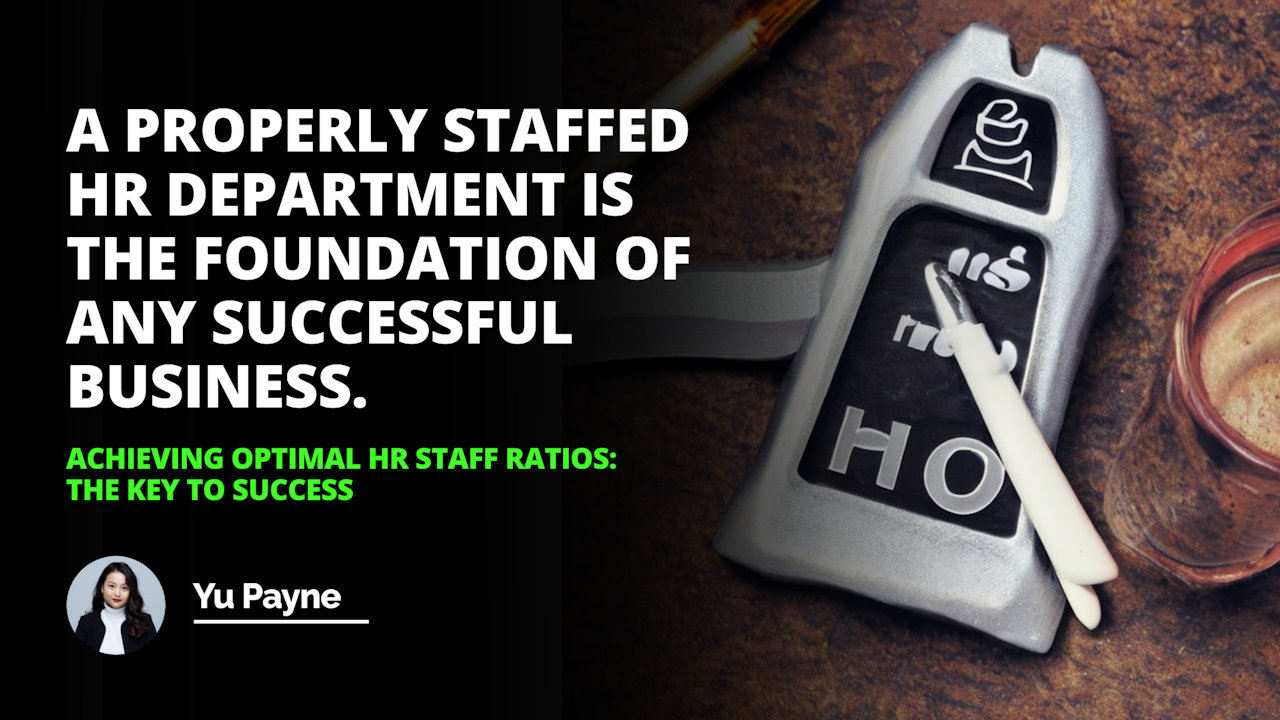 | Key Components | Details | Strategies for Success |
| --- | --- | --- |
| Introduction to HR Staff Ratios | Balancing the staff resources can result in efficient management and productivity. | Align HR team in terms of resources and staff availability. |
| Challenges | High costs, limited access to talent, and coordinating tasks. | Recruit and retain quality staff; compete for best candidates; streamline workflow. |
| Benefits | Improved company performance and employee engagement; better understanding of workplace dynamics. | Ensure adequate distribution of tasks; avoid critical tasks falling through. |
| Strategies | Recruiting qualified staff, improving operational efficiency, and utilizing technology. | Work towards achieving optimal HR staff ratios. |
| Conclusion | Balancing HR staff ratios outweighs challenges and contributes to success. | Combine effective team-building, efficient operations, and technology. |
| Optimal HR Ratios | Minimizes risk and ensures efficient resource use. | Strategically manage recruitment, development, and retention. |
| Employee Engagement | Crucial for overall productivity and company performance. | Maintain good communication and address employee needs effectively. |
| Access to Talent | Adequate access to talent significantly influences HR success. | Invest in competitive recruitment strategies for best candidates. |
| Operational Efficiency | Even distribution of tasks results in operational efficiency. | Consider automated processes to streamline workflow. |
| Financial Constraints | Financial barriers can hinder HR staff hiring particularly for smaller companies. | Explore cost-effective resource strategies for optimal HR staffing. |
I. Introduction
II. Challenges of Achieving Optimal HR Staff Ratios
III. Benefits of Optimal HR Staff Ratios
IV. Strategies for Achieving Optimal HR Staff Ratios
V. Conclusion
Employee resources departments, commonly known as human resources (HR), manage a company's staff recruitment, development, and retention. To be successful, an HR team needs to align itself in terms of resources and staff availability properly. Achieving optimal HR staff ratios is the key to success, as it minimizes the risk of making costly mistakes related to mismanagement. By understanding the challenges, benefits, and strategies of achieving optimal HR staff ratios, companies can ensure their HR departments are efficient and productive.
Challenges of Achieving Optimal HR Staff Ratios
The first step to achieving optimal HR staff ratios is understanding the challenges associated with this task. The primary challenge must be overcoming the cost barrier confronting most companies when recruiting and retaining quality staff. This is especially true for smaller companies, which often lack the financial resources to hire professional HR staff. Additionally, there is the challenge of limited access to talent, as companies have to compete for the best candidate for their open positions. Moreover, coordinating workflows and tasks can be daunting even with enough staff.
Benefits of Optimal HR Staff Ratios
Despite the challenges associated with achieving optimal HR staff ratios, numerous benefits come with getting the alignment right, the most obvious being a noticeable improvement in company performance. Additionally, having the right combination of resources and staff can increase employee engagement and productivity. This is because having proper HR staff ratios allows HR teams to understand the dynamics of their workplace better and address the needs of their employees in a more effective manner. Moreover, optimal HR staff ratios reduce the chances of critical tasks falling through the cracks, as the functions can be adequately balanced and managed by trained staff.
Strategies for Achieving Optimal HR Staff Ratios
When it comes to achieving optimal HR staff ratios, specific strategies can be implemented to maximize the effectiveness of your HR department. First and foremost, it is essential to build an effective team by recruiting and retaining staff with the right skills and knowledge. This includes ensuring staff has the proper qualifications and experience in recruitment, talent management, and policy implementation. Furthermore, it is essential to improve operational efficiency to ensure tasks are appropriately distributed across the team. This can be accomplished by utilizing technology, such as automated processes, which can help streamline workflow and free up more resources for other tasks.
Conclusion: Achieving optimal HR staff ratios is essential for successfully managing a company's staff. Despite the challenges, such as cost barriers and limited access to talent, the benefits of getting the ratios right ultimately outweigh the costs. Companies should focus on building an effective team, improving operational efficiency, and utilizing technology to manage tasks and resources better to ensure a successful HR department. By implementing these strategies, companies can secure their HR departments are working optimally and contributing to the business's overall success.
An adequately staffed HR department is the foundation of any successful business.

Achieving optimal HR staff ratios has multiple facets to consider, including its risks, rewards and strategies that can help a company's HR team reduce mismanagement and increase productivity. Overcoming the cost of hiring and retaining an effective team, taking the right course in human resources, and using the right technology are among the main challenges for companies striving to create a proficient human resources department. However, strategies such as focusing on improving operational effectiveness, adequately distributing tasks among the team and utilizing automation processes to streamline workflow all contribute to achieving this goal. With the right know-how and strategy, HR can effectively improve company-wide performance and engage employees more effectively.
Human Resources (HR)
Staff Ratios
Recruitment
Talent Management
Policy Implementation
Cost Barriers
Employee Engagement
Employee Productivity
Automated Processes
Technology
Yu Payne
Blogger
Yu Payne is an American professional who believes in personal growth. After studying The Art & Science of Transformational from Erickson College, she continuously seeks out new trainings to improve herself. She has been producing content for the IIENSTITU Blog since 2021. Her work has been featured on various platforms, including but not limited to: ThriveGlobal, TinyBuddha, and Addicted2Success. Yu aspires to help others reach their full potential and live their best lives.
Related Posts
Our team of experts is passionate about providing accurate and helpful information, and we're always updating our blog with new articles and videos. So if you're looking for reliable advice and informative content, be sure to check out our blog today.