Life Coaching
Why Life Coaching Is A Valuable Certification?
12 May 2022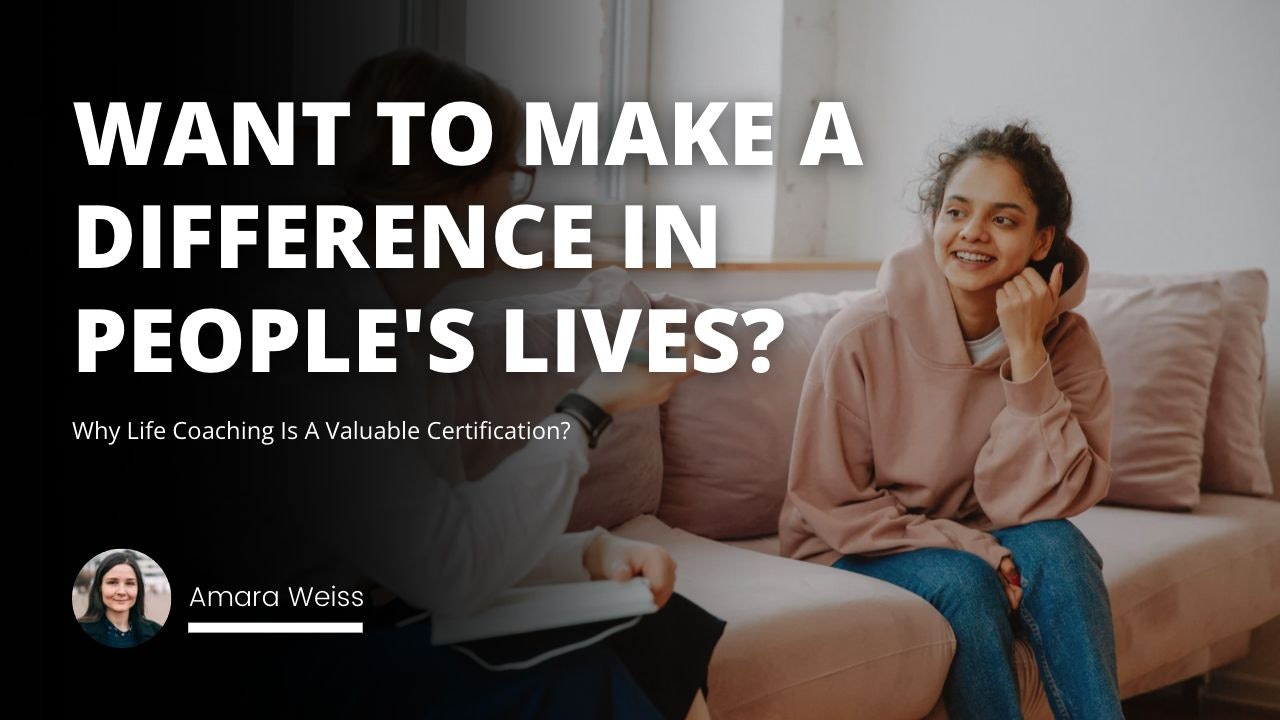 Earning your life coaching certification can be beneficial to your career. Life coaching is an in-demand field with a lot of growth potential. As a certified life coach, you will have the skills and knowledge to help people achieve their goals. Additionally, life coaching is a rewarding career that can make a difference in people's lives. If you are interested in becoming a life coach, here are some reasons why getting certified is a valuable investment.
A certification in life coaching can help you make a real difference in people's lives.
Do you have a passion for helping others? If so, a career in life coaching could be the perfect fit for you. Life coaches provide guidance and support to clients who are seeking to make positive changes in their lives. Through one-on-one sessions, life coaches help clients to identify their goals and develop action plans for achieving them. In addition, life coaches can provide valuable support and encouragement throughout the challenges and setbacks that are inevitable in any journey of personal growth. If you are interested in making a real difference in people's lives, obtaining a certification in life coaching is a great first step. With the right training, you will be equipped with the knowledge and skills necessary to help your clients achieve their full potential.
1. What is life coaching and what are the benefits of being a life coach?
Life coaching is a professional service that helps people identify and achieve personal and professional goals. life coaches work with clients to help them overcome obstacles, develop action plans and reach their full potential. life coaching is based on the premise that everyone has the inner resources to achieve their goals, and that with the right support, anyone can make significant progress in their life.
There are many benefits to being a life coach. One of the most important is the satisfaction that comes from helping others achieve their goals. life coaches also benefit from developing strong relationships with clients and having the opportunity to witness firsthand the positive impact they can have on someone's life. In addition, life coaches often find that their own lives improve as a result of their work with clients, as they gain new insights and perspectives. Finally, life coaching can be a very rewarding career financially, as successful life coaches can earn a considerable income.
2. The people who would benefit from life coaching the most
There are many people who can benefit from life coaching, but there are some who would benefit more than others. People who are going through a major life change, such as a career transition, divorce or the death of a loved one, can benefit greatly from life coaching. life coaching can also be helpful for people who are struggling with personal issues, such as low self-esteem or poor communication skills. Additionally, life coaching can be beneficial for people who have difficulty setting and achieving goals.
3. How to become a certified life coach
 In order to be a life coach, it is essential to get a life coaching certification from a reliable institution. IIENSTITU offers a qualified and internationally valid life coaching certificate which can help you pursue a successful career in this field. Register today and get started on your life coaching certification journey. With this certificate, you will be able to provide valuable life coaching services to individuals and organizations looking to improve their lives or achieve their goals.
4. What kind of jobs are available for certified life coaches?
Certified life coaches can find employment in a variety of settings. Many life coaches work in private practice, meeting with clients one-on-one to help them set and achieve personal goals. Other life coaches may work for organizations or companies, providing coaching services to employees or clients of the organization. Additionally, some life coaches work as independent contractors, offering their services to individual clients on a freelance basis. No matter what setting they work in, certified life coaches use their skills and knowledge to help others improve their lives.
5. The importance of continuing education for life coaches
 Once you have obtained your life coaching certification, it is important to continue your education in order to stay up-to-date on the latest developments in the field. Additionally, continuing education can help you develop new skills and knowledge that will benefit your clients. There are many ways to continue your education as a life coach, such as taking courses, attending workshops or conferences, reading professional journals or books, or receiving mentorship from more experienced life coaches. No matter what method you choose, continuing your education is an important part of being a successful life coach.
6. What should I do to become a qualified life coach?
If you are interested in becoming a life coach, there are many different steps you can take to become qualified. One option is to complete a life coaching program at a college or university. another option is to complete an online life coaching program. There are also many life coaching certification programs offered by private organizations. Additionally, it is important for life coaches to participate in continuing education in order to maintain their qualification. life coaches can also become qualified by completing a life coaching internship or working as a life coach for a certain period of time.
If you are considering a career in life coaching, or are simply interested in learning more about this growing industry, we highly recommend our Life Coaching Certificate Course. This course provides an in-depth look at the skills and knowledge required to be successful as a life coach, from establishing your business to working with clients. With continued education being so important for life coaches, this course is a great way to stay ahead of the curve and keep your skills sharp. We hope you've found this post helpful and that it has answered some of your questions about life coaching. For more information on our Life Coaching Certificate Course, please visit our website or give us a call today.
life coaching course
life coaching certificate

Amara Weiss
Institute Secretary, Author
I am Amara Weiss and for many years I have worked in the field of education, specifically in the area of technology. I firmly believe that technology is a powerful tool that can help educators achieve their goals and improve student outcomes. That is why I currently work with IIENSTITU, an organization that supports more than 2 million students worldwide. In my role, I strive to contribute to its global growth and help educators make the most of available technologies.
Related Posts
Our team of experts is passionate about providing accurate and helpful information, and we're always updating our blog with new articles and videos. So if you're looking for reliable advice and informative content, be sure to check out our blog today.