Leadership
Who Owns What? Navigating Shared Resources and Conflicting Direction
22 February 2023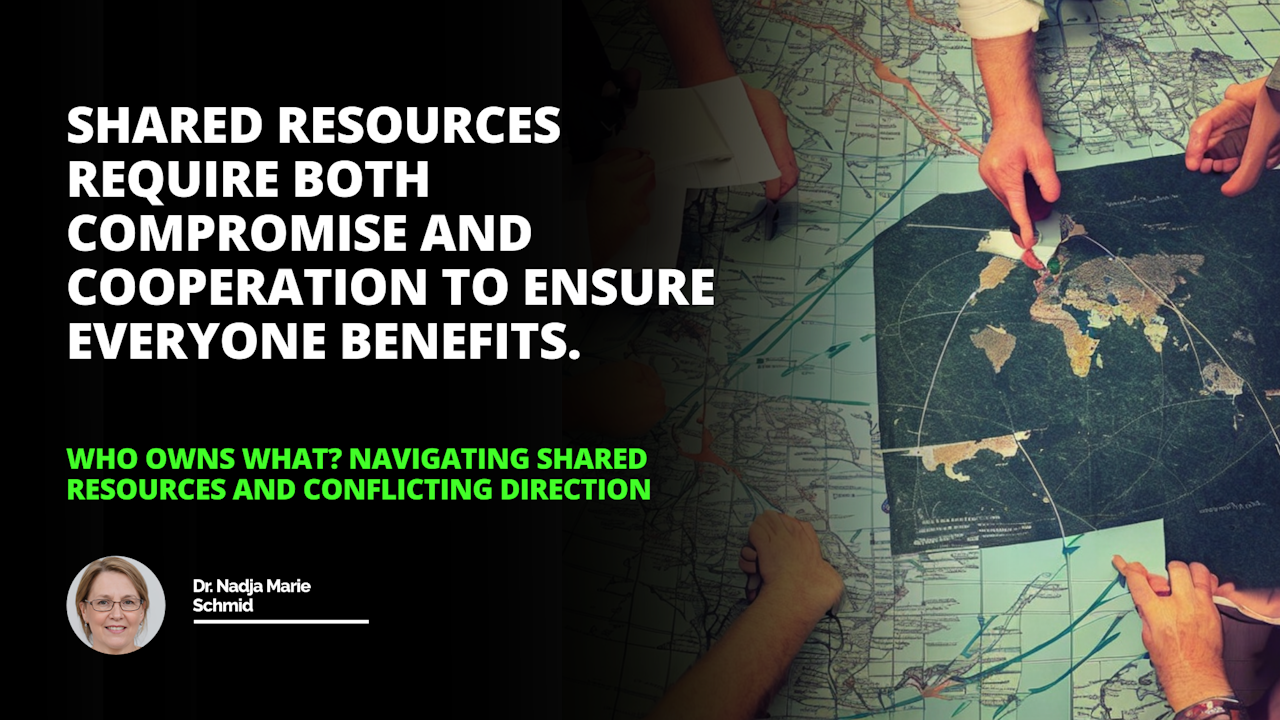 | Types of Ownership | Benefits | Challenges |
| --- | --- | --- |
| Sole Proprietorship | Entire control over the business, sole beneficiary of all profits | Personal responsibility for all debts and liabilities |
| Partnership | Shared profits and losses, shared responsibility for debts and liabilities | Decisions must satisfy all partners, potential for conflicts |
| Corporation | Ownership by shareholders, managed by a board of directors, separate legal entity | Potential for conflicts between shareholders and board of directors |
| Limited Liability Company | Owners have limited liability, share in profits and losses | Responsibilities regarding different aspects of the resource can lead to clarity and accountability issues |
| Shared Ownership | Efficient resource management, economies of scale, risk management | Need for compromise, potential inequities in decision-making |
| Pooling Resources | Shared burden of leadership, cost savings | Decisions must be made that satisfy all stakeholders |
| Shared Decision-Making | Promotes equity and inclusivity | Possible power imbalances, time-consuming process |
| Risk Management | Minimizes financial and operational risks | Possible disagreements over risk thresholds and mitigation strategies |
| Clarity and Accountability | Clear allocation of duties and responsibilities | Potential misunderstandings and conflicts over roles and responsibilities |
| Responsibility Management | Reduces uncertainty and promotes shared expectations | Need for clear communication and regular reassessment |
Different Types of Ownership

Benefits of Shared Ownership

Challenges in Shared Ownership
The world has resources that different individuals, groups, and organizations share. In today's increasingly connected and globalized world, the need for shared resources and an understanding of who has control of them is becoming increasingly important in discussions about who owns what and who makes the decisions about using these resources; conflicting performance and guidance are often encountered. This blog post attempts to make sense of this complex landscape and offer insight into navigating shared resources and conflicting directions.
Different Types of Ownership
Sole Proprietorship: This type of ownership is when one individual owns the entire business and is personally responsible for all debts and liabilities that arise from the company. The sole proprietor is the sole beneficiary of all profits the business generates.

Partnership: This type of ownership is when two or more people join together to form a business. All partners share profits and losses and are responsible for debts and liabilities.

Corporation: A corporation is a legal business entity owned by shareholders who own company shares. Corporations are legally separate from their owners and are managed by a board of directors.

Limited Liability Company: This type of ownership is a corporation and partnership hybrid. Owners or members of the LLC have limited liability for any debts or liabilities of the company while still sharing in the profits and losses of the business.
Benefits of Shared Ownership
There are several benefits associated with shared ownership. Firstly, it can be an effective way to improve resource management efficiency by allowing the group to pool resources and share the burden of leadership. Additionally, in many cases, shared ownership can lead to cost savings due to economies of scale and risk management advantages in ensuring that decisions are shared amongst multiple stakeholders.
Related Course: Leadership Training Course
Challenges in Shared Ownership
Shared ownership also comes with its own set of challenges:
First, decisions must be made that satisfy all stakeholders to avoid conflict and destabilization. This often requires compromise and difficult conversations that can be time-consuming and messy.

Shared ownership can lead to inequities in decision-making, with one or two stakeholders having significantly more power than others.

There may be responsibilities regarding who is responsible for different aspects of the resource, which can lead to clarity and accountability issues.
Conclusion: Shared resources have become increasingly important to our connected world, and navigating who owns what within a shared resource context can be challenging. Understanding the different types of ownership and the benefits and challenges associated with each can lead to informed and equitable decisions. To ensure success, it is essential to consider all perspectives and interests and clarify responsibility. By understanding the complexities of shared ownership, we can develop better ways to manage our shared resources and create lasting solutions.
Shared resources require both compromise and cooperation to ensure everyone benefits.

Resources
government ownership
private ownership
community ownership
efficiency
cost savings
risk management
decision-making
compromising
inequities
confusion
accountability
perspectives
interests
shared ownership
management

Dr. Nadja Marie Schmid
Academics
Dr. Nadja Marie Schmid is a leadership and management professor dedicated her career to helping students achieve their full potential. She has been published in numerous journals and is a frequent speaker at conferences worldwide.
Dr. Schmid's research focuses on understanding how leaders can create an environment where employees can reach their highest level of performance. She believes that the key to success is creating a culture of trust, respect, and collaboration.
Related Posts
Our team of experts is passionate about providing accurate and helpful information, and we're always updating our blog with new articles and videos. So if you're looking for reliable advice and informative content, be sure to check out our blog today.