Leadership
Unlocking Niches: Divisional Structure for Successful Corporations
22 February 2023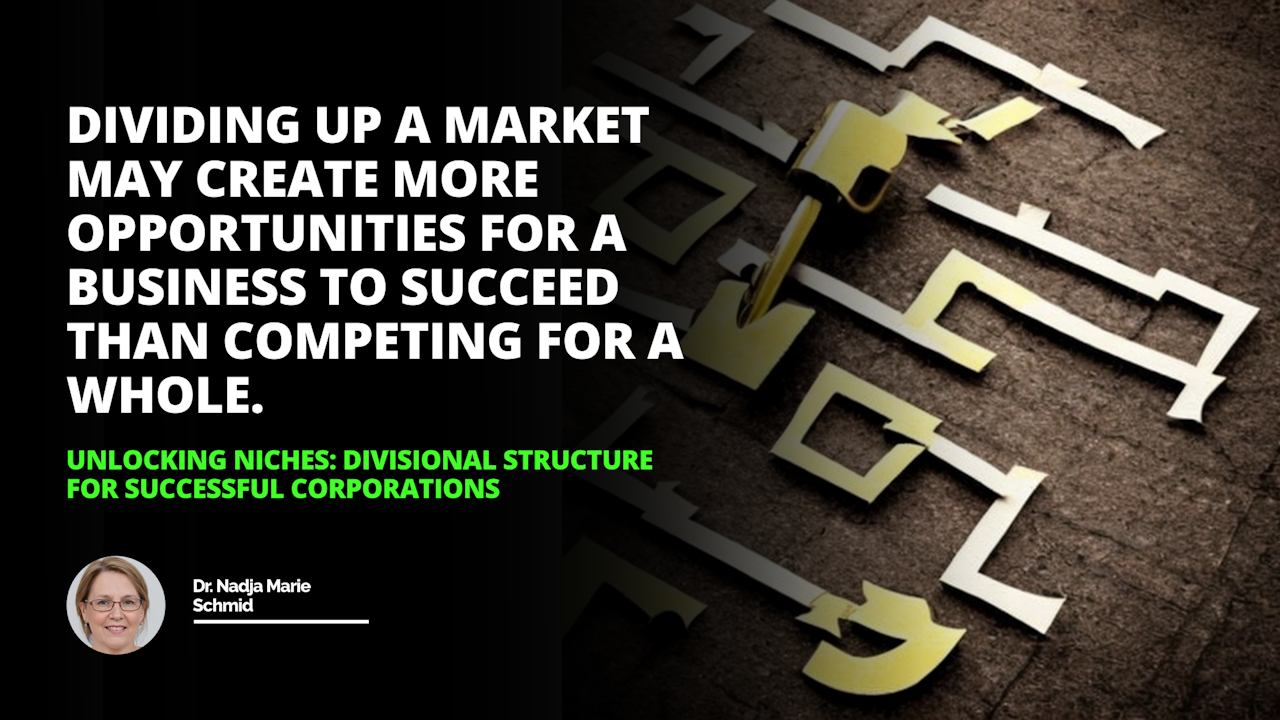 | Aspect | Significance | Example |
| --- | --- | --- |
| Definition of Divisional Structure | It is a type of organizational structure where the company is divided into smaller, autonomous units called divisions. | An automobile company may have separate divisions for cars, trucks, and motorcycles. |
| Benefits of Divisional Structure | Improved Efficiency and Manageability, Increased Specialization and Innovation. | An electronics company can have separate divisions for television, computers, and mobile phones, each focusing on one area and innovating within that area. |
| Challenges of Divisional Structure | May lead to complex decision-making process and increased costs. | A multinational conglomerate might face delays and increased costs, as decisions need multiple levels of approval stretching across different time zones and cultural norms. |
| Role of Divisions | Each division has its own goals, strategies, and budgets, creating small, manageable teams focused on achieving specific objectives. | The truck division of an automotive company might have its own independent goal of increasing market share by 5% within the fiscal year. |
| Organizational Structure Selection | A company's selection of organizational structure can depend on factors such as size of the organization, industry, and management style. | A small family business may opt for a simple structure, while a large, multinational corporation may adopt a matrix or divisional structure. |
| Impact on Communication | Divisional structure can improve communication within the division, but may create silos and barriers between different divisions. | Marketing and manufacturing teams within a division could work closely in producing a new product, but there may be communication gaps between these divisions. |
| Impact on Decision Making | Decisions can be made faster within a division due to improved communication and goal clarity, but may be slowed down by inter-divisional communication. | A decision about a new feature in a mobile phone may be quick within the mobile phone division but slow if it requires approval from the computer division. |
| Product Line Division | This is a type of divisional structure where divisions are formed based on product lines. | A cosmetic company may have separate divisions for skincare, make-up, and fragrances. |
| Geographical Division | This is a type of divisional structure where divisions are formed based on geographical locations. | A multinational company may have divisions for North America, Europe, Asia, and so on. |
| Market or Customer-based Division | This is a type of divisional structure where divisions are formed based on markets or customer groups. | A software company may have divisions for B2B (Business to Business) software and B2C (Business to Customer) software. |
Definition of Divisional Structure

Benefits of Divisional Structure

Challenges of Divisional Structure
Companies are facing ever-increasing competition, and it is becoming increasingly important for corporations to differentiate themselves and their products to succeed. One way in which companies can do this is through the implementation of a divisional structure. This type of organizational structure divides the company into smaller units or "divisions" that specialize in one area. Each division is autonomous, allowing for increased focus and efficiency for working on niche projects. In this blog post, we will examine the concept of divisional structure and its benefits and challenges for a corporation.
Definition of Divisional Structure
Divisional structure is an organizational structure wherein each division operates separately. This can be used with the traditional hierarchical structure, depending on the company's needs. Divisions can be formed by product lines, markets, customers, or geographical locations. Each division will have its own goals, strategies, and budgets. The idea behind dividing the company into smaller sub-divisions is that it allows for increased focus and specialization. It also allows for increased innovation and will enable departments to work more closely with one another.
Benefits of Divisional Structure
The divisional structure allows corporations to benefit from improved efficiency and manageability. By having divisions dedicated to specific areas, companies can streamline their resources and ensure everyone is operating towards the same goals. This increased focus also increases efficiency, as tasks are done more quickly and with less wasted effort. Additionally, corporations benefit from improved manageability, as the divisional structure allows for better decision-making due to improved communication and clarity of goals.
Challenges of Divisional Structure
Despite the benefits of some challenges in a divisional structure, some challenges come with them. One of the most significant issues with this type of organizational structure is that it can lead to complex decision-making processes due to the increased number of stakeholders involved. In addition, as each division is operating as its entity, decisions have to pass through multiple levels of approval before they can be put into action. This can cause delays in implementation and can lead to increased costs. Additionally, the performance of a divisional structure can be expensive, especially when it comes to retraining staff and implementing new systems.
Conclusion: Divisional structure can be an excellent way for corporations to increase their efficiency and manageability and focus on niche areas of their business. By dividing the company into smaller divisions, each specializing in one place, corporations can benefit from increased communication and clarity of goals. However, this type of organizational structure can also lead to more complex decision-making processes and higher Start-up costs. In conclusion, while there are some challenges, the potential benefits of a divisional structure may outweigh the long-term costs. It can be an excellent way for companies to differentiate themselves in the marketplace and unlock new niches.
Dividing up a market may create more opportunities for a business to succeed than competing.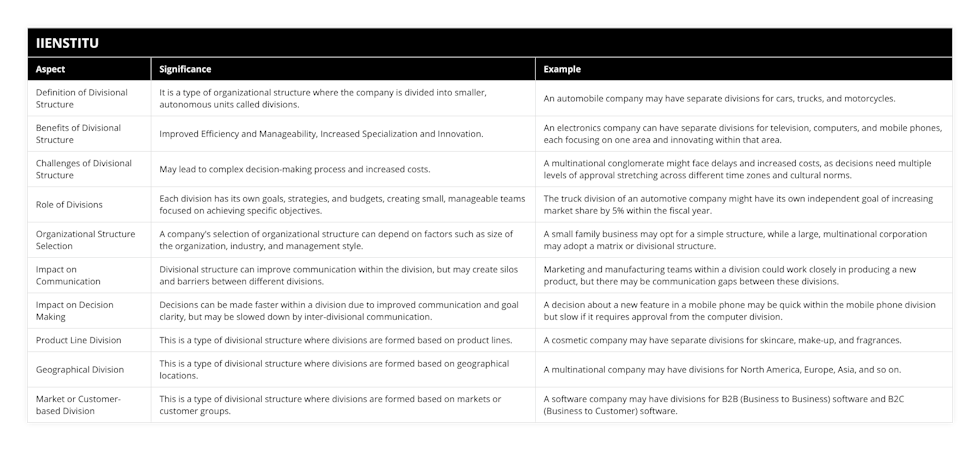 Divisional structure
hierarchical structure
product lines
markets
customers
geographical locations
improved efficiency
manageability
increased focus
specialization
increased innovation
improved communication
clarity of goals
complex decision-making
increased costs
retraining staff
new systems
efficiency
manageability
focus
communication
clarity of goals

Dr. Nadja Marie Schmid
Academics
Dr. Nadja Marie Schmid is a leadership and management professor dedicated her career to helping students achieve their full potential. She has been published in numerous journals and is a frequent speaker at conferences worldwide.
Dr. Schmid's research focuses on understanding how leaders can create an environment where employees can reach their highest level of performance. She believes that the key to success is creating a culture of trust, respect, and collaboration.
Related Posts
Our team of experts is passionate about providing accurate and helpful information, and we're always updating our blog with new articles and videos. So if you're looking for reliable advice and informative content, be sure to check out our blog today.