Logistic Management
Exploring the Dynamics of Multi-modal Transportation in Supply Chain
20 November 2023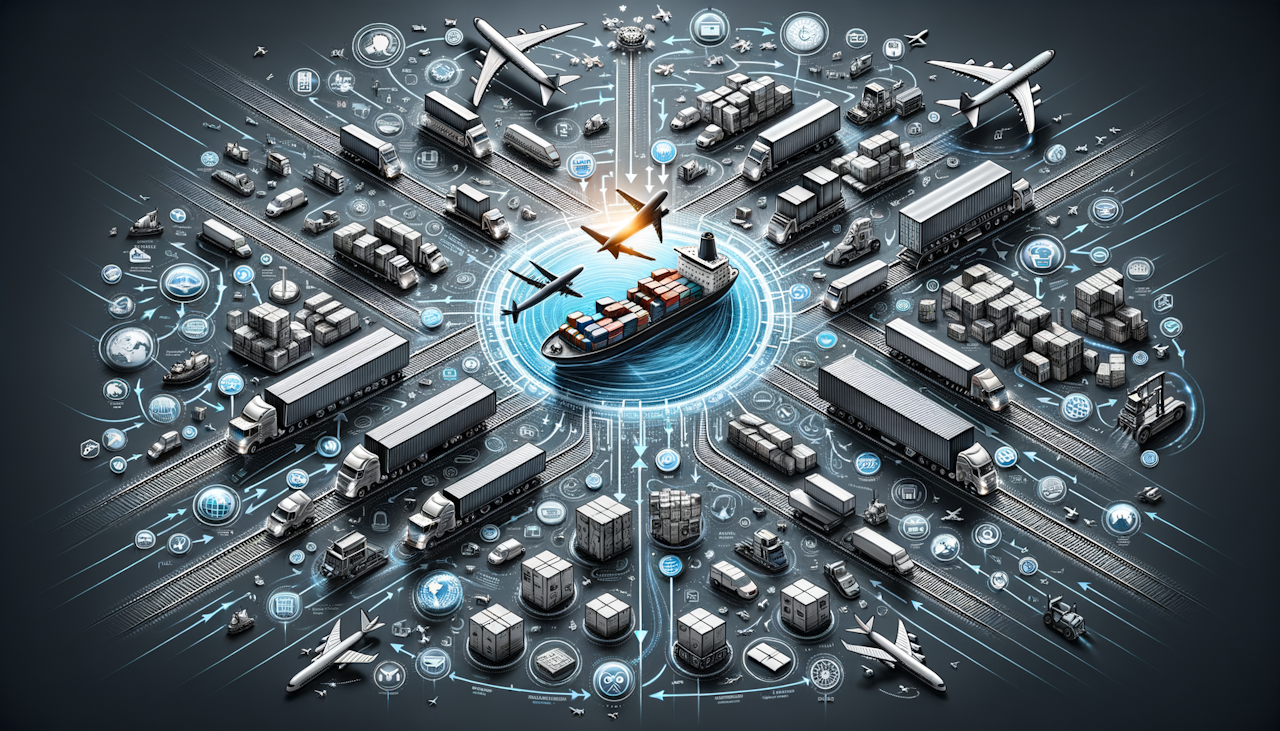 | Element | Description | Example |
| --- | --- | --- |
| Introduction to Multi-modal Transportation | Refers to the movement of goods using multiple forms of transport under a single contract. | Goods transported by rail, road, sea, and air. |
| Flexibility of Multi-modal Transportation | Offers adaptive solution to meet complex requirements of global trade. | Goods navigation through diverse geographies and regulatory landscapes. |
| Elements of Multi-modal Transportation System | Consists of diverse transport options including trucks, rails, ships, and aircrafts. | Road transport for last-mile delivery, ocean freight for bulk transportation, rail for long-distance inland freight. |
| Role of Each Transport Mode | Each mode selected for its advantages and integrated into a cohesive operation. | Goods loaded onto a truck, transported to a rail yard, carried by train, shipped overseas, and finally delivered by another truck. |
| Seamless Transitions | Coordination and synchronization to minimize delays and maintain goods integrity. | Coordinated schedules and handling procedures. |
| Examples of Multi-modal Systems | Actual implementation around the world showing the system's efficiency. | European land bridge, Alameda Corridor in Southern California. |
| Economic Benefits | Cost savings by optimizing each transit journey for cost-effectiveness. | Sending bulk shipments by sea and using air freight selectively for urgent items. |
| Flexibility Benefits | Capability to adjust to shifts in demand, price changes, or unforeseen disruptions. | Switching from sea freight to air freight for urgency. |
| Environmental Impact | Multi-modal transportation can help minimize environmental footprint. | Rail transport is a less environmentally detrimental alternative for long-distance freight. |
| Globalization and Multi-modal Transportation | Increased need for robust transportation networks due to globalization. | Relocation of production to various international locations requiring diversified methods of transport. |
In the realm of supply chain management, the significance of transportation cannot be overstressed. As organizations strive for efficiency in the delivery of goods across vast networks, the need for diverse methods of transportation becomes apparent. Multi-modal transportation offers a solution, integrating different forms of transport to create seamless and efficient logistics networks.
This article seeks to delve into the complexities encompassed by multi-modal transportation systems within the supply chain industry, identifying key elements, benefits, and challenges. With an expert approach, this exposition will enhance the reader's understanding of this intricate field, grounding discussions with examples and case studies to validate points made.
Introduction to Multi-modal Transportation
Multi-modal transportation refers to the movement of goods utilizing several forms of transport - by rail, road, sea, or air - under a single contract but performed with at least two different means of transport. The coordination required for smooth transitions between modes is pivotal in maintaining the integrity and efficiency of the supply chain.
Distinguished for its flexibility, multi-modal transportation has gained popularity due to the increasingly complex requirements of global trade where goods need to navigate through diverse geographies and regulatory landscapes.
The importance and relevance of multi-modal transportation have grown exponentially with globalization. As markets expand and production relocates to various international locations, the need for robust transportation networks that can navigate various terrains and regulatory requirements becomes critical.
By leveraging the strengths of individual transport modes, multi-modal transportation offers an adaptive solution that can meet the evolving demands of global trade. This approach does not only enhance the ability to move products from producers to consumers effectively but also does so in a way that balances cost, speed, reliability, and environmental impact.
Unlock the Secrets of Multi-Modal Transportation: Master the Future of Global Logistics!
Transform Your Logistics Skills: Dive Deep into the World of Multi-Modal Transportation!
Dive into the intricate world of logistics and supply chain management with our specialized course on Multi-Modal Transportation. This course offers a comprehensive journey through the complexities of transporting goods using various modes like rail, road, sea, and air. You'll understand the pivotal role of coordination in creating seamless transitions between these modes, ensuring the integrity and efficiency of supply chains.
Elements of Multi-modal Transportation System
Within a multi-modal transportation system, diversity in transport options is its cornerstone. Each mode—from trucks that offer on-the-road flexibility, to railroads that are cost-effective for heavy goods over long distances, to ships that are vital for international trade, and aircraft that provide the fastest deliveries over great distances—plays a critical role. This amalgamation allows logistics managers to draft the most efficient routes and methods for delivering goods to their destination.
In this multi-layered orchestration, the role and importance of each transport mode are distinct yet interdependent. For example, road transportation offers last-mile delivery, essential to bring goods directly to the customer's doorstep. On the other hand, ocean freight is capable of transporting massive volumes across continents economically, although less speedily. Rail transport provides a dependable and less environmentally detrimental alternative for long-distance inland freight.
Each of these modes is selected for its respective advantages and effectively integrated into a cohesive operation.
Demonstrating the collaboration between modes is pivotal; goods might be loaded onto a truck, transported to a rail yard, carried across countries by train, then shipped overseas, and finally delivered by another truck.
The efficacy of a multi-modal transportation system lies in its seamless transitions, coordinated schedules, and synchronized handling procedures which minimizes delays and maintains the integrity of the goods.
Examples of Multi-modal Transportation Systems
The European land bridge, linking the Far East with Europe via Trans-Siberian Railways, is a prominent example of a multi-modal transportation system. Goods are first shipped from Asian ports to Vladivostok, then by rail across Russia, and further transported by road to multiple European destinations. This connection exemplifies how varying terrain and vast distances can be conquered efficiently through multi-modal means.
Another intricate example is the Alameda Corridor in Southern California, which serves as a cargo railway linking the ports of Los Angeles and Long Beach to the transcontinental rail network. The Corridor funnel's a significant portion of the maritime cargo entering one of the busiest port complexes in the world directly to railways, decongesting freeway traffic and streamlining the movement of goods across the USA's mainland.
Benefits of Multi-modal Transportation
Economically, multi-modal transportation can lead to significant cost savings by optimizing each leg of the transit journey for cost-effectiveness. For instance, sending bulk shipments by sea and using more expensive air freight selectively for urgent items can reduce overall logistics costs. Moreover, it allows for flexibility in response to shifts in demand, price changes, or unforeseen disruptions.
The environmental impact is mitigated by utilizing modes of transport that are less carbon-intensive. Rail and waterways typically emit lower levels of CO2 compared to road and air transport; thus, incorporating them into the supply chain contributes to more sustainable operations. As businesses increasingly come under scrutiny for their environmental footprint, multi-modal transport offers a pathway to more "green" logistics practices.
Socially, improved transportation networks enhance accessibility and connectivity, supporting community development and economic growth. They can open up new markets, create employment opportunities, and facilitate the global exchange of goods, which can lead to a higher quality of life and more vibrant commerce at a local level.
Case studies on the benefits of Multi-modal Transportation
Case studies, such as the development of the Port of Rotterdam's Multi-modal hub, illustrate the economic, environmental, and social benefits within a logistical context. This hub operates as a gateway linking maritime routes with inland waterways, rail, and roads. The efficiency generated by this interconnectivity has made it one of the most significant and advanced ports globally, bolstering the European economy.
Data from the Hub's operation shows a perpetual decrease in transport times and logistics costs for businesses that utilize its services. This, in turn, has had ripple effects on the regional economy, supporting businesses and job creation whilst also reducing traffic congestion and emissions through intelligent design and management of cargo flows.
Challenges in Implementing Multi-modal Transportation
Creating a successful multi-modal transportation system is not without its challenges; disparate infrastructure, regulatory differences between countries, and the necessary investment in facilities and technology can hinder its development. Additionally, the coordination at the heart of multi-modal transport requires advanced logistical capabilities.
A potential obstacle can also be the inertia within established supply chain practices, making the transition towards multi-modal solutions slow. It requires not only infrastructural investments but also a change in mindset among stakeholders to recognize the long-term benefits over traditional and familiar methods. Moreover, political and economic stability is required to ensure consistent operation of these complex networks.
Examples of Challenges and their Solutions in Multi-modal Transportation
Cases exemplifying these challenges abound; take the development of the New Silk Road, a multi-modal trade route connecting China with Europe. Disparities in rail gauge sizes, logistical cooperation between various nations, and political challenges have all posed significant difficulties along the route. However, successes in standardizing shipping containers, investing in route infrastructure, and international agreements on transport regulations showcase the potential for surmounting these issues.
In the USA, an example can be seen in the "Create" project in Chicago aimed at untangling a notorious rail bottleneck. Through public and private partnership investments, the project aims to upgrade and reconfigure a complex and congested rail infrastructure network facilitating more smooth intermodal transfers that benefit the entire North American freight network.
The Future of Multi-modal Transportation
Looking ahead, multi-modal transportation appears poised for transformative changes, propelled by technological advancements and shifting global trade patterns. Innovations such as autonomous vehicles, blockchain logistics, and advanced tracking systems have the potential to greatly enhance the efficiency and reliability of multi-modal transport networks.
Moreover, sustainability concerns are driving the evolution towards cleaner and smarter transportation systems. The expectation is that future multi-modal transportation solutions will not only be cost and time-effective but will also be driven by environmental and social considerations.
Predictions and Expectations for Multi-modal Transportation
Experts predict that we will see an increase in the integration of digital technologies with physical logistics operations, creating smart, responsive transportation systems. Artificial intelligence could revolutionize planning and optimization, while the Internet of Things (IoT) networks can enhance the tracking and monitoring of goods across modes, leading to highly transparent and reliable supply chains.
Expectations are also high for the development of hyperloop technology and high-speed cargo drones, which, if they become viable, could add entirely new dimensions to how goods are moved around the world. There lies an anticipation for building more resilient and adaptive networks that can withstand disruptions and serve the growing demands of the global economy.
Throughout our exploration, the dynamics of multi-modal transportation in the supply chain have revealed a complex yet highly advantageous system. By amalgamating different transport modes, a synergy is achieved that offers economic, environmental, and social benefits. While challenges exist, their solutions can be found through innovative thinking and collaboration.
As the world moves forward, the continuous evolution of multi-modal transportation remains vital to the success and sustainability of global supply chains. With a focus on efficiency, adaptability, and responsibility towards the environment and society, the future of multi-modal transportation seems not only promising but also indispensable.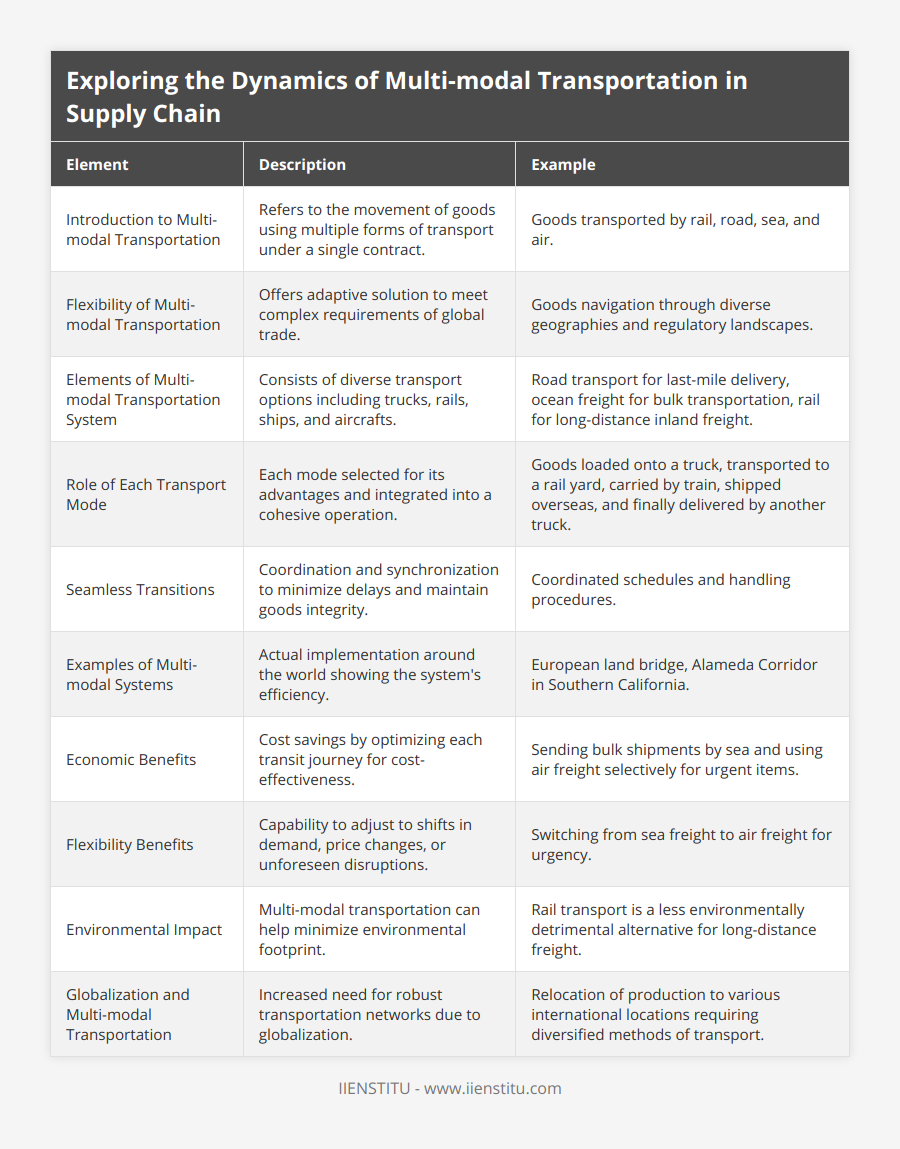 Multimodal transportation
Yu Payne
Blogger
Yu Payne is an American professional who believes in personal growth. After studying The Art & Science of Transformational from Erickson College, she continuously seeks out new trainings to improve herself. She has been producing content for the IIENSTITU Blog since 2021. Her work has been featured on various platforms, including but not limited to: ThriveGlobal, TinyBuddha, and Addicted2Success. Yu aspires to help others reach their full potential and live their best lives.
Related Posts
Our team of experts is passionate about providing accurate and helpful information, and we're always updating our blog with new articles and videos. So if you're looking for reliable advice and informative content, be sure to check out our blog today.