Human Resources Management
Unlocking Corporate HRs Potential: Benefits For All
19 February 2023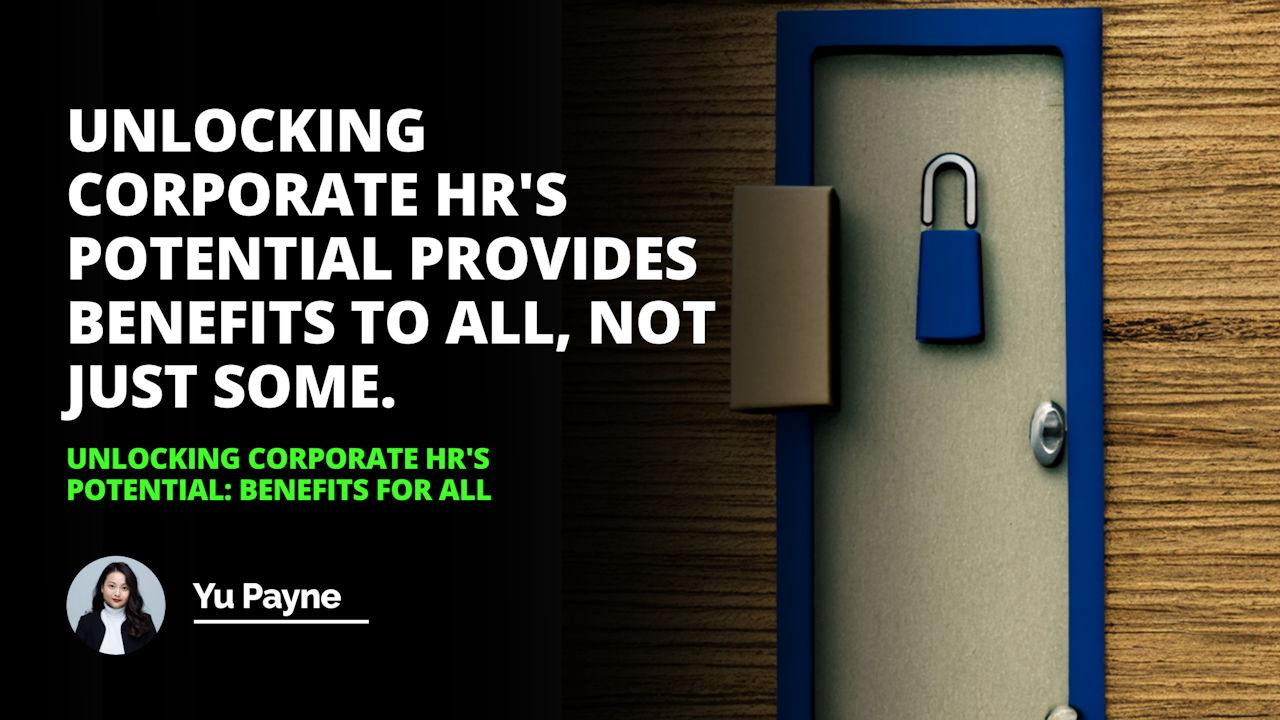 | Aspect | Challenges | Strategies & Benefits |
| --- | --- | --- |
| Employee Engagement | Keeping employees motivated and engaged in their job roles can be a significant challenge. | HR can unlock its potential to increase job satisfaction, improve performance and boost morale by enhancing employee engagement. |
| Hiring Process | Ensuring the hiring process is efficient, fair, and advantageous to the company can be difficult due to resource constraints. | Improved planning and management of corporate HR processes can lead to a more prosperous, efficient, and equitable hiring process. |
| Regulatory Changes | Staying on top of changes to employment laws and regulations can be complex and time-consuming. | Strategic planning helps corporate HR departments ensure that all procedures are up-to-date with the latest regulatory changes. |
| Technological Shift | The shift from in-person to web-based workplaces and the introduction of new technology can pose challenges. | Automation and utilization of modern tools can help corporate HR work smarter and more efficiently, freeing time for strategic initiatives. |
| Administrative Tasks | Administrative tasks can become overwhelming, taking away time from connecting with employees. | Automation can reduce manual processes, cutting administrative tasks and allowing more time to focus on employee relations. |
| Employee Retention | Attracting and retaining talent is a significant issue faced by corporate HR. | Improved employee relations and a better understanding of employees' needs can help to attract and retain talent. |
| Resource Constraints | Lack of resources and suitable technology can hinder management of HR processes. | Automation provides efficiency gains in managing HR processes, allowing HR to do more with less. |
| Company Culture | Cultivating a culture of work-life balance is a challenge due to growing complexity of HR processes. | Standardized and cohesive processes can help shape a healthy and engaging workplace culture. |
| Recruitment | Ensuring quick and quality hiring process. | Streamlining the recruitment process leads to selection of most qualified candidates promptly. |
| Overall Efficiency | Increasing pressures on HR to provide better services with same or reduced resources. | Innovation and automation can significantly improve overall efficiency, saving time and money. |
The Benefits of Unlocking Corporate HR Potential

The Challenges Faced by Corporate HR

Strategies to Unlock Corporate HR's Potential

Improved Outcomes Resulting from Unlocking Corporate HR's Potential
The roles and responsibilities of corporate human resources (HR) departments are often critical to the success of businesses. Corporate HR oversees internal processes related to personnel matters such as recruiting, onboarding, policies, and training. It is also responsible for cultivating a culture of work-life balance for all employees. Unfortunately, as businesses grow, often so does the complexity of their HR processes. This makes it increasingly difficult for corporate HR departments to keep up, leading to less-than-optimal conditions for the company and its employees.
The Benefits of Unlocking Corporate HR Potential
The primary benefit of unlocking corporate HR potential is ensuring that employees are supported and engaged in their job roles. Enhanced employee engagement leads to increased job satisfaction, which in turn leads to improved performance, better morale, and greleadingitionally, when corporate HR processes are adequately planned, recruited, and managed, it can lead to a more prosperous, efficient, and equitable hiring process, as well as sounder decision-making in employee relations matters.
The Challenges Faced by Corporate HR
There are many challenges that corporate HR departments face when attempting to maximize their potential. A significant challenge is a lack of resources, suitable technology, and tools to efficiently and effectively manage their processes. In addition, since the introduction of the internet, there has been a rapidly growing shift from in-person to web-based workplaces, as well as changes to employment laws and regulations. This change analogy and rules can be problematic for corporate HR teams to stay abreast of, resulting in more paperwork, administrative tasks, and less time spent on connecting with employees and providing them with the necessary port.
Strategies to Unlock Corporate HR's Potential
The best way for corporate HR to unlock its potential is by taking advantage of automation and improved strategic planning. Automation provides efficiency gains in managing HR processes, allowing them to work smarter, not harder. It can also reduce manual processes, cutting administrative tasks and freeing time for more strategic initiatives. Additionally, improved strategic planning helps corporate HR departments ensure that all procedures are consistent and up-to-date with the latest regulatory changes. By creating cohesive and standardized processes, critical data poinCritical data points can be gathered by can be supposed to help the HR team identify what can help shape the workplace culture.
Improved Outcomes Resulting from Unlocking Corporate HR's Potential
With improved processes, corporate HR departments can provide a greater level of support to employees through enhanced employee engagement and retention practices. By inviting and fostering open dialogue, companies can better understand their employees' needs and develop strategies to meet them. Improved employee relations also help to attract and retain talent, as employees will be more likely to stay with companies that take the time to understand their needs. Additionally, by streamlining the recruitment process, companies can ensure they select the most qualified candidates promptly.
Conclusion: Innovation within corporate HR departments is long overdue. Unlocking corporate HR's potential can help businesses in various ways and provide numerous advantages to employers and employees. For example, automation and improved strategic planning can assist HR departments in streamlining processes, saving time and money, and improving overall efficiency. Additionally, enhanced recruitment processes and employee relations can lead to better outcomes for employers and employees. By unlocking the potential of their corporate HR, businesses can position themselves to succeed in all aspects of their operations, resulting in a win-win for all involved.
Unlocking corporate HRs potential provides benefits to all, not just some!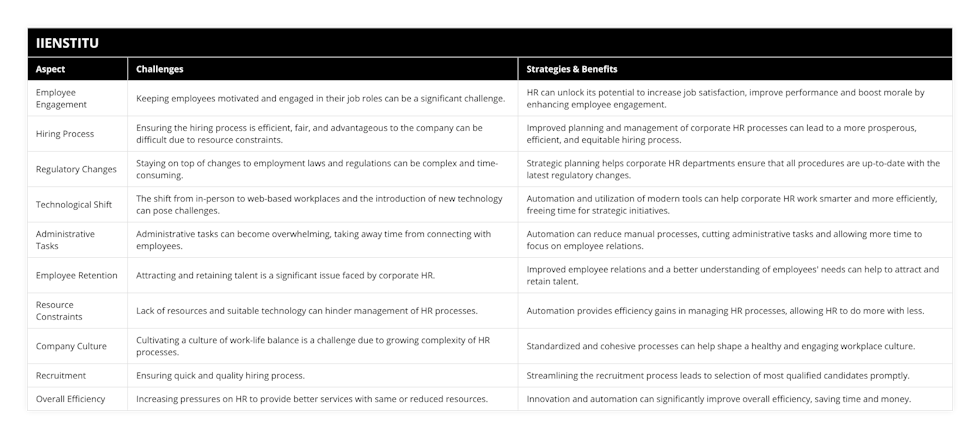 Corporate Human Resources
Personnel Matters
Recruiting
Onboarding
Policies
Training
Work-Life Balance
Resources
Technology
Tools
Efficiency
Effective
Decisions
Employee Engagement
Job Satisfaction
Performance
Morale
Retention
Strategic Planning
Automation
Regulatory Changes
Employee Relations
Open Dialogue
Streamline Processes
Recruitment
Qualified Candidates
Innovation
Improve Outcomes
Win-Win
Yu Payne
Blogger
Yu Payne is an American professional who believes in personal growth. After studying The Art & Science of Transformational from Erickson College, she continuously seeks out new trainings to improve herself. She has been producing content for the IIENSTITU Blog since 2021. Her work has been featured on various platforms, including but not limited to: ThriveGlobal, TinyBuddha, and Addicted2Success. Yu aspires to help others reach their full potential and live their best lives.
Related Posts
Our team of experts is passionate about providing accurate and helpful information, and we're always updating our blog with new articles and videos. So if you're looking for reliable advice and informative content, be sure to check out our blog today.