Human Resources Management
Reaping the Rewards of Proactive Corporate HR
19 February 2023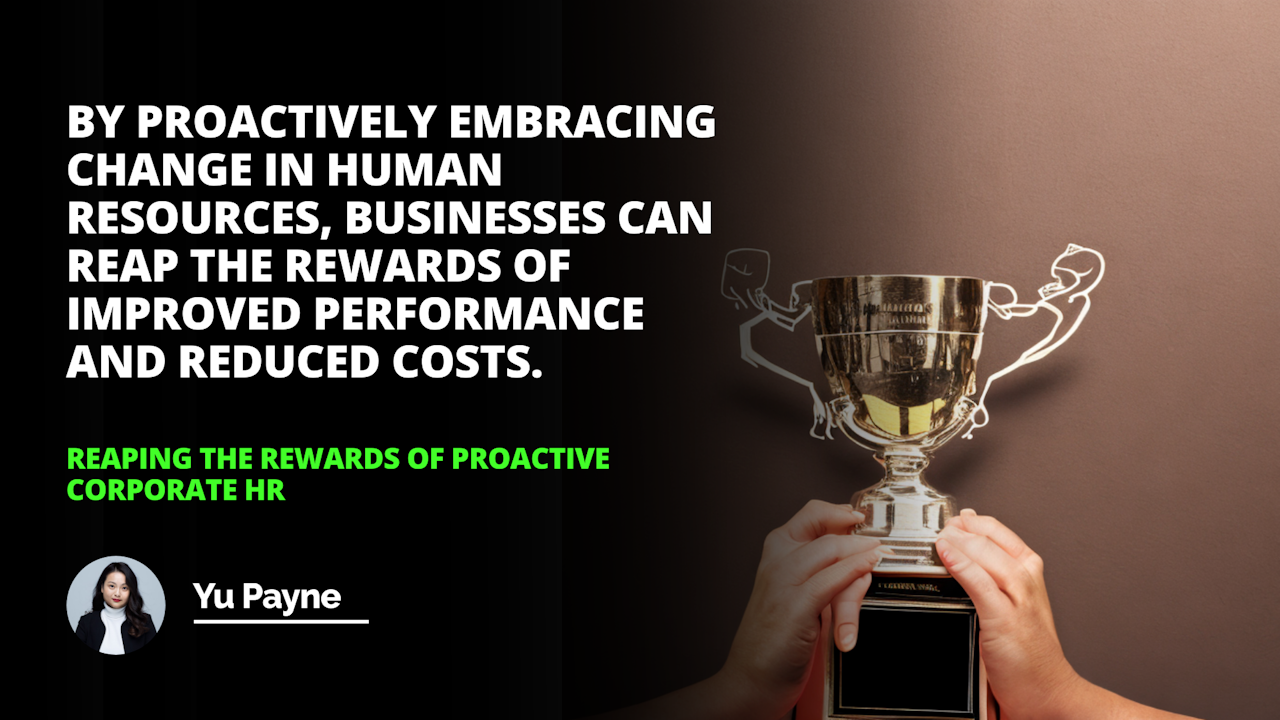 | Proactive HR Practice | Benefits | Application Examples |
| --- | --- | --- |
| Goal setting and strategy implementation | Fosters employee engagement and satisfaction | Setting employee performance targets, clear job descriptions |
| Creation of a respectful work environment | Enhances employee motivation and productivity | Work-life balance policies, open communication channels |
| Introduction of incentives | Boosts morale and job satisfaction | Performance-based bonuses, employee recognition programs |
| Aggressive talent acquisition | Attracts top talent to the company | Efficient recruitment processes, behavioral assessments during interviews |
| Provision of learning and development opportunities | Improves employees' skills and capabilities | Seminars, workshops, e-learning platforms |
| Improved employee engagement | Directly impacts customer satisfaction | Team building activities, Employee involvement in decision making |
| Employee stability | Reduces employee turnover | Career advancement opportunities, competitive compensation packages |
| Enhanced business performance | Increased profitability and sustainability | Investment in technology, expansion strategies |
| Investing in a positive workplace culture | Draws in and keeps top-tier employees | Promoting inclusivity, team-building exercises |
| Offering incentives for learning new skills | Motivates employee development and boosts productivity | Promotion opportunities, subsidised professional examinations |
Human Resources is rapidly changing, and companies are beginning to understand the importance of instituting proactive corporate HR strategies. Employers must take affirmative steps in a highly competitive business landscape to ensure employees remain engaged, productive, and eager to tackle complex projects.
In this blog post, we'll explore the concept of proactive corporate HR, its importance to any business, and the better cards that successful strategies can reap.
What is Proactive Corporate HR?
Proactive corporate HR is setting goals and implementing strategies that enable a company to better and nurture its employees. This form of Human Resources strategy is different from traditional methods because it focuses on proactive strategies instead of reactive ones. An aggressive HR strategy involves the creation of an environment where employees feel valued and respected. It also entails introducing policies and incentives that boost employee engagement and encourage job satisfaction.
The goals of Proactive HR vary depending on the company's objectives. Generally, the primary purpose is to ensure that the company remains attractive to top talent by staying ahead of the competition regarding employee engagement. Additionally, it involves giving employees a greater sense of job security and a higher quality of life. The core beliefs of proactive HR are that successful employee engagement and satisfaction equate to improved business performance and long-term sustainability.
The Benefits of Proactive Corporate HR
The primary benefits of using a proactive corporate HR strategy are improved employee engagement and enhanced business performance. Studies have shown that employees are more motivated and productive when they feel their efforts are recognized and rewarded. Furthermore, when staff is provided with the appropriate learning and development opportunities, they can improve their skill sets and further contribute to the organization's success.
Enhanced employee engagement can also lead to improved customer satisfaction. A happy workforce is more likely to interact positively with customers and is more likely to improve the customer experience. Additionally, by maintaining a positive workplace, companies can turn over and retain top talent, increasing competitive advantage.
Examples of Proactive Corporate HR Practices
An effective recruitment process is one of the most important tools for fostering a dynamic and productive environment. Companies should strive to identify talented candidates who fit seamlessly into the organization's culture. Additionally, they should use progressive interview techniques such as behavioral assessments to ensure they find the best employees for the job.
Employee training is also an essential part of any proactive HR strategy. Companies can use various methods to educate their employees, including seminars, workshops, and e-learning platforms. They should also consider offering a variety of incentives to motivate employees to learn new skills and advance in their professions.
Overall, implementing a proactive corporate HR strategy can benefit any business. When done correctly, these strategies can improve employee engagement, enhance business performance, and reduce employee turnover. Additionally, when employees are given the tools and support to succeed, they tend to be more motivated and productive, improving customer satisfaction. For companies looking to reap the rewards of proactive corporate HR, the key is to identify key characteristics of success and implement strategies that will have the most impact.
By proactively embracing change in Human Resources, businesses can reap the rewards of improved performance and reduced costs.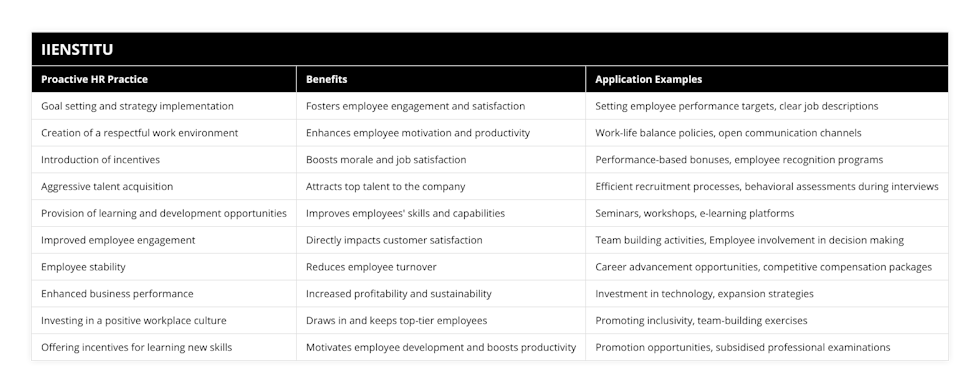 Proactive Corporate HR
Human Resources
employee engagement
job satisfaction
competitive advantage
recruitment
behavioral assessments
employee training
seminars
workshops
e-learning platforms
incentives
customer satisfaction
employee turnover
motivation
productivity
Yu Payne
Blogger
Yu Payne is an American professional who believes in personal growth. After studying The Art & Science of Transformational from Erickson College, she continuously seeks out new trainings to improve herself. She has been producing content for the IIENSTITU Blog since 2021. Her work has been featured on various platforms, including but not limited to: ThriveGlobal, TinyBuddha, and Addicted2Success. Yu aspires to help others reach their full potential and live their best lives.
Related Posts
Our team of experts is passionate about providing accurate and helpful information, and we're always updating our blog with new articles and videos. So if you're looking for reliable advice and informative content, be sure to check out our blog today.