Human Resources Management
The 4 Key Functions of HRM
01 November 2022
| Key Function | Description | Implication in Management |
| --- | --- | --- |
| Recruitment | The process of sourcing and selecting individuals to fill vacant positions within an organization. | Ensures that the right people with the right skills are hired, improves overall productivity and reduces the risk of inadequate performance. |
| Training and Development | Providing employees with the skills and knowledge they need to do their jobs effectively. | Improves employee productivity and performance, reduces turnover, and assures job proficiency. |
| Compensation and Benefits | Designing and administering salary, bonus, and benefit programs that attract, motivate, and retain employees. | Ensures fair compensation for work, aids retention, and motivates employees to maintain a high level of performance. |
| Employee Relations | Managing the relationship between an organization and its employees. This includes activities such as communication, conflict resolution, and workforce planning. | Ensures employee satisfaction for increased productivity, better work environment and improved trust within the organization. |
| Planning | Process of setting vision, mission and goals of the HR department consistent with the overall organizational strategy. | Assists the HR department in focusing efforts strategically to support the overall business objectives. |
| Selection | The process of choosing the most suitable candidates from among the applicants. | Helps in eliminating unfit or less suitable candidates, thereby saving time and resources. |
| Motivation | HRM motivates the employees by providing them with various monetary and non-monetary incentives. | Increases employee morale and productivity. |
| Health and Safety | Ensuring a safe and healthy work environment for staff. This includes trainings, awareness programs and compliance with relevant laws and regulations. | Promotes ethical business, protects employees and the organization from potential liabilities and enhances brand recognition. |
| Performance Appraisal | The process of assessing and reviewing an employee's performance during a specific period. | Provides feedback, sets performance goals, identifies training needs and assists in career planning and growth. |
| Legal Compliances | Ensuring that the company follows all the prevailing labor and employment laws. | Prevents legal implications, ensures fair treatment of employees and safeguards company reputation. |
Human resources management (HRM) is a critical function for all organizations. After all, HRM is responsible for attracting, developing, and retaining talent within an organization. But what exactly are the key functions of HRM? Let's take a closer look.
The 4 Key Functions of HRM: What They Are and Why They Matter
Learn the four key functions of HRM and what they mean for your business. 

Understand why each function is important and how they work together to help your company run smoothly.

Gain insight into how HRM can help you manage your employees more effectively.

Get tips on how to optimize each function to get the most out of your HR department.
The Recruitment Function
One of the most important functions of HRM is recruitment. This is the process of sourcing and selecting individuals to fill vacant positions within an organization. The recruitment function is important because it ensures that the right people with the right skills are hired to do the job.
For example, if your company sells specialized medical equipment, you need to hire salespeople who have the knowledge and experience necessary to sell these products. Without a recruitment function, you may end up hiring people who are not a good fit for the position or who do not have the right skills.
The Training and Development Function
Another key function of HRM is training and development. This refers to the process of providing employees with the skills and knowledge they need to do their jobs effectively. Training and development helps to improve employee productivity and performance and can also help to reduce turnover.
For example, if a new salesperson starts working for your company, he or she may not have much experience with your specific products. By providing training and development opportunities, the employee can quickly gain the skills and knowledge needed to be successful in their role.
The Compensation and Benefits Function
Another important function of HRM is compensation and benefits. This refers to the process of designing and administering salary, bonus, and benefit programs that attract, motivate, and retain employees. The compensation and benefits function is important because it helps to ensure that employees are fairly compensated for their work and that they have access to quality benefits.
For example, if your company wants to keep its employees happy and engaged, it might offer generous bonuses or provide access to a 401(k) plan. By understanding the compensation and benefits function, you can determine which programs are right for your organization and design an effective rewards program.
The Employee Relations Function
The final key function of HRM is employee relations. This refers to the process of managing the relationship between an organization and its employees. Employee relations includes activities such as communication, conflict resolution, employee engagement, and workforce planning. The employee relations function is important because it helps to ensure that employees are satisfied with their jobs and that they are able to contribute effectively to the organization.
For example , if an employee has a problem with their supervisor or manager, an effective employee relations function will help to address the issue quickly and fairly.
Overall, the four key functions of HRM are essential for any organization. By understanding each function and how it works within your business, you can optimize HR practices and get the most out of your HR department. Ultimately, this will help to improve productivity, performance, and engagement throughout your organization.
To sum up, the four key functions of HRM are: Planning, Recruitment and Selection, Training and Development, and Employee Relations. Each function is important in its own right and plays a vital role in the successful running of any organization. Of course, there is much more to HRM than these four functions but they provide a good foundation on which to build your knowledge. If you want to learn more about HRM and how to effectively manage a team of staff, join our HR management course.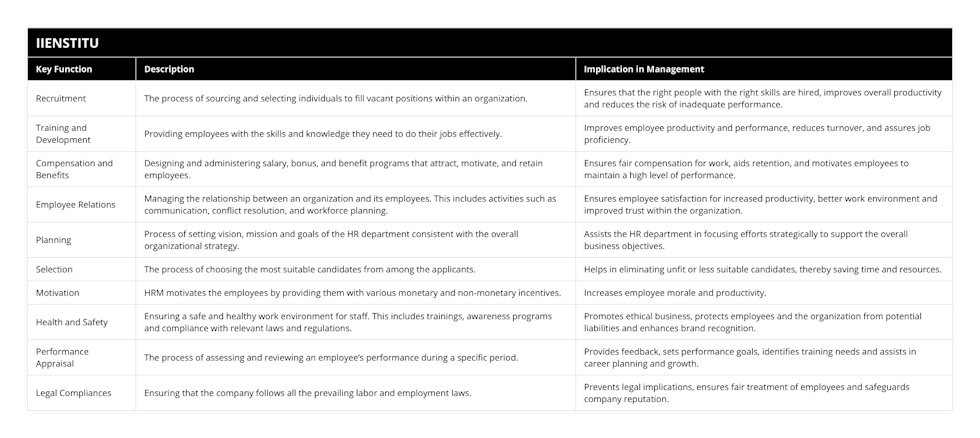 performance management
long term
hr function
workforce planning
bottom line
important functions
learning and development
hr department
performance improvement
working environment
human resource function
job analysis
positive work environment
hr manager
healthy work
human resource planning
career planning
train and develop
functions of human resource management
include recruitment
Bilal Şentürk
Blogger
He completed his undergraduate studies at Celal Bayar University, Anadolu University and Istanbul University, and a Master's degree with thesis on Human Resources Management at Yıldız Technical University and Business Management at Beykent University. He is currently writing a doctoral thesis on human resources and consulting businesses on human resources.
Related Posts
Our team of experts is passionate about providing accurate and helpful information, and we're always updating our blog with new articles and videos. So if you're looking for reliable advice and informative content, be sure to check out our blog today.