Economy
Shrinkflation: The Silent Change Impacting Your Pocket
26 August 2023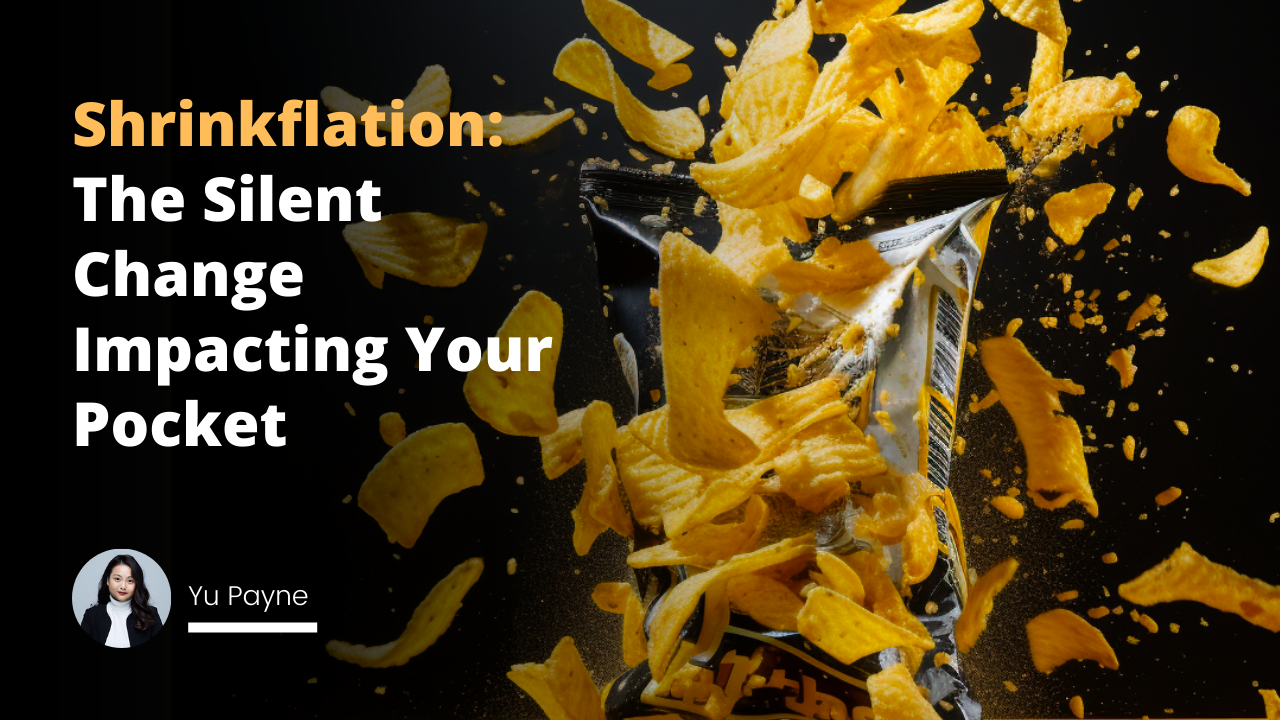 | Year | Sector | Impact |
| --- | --- | --- |
| 2022 | Toiletries | Shampoo bottles contained 10% less product. |
| 2022 | Snack Industry | Packages contained lesser quantities leading to quick depletion. |
| 2023 | Household Goods | Detergents and cleaners were reduced in size. For example, a liter detergent bottle might have contained only 950ml. |
| 2023 | Beverage Industry | Cans of soda had 10ml less and juice boxes contained fewer servings. |
| 2022 & 2023 | Various | Several products have been subject to shrinkflation due to economic challenges, supply chain disruptions, and rising costs. |
| General | Packaging | Companies are using innovative packaging designs to maintain the illusion of the same quantity. |
| General | Consumer Impact | Consumers are often initially unaware; the change is noticed when products run out sooner than usual. |
| General | Consumer Strategy | Consumers must stay informed, compare products, and hold manufacturers accountable. |
| General | Manufacturer Strategy | Manufacturers are employing shrinkflation as a subtle strategy to manage costs. |
| General | Long-term Trend | Shrinkflation is not just a temporary phenomenon but is likely to continue as a manufacturing strategy. |
You might not have noticed, but that chocolate bar you love? It's gotten more minor over the last couple of years. No, it's not your imagination. It's a phenomenon called "shrinkflation."
From understanding its roots to examining recent examples, we unravel this covert trend silently affecting our pockets.
What is Shrinkflation? The Definition and Beyond
Shrinkflation is a term that's been gaining traction in commerce and among consumers. At its core, shrinkflation represents manufacturers' subtle strategy to address rising costs without alerting consumers through direct price hikes.
Understanding Shrinkflation
At first glance, shrinkflation is a simple reduction in product size. However, its implications are much broader. The term is a portmanteau of "shrink" and "inflation." Unlike traditional inflation, where prices increase, shrinkflation deals with the decreasing quantity or size of products.
The catch? The price remains unchanged.
Increasing prices can be a risky move for businesses. It's obvious and can lead to customer backlash or reduced sales. Instead, companies have found a more subtle way to manage their rising operational costs: by providing less of the product.
This tactic means they can offset the increased costs of raw materials, labor, and other factors without causing immediate consumer alarm.
The Art of Packaging
One of the most cunning aspects of shrinkflation is how it's presented. Companies invest in innovative packaging designs that give the illusion of the same quantity or even more, further disguising the reduced content. For instance, a chip bag might appear the same size, but the amount of chips inside or the weight can be less. The package may be filled with more air, or the base of a chocolate bar might be hollowed out subtly.
The Consumer's Perspective
For consumers, shrinkflation can be challenging to spot immediately. They may recognize the change when they feel like they're running out of a product sooner than usual or when they compare old and new packages side by side. This lag in realization is precisely what companies bank on. When consumers notice, they've often already adjusted to the new norm.
Shrinkflation serves as a testament to the lengths businesses will go to maintain profitability in the face of rising costs. As consumers, we must stay informed, compare products diligently, and hold manufacturers accountable when necessary.
| Product | Size in 2020 | Size in 2021 | Size in 2022 | Size in 2023 | Overall Decrease |
| --- | --- | --- | --- | --- | --- |
| Popular Chocolate Bar | 150 grams | 145 grams | 140 grams | 135 grams | -15 grams |
| Toothpaste Tube | 200 ml | 195 ml | 190 ml | 185 ml | -15 ml |
| Cereal Box | 500 grams | 490 grams | 480 grams | 470 grams | -30 grams |
| Detergent Bottle | 1 liter | 1 liter | 950 ml | 900 ml | -100 ml |
| Ice Cream Tub | 1.5 liters | 1.45 liters | 1.4 liters | 1.35 liters | -150 ml |
A table comparing product sizes in 2020, 2021, 2022, and 2023 highlights the decrease.
Shrinkflation 2022 vs. Shrinkflation 2023: Spotting the Changes
The concept of shrinkflation is far from new. However, its presence has become increasingly evident in the past two years. This trend, while subtle, has consequences for consumers, as they're getting less for their money without necessarily realizing it immediately.
The Rise Shrinkflation in 2022
2022 marked a significant shift in the number of industries affected by shrinkflation. The economic challenges of that year, including supply chain disruptions, rising labor costs, and increased prices of raw materials, pushed many manufacturers to reconsider their product sizes. Toiletries, a daily necessity for most households, saw reductions in content. A shampoo bottle, for instance, might have held 10% less product than before. The snack industry wasn't spared either. As consumers indulged in comfortable eating amidst global uncertainties, they might've noticed their favorite snacks running out quicker, not due to increased consumption but reduced package content.
Shrinkflation in 2023: An Expanding Trend
If we thought shrinkflation reached its peak in 2022, 2023 proved us wrong. The trend broadened its horizons, touching even more sectors. Household goods, including detergents and cleaning agents, began to "shrink." A liter detergent bottle in 2022, by 2023, might only contain 950ml. The beverage sector also felt the pinch. Consumers, hoping to quench their thirst, found cans of soda having 10ml less or juice boxes not lasting as many servings as they used to.
The Art of Spotting Changes
For the vigilant consumer, these changes, though subtle, are noticeable. It often requires a combination of memory (recalling the original size or quantity) and keen observation (spotting differences in packaging or content). Sometimes, it's about reading the fine print, noting the amount mentioned, or looking at the serving sizes.
As we navigate the world of commerce in the mid-2020s, it's clear that shrinkflation is not just a temporary phenomenon but a lasting strategy manufacturers employ. As consumers, staying informed, sharing observations, and, when necessary, voting with our wallets will be essential tools in responding to this covert trend.
| Product | Size in 2022 | Size in 2023 | Size Decrease from 2022 to 2023 |
| --- | --- | --- | --- |
| Premium Coffee Brand | 300 grams | 285 grams | -15 grams |
| Luxury Shampoo Bottle | 400 ml | 380 ml | -20 ml |
| Gourmet Cookie Pack | 12 cookies | 10 cookies | -2 cookies |
| Deluxe Laundry Detergent | 2 liters | 1.9 liters | -100 ml |
| Artisanal Pasta Box | 500 grams | 480 grams | -20 grams |
A comparative table shows products that faced shrinkflation in 2022 and 2023, with their respective size changes.
Shrinkflation Examples: When Less Really is Less
The potato chips and cookie examples emphasize the tangible impacts of shrinkflation. A family accustomed to sharing a 200-gram bag of chips during a movie night in 2022 found the same bag insufficient in 2023.
Similarly, the cookie lovers, expecting to relish a dozen cookies, found themselves two short in 2023, with the price stingingly constant.
Shrinkflation's impact stretches across various sectors. Here are some notable shrinkflation examples from recent years:
Food Items: Snacks, cereals, and ice cream tubs have all seen a reduction in quantity.

Household Items: Cleaning supplies like liquid detergents now come in smaller bottles but cost the same.

Cosmetics: Lotions and creams are being sold in slender tubes and jars, often with cleverly designed packaging that appears more significant than it truly is.
| Product Category | Popular Product Affected | Original Size | New Size | Change in Size |
| --- | --- | --- | --- | --- |
| Snack Foods | Crispy Potato Chips | 200 grams | 185 grams | -15 grams |
| Beverages | Tropical Fruit Juice | 1 liter | 950 ml | -50 ml |
| Home Essentials | Lavender Air Freshener | 300 ml | 280 ml | -20 ml |
| Personal Care | Minty Toothpaste | 150 ml | 140 ml | -10 ml |
| Dairy Products | Creamy Vanilla Yogurt | 500 grams | 475 grams | -25 grams |
A table listing different product categories, the popular product affected, and the change in quantity or size.
Protecting Yourself from Shrinkflation's Impact
Knowledge is power. By understanding shrinkflation and staying informed, consumers can make smarter buying decisions. It's also beneficial to look at unit prices, compare brands, and consider the overall value of a product.
Additionally, considering a Risk Management Course can be an intelligent move, offering tools and strategies to understand and mitigate various market risks, including shrinkflation.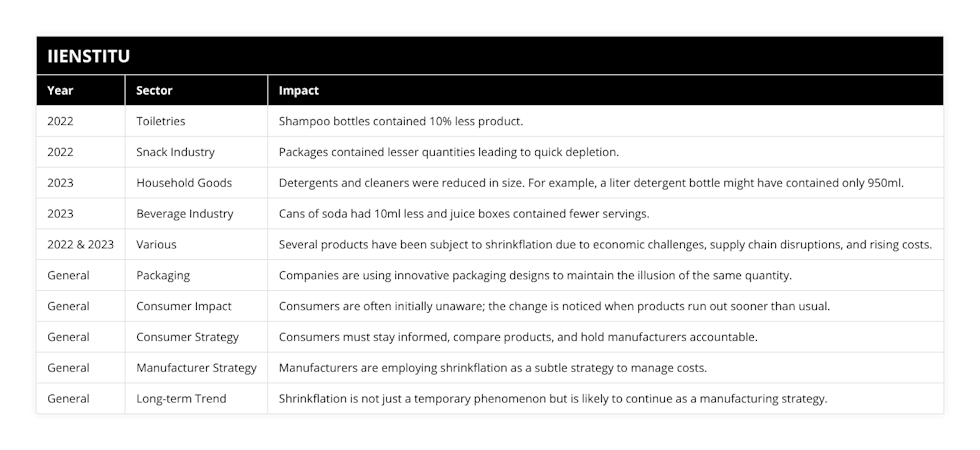 shrinkflation
shrinkflation examples
shrinkflation 2022
shrinkflation 2023
what is shrinkflation
shrinkflation definition
Yu Payne
Blogger
Yu Payne is an American professional who believes in personal growth. After studying The Art & Science of Transformational from Erickson College, she continuously seeks out new trainings to improve herself. She has been producing content for the IIENSTITU Blog since 2021. Her work has been featured on various platforms, including but not limited to: ThriveGlobal, TinyBuddha, and Addicted2Success. Yu aspires to help others reach their full potential and live their best lives.
Related Posts
Our team of experts is passionate about providing accurate and helpful information, and we're always updating our blog with new articles and videos. So if you're looking for reliable advice and informative content, be sure to check out our blog today.