Human Resources Management
Securing Employee Retention: The Role of Corporate HR
19 February 2023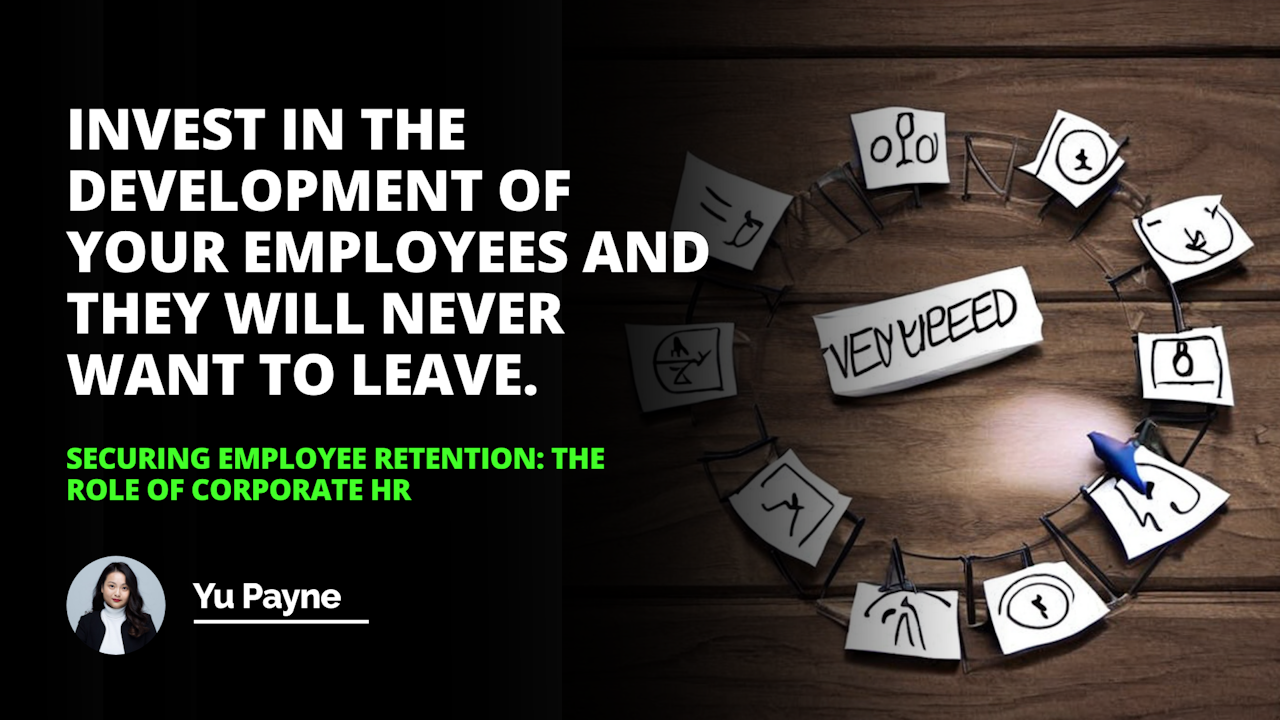 | Key Areas | Role/Strategies | Challenges |
| --- | --- | --- |
| Corporate HR and Employee Retention | HR plays a crucial role in developing policies and programs that motivate employees, facilitating engagement activities, and ensuring access to needed resources. | Can face limitations based on resource allocation, challenges in conflict resolution. |
| Competitive Compensation | Provide competitive salaries, bonuses, stock options, and benefits to motivate and reward employees. | Limited financial resources may make it difficult to offer competitive packages; financial constraints may limit implementation strategies. |
| Career Development Opportunities | Provide employees opportunities to develop skills and take on new responsibilities to increase employee satisfaction and loyalty. | Limited resources may limit the amount and quality of career development opportunities provided. |
| Positive Work Environment | Create a supportive, inclusive environment that values open communication to increase overall job satisfaction. | Conflicts between employees can negatively affect the work environment and employee retention. |
| Recognize and Reward Good Work | Recognition and reward for good work motivate employees and make them feel valued. | Limited resources may hinder the implementation of comprehensive recognition and reward systems. |
| Flexible Work Arrangements | Allow for flexible work arrangements to accommodate employees' work-life balance. | Operational requirements or infrastructure limitations may restrict the extent to which flexible arrangements can be offered. |
| Conflict Resolution | Implement effective conflict resolution frameworks to manage disagreements constructively. | Ensuring a fair and transparent conflict resolution process; dealing with recurring conflicts. |
| Employee Retention Importance | Retention of valuable employees is integral to organizational success and competitiveness. | Balancing the costs of retention strategies with the cost of turnover. |
| Resource Limitations | Strategic use of limited resources to maximize employee satisfaction and retention. | Ensuring effective and fair allocation of resources. |
| Need for Effective Strategies | Development of comprehensive, effective strategies to address retention challenges. | Overcoming potential constraints and roadblocks to implement effective retention strategies. |
Corporate HR and Employee Retention

Key Strategies for Retention

Challenges of Employee Retention
Employee retention—an organization's ability to retain its most valued employees—has become increasingly important as organizations strive to stay competitive in today's dynamic business environment. It has been widely noted that the costs associated with employee turnover are high, and organizations are looking for ways to reduce these costs. Corporate Human Resources (HR), as a function, has a vital role in securing employee retention. In this blog post, we will discuss the role of corporate HR and strategies for employee retention, and the challenges associated with ensuring employee retention.
Corporate HR and Employee Retention
The role of HR in any organization is to ensure that the organization is staffed in an effective, efficient, and equitable manner and that the employees are managed in a way that enables them to develop their full potential. Regarding employee retention, HR plays a crucial role in developing organizational policies and programs that motivate employees to remain with the organization. In addition, HR can facilitate employee engagement activities and ensure that employees have access to the necessary resources and support.
Key Strategies for Retention
Competitive Compensation: Organizations should ensure that employees have access to competitive salaries and other forms of compensation, such as bonuses, stock options, and other benefits.

Career Development Opportunities: Organizations must provide employees with opportunities to develop their skills and take on new roles and responsibilities.

Positive Work Environment: Organizations should strive to create a positive work environment that is inclusive, supportive, and encourages open communication.

Recognize and Reward Good Work: Organizations should recognize and reward employees for their excellent work and contributions to the organization.

Flexible Work Arrangements: Organizations should strive to offer flexible work arrangements that allow employees to balance their work and personal lives.
Challenges of Employee Retention
Organizations may face several challenges securing employee retention, including limited resources and employee conflicts.
Limited Resources
Organizations can face limited financial resources, which can make it difficult to offer competitive compensation packages, career development opportunities, and other benefits that can help retain employees. In addition, additional resources, such as time, can also be constrained, making it challenging to create and implement employee retention strategies.
Conflict Resolution
Conflicts between employees can also lead to a decline in employee retention. Therefore, organizations must create a positive and inclusive environment where conflicts can be managed in a productive and beneficial way for all employees.
Conclusion: Employee retention is an essential aspect of organizational success. Corporate HR is vital in securing employee retention by developing administrative policies and programs that motivate employees to remain with the organization. Critical strategies for employee retention include offering competitive compensation, providing essential career development opportunities, creating a positive work environment, recognizing and rewarding good work, and offering flexible work arrangements.
Organizations may face challenges securing employee retention, such as limited financial resources and employee conflicts. Therefore, organizations need to develop effective strategies for addressing these challenges to ensure the successful retention of employees.
Invest in the development of your employees, and they will never want to leave.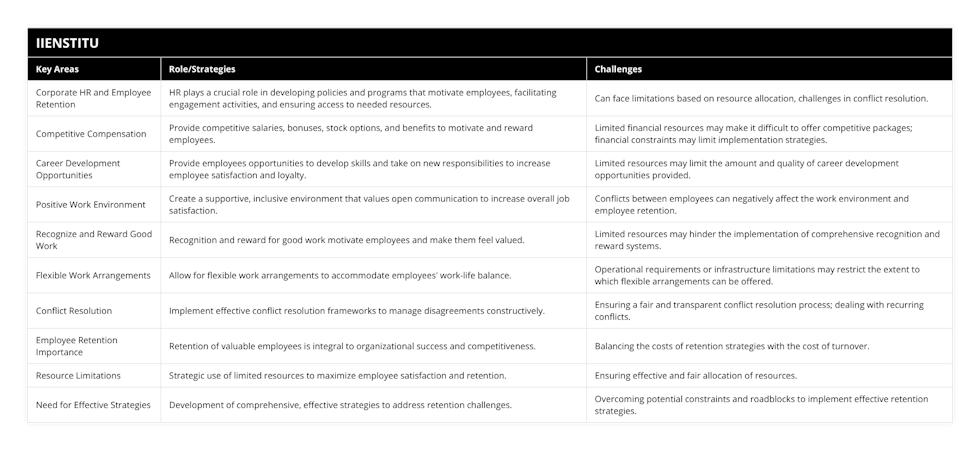 Employee retention
Corporate HR
competitive compensation
career development opportunities
positive work environment
recognize and reward
flexible work arrangements
financial resources
conflicts
employee engagement
employee turnover
Yu Payne
Blogger
Yu Payne is an American professional who believes in personal growth. After studying The Art & Science of Transformational from Erickson College, she continuously seeks out new trainings to improve herself. She has been producing content for the IIENSTITU Blog since 2021. Her work has been featured on various platforms, including but not limited to: ThriveGlobal, TinyBuddha, and Addicted2Success. Yu aspires to help others reach their full potential and live their best lives.
Related Posts
Our team of experts is passionate about providing accurate and helpful information, and we're always updating our blog with new articles and videos. So if you're looking for reliable advice and informative content, be sure to check out our blog today.