Problem Solving
Plato: A Beacon of Influence Through Desire, Emotion, & Knowledge
07 March 2023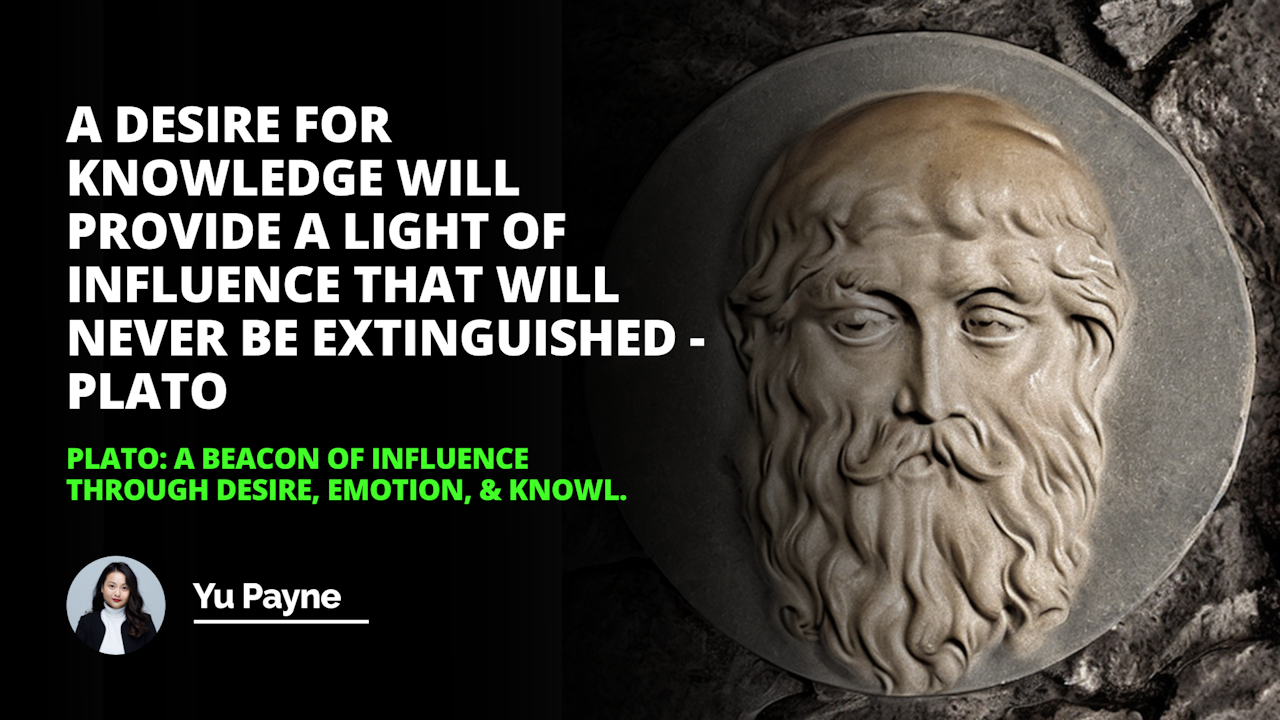 | Aspect | Plato's Perspective | Impact in Society |
| --- | --- | --- |
| Desire | Desire is a natural part of being human and should be embraced in moderation | Brought previously unheard-of levels of freedom in the context of desires |
| Emotion | Emotion is a crucial part of understanding the human condition and living a meaningful life | Helped individuals better connect emotionally, enhancing the depth of human understanding |
| Knowledge | Knowledge as the foundation of a meaningful life and the path to liberation | Spurred societal emphasis on lifelong learning and critical thinking |
| Teaching Method | Used stories and metaphors to communicate complex ideas | Influenced pedagogical techniques promoting deeper understanding |
| The Republic | Introduced the concept of the 'golden mean' in relation to desires | Reformed societal view on balance between indulgence and restraint |
| Ideal Forms | The theory of forms advanced the concept that knowledge is the path to liberation | Contributed to philosophical metaphysics and epistemology |
| Sophists Opposition | Challenged conventional thinking and societal norms | Incited a shift in philosophical perspectives |
| Legacy | Not available | Influenced many generations of thinkers and philosophers |
| Freedom of Desire | Promoted fulfilling desires in moderation | Revolutionized personal and societal values regarding desire |
| Emotions as Motivators | Propounded that emotions should be seen as a source of inspiration | Promoted an enlightened view of emotions and their role in human motivation |
Introduction

Plato: A Philosopher of Influence

Desire

Plato's Influence on the Concept of Desire

How Plato's Understanding of Desire Transcended Social Norms

Emotion

Plato's Impact on the Development of Emotional Understanding

How He Used Emotion to Better Connect With Society

Knowledge

The Need for Knowing in Plato's View

How He Used Knowledge to Developmentally Guide, His Followers

Conclusion

The Resounding Impact of Plato

Legacy of the Great Philosopher
Introduction
Plato is a world-renowned thinker and one of the most influential figures in the history of philosophy. His works are read to this day and encompass a range of topics from love to governance. However, he is best known for his dialogues and opposition to many aspects of his time's society, such as the Sophists, which led to many philosophical changes.
His ideas have been a source of significant influence throughout the centuries, and he remains a beacon of power in philosophy and beyond psychology.
Desire
Plato's influence on the concept of desire has been profound. He asserted that desire is a natural part of being human and should be embraced, which was very radical in his time. He wrote extensively on fulfilling desires, emphasizing moderation over indulgence correctly. He also discussed the implications of misdirected desire and how to train the mind to combat such feelings. In his work The Republic, he explored the idea of the "golden mean" and how it applies to desire. He believed that the correct balance of indulgence and restraint should be the ultimate aim of human life.
How Plato's Understanding of Desire Transcended Social Norms
Plato's understanding of desire was revolutionary in its time, as he parted from the conventional view of the day, which viewed it as something that must be repressed. Instead, by stressing the importance of fulfilling desires in moderation, he advocated for previously unheard-of levels of freedom in the context of desires. This idea still applies to modern society, as many of his insights are often used as guidelines to determine acceptable levels of desire.
Emotion
Plato's impact on the development of emotional understanding was also profound. He argued that emotions were essential to understanding the human condition and how to live a meaningful life. Furthermore, he argued that emotions are powerful motivators and should be seen as a source of inspiration rather than condemnation. This starkly contrasted with many of his contemporaries who saw emotions as something to be feared and restrained.
How He Used Emotion to Better Connect With Society
Plato was an eloquent speaker and skilled teacher and used his grasp on emotions to communicate his ideas to a broader audience better. He used stories to illustrate his points and often used metaphors to explain complex concepts in simpler terms. In addition, his focus on emotions helped him to build a solid connection with his followers, making them think more deeply about his ideas.
Knowledge
The need to know was a significant theme in Plato's works. He asserted that knowledge was the foundation of a meaningful life, deeply rooted in his philosophy of ideal forms. Moreover, he viewed knowledge as the path to liberation, as those who become enlightened can escape the state of ignorance and attain proper understanding.
How He Used Knowledge to Developmentally Guide, His Followers
In addition to viewing knowledge as a path to liberation, Plato used it to guide his followers. He encouraged lifelong learning, believing that knowledge constantly evolved and grew. He also taught his students the importance of critical thinking and challenged them to think for themselves. He believed knowledge was the key to progress, so he focused much of his teachings on those concepts.
Conclusion
The impact of Plato is resounding, and his legacy persists to this day. He has changed how we view things from the knowledge desire, and his views have left a lasting impression on many aspects of society. His influence transcends time and has inspired many generations of thinkers and philosophers. He was and still is a beacon of power and a symbol of excellence.
A desire for knowledge will provide a light of influence that will never be extinguished, Plato.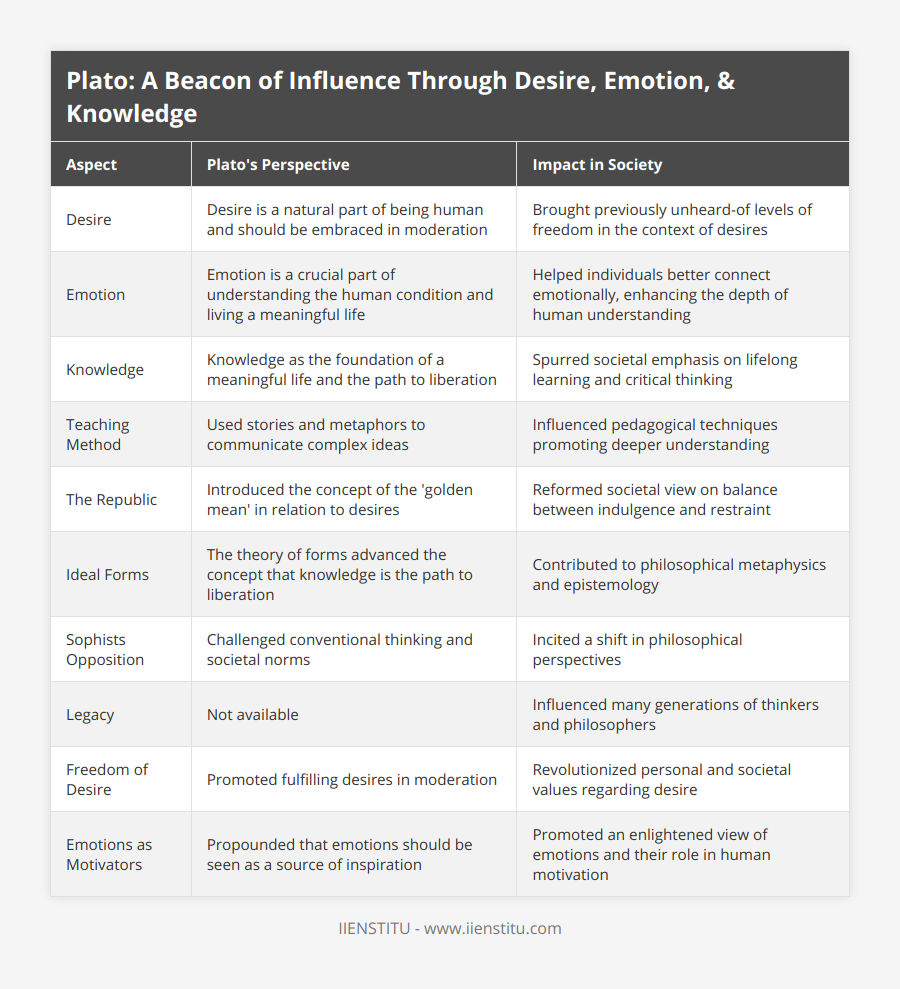 Plato
Thinker
Philosophy
History
Love
Governance
Dialogues
Sophists
Influence
Psychology
Desire
Moderate
Indulgence
Restraint
Golden Mean
Human life
Social Norms
Revolutionary
Fulfill
Misdirected
Freedom
Emotion
Understand
Human Condition
Motivators
Condemnation
Metaphor
Liberation
Enlightened
Critical Thinking
Progress
Yu Payne
Blogger
Yu Payne is an American professional who believes in personal growth. After studying The Art & Science of Transformational from Erickson College, she continuously seeks out new trainings to improve herself. She has been producing content for the IIENSTITU Blog since 2021. Her work has been featured on various platforms, including but not limited to: ThriveGlobal, TinyBuddha, and Addicted2Success. Yu aspires to help others reach their full potential and live their best lives.
Related Posts
Our team of experts is passionate about providing accurate and helpful information, and we're always updating our blog with new articles and videos. So if you're looking for reliable advice and informative content, be sure to check out our blog today.