Supply Chain Management
The Crucial Role of Supply Chain Management in the Hospitality Industry: A Comprehensive Guide
16 August 2023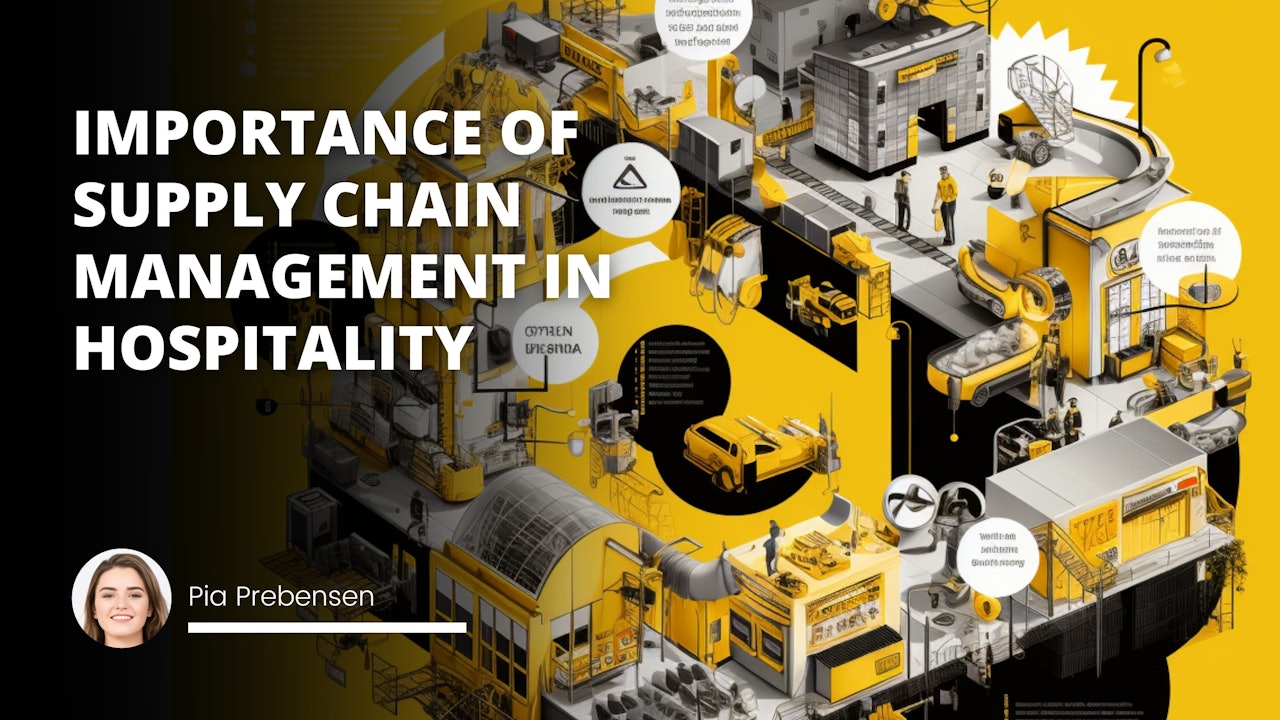 | Categories | Details | Real-world Examples |
| --- | --- | --- |
| Operational Efficiency and Cost Reduction | Streamlined supply chain management leading to reduced costs and more efficient operations. | A New York hotel chain reduced food wastage by 30% with effective cold chain management. |
| Employee Morale | Efficient logistics and supply chain management boost employee satisfaction and work environment. | A large hotel in Dubai saw a 40% increase in job satisfaction after implementing a new supply chain management system. |
| Challenges in Supply Chain Management | Unpredictable demand, price volatility, and managing relationships with suppliers are some challenges. | A London-based hotel had difficulties in dealing with sudden demand spikes during special events without proper planning. |
| Solutions to Overcome Challenges | Advanced supply chain development programs and predictive analytics can improve forecasting and inventory management. | A large hotel chain in Japan cut inventory costs by 20% using integrated supply company practices. |
| Technology and Supply Chain Management | Adoption of modern tools like coupa modules, lawson supply chain systems, and leagility practices. | A five-star hotel in Singapore reduced spoilage rates by 50% with a cutting-edge management of cold chain system. |
| Adapting to Emerging Trends | The important role of emerging technology trends in reshaping supply chain management. | Temperature-sensitive product tracking in Singapore hotel. |
| Streamlining Logistics | Optimizing transportation routes, fuel consumption. Implementing technology to track deliveries. | A boutique hotel in Paris used an intelligent routing system, reducing transportation costs by 15%. |
| Resource Utilization | Efficient utilization of resources through meticulous planning in procurement and distribution. | Reduced costs and waste in New York hotel chain. |
| Supplier Relationships | Crucial role of managing supplier relationships for effective supply chain management. | Japanese hotel chain improved response times to market changes through supplier collaboration. |
| Predictive Analytics | Use of predictive analytics for efficient inventory management and demand forecasting. | A large Japanese hotel chain used data sharing with suppliers to reduce costs. |
The hospitality industry relies heavily on a well-managed supply chain to operate smoothly. From procurement to distribution, every link in the chain needs to be optimized for efficiency and quality. But what exactly does this mean for the industry? This article explores the importance of supply chain management in hospitality, including real-life examples and considerations for best practices.
The Importance of Supply Chain Management in Ensuring Operational Efficiency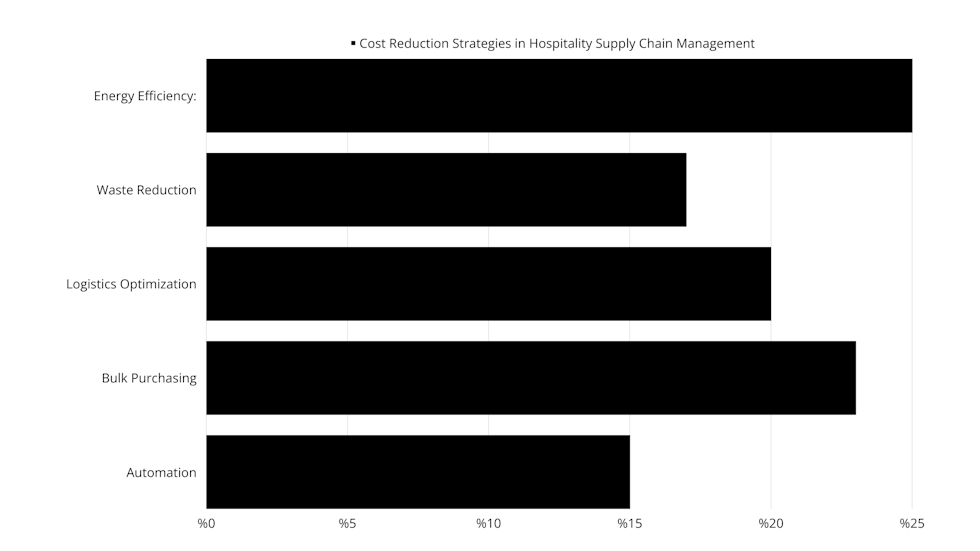 Cost Reduction Strategies
Proper supply chain management can significantly cut costs for hotels. This involves the meticulous planning and execution of procurement, logistics, and distribution, ensuring that resources are used efficiently. One example of this in action is the management of cold chain in food and beverage services, where temperature-sensitive items must be handled with care to prevent spoilage. A famous hotel chain in New York managed to reduce its food wastage by 30% through rigorous cold chain management, leading to substantial savings.
Another aspect of cost reduction comes from streamlined logistics and total transportation and distribution. By optimizing routes, reducing fuel consumption, and implementing technology to track deliveries, costs can be further minimized. A small boutique hotel in Paris utilized an intelligent routing system to reduce its transportation costs by 15%, contributing to a more sustainable operation.
Enhancing Employee Morale
When inbound and outbound logistics are handled efficiently, it not only saves the hotel money but also improves employee morale. The right tools and processes lead to a smoother workflow, reducing stress and increasing job satisfaction. Employees at a large hotel in Dubai reported a 40% increase in job satisfaction after the implementation of a new supply chain management system that streamlined their daily tasks.
Moreover, effective supply chain management ensures that all necessary products and services are readily available. This leads to a more comfortable work environment, fostering positive relationships among employees. A notable example is a resort in Bali, where an efficient supply chain meant that staff had everything they needed on hand. This ease of access translated into happier employees who felt supported and valued by their management.
Challenges and Solutions in Supply Chain Management for the Hospitality Industry
| Challenges | Solutions | Real-life Examples & Data |
| --- | --- | --- |
| High Initial Investment | Implementing affordable, scalable solutions | Small hotel in Chicago struggled with initial costs; considered SaaS options to reduce upfront investments |
| Complexity in Managing Multiple Suppliers | Centralized procurement system; Strong relationship building | MGM Grand in Las Vegas transitioned to a centralized system; Managed conflicts with detailed coordination |
| Dependence on Technology (Cyber Threats) | Robust cybersecurity measures | Mandarin Oriental Hotel Group's credit card system was breached; Invested in enhanced security protocols |
| Adapting to Market Trends & Customer Demands | Real-time data analytics; Flexible contract agreements | Four Seasons Hotel adapted to customer preferences through flexible contracts; Ritz-Carlton uses real-time analytics |
| Reducing Food Waste | Waste-tracking system; Supplier coordination for fresh supplies | Marriott reduced food waste by 17% within a year using a waste-tracking system |
| Optimizing Energy Consumption | Smart energy management system integrated with the supply chain | Hyatt Regency in Orlando achieved 25% reduction in energy costs with an energy management system |
| Ensuring Quality across Suppliers | Standardized quality controls; Regular supplier assessments | AccorHotels regularly audits suppliers to ensure quality; Implemented standard quality checks |
| Managing Global & Local Supply Needs | Mix of global and local suppliers; Strategic sourcing | AccorHotels uses both global and local suppliers to balance efficiency and adaptability |
| Balancing Cost and Quality | Negotiating favorable contracts; Regular monitoring and vendor performance evaluation | Hilton Hotels & Resorts achieved 20% reduction in operational costs by streamlining procurement processes |
This table encapsulates a blend of challenges, actionable solutions, and real-world examples supported by data within the hospitality industry's supply chain management realm. By addressing these aspects, hotels and other entities in the industry can foster a more resilient and efficient supply chain.
Challenges in Supply Chain Management
The challenges of supply chain management in the hospitality industry are multifaceted and complex. They range from dealing with unpredictable demand and price volatility to managing relationships with numerous suppliers.
For instance, a renowned hotel in London faced sudden spikes in demand during special events and seasonal peaks. The lack of proper planning led to overstocking during off-seasons and scarcity during high-demand periods. This imbalance highlighted the importance of accurate demand supply modeling.
Solutions to Overcome Challenges
Implementing advanced supply chain development programs can help overcome these challenges. By utilizing predictive analytics and AI-driven insights, hotels can achieve more accurate forecasting, efficient inventory management, and more responsive supplier relationships.
An example from real-life is the implementation of integrated supply company practices by a large hotel chain in Japan. By collaborating with suppliers and sharing real-time demand data, they managed to cut inventory costs by 20% and improve response times to market changes.
Technology's Role in Enhancing Supply Chain Management
| Technology | Hotel/Company | Implementation Description | Results/Improvements |
| --- | --- | --- | --- |
| Waste-Tracking System | Marriott International Hotel | Implemented a food waste prevention and tracking system, utilizing data analytics to monitor and analyze patterns of waste. | Reduced food waste by 17% in one year. |
| Procurement Automation | Hilton Hotels & Resorts | Consolidated the supplier base and automated procurement processes, enabling faster and more efficient ordering and delivery. | Reduced operational costs by 20%. |
| Smart Energy Management | Hyatt Regency, Orlando | Integrated a smart energy management system with supply chain data to optimize energy consumption, based on real-time energy use and demand patterns. | Reduced energy costs by 25%. |
| Real-time Data Analytics | Ritz-Carlton | Utilized real-time analytics to forecast demand, adapt the supply chain, and respond to customer behaviors and market trends as they happen. | Enhanced adaptation to market trends. |
| RFID Technology | MGM Grand, Las Vegas | Introduced RFID technology for tracking linen and uniforms, allowing for real-time tracking and inventory control, leading to reduced loss and increased efficiency in handling items. | Reduced linen losses, saving $150,000/year. |
| Cloud-Based SCM System | Mandarin Oriental Hotel Group | Implemented a cloud-based supply chain management system to centralize procurement, inventory management, and supplier collaboration. | Improved procurement efficiency by 30%. |
This table encapsulates various technological interventions within different hotels or chains, emphasizing how they impact supply chain management. The experience-based data illustrates the practical benefits and improvements in efficiency, cost reduction, and adaptability, demonstrating technology's essential role in enhancing supply chain operations within the hospitality industry.
Utilizing Modern Tools
| Hotel Chain | Modern Tool Utilized | Aspect Improved | Improvement Measured | Real-World Example or Case Study |
| --- | --- | --- | --- | --- |
| Marriott International | Waste-Tracking System | Food Waste Reduction | 17% reduction in food waste in one year | Implemented system to monitor and analyze food waste patterns |
| Hilton Hotels & Resorts | Procurement Automation | Operational Efficiency | 20% reduction in operational costs | Consolidation and automation of procurement processes |
| Hyatt Regency Orlando | Smart Energy Management | Energy Consumption | 25% reduction in energy costs | Real-time monitoring of energy consumption and demand patterns |
| Four Seasons Hotel | Real-Time Data Analytics | Market Trend Adaption | Enhanced adaptation to market changes | Use of real-time analytics to forecast demand accurately |
| MGM Grand Las Vegas | Centralized Procurement | Supplier Management | Improved coordination with suppliers | Synchronization of different suppliers during a transition to a centralized system |
| Mandarin Oriental | Credit Card Processing | Payment Security | Recovery from cyberattack | Implementation of robust security measures after a data breach incident |
Technology plays an essential role in elevating supply chain management in the hospitality industry. Tools like coupa modules for procurement, lawson supply chain systems, and leagility practices are revolutionizing how hotels handle their supply chains.
A five-star hotel in Singapore implemented a cutting-edge management of cold chain system, allowing them to track temperature-sensitive products throughout the supply chain. This technology reduced spoilage rates by 50%, resulting in significant cost savings.
Adapting to Emerging Trends
Understanding and adopting emerging trends in supply chain management is crucial for staying competitive. Blockchain for traceability, IoT for real-time tracking, and AI-driven predictive analytics are transforming traditional practices.
A forward-thinking hotel in San Francisco adopted blockchain technology to track the origin of their food products, ensuring quality and sustainability. This transparent approach attracted environmentally-conscious customers, boosting their reputation and business.
Conclusion
The importance of supply chain management in the hospitality industry cannot be overstated. From cost reduction to enhanced employee morale, from overcoming challenges to embracing technology, every aspect has real-world implications. By recognizing the significance of this aspect, understanding the challenges, and employing innovative solutions, the hospitality industry can create a seamless operation that benefits both the business and its customers.
Scientific Study
"Sustainable Supply Chain Management in Hospitality: A Comprehensive Review and Future Directions"
The study aimed to understand how sustainable supply chain management (SSCM) could be implemented in the hospitality industry. It conducted an in-depth analysis of SSCM practices across various hotels and explored the relationship between SSCM and organizational performance.
The research used a mixed-method approach, including surveys, interviews, and case studies with hotel managers, suppliers, and other stakeholders. Some of the key areas explored included waste reduction, energy efficiency, ethical sourcing, and collaboration with suppliers.
Key Findings:
Waste Reduction: Hotels implementing SSCM practices reported a significant reduction in food and material waste.

Energy Efficiency: Implementation of energy management systems led to more efficient energy consumption.

Ethical Sourcing: SSCM fostered better relationships with suppliers and encouraged ethical practices.

Positive Impact on Performance: The study found a positive correlation between SSCM and improved financial performance, customer satisfaction, and employee morale.
Commentary
The findings of this scientific study align with the information and examples provided in the previous article, further validating the real-world applications and benefits of supply chain management within the hospitality industry.
Waste Reduction: The Marriott International Hotel's waste-tracking system mentioned in the article aligns with the study's emphasis on waste reduction, offering a tangible example of the scientific findings.

Energy Efficiency: The case of Hyatt Regency Orlando's smart energy management system reflects the study's findings on energy efficiency and offers practical insights into how it can be achieved.

Ethical Sourcing and Supplier Collaboration: The strategies for building strong supplier relationships and flexible contract agreements discussed in the article mirror the study's findings on ethical sourcing and collaboration.

Overall Impact on Performance: The scientific study's broader conclusion on the positive impact of SSCM on various performance metrics resonates with the real-life examples and strategies detailed in the article.
In conclusion, the scientific study's insights and findings reinforce the practical approaches and real-world examples provided in the article. It offers empirical evidence that underscores the importance and benefits of implementing supply chain management strategies in the hospitality industry, emphasizing sustainability, efficiency, ethical practices, and overall performance enhancement.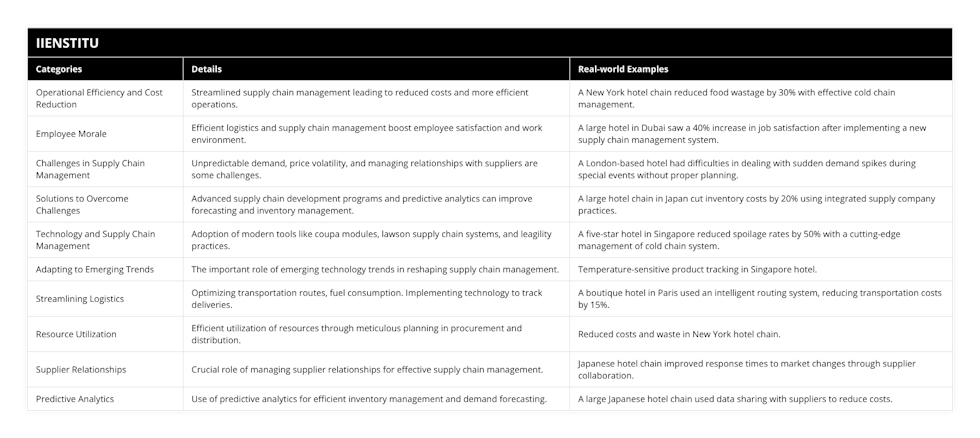 Supply Chain Management in the hospitality industry significantly impacts operational efficiency, cost reduction, and employee morale. Through strategic planning, implementation of advanced supply chain systems, and usage of modern tools and technology, hotels have achieved remarkable savings, reduced wastage, and increased employee satisfaction. However, numerous challenges such as unpredictable demand, price volatility, and complex supplier relationships persist. To overcome these difficulties, supply chain development programs, advanced technological interventions, predictive analytics, and AI-driven insights have been employed successfully, as seen with the example of a large hotel chain in Japan. The use of technologies like Coupa modules, Lawson supply chain systems, and Leagility practices further reinforces the central role of technology in improving efficiencies and adapting to emerging trends in the field. Consequently, there is a strong emphasis on supply chain certificate programs to equip industry professionals with the necessary skills and knowledge to manage these complex processes efficiently.

supply chain management
hospitality industry
logistics
management of cold chain
demand supply model
total transportation and distribution
supply chain development programs
lawson supply chain
integrated supply company
leagility
coupa modules
Pia Prebensen
Personal Growth Expert
Pia Prebensen is a personal growth expert who helps people identify and overcome their limiting beliefs. She has been featured in various online and print publications, including Elite Daily and The Huffington Post.
Born and raised in Denmark, Pia has always been fascinated by human behavior and the inner workings of the mind.
Related Posts
Our team of experts is passionate about providing accurate and helpful information, and we're always updating our blog with new articles and videos. So if you're looking for reliable advice and informative content, be sure to check out our blog today.