Human Resources Management
Maximizing Benefits: Integrating A Contingent Workforce
19 February 2023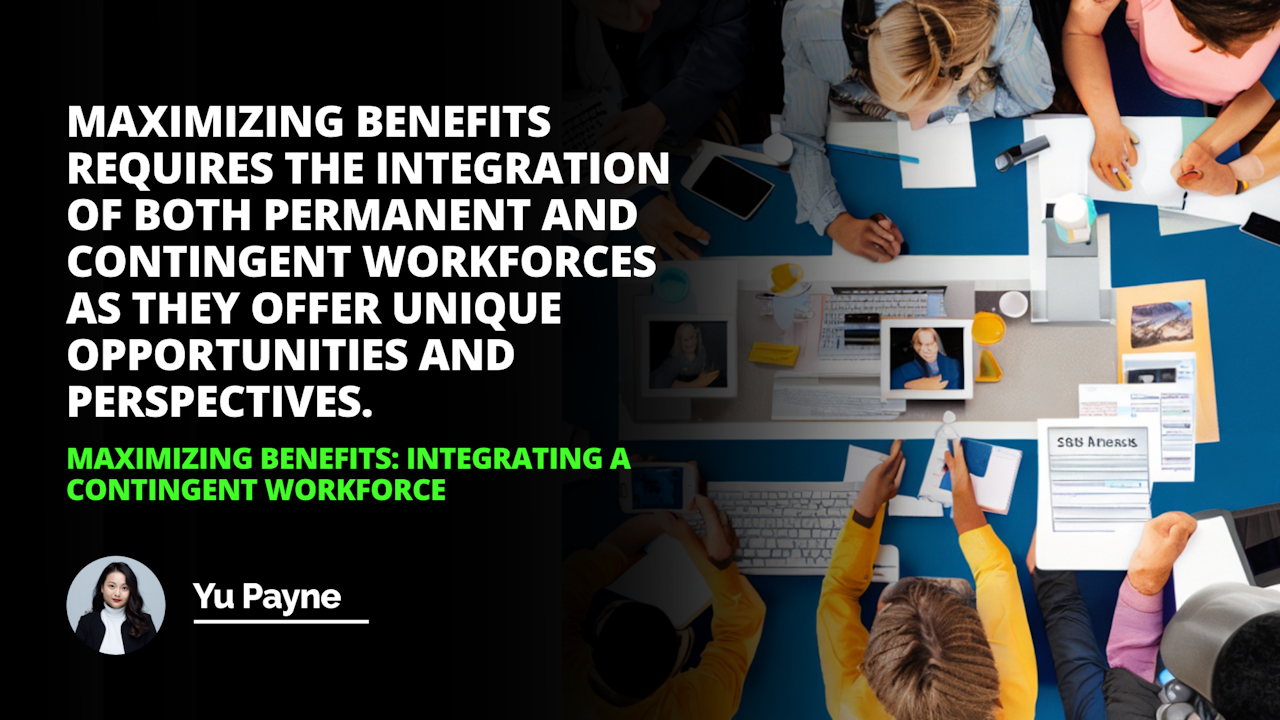 | BENEFITS OF A CONTINGENT WORKFORCE | ROLE OF TECHNOLOGY | MEASURE FOR SUCCESS |
| --- | --- | --- |
| Cost-effective alternative to permanent staff | Automation of recruitment and onboarding processes | Clear role and responsibility definition |
| Provides specialized expertise | Enables global talent acquisition | Employee engagement activities |
| Adapts to market and customer changes | Performance tracking and monitoring | Provision of meaningful work and career growth |
| Flexible work arrangements | Streamlining communication processes | Regular feedback and communication |
| Accelerates project completion | Standardization of work processes | Quality control measures |
| Alignment with core competencies | Cloud-based technology for instant data accessibility | Continuous professional development programs |
| Eases managing peak periods and workload | Data analytics for decision making | Workforce integration strategies |
| Reduces long-term commitments | Self-service tools for workforce empowerment | Strong organization culture and leadership |
| Supports business growth and scalability | Advanced tools for collaborative work | Knowledge sharing and collaboration structures |
| Risk mitigation and exposure reduction | Technology training and support for contingent staff | Work-life balance initiatives |
Utilizing the Benefits

Leveraging Technology

Ensuring Success
Organizations today face several challenges when it comes to talent acquisition and management. As a result, organizations must consider implementing a contingent workforce to combat these challenges and maintain a competitive advantage. A contingent workforce is a group of non-permanent employees who can be recruited on demand, often for short-term contracts and projects.
Contingent workers provide a range of benefits. They are more cost-effective to hire than permanent staff, can provide specialized expertise, and can adapt to changing markets and customer needs. Additionally, contingent workers are more flexible and can often complete essential projects in a much shorter time frame. These benefits make the contingent workforce an ideal solution for organizations looking for quick, affordable solutions to their staffing needs.
Utilizing the Benefits
Organizations need to plan and manage the effort to maximize the benefits of a contingent workforce. This means having a well-defined plan and timeline, clear objectives and expectations, and a transparent process for recruiting and screening candidates. Additionally, organizations need to ensure they have a good understanding of their core competencies and ensure that contingent workers are aligned with these competencies. This will ensure that the right people are in place to support the organization's mission and values.
Leveraging Technology
Technology is essential for implementing a successful contingent workforce strategy. Organizations can increase efficiency and save time and money by automating processes such as recruitment and onboarding. Automating can increase efficiency and save time and,d money. Addw organizations to take advantage of talent from around the world. It can also help organizations track and monitor workforce performance, enabling them to get the most out of their contingent workers.
Ensuring Success
Organizations must ensure that contingent workers are given clear expectations about their roles and responsibilities. Additionally, organizations should strive to improve employee engagement by providing meaningful work, career growth opportunities, and feedback. This will help to foster a sense of teamwork and build loyalty amongst the workforce.
Conclusion: Integrating a contingent workforce into an organization can provide several advantages. By leveraging technology, planning and managing their efforts, and ensuring that clear expectations are given to workers, organizations can maximize the benefits of a contingent workforce and ensure organizational success.
Maximizing Benefits requires the integration of both permanent and contingent workforces, as they offer unique opportunities and perspectives.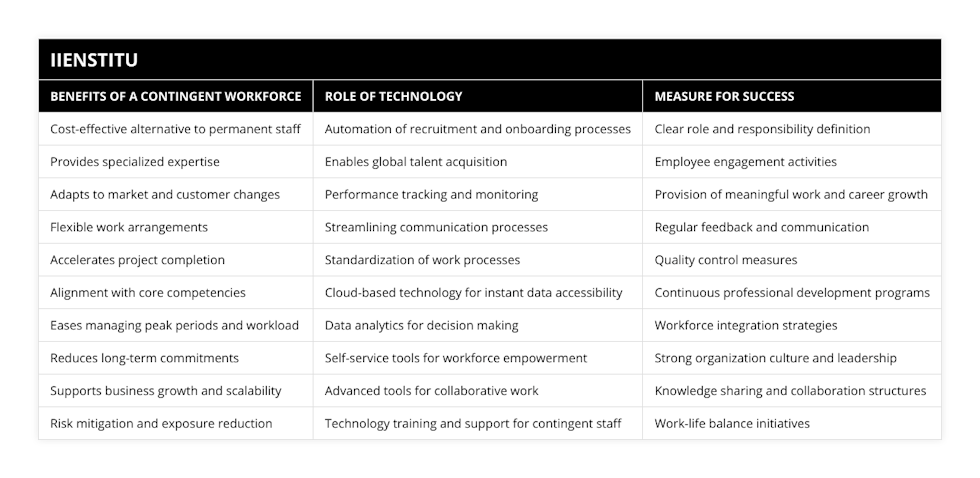 talent acquisition
management
contingent workforce
non-permanent employees
cost effective
specialized expertise
flexible
quick
projects
maximizing benefits
planning
managing
objectives
expectations
recruitment
screening
core competencies
alignment
mission
values
technology
automation
processes
global operations
tracking
monitoring
performance
clear expectations
meaningful work
career growth
feedback
employee engagement
loyalty
organizational success
Yu Payne
Blogger
Yu Payne is an American professional who believes in personal growth. After studying The Art & Science of Transformational from Erickson College, she continuously seeks out new trainings to improve herself. She has been producing content for the IIENSTITU Blog since 2021. Her work has been featured on various platforms, including but not limited to: ThriveGlobal, TinyBuddha, and Addicted2Success. Yu aspires to help others reach their full potential and live their best lives.
Related Posts
Our team of experts is passionate about providing accurate and helpful information, and we're always updating our blog with new articles and videos. So if you're looking for reliable advice and informative content, be sure to check out our blog today.