Human Resources Management
Leveraging Diversity for Business Success: Perspectives of Top Organizations
20 February 2023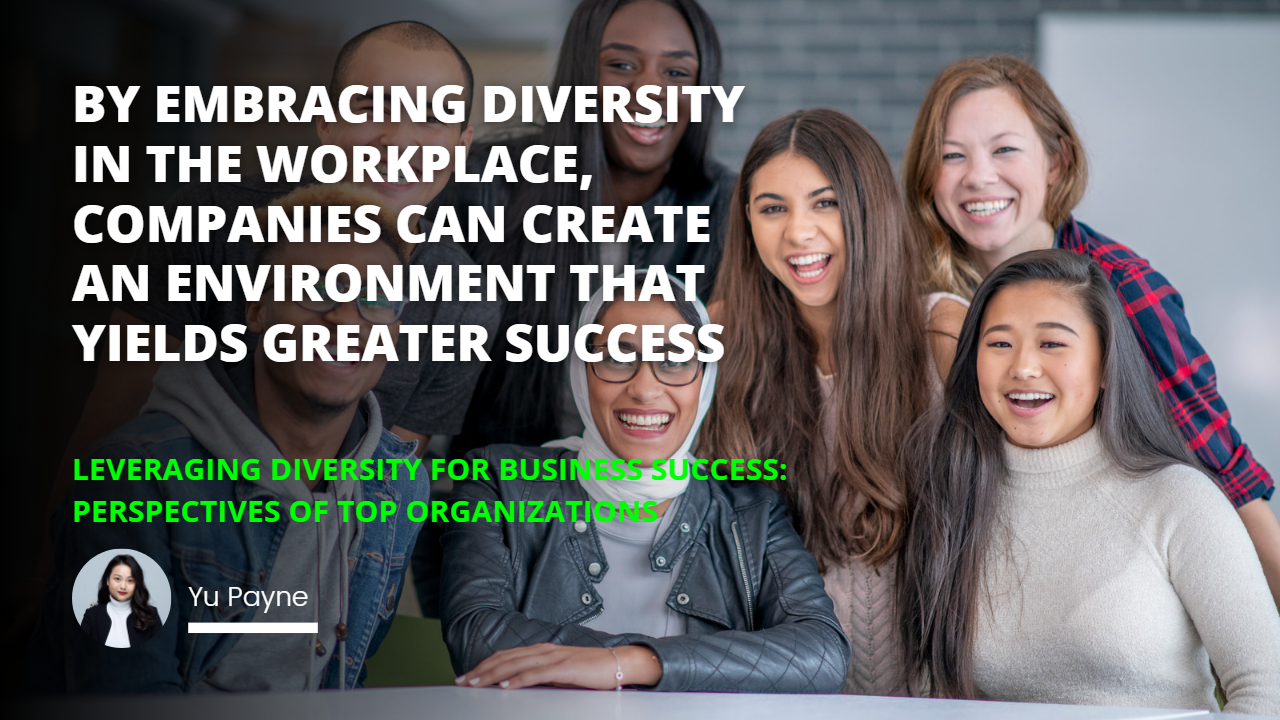 | Aspect | Details | Examples or Techniques |
| --- | --- | --- |
| Diversity in Business | Diversity corresponds to the composition of employees in a workplace including different genders, races, ages, personalities, and more. | Different recruitment methods, encouraging expression of both genders |
| Benefits of Diversity | Encourages new ideas, perspectives, and increased innovation. It also improves a company's response to changing customer preferences. | Inclusive work environment, diversity-focused programs such as "manage-by-diversity" |
| Top Organizations Leveraging Diversity | Successful organizations worldwide have embraced diversity and leveraged it to significant effect. | Microsoft's internal employee networks and mentoring programs; Walmart's Inclusion councils; McKinsey & Company's diversity strategies in recruiting |
| Techniques for leveraging diversity | A comprehensive strategy that considers short-term and long-term objectives. | Training and development programs, mentoring and networking opportunities, transparent and inclusive recruitment |
| Diversity Commitment Communication | Communication of the organization's commitment to diversity through various channels. | Through written policies, promotional material, and the reward system |
| Creating Inclusive Environment | Work environment that values diversity and encourages employees to express themselves without fear of discrimination. | Diversity-focused programs such as "manage-by-diversity" |
| Challenges in Leveraging Diversity | Recognition of biases and stereotypes and implementation of diversity-focused policies and practices. | Addressing institutional biases, creating long-term objectives, and dealing with cultural resistance |
| Importance of Diversity in Modern Business | Different perspectives and experiences can offer tremendous advantages in a competitive environment. | Adopting strategies to encourage a culture of diversity and inclusion in the workplace |
| Strategies for Leverage | Strategies range from training programs to different recruitment and selection processes. | Creating an environment free of discrimination |
| Sustainability of Diversity | A clear strategy to ensure that diversity initiatives are sustained in the long term rather than simply an exercise in corporate public relations. | Addressing institutional biases, long-term objectives, and cultural resistance |
Top Organizations' Perspectives on Leveraging Diversity

Techniques for Leveraging Diversity

Challenges for Achieving Sustainable Leveraging of Diversity
Diversity has become an essential component of modern business in the 21st century. Its importance lies in its ability to provide a competitive advantage for organizations striving to survive and thrive in a rapidly changing and hypercompetitive economic environment.
Diversity corresponds to the heterogeneous composition of employees in a workplace which may include different genders, races, ages, personalities, and the like. The benefits of diversity in a workplace mainly revolve around the fact that it encourages new ideas, new perspectives, and increased innovation. In addition, when faced with various experiences and ideas, companies can better respond to changing customer preferences and trends, positioning themselves at the forefront of the market.
Top Organizations' Perspectives on Leveraging Diversity
Numerous successful organizations worldwide have embraced diversity and leveraged it to significant effect. Three companies that stand out in this regard are Microsoft, Walmart, and McKinsey & Company. Microsoft, the largest technology employer in the United States, has created several programs to promote diversity and inclusion in the workplace, from internal employee networks to mentoring programs. These decisions have resulted in a significantly diversified workforce, helping Microsoft retain its competitive edge in the global market. WOnthe the hand, Walmart encouraged a supportive work climate for its diverse workforce by implementing "inclusion councils," which helped foster understanding and cooperation between employees from different backgrounds. Finally, McKinsey & Company has invested heavily in ensuring its diversity strategies are embedded in its recruiting and selection processes.
Techniques for Leveraging Diversity
To effectively leverage diversity in the workplace, companies must develop a comprehensive strategy that considers both short-term and long-term objectives. A few tactics that can be employed as part of this process include:
Training and development programs aimed at developing a greater appreciation of diversity among managers and employees;

Creating mentoring and networking opportunities that foster collaboration and open dialogue between employees of different backgrounds;

Communicating the organization's commitment to diversity in the workplace through written policies, promotional material, and the reward system;

It is implementing recruitment and selection processes that are gender- and race-neutral.
Organizations must also strive to create an inclusive work environment that values diversity and encourages employees to express themselves without fear of discrimination. Diversity-focused programs such as "manage-by-diversity" offer a great way to ensure that minorities are included in the decision-making process and given a voice in the workplace.
Challenges for Achieving Sustainable Leveraging of Diversity
Although diversity is often seen as a source of strength in organizations, it can also bring challenges. One of the foremost is the recognition of common biases and stereotypes that may hinder the acceptance and inclusion of diverse employees. Another challenge is implementing diversity-focused policies and practices, sometimes frustrated by cultural and institutional resistance. In addition, organizations must have a clear strategy to ensure that diversity initiatives are sustained in the long term rather than simply an exercise in corporate public relations.
Leveraging diversity has become increasingly important in modern business as organizations recognize that different perspectives and experiences can offer tremendous advantages in an ever more competitive environment. As a result, several successful companies have already adopted strategies and tactics to encourage a culture of diversity and inclusion in the workplace.
These strategies range from training programs to different recruitment and selection processes and creating an environment free of discrimination. While diversity initiatives can bring many positive benefits for businesses, many challenges must be addressed to be effective and sustainable. Companies must recognize and address institutional biases, long-term objectives, and cultural resistance to ensure that diversity is leveraged for business success.
By embracing diversity in the workplace, companies can create an environment that yields more remarkable success.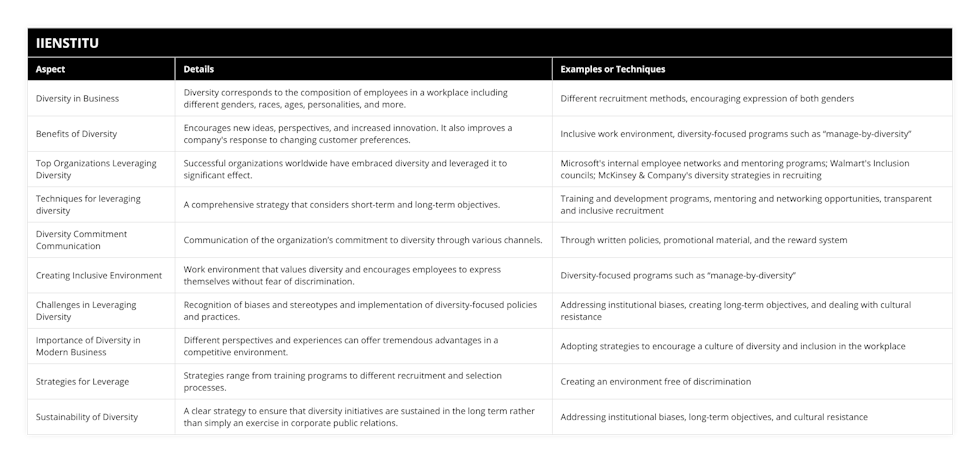 Diversity
competitive advantage
heterogeneous composition
genders
races
ages
personalities
new ideas
new perspectives
increased innovation
customer preferences
trends
Microsoft
McKinsey & Company
training and development programs
mentoring and networking opportunities
inclusive work environment
"manage-by-diversity"
common biases
stereotypes
corporate public relations
institutional resistance
long-term objectives
cultural resistance
WalMart
Yu Payne
Blogger
Yu Payne is an American professional who believes in personal growth. After studying The Art & Science of Transformational from Erickson College, she continuously seeks out new trainings to improve herself. She has been producing content for the IIENSTITU Blog since 2021. Her work has been featured on various platforms, including but not limited to: ThriveGlobal, TinyBuddha, and Addicted2Success. Yu aspires to help others reach their full potential and live their best lives.
Related Posts
Our team of experts is passionate about providing accurate and helpful information, and we're always updating our blog with new articles and videos. So if you're looking for reliable advice and informative content, be sure to check out our blog today.