Logistic Management
Decoding Supply Chains: A Systems Perspective
18 February 2023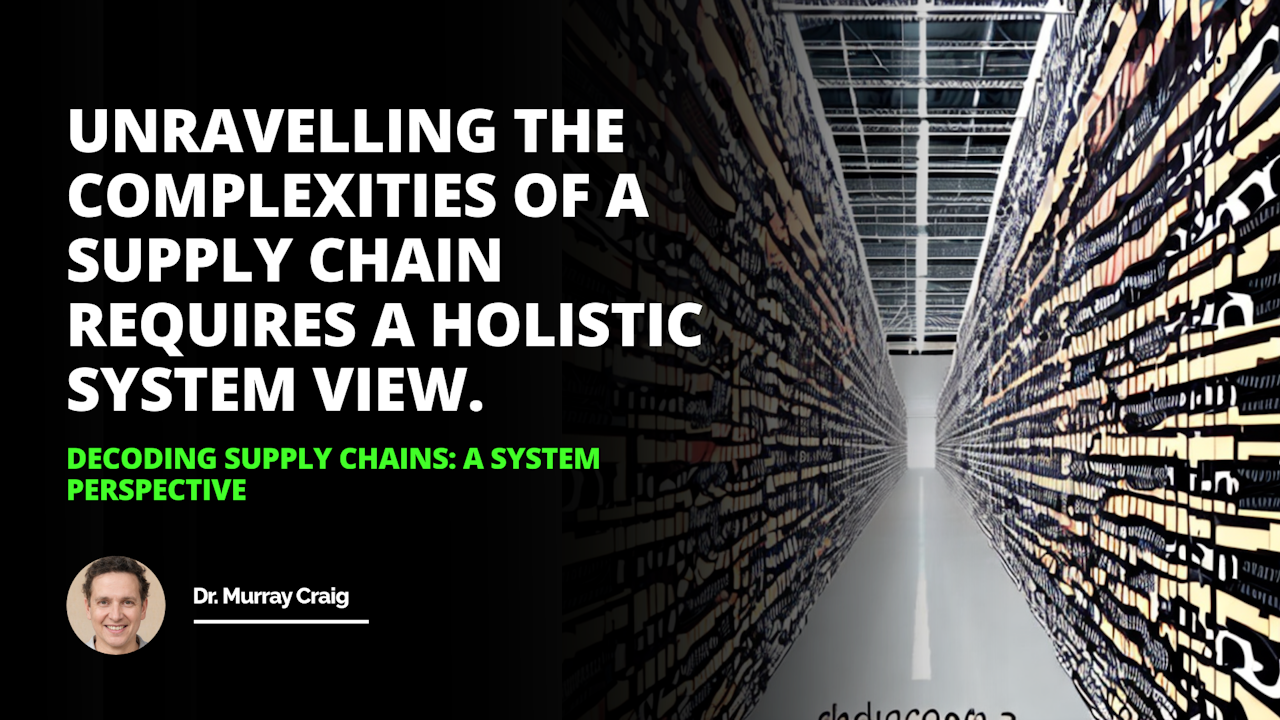 | Topic | Explanation | Examples/Benefits |
| --- | --- | --- |
| Supply Chain | A framework of processes, functions, and relationships that simplify and scale goods and services | Involves entities, activities, and resources needed to convert raw materials to products. Reduces costs by managing resources efficiently |
| Supply Chain Management (SCM) | The creation of tools, technologies, and processes for the efficient flow of materials and services globally | Creates structural understanding, leading to efficiency and reliability |
| Decoding Supply Chains | Understanding the process and network of a supply chain on a systems level | Improves efficiency and performance with greater understanding of elements |
| System View of Supply Chain | Looking at the supply chain from a higher-level perspective. Understanding the inputs, processes, and outputs | Offers better comprehension and identification of potential improvement areas |
| Decoding Supply Chains in Auto Industry | Deep analysis of supply chain network applied in the auto industry | More reliable and cost-effective production and delivery of auto parts and vehicles |
| Decoding Supply Chains in Retail Industry | Understanding the supply chain systems of the retail industry | Efficient inventory management, streamlined delivery, increased revenue |
| Decoding Supply Chains in Food Industry | Breaking down the intricate supply chain process in the food industry | Reduced food waste, improved food safety, enhanced customer satisfaction |
| Tools for Decoding Supply Chains | Utilization of technologies and methodologies to decode supply chains | Increased transparency, control and efficiency within supply chain processes |
| Benefits of Using Technology in Decoding | The advantages gained from using tech tools for decoding the supply chain | Real-time tracking, accurate forecasts, optimized inventory management, quicker decision making |
| Types of Tools Available for Decoding | Different technologies utilized for decoding supply chains | Demand forecasting software, Enterprise Resource Planning (ERP) systems, RFID tracking etc. |
Introduction

What is a supply chain?

Benefits of a supply chain

Decoding Supply Chains

Definition of a supply chain

System view of the supply chain

Benefits of decoding

Examples of Decoding Supply Chains

Decoding supply chains in the auto industry

Decoding supply chains in the retail industry

Decoding supply chains in the food industry

Tools for Decoding Supply Chains

Types of tools available

Benefits of using technology to decode supply chains

Conclusion
Supply chain management (SCM) is a framework of processes, functions, and relationships that allow for the simplicity and scalability of goods and services from start to finish. From raw materials production to final delivery, a supply chain involves all the entities, activities, and resources required to convert raw materials into products and services. The goal of SCM is to create value and reduce costs by efficiently managing the resources and assets in the chain.
The evolution of SCM has seen the creation of tools, technologies, and processes that enable the efficient flow of materials and services around the globe. Organizations can better understand the structure and system of supply chains and create greater efficiency and reliability. This is where the concept of decoding supply chains comes in.
Decoding Supply Chains
Decoding supply chains understand the entire process and network of a supply chain on a system level. The goal is to use this knowledge to improve supply chain efficiency and performance. It involves understanding the different elements and components of the chain, their purpose, and how they are connected.
Decoding supply chains requires a system view, meaning looking at the supply chain from a higher-level perspective. This includes understanding the inputs, processes, and outputs at all scales from macro- to micro-level, as well as the relationships between them. By looking at the supply chain from a holistic perspective, it is possible to understand the system as a whole better and identify potential areas for improvement.

Benefits of decoding supply chains include improved control and visibility over the supply process, increased efficiency and productivity, cost savings, and the ability to minimize disruptions to the chain. Decoding supply chains also enables organizations to understand better how their operations are linked and how to plan for future strategies and initiatives.
Examples of Decoding Supply Chains
Decoding supply chains apply to many industries, including automotive, retail, and food. In the automotive industry, companies can use decoding to understand the complex web of relationships between suppliers, manufacturers, distributors, and customers. By understanding the entire structure, companies can adapt to changes in the supply chain, reduce inventory costs, and reduce the time for product delivery.
In retail, decoding can be used to understand the distribution channels and processes between producers, intermediaries, and retailers. This gives retailers greater visibility over their operations and ideas on how to streamline operations to save costs.
In the food industry, decoding can be used to identify relationships between farmers, distributors, and distributors and analyze trends in food consumption and inventory levels. This enables companies to optimize production to ensure supply and demand are balanced and reduce distribution costs.
Tools for Decoding Supply Chains
Today, businesses use a variety of tools to decode supply chains. These tools provide visibility over the entire system, empowering decisions and enabling higher levels of control. This can involve implementing software solutions that automate the supply chain processes, such as ERP systems, process automation tools, data analytics tools, and warehouse management systems.
These software solutions offer a wide range of benefits, including improved visibility over the supply chain, quicker access to data, reduced costs, and improved customer experience. Tools such as predictive analytics provide an even deeper insight into future trends and potential disruptions. By leveraging the power of technology, organizations can gain a greater understanding of their supply chain system.
Conclusion
Decoding supply chains is an essential part of SCM and is key to creating a successful and efficient supply chain. By understanding the system from a holistic perspective and leveraging the power of technology, companies can gain greater control over their processes and resources. This allows for cost savings, better customer experience, and improved performance overall. Through decoding supply chains, organizations can gain the insights needed to improve their operations and ensure tremendous success in the future.
Unraveling the complexities of a supply chain requires a holistic system view.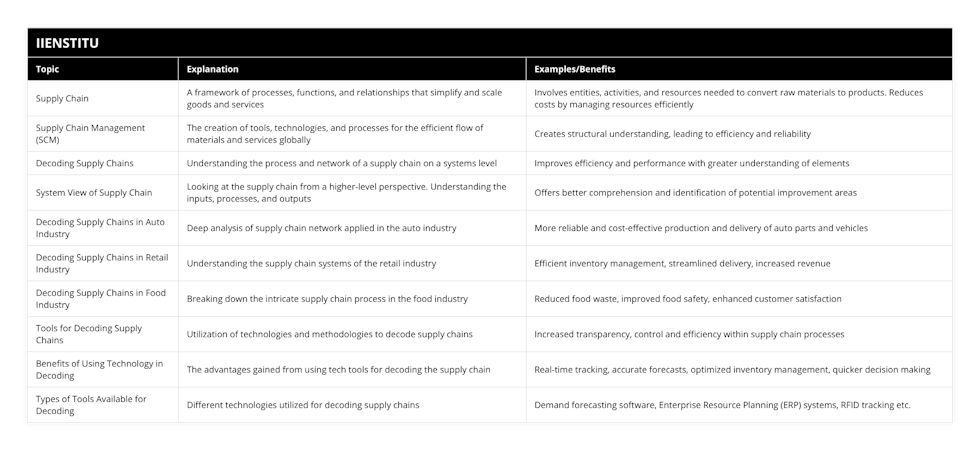 Supply chain management
SCM
raw materials
production
final delivery
converting raw materials
processes
functions
relationships
tools
technologies
resources
value
cost savings
decoding supply chains
system view
macro-level
micro-level
efficiency
productivity
control
visibility
automotive
retail
food
distribution channels
intermediaries
optimization
software solutions
ERP
process automation
data analytics
warehouse management
predictive analytics
technology
insight
customer experience

Dr. Murray Craig
Academic
Dr. Murray Craig is an academic and researcher who has dedicated his life to the study of human behavior. He has a particular interest in how people interact with their environment, and how that interaction can be used to improve their lives. Dr. Craig has spent many years teaching and conducting research at universities all over the world, and he is widely respected for his work in the field of behavioral science.
Related Posts
Our team of experts is passionate about providing accurate and helpful information, and we're always updating our blog with new articles and videos. So if you're looking for reliable advice and informative content, be sure to check out our blog today.