NLP
How NLP Can Improve Your Acting Skills?
16 April 2022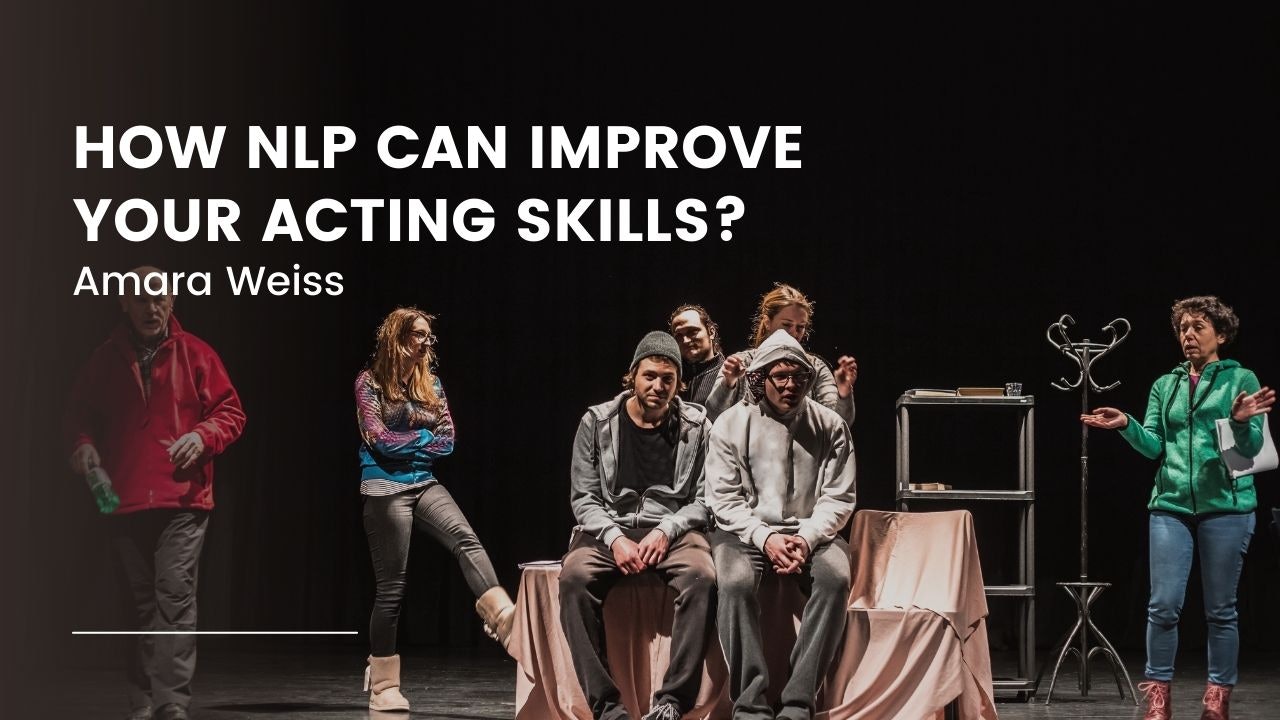 | Concept | Explanation | Benefits in Acting |
| --- | --- | --- |
| NLP and Identity | NLP can be used to manage the perception of our own identity, helping us control how we view ourselves and our character. | Allows for quicker and more profound character development, enabling the actor to immerse themselves in the role more effectively. |
| Use of Named Place Mentions | Mentioning specific places or objects while speaking creates a deeper connection with the character and the scene. | Enables the character to feel more 'real', thereby making the dialogue and interactions feel more authentic. |
| Game and Acting | Performance improvement in games can be paralleled in acting through NLP techniques such as mental imagery. | Confidence in self-abilities and mental preparedness to play a character can enhance acting skills significantly. |
| Audience Perception | Viewers are more critical when watching a performance for the second time, affecting the perceived quality of the performance. | Knowing this can help actors improve their performances and cater to more discerning audience members. |
| Performance Improvement with NLP | NLP has been shown to improve performance in various fields, including acting. | Actors can use this to increase their confidence and capabilities on stage. |
| Varied Perceptions of NLP | Different people have different views and experiences with NLP. | By understanding these variations, actors can employ NLP techniques that suit their personal needs and acting style. |
| Use of Mental Imagery Techniques | NLP often involves the use mental imagery techniques. | Helps in anticipating and planning character's responses, thereby making performances more believable. |
| NLP and Training | NLP can be integrated into an actor's training regime. | Helps in goal setting and achievement, ultimately improving acting ability. |
| NLP and Research | NLP is a continually developing field that requires ongoing research and experimentation. | Provides new techniques and insights that can be used to further enhance acting skills. |
| Score Differences in Games | NLP has shown to alter performance scores in games, indicating its possible influence over performance quality. | Understanding these differences can help actors use NLP techniques more effectively, thereby improving their own acting performances. |
Take on the role of your favorite character - Game and Identity.
The first thing that comes to mind about identity is how we perceive ourselves. One aspect of perceiving one's identity that is not always discussed in psychological texts or social theoretical discussions on the topic (perhaps because there are so many different perspectives) is the question of "who" one views oneself. What groupthink have I fallen into? To what extent do my thoughts reflect those of another person who considers himself or herself part of a completely different culture with a unique belief system that may not even resemble mine?
Identity is the essential building block of society and its social system. It has a scope that symbolizes an individual's beliefs, attitudes, or value judgments that correspond to his or her cultural position in and status within our environment; identity can be considered at both the micro-level (Who am I?) and the macro-level (What makes me tick?).
At first glance, this may seem like asking, "Who are you?" However, it is so much more.
NLP, Identity, and Games
To be a successful actor, you need to build an identity for yourself. And the best way to do that is by being someone else - a character with real feelings and thoughts who experiences life differently than you do; it's about wearing a different skin (or better yet, multiple skins). The more characters we can play that are inside ourselves, the more something new is waiting for us around every corner!
However, I believe that using NLP techniques can help us create a unique character with an audience.
Using NLP in acting can be an effective technique to help us manage and develop our perception of our own identity. This concept can be quickly applied to our practice so that we have more control over how we see ourselves as a character when we play roles!
After reading many NLP texts, I have found that evaluations for this practice are increasing. From what we know so far, there does not seem to be any performance improvement without using one of the applications - does anyone who has never seen you live know how well they would do?
Named place mentions (also called named place mentions) involve mentioning specific places or things while speaking, rather than just mentioning "the park" or "someone." Named place mentioned to occur when people either mention notable features in the environment, such as trees or objects or when they refer to pass events by mentioning where something occurred (e.g.)
Although the answer to this question is unclear, we can say that playing a game for the second time is easier and more enjoyable than the first experience with it. This is because if someone has played an activity before, they are better equipped mentally to perform at their best again - even if you have never seen the rules involved! This means less uncertainty during play, leading to confidence in one's own abilities, and performance levels rise when seeing how well others have followed those same rules.
When an audience sees a performance for the second time, they may be less excited because they have seen it before. Attention may wander, and some of those in attendance may become more critical of how well the actors are playing their parts, resulting in a lower score for the judges who are watching closely enough not to get bored or lose track of what is going on when nothing happens on stage for a long time. Both answers can still be considered correct because sometimes we do not know what was going through someone's mind during the performance.
The best method for performance improvement is NLP. It is worth noting that this was demonstrated in both games. Still, there are some crucial differences between the players when you look at their results after the fact - which makes sense because everyone can improve at something if they practice and let their minds run wild!
When a player gets into this business, he thinks NLP will be good for him. Someone else, however, sees it quite differently: "Let us see if NLP can help me," says the person as he steps in and filters his thoughts through some mental imagery techniques before going into action mode and thinking about what to do next, in terms of specifically tailored goals that he has set before and that is now being achieved because so much time had passed since last week when no victories were celebrated, but the entire focus was solely on achieving these kinds of victories...
Believing that NLP could be good for me has piqued my interest in this. We will see if it works; I think there should be more research and experimentation on the subject before I draw my conclusions.
The best way to increase performance is through NLP. It's worth noting that this has been shown in both games, but it seems like there are some key differences between players when you look at their scores afterward - which makes sense because everyone can get better at something if they put themselves into training sessions and allow their mind freedom!
When a player enters this business, he believes that NLP will be good for him. However someone else does not look at it in such terms: "Let's see if Nlp can help me," says the person as they enter and filter their thoughts through some mental imagery techniques before going into action mode on what needs to get done next with regards specifically tailored goals set out from earlier which are now being achieved due entirely because of how much time has passed since last week where there were no victories celebrated yet instead all focus was solely trained towards achieving these types win...
The belief that NLP will be good for me is what drew my attention to this subject in the first place. Let's see if it really works, I think more research and experimentation should happen on this subject before drawing conclusions.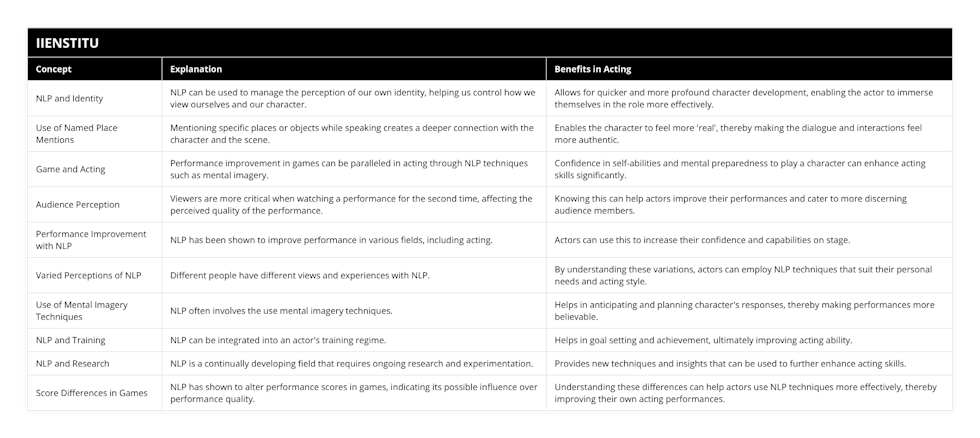 Monica Bourbon
Blogger
She describes himself as someone who loves to write about digital marketing, social media and public relations. His personal development special interest lies in self-improvement through reading books on the subject of human behavior; she also has an eye for how these topics apply outside just business or career settings too!
Related Posts
Our team of experts is passionate about providing accurate and helpful information, and we're always updating our blog with new articles and videos. So if you're looking for reliable advice and informative content, be sure to check out our blog today.