Problem Solving
Franklin: From Rags To Riches Through Self-Improvement
03 March 2023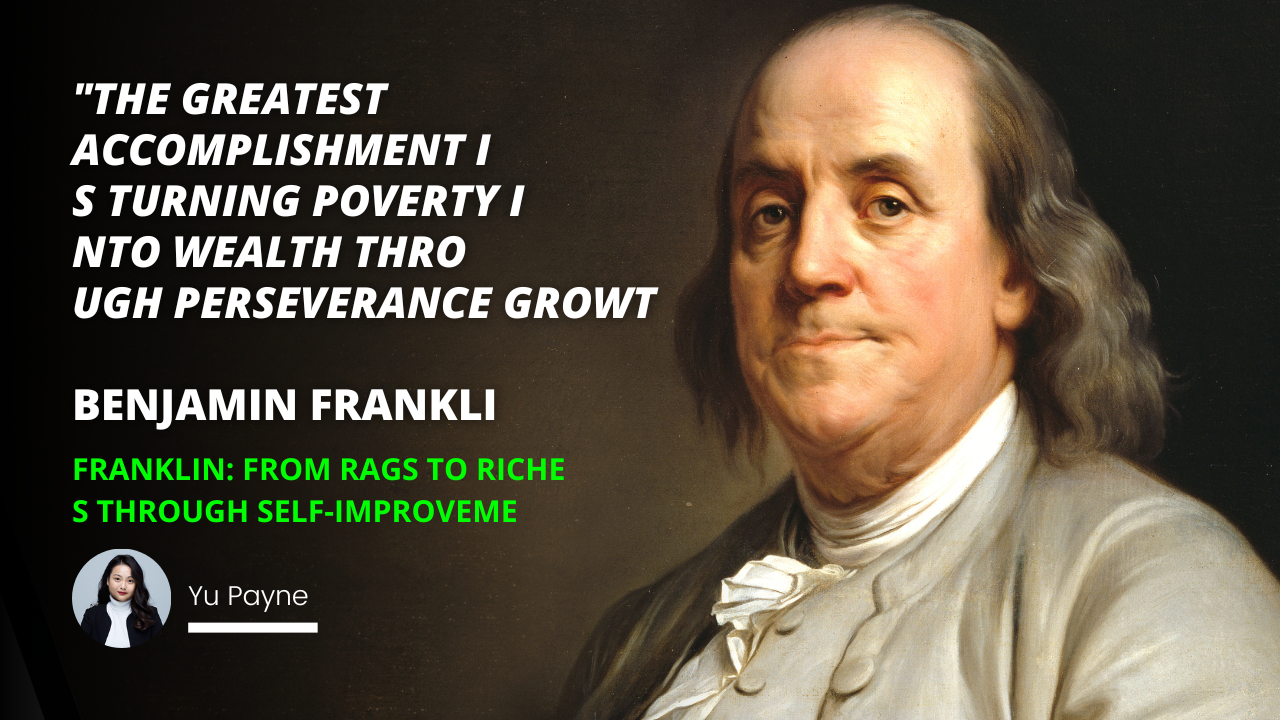 | Life Phases | Achievements | Impact |
| --- | --- | --- |
| Early Life | Became a proficient printer through an apprenticeship | Created a foundation for his later successes in business and public service |
| Business Career | Established a successful printing business, coined financial management systems | Inspired many successful businesses and finance concepts |
| Philanthropic Work | Founded Philadelphia Library in 1731 | Promoted free access to information and institutionalized public libraries |
| Moral Philosopher | Developed '13 Virtues', emphasized civic duty, religious tolerance and equality | Influenced American thought, the Declaration of Independence and The Constitution |
| Political Career | One of the Founding Fathers of the United States, contributed to the nation's foundational documents | Instrumental in shaping the United States and its federal systems |
| Scientific Exploration | Investigated electricity, created bifocal glasses and the Franklin stove | Advancements in scientific understanding, practical inventions still used today |
| Self-Improvement Advocate | Committed to personal development and lifelong learning | Served as an example for many, impacting personal development practices |
| Legacy | Remains a revered figure in American history | Influences American thought, culture and political systems to this day |
| Wealth Generation | Rose to wealth from humble beginnings, achieving a high return on investments | Inspired financial strategies and economic growth |
| Influence on Other Great Minds | Inspired many great minds in business and finance | Created an enduring legacy beyond his lifespan |
Franklin's Early Life

Ben Franklin's Business Success and Legacy

His Ideas on Political and Moral Philosophy
Benjamin Franklin was a remarkable man, a polymath, and one of the Founding Fathers of the United States of America. He is remembered for his accomplishments in politics, science, and business. Franklin was born into a poor Puritan family in Boston, Massachusetts. Yet, he rose from humble beginnings to become one of the most influential people in history. Despite the challenges he faced, he was able to attain wealth and fame through a relentless pursuit of self-improvement.
This article will focus on Franklin's self-help approach to life and how it enabled him to go from being a poor 17th-century apprentice to a wealthy industrial entrepreneur and one of the United States Founding Fathers. It will also explore how his ideas have resonated through history and demonstrate how Franklin's moral philosophy can be applied to modern times.
Franklin's Early Life
Franklin's ambition and determination to become successful began at an early age. Despite his humble origins and lack of formal education, he was determined to better himself and knew that hard work was the only way. So he apprenticed at a printing shop and gradually honed his craftsmanship, becoming one of the best printers in the American colonies.
Franklin was also known for his systematic approach to self-improvement. He was committed to attaining knowledge and expanding his mental and physical capabilities. He wrote a series of self-improvement rules and maxims, referred to as his "13 Virtues", and lived by these principles his entire life. He used this system to both challenge himself and to measure his progress.
Ben Franklin's Business Success and Legacy
Franklin's hard work paid off, and he eventually left his apprenticeship to open his own printing business. His business flourished, and he quickly rose to the industry's top. He also financially supported numerous philanthropic and civic organizations, most notably founding the Philadelphia Library in 1731.
Franklin was an astute entrepreneur and business leader. His success was mainly due to his efficient self-management and systematic approach to problem-solving. He pioneered financial management systems, often earning up to 18 percent per annum on investments. He also believed in quality control and self-promotion. He was known for setting high standards for himself and his products.
Franklin's ideas and legacy can be seen in the many successful businesses founded on his self-improvement and quality control principles. In addition, he has been credited with inspiring some of the greatest minds in business and finance to follow in his footsteps.
His Ideas on Political and Moral Philosophy
Although he is remembered chiefly for his business success, Franklin was also a moral philosopher and a political theorist. He believed in civic virtues and encouraged people to seek knowledge, pursue truth, and serve their communities. He also wrote extensively about the importance of religious tolerance and racial equality.
Franklin's moral philosophy greatly influenced the Founding Fathers of the United States. His ideas were incorporated into the Declaration of Independence and the Constitution. In addition, his belief in the importance of civic duty and the pursuit of knowledge can be seen throughout American history.
Conclusion: Benjamin Franklin's life and legacy are a testament to the power of self-improvement and the potential for greatness within us. Despite his humble beginnings, he became one of the most influential figures in American history and one of the most important Founding Fathers. His legacy lives on today in the many successful businesses he inspired, his ideas on civic virtues, and through his powerful words:
An investment in knowledge pays the best interest.

Benjamin Franklin
self-improvement
Founding Fathers
United States
poor Puritan family
Boston
Massachusetts
entrepreneur
self-management
quality control
investments
civic virtues
knowledge
religious tolerance
racial equality
Declaration of Independence
Constitution
American history
Yu Payne
Blogger
Yu Payne is an American professional who believes in personal growth. After studying The Art & Science of Transformational from Erickson College, she continuously seeks out new trainings to improve herself. She has been producing content for the IIENSTITU Blog since 2021. Her work has been featured on various platforms, including but not limited to: ThriveGlobal, TinyBuddha, and Addicted2Success. Yu aspires to help others reach their full potential and live their best lives.
Related Posts
Our team of experts is passionate about providing accurate and helpful information, and we're always updating our blog with new articles and videos. So if you're looking for reliable advice and informative content, be sure to check out our blog today.