Foreign Language Courses
English Grammar: Is It Important To You?
30 September 2022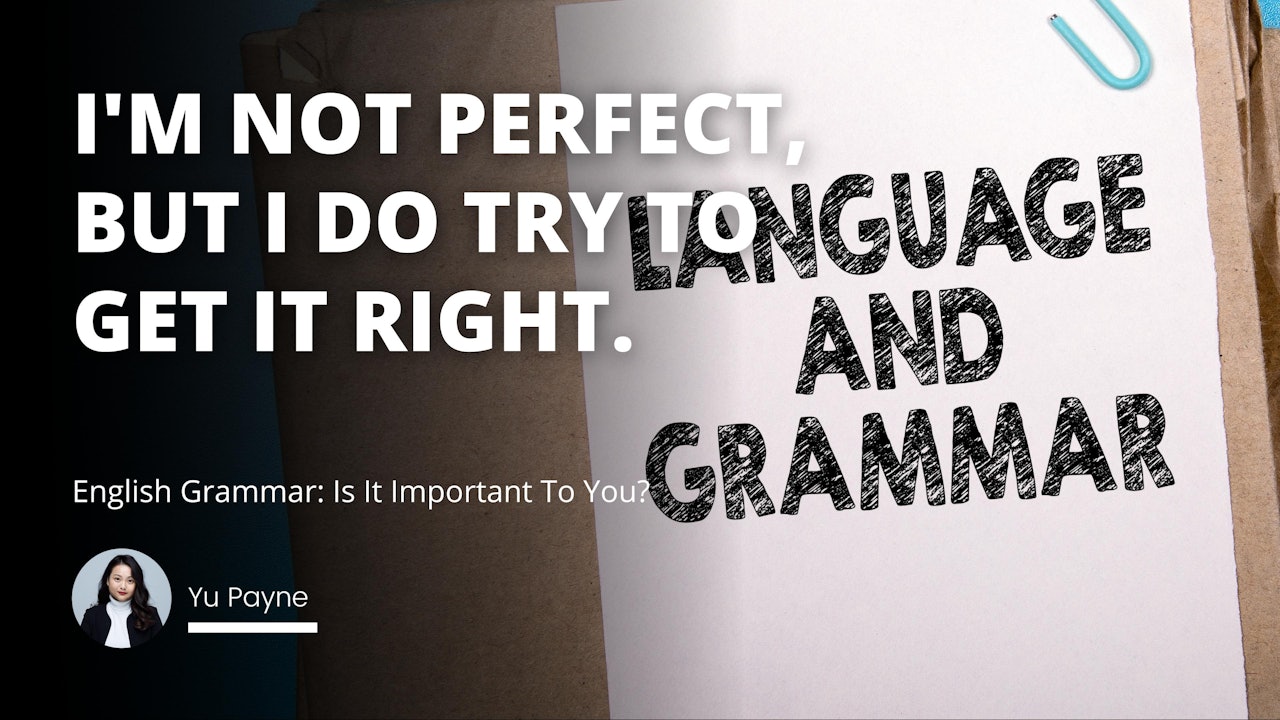 If you're a native English speaker, you might not think grammatical errors are a big deal. After all, everyone makes mistakes sometimes, right?
Unfortunately, poor grammar can be a real turn-off for potential employers, clients, or customers. In addition, studies have shown that people judge others more harshly when they make grammatical errors.
According to a study by the Harvard Business School, people judge others more harshly when they make grammatical errors. For example, the study found that when job applicants made grammatical errors in their resumes, they were less likely to be interviewed. In addition, when customers received emails with grammatical errors, they were less likely to do business with the company.
The study highlights the importance of using proper grammar in professional communications. Unfortunately, poor grammar can be a real turn-off for potential employers, clients, or customers. You can avoid making costly mistakes by taking the time to proofread your work.
So if you want to make a good impression, it's essential to take the time to proofread your work and ensure that your grammar is correct. Here are a few tips to help you get started:
Get the help you need to improve your writing skills.
No one is born a great writer. It takes practice and skill to produce effective and engaging writing. So don't try it alone to improve your writing skills. There are plenty of resources available to help you become a better writer.
Whether you need help with grammar, sentence structure, or just getting your ideas down on paper, there is something out there for you. So don't wait any longer - get started on improving your writing skills today!
1 - Use a grammar checker.
There's no denying that grammar is essential. Whether you're writing an email to a client or completing a formal report, proper grammar will ensure that you come across as polished and professional.
However, even the most skilled writers occasionally need some help with tricky grammatical rules. That's where a grammar checker can be helpful.
By running your text through a checker, you can quickly identify any errors and fix them before they have a chance to cause confusion or make you look bad. Just be sure to double-check any suggestions the checker makes, as it's not always 100% accurate.
2 - Read your work aloud.
For anyone who wants to improve their English grammar skills, reading aloud is a great way to catch errors that you might not otherwise notice. As you read, pay attention to how each sentence sounds and ensure there aren't any awkward phrasings.
English grammar can be tricky, but reading your work aloud will help you catch mistakes and correct them. This is an essential skill for anyone who wants to improve their English grammar. So next time you're proofreading your work, read it aloud!
3 - Get someone else to proofread
English grammar can be tricky, even for native speakers. That's why getting someone else to proofread your work can be helpful. In addition, a friend or family member can be a great resource, as they can point out any errors they see.
However, it's important to remember that everyone makes mistakes, so don't be too hard on yourself if you don't get everything perfect the first time. With a bit of practice, you'll write like a pro in no time!
English grammar is essential to many people when it comes to writing. Whether you are a student, a business person, or someone who wants to write a letter for fun, proper grammar makes your report look more professional and can make the difference between a good piece of writing and a great one. If you want to improve your writing skills but don't know where to start, we have the perfect solution for you- our online English course.
In this course, you will learn everything from basic grammar rules to how to write an essay. In addition, we offer beginner and intermediate courses to help you take your writing skills to the next level. So join us today and see the proper difference grammar can make in your writing!
native speakers
effective communication
grammar is important
run on sentence
grammar rules
poor grammar
word order
learning grammar
plagiarism checks
sentence structure
grammar checker
bad grammar
grammar matters
good grammar
study grammar
basic grammar
english language
english grammar
correct grammar
grammatical errors
Yu Payne
Blogger
Yu Payne is an American professional who believes in personal growth. After studying The Art & Science of Transformational from Erickson College, she continuously seeks out new trainings to improve herself. She has been producing content for the IIENSTITU Blog since 2021. Her work has been featured on various platforms, including but not limited to: ThriveGlobal, TinyBuddha, and Addicted2Success. Yu aspires to help others reach their full potential and live their best lives.
Related Posts
Our team of experts is passionate about providing accurate and helpful information, and we're always updating our blog with new articles and videos. So if you're looking for reliable advice and informative content, be sure to check out our blog today.