Leadership
Driving Transformation: Overcoming Resistance and Achieving Change
22 February 2023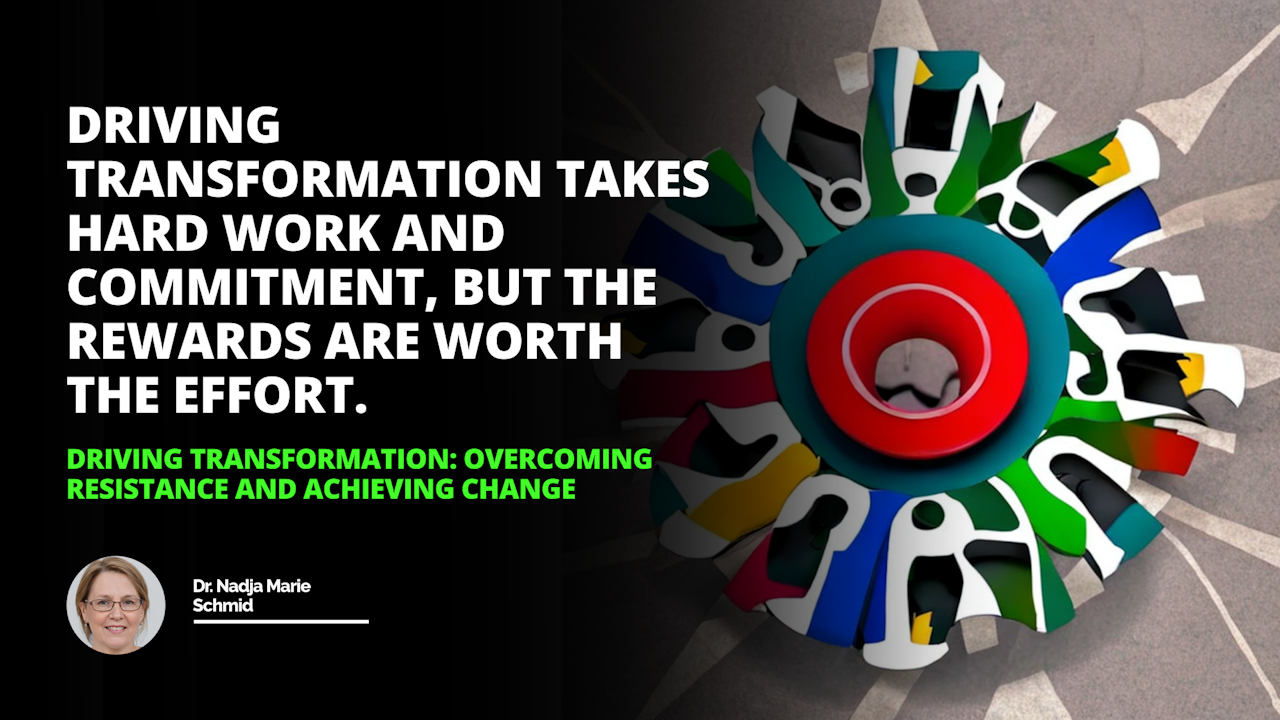 | Stages of Transformation | Challenges and Solutions | Potential Impacts |
| --- | --- | --- |
| Understanding Resistance | Identify motivations for resistance. Each individual may have different levels of resistance. | Awareness of potential oppositions. Value resistance as feedback. |
| Navigating Political or Organizational Barriers | Contingent to circumstances, addressing political and organizational barriers may be challenging. | Strategize to combat the challenges and make progress. |
| Plan to Overcome Resistance | Develop strategies involving stakeholders. Create clear plans and goals. | Clear direction for transformation. Early identification and resolution of issues. |
| Open and Collaborative Environment | Create safe spaces for expression of opinions, Respect and value views. | Promotes dialogue. Encourages idea generation and problem-solving. |
| Communication | Keep updates constant. Encourage feedback. | Better understanding of changes, their affects and how to cope. |
| Recognizing Negative Resistance | Understanding that not all resistance is negative. It can provide valuable insights. | Healthy development and adaptation of changes. |
| Transformative Leadership | Align the vision with the leadership and influence team members for buy-in. | Creates a unifying force behind the change. |
| Creating Buy-In | Align the change with individual goals and desires. Show the benefits. | Increases desire for the change, reduction in resistance. |
| Dedication and Commitment | Remind organization of the rewards and benefits awaiting after the transformation effort. | Increase in motivation and commitment towards successful change. |
| Effective Implementation | Monitor the implementation process, adapt strategies if necessary. | Success of the change or transformation process. |
Examining the Challenges of Change

Developing a Plan to Overcome Resistance

Creating an Open and Collaborative Environment

Effectively Communicating with People Affected by Change
Change is an integral part of business, and to remain competitive, it is vital that organizations can drive transformation and overcome any resistance to change.
This blog post will discuss how to drive transformation and how organizations can successfully implement change and overcome any resistance they may encounter.
Examining the Challenges of Change
Change brings its own set of challenges, and resistance is a natural part of the process. It is essential for organizations to understand the different motivations for resistance and to recognize that each individual may have different levels of resistance to the changes that the organization is attempting to drive. In some cases, political or organizational barriers to change may make it more challenging to implement the desired changes. It is also essential to recognize that not all resistance is negative. It can be a valuable tool to help understand problems that may arise when implementing a new change.
Developing a Plan to Overcome Resistance
Once the resistance areas have been identified, organizations must develop strategies to address them. Again, involving stakeholders in the process ensures that potential issues are identified and addressed early. The organization should also create clear plans and goals to help guide the transformation and ensure everyone is working towards the same objectives.
Creating an Open and Collaborative Environment
To be successful in driving transformation, organizations must create an open and collaborative environment in which it is safe for people to express their opinions. Ensuring everyone is heard, and their views are respected and valued is essential. This can create a culture of openness that encourages dialogue and helps overcome resistance.
Effectively Communicating with People Affected by Change
It is also essential for organizations to effectively communicate with people affected by the changes that are being driven. Organizations must ensure that everyone is kept up to date on developments and have the opportunity to provide feedback. This will help people understand the changes and how they may be affected.
In conclusion, organizations must develop a plan to drive transformation and overcome any resistance to change that they may encounter. This includes identifying areas of resistance, designing strategies to address them, creating a supportive environment where people feel safe to express their opinions, and effectively communicating with people affected by the changes. By taking these steps, organizations can successfully drive transformation and achieve the desired changes.
Driving transformation takes hard work and commitment, but the rewards are worthwhile.

Change
transformation
resistance
motivate
organizational barriers
political barriers
strategies
plans
goals
open
collaborative
environment
dialogue
effectively communicate
feedback
develop

Dr. Nadja Marie Schmid
Academics
Dr. Nadja Marie Schmid is a leadership and management professor dedicated her career to helping students achieve their full potential. She has been published in numerous journals and is a frequent speaker at conferences worldwide.
Dr. Schmid's research focuses on understanding how leaders can create an environment where employees can reach their highest level of performance. She believes that the key to success is creating a culture of trust, respect, and collaboration.
Related Posts
Our team of experts is passionate about providing accurate and helpful information, and we're always updating our blog with new articles and videos. So if you're looking for reliable advice and informative content, be sure to check out our blog today.