Problem Solving
Cultural Thinking: Thomas Watson Sr. and IBM's Approach
04 March 2023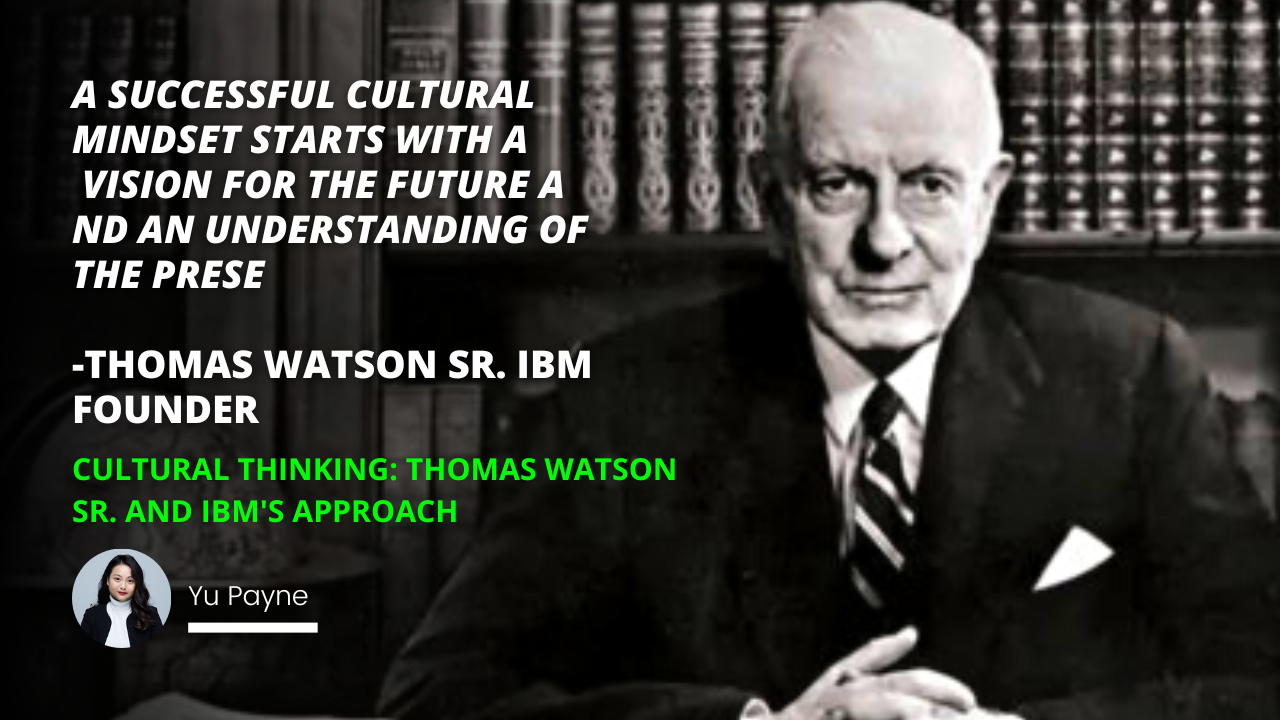 | Aspect | Description | Example from IBM |
| --- | --- | --- |
| Cultural Thinking | Cultural thinking is about establishing principles, values, and behaviors that are deeply rooted within an organization. | Thomas Watson Sr., the founder of IBM, integrated cultural thinking into the business model, creating a robust and enduring organization. |
| History of Cultural Thinking | Cultural thinking began with the focus on ethical practices within an organization and its potential societal impacts. | Watson Sr. aimed to present IBM as an organization of 'mutual confidence and service,' highlighting the significance of ethical practices. |
| Cultural Thinking and Business Practices | Reflective practices are promoted through cultural thinking, focusing on the impacts of the organization's decisions on the society at large. | IBM uses promotions, rewards, and recognitions to underscore the importance of ethical practices and respect for individual and collective beliefs. |
| Unified Organizational Culture | Cultural thinking plays an instrumental role in building a positive and harmonious organizational culture. | Watson Sr. believed in the power of a unified culture to 'mobilize the will' of the employees, inspiring them to use their skills to their best potential. |
| Power of Cultural Thinking | Cultural thinking is a self-perpetuating system that helps form meaningful relationships and navigate the global market. | IBM's understanding and respect for local cultures allow them to foster trust and create valuable relationships. |
| Cultural Thinking in the Present | The benefits of cultural thinking extend beyond just business practices. | IBM continues to use cultural thinking in their business model, appreciating employees beyond their work abilities. |
| Future of Cultural Thinking | Cultural thinking is becoming ever more critical with increasing globalization. | Understanding and respecting local cultural norms and ideals is necessary for IBM's successful global transactions. |
| Influence of Cultural Thinking | Cultural Thinking influences the learning, understanding, and respect within a company. | Thanks to Watson's vision, IBM thrived with a strong and unified culture. |
| Cultural Thinking and external stakeholders | Cultural Thinking strengthens relationships with external stakeholders. | IBM values and builds trust with external stakeholders, aiding their business success. |
| Cultural Thinking and Business Success | Cultural Thinking contributes significantly to business success and sustainability. | IBM's application of Cultural Thinking has made it one of the most successful organizations worldwide. |
History of Cultural Thinking

Cultural Thinking and Business Practices

The Power of Cultural Thinking
Cultural Thinking establishes principles, values, and behaviors to be upheld within a given organization. It is a deep-rooted aspect of a company, grounded in its core identity, that strives to be continuously cultivated. Thomas Watson Sr., the founder of IBM, pioneered cultural Thinking into the business model, creating an enterprise that has transcended time and remained one of the most successful organizations in the world.
History of Cultural Thinking
Before the success of IBM, many businesses often obtained short-term success through cut-throat tactics while disregarding any consequential impacts on society. As a result, a sense of underlying tension and distrust plagued the corporate space, and corporations played a limited role in the public good. Watson Sr., however, described his vision for IBM as a "spirit of mutual confidence and service," emphasizing the importance of ethical practices within the organization and consciousness of societal benefit. This was a radically different approach from conventional business models and marked the beginnings of Cultural Thinking.
Cultural Thinking and Business Practices
The Cultural Thinking approach promotes reflective practices over competitive ones by encouraging the consideration of how decisions will affect society's broader well-being. For example, through promotions, rewards, or recognition measures, companies can emphasize the importance of various ethical concerns, models of integrity, and respect for individual and collective beliefs. Consequently, this helps employees and customers better understand the company's goals and mission and where they lie in fulfilling these.
Cultural Thinking is particularly effective in creating a positive, unified organizational culture. Watson Sr. believed that the power of a strong and unified culture could "mobilize the will" of the employee, inspiring them to become the best possible version of themselves and use their talents to the fullest extent. The appreciation of the individual was an essential piece of Watson Sr's vision- appreciating employees beyond work abilities and recognizing the person they are individually kept IBM at the top of its game during the 20th century.
The Power of Cultural Thinking
The power of Cultural Thinking manifests in various forms. It becomes a self-perpetuating system, continuously aiding the formation of different meaningful relationships within and outside the enterprise. Beyond building a steady foundation for the organization, Cultural Thinking is essential to successfully navigating an increasingly global market. Understanding and respecting a culture's norms and ideals is necessary for successful transactions in an age of near-constant globalization. By understanding the local social climate, companies gain access to valuable opportunities that foster trust and relationships, allowing them to thrive.
Conclusion: Thomas Watson Sr. was a visionary, paving the way for modern business practices and incorporating Cultural Thinking into the corporate world. Thanks to his innovative approach, companies worldwide continue to use Cultural Thinking as a critical part of their business model. Cultural Thinking creates a space for learning, understanding, and respect, indoctrinating a strong and unified culture within the enterprise and strengthening the relationships with external stakeholders. With the power to shape a successful and sustainable business, Cultural Thinking continues to significantly contribute to how corporations interact with the world.
A thriving cultural mindset starts with a vision for the future and an understanding of the present.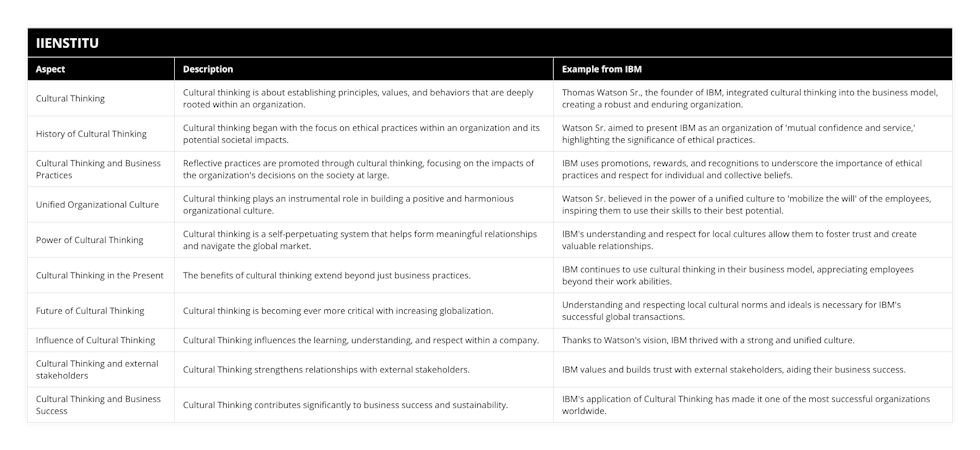 Cultural Thinking
principles
values
behaviors
IBM
Thomas Watson Sr.
ethical practices
societal benefit
business model
employee
respect
individual
unified culture
corporate space
corporate world
innovative
relationships
stakeholders
successful
sustainable.
Yu Payne
Blogger
Yu Payne is an American professional who believes in personal growth. After studying The Art & Science of Transformational from Erickson College, she continuously seeks out new trainings to improve herself. She has been producing content for the IIENSTITU Blog since 2021. Her work has been featured on various platforms, including but not limited to: ThriveGlobal, TinyBuddha, and Addicted2Success. Yu aspires to help others reach their full potential and live their best lives.
Related Posts
Our team of experts is passionate about providing accurate and helpful information, and we're always updating our blog with new articles and videos. So if you're looking for reliable advice and informative content, be sure to check out our blog today.