Human Resources Management
Corporate HR's Role in Trade Union Relations
20 February 2023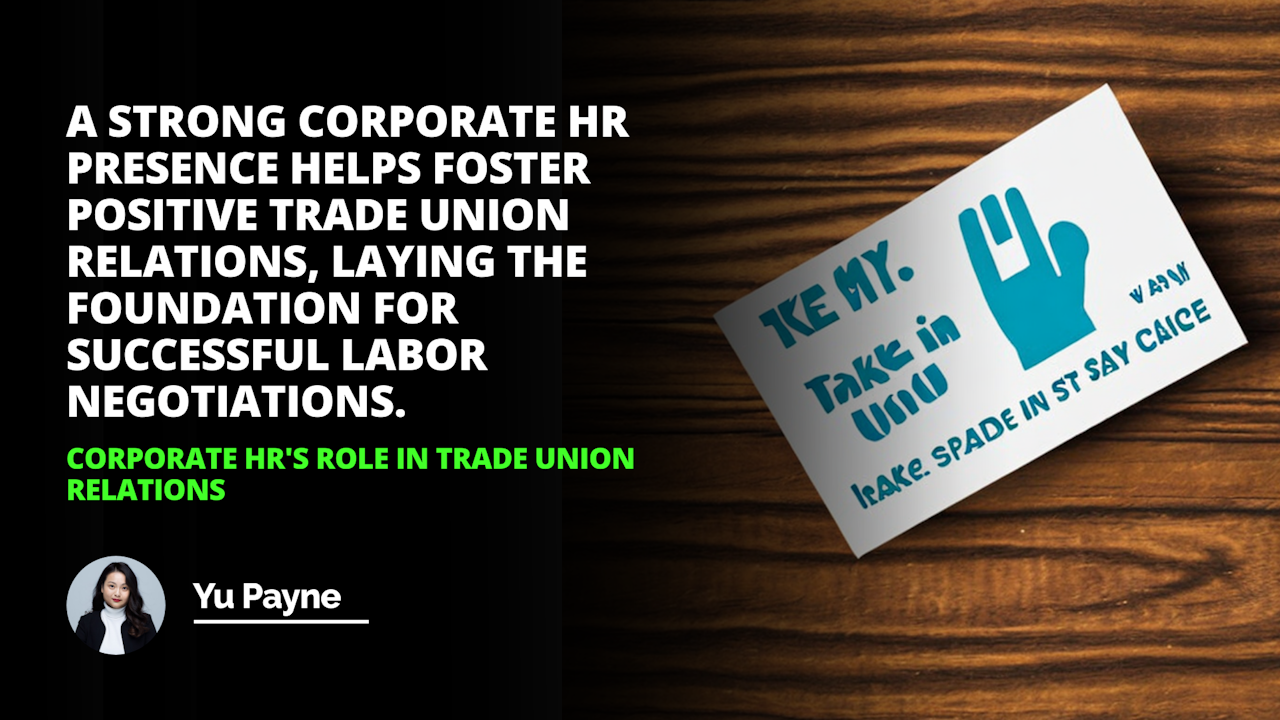 | Aspect | Summary | Details |
| --- | --- | --- |
| Definition of Trade Unions | Organizations representing employee interests | Trade unions work to ensure fair wages, benefits, job security, and safe working conditions for their members through collective bargaining, negotiations, and advocacy. |
| Role of HR in Trade Union Relations | Establishing dialogue, facilitating negotiations, and ensuring equal treatment | The corporate HR bridges communication between employers and unions, enforces contracts, ensures equality among employees, and maintains the legal framework of these relations. |
| Advantages of HR in Trade Union Relations | Promotes collaboration and ensures fair treatment | These effective HR roles result in a mutual understanding, trust, and respect between employer and trade unions, which contributes to the overall success of the company. |
| Importance of Regular Interactions | Providing a platform for discussion | Regularly scheduled meetings allow for timely resolution of disputes, furthering understanding of each other's needs. |
| Knowledge of Contracts & Laws | Understanding and enforcing agreements | Familiarity with the different types of contracts, laws, and regulations applicable to trade unions is vital for corporate HR to ensure their adherence. |
| Equal Treatment of Employees | Ensuring fair and equitable treatment | HR is responsible for preventing any forms of preferential treatment and addressing cases of inequality or discrimination in the workplace. |
| Fostering Trust | Building an environment of respect | A robust corporate HR presence builds a trusting relationship between the employer and trade unions, which is crucial for effective teamwork. |
| Successful Negotiations | Achieving mutually beneficial outcomes | A positive and productive negotiation between the employer and union can ensure beneficial agreements that will support successful business operations. |
| Compliance with Statutes and Agreements | Ensuring all parties operate within the legal framework | Through knowledge of union statutes and collective bargaining agreements, HR ensures all actions and decisions conform to the existing legal boundaries. |
| Positive Corporate Culture | Impact on business operation | The presence of a sound HR department that understands and values the role of trade unions contributes to a culture of respect and collaboration within the company. |
Definition of Trade Unions

Corporate HR's Role in Trade Union Relations

Advantages of Corporate HR's Involvement
One of the primary responsibilities of corporate Human Resources (HR) is to foster strong relationships and collaboration between employee groups and their employers. This is vital for successful business operations, and one of these critical employee groups is trade unions.
These unions play a crucial role in ensuring employee rights are respected and that employees are treated fairly. For a positive and beneficial relationship between an employer and a trade union, corporate HR must understand their respective roles and work together to deliver beneficial outcomes.
Definition of Trade Unions
Trade unions are organizations that represent the interests of employees. They look out for their members by working to ensure they get fair wages, good benefits, secure employment, and safe working conditions. Through collective bargaining and other forms of negotiation and advocacy, trade unions strive to promote the well-being of workers and improve their lives. Trade unions also play a role in resolving workplace disputes and protecting employees from mistreatment by their employers.
Corporate HR's Role in Trade Union Relations
One of the essential roles of corporate HR in trade union relations is establishing a dialogue between employers and these employee organizations. Keeping an open line of communication is critical to understanding each other's needs and ensuring a productive and effective relationship. Hence, corporate HR should facilitate regular interactions and negotiations between the employer and the union representatives to ensure that any issues that may arise can be addressed in a timely and amicable way.
Negotiating and enforcing the relationship is also a significant part of corporate HR's role in the trade union relationship. Corporate HR professionals should know the types of contracts that exist between the employer and the union, so they can enforce them properly and ensure they are being adhered to. This includes ensuring that the employer fulfills all their obligations according to the agreements made. Corporate HR should also be familiar with laws and regulations applicable to trade unions, as well as union statutes and collective bargaining agreements, so they can be sure that all parties operate within the legal framework.
Another essential part of corporate HR's role in trade union relations is ensuring equitable treatment of employees. Corporate HR should ensure that union members are treated equally and are not given preferential treatment due to their membership status. Corporate HR should also be vigilant in addressing any inequality or discrimination that may be occurring in the workplace.
Advantages of Corporate HR's Involvement
One of the main advantages of corporate HR's involvement in trade union relations is that it promotes collaboration between employers and these employee groups. This collaboration is essential for the successful operation of a company, as it ensures that both parties understand each other's needs and expectations and can work together towards mutually beneficial outcomes. It also creates an environment of trust and respect, essential for practical teamwork. Therefore, corporate HR plays a vital role in trade union relations.
Corporate HR should ensure that the relationship between the employer and union is equitable and beneficial for both parties by facilitating regular interactions and negotiations, ensuring that the existing agreements are being adhered to, and ensuring that all employees receive equal treatment. A positive and productive relationship between both parties is essential for successful business operations. Therefore, corporate HR can play a vital role in fostering collaboration and trust.
A solid corporate HR presence helps foster positive trade union relations laying the foundation for successful labor negotiation.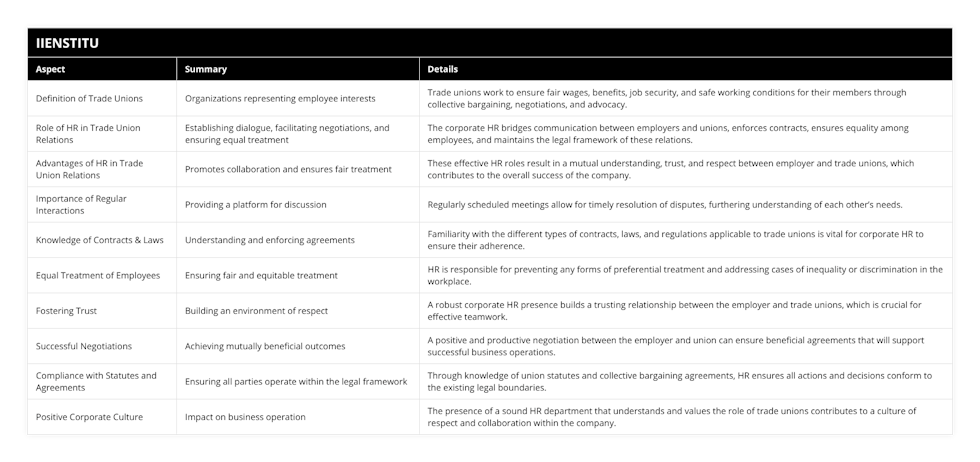 Corporate HR
trade unions
employee groups
dialogue
agreement
negotiation
collective bargaining
wellbeing
employees
employer
contractual obligations
inequality
discrimination
trust
respect
collaboration
beneficial
outcomes.
Yu Payne
Blogger
Yu Payne is an American professional who believes in personal growth. After studying The Art & Science of Transformational from Erickson College, she continuously seeks out new trainings to improve herself. She has been producing content for the IIENSTITU Blog since 2021. Her work has been featured on various platforms, including but not limited to: ThriveGlobal, TinyBuddha, and Addicted2Success. Yu aspires to help others reach their full potential and live their best lives.
Related Posts
Our team of experts is passionate about providing accurate and helpful information, and we're always updating our blog with new articles and videos. So if you're looking for reliable advice and informative content, be sure to check out our blog today.