Problem Solving
Aristotle: The Wise Choice of Excellence
08 March 2023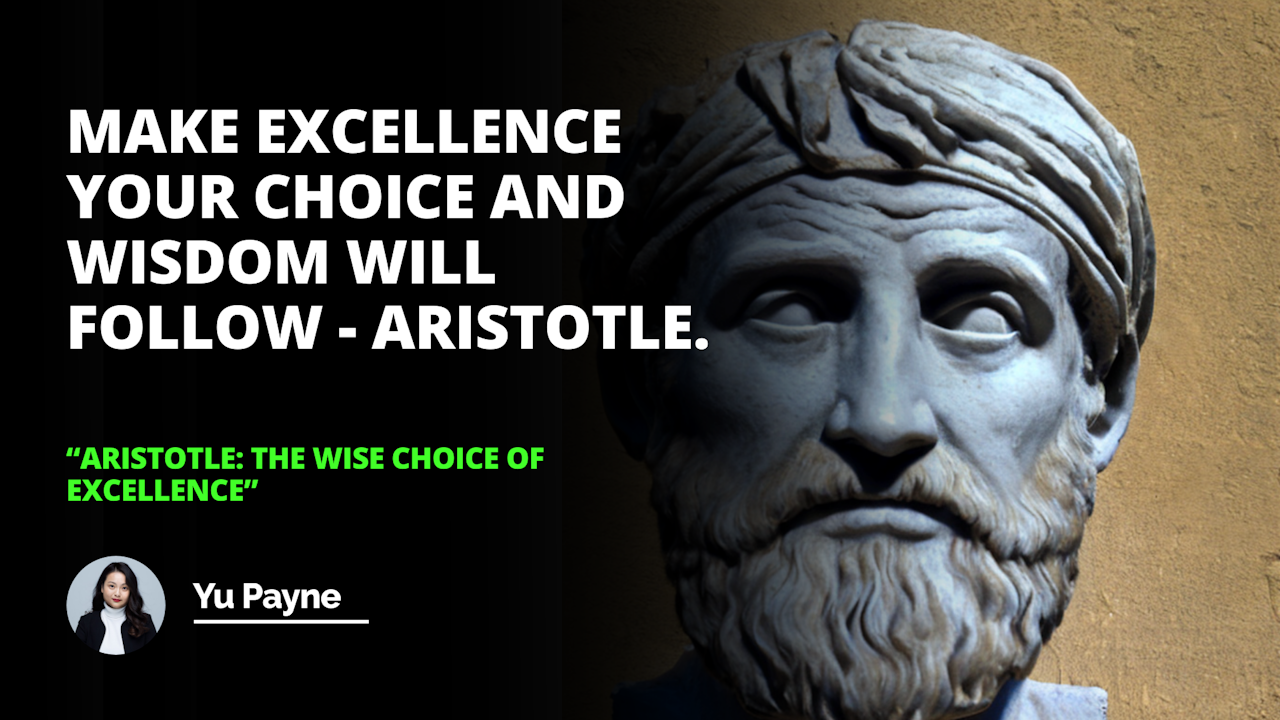 | Aristotle's Concepts | Description | Practical Application |
| --- | --- | --- |
| Great Organon | Aristotle's works on logic and one of the foundational texts of science, medicine, and philosophy. | The principles developed in these works continue to underpins much of western thought. |
| Golden Mean | Aristotle's essential philosophy of pursuing balance and moderation. | Influences personal development, helps in decision-making process. |
| Ideal City-State | Aristotle's concept of the perfect society, focusing on beneficial governance. | Provides model for exploring political systems and their goals. |
| Excellence | Way of living, thinking, and acting with ambition, insight, and a desire to excel. This was obtained through developing and utilizing virtues. | It can be applied in developing individual ethics and professional performance. |
| Virtues | Attributes Aristotle believed to be necessary for excellence: justice, courage, temperance, and wisdom. | Used as a guideline to cultivate good character and behavior in individuals and societies. |
| Training in Excellence | Sustained effort in practicing virtues to achieve excellence. | A strategy for personal and professional development. |
| Leadership Attributes | Leaders must have courage, justice, temperance, and wisdom. | Can guide leadership development and management strategies. |
| Excellence in Relationships | Being open-minded, trustworthy, and kind is essential to build lasting, beneficial relationships. | A basis for personal relationships and HR policies. |
| Education | Learning, practice, and habituation are critical in cultivating virtues, achieving excellence. | This concept provides foundational principles for educational approaches. |
| Ethics | Excellence is at the heart of ethical action, which requires the cultivation of virtues. | Used as foundation for studies and practices in ethics. |
The monk, scientist, and philosopher Aristotle is one of the most recognized and renowned figures in the world of western thought. His Great Organon, the group of works on logic, is one of the foundational texts of science, medicine, and philosophy. In addition, he is respected for his knowledge of various subjects, including psychology, biology, history, and political science.
He sought to understand the world around him and make sense of it using logically reasoned arguments and careful observations. His influence is still felt in our education and political systems.
Aristotle's philosophy seeks to make sense of the world using logic and careful observation. He advocated the golden mean, which encourages individuals to pursue balance and moderation in all pursuits. AAs a result, ristotle had a powerful influence on the development of education and political theory.
He believed that the purpose of politics was to support the common good of society, and he proposed the concept of the ideal city-state as a model for good governance. Aristotle wrote extensively on the need for moral virtue and developed the practical application of excellence in leading and interacting with others.
Understanding the Concepts of Excellence
What is excellence? It's a way of living, thinking, and acting with ambition, insight, and a desire to excel in all areas of life. Merit can be considered aligning your values, beliefs, and goals toward a high level of accomplishment. Aristotle described excellence as obtained through developing and utilizing the virtues of character.
In his Nicomachean Ethics, he argues that excellence is achieved through training and developing the natural qualities and habits of excellence. He believed that distinction should be practiced constantly and that a sustained effort could only achieve excellence.
Aristotle's Notion of Excellence
For Aristotle, excellence was about a process of renewal and refinement. He saw it as anything that requires the expenditure of a higher level of effort or practice. He argued that we should strive to excel in all areas of life, from morality and behavior to learning and friendships. Aristotle believed that to achieve excellence; one must actively cultivate the virtues of justice, courage, temperance, and wisdom in all areas of life. He argued that these virtues could be obtained through learning, practice, and habituation.
Practical Applications of Aristotle's Ideal of Excellence
Aristotle's teachings on excellence can be applied in various practical ways. In terms of leadership, he argued that good leadership requires a leader to be a person of courage, justice, temperance, and wisdom. A leader must be willing to listen to the opinions of others and lead by example to create a working environment of excellence. Aristotle also believed that relationships should be cultivated with care and effort. He argued that excellence in relationships requires being open-minded, trustworthy, and kind.
Related Course: Leadership Course
Conclusion
Aristotle's influence on our understanding of excellence is undeniable. He argued that true excellence is obtained through actively pursuing the four virtues of justice, courage, temperance, and wisdom. In addition, he saw excellence as a process of renewal and refinement requiring sustained effort and practice. His teachings on excellence can be applied in various practical ways, from developing relationships to pursuing excellence in leadership. Today, Aristotle's insights are still influential and relevant. They remind us that excellence must be actively sought and cultivated in all areas of life.
Make excellence your choice, and wisdom will follow Aristotle

Aristotle
Monk
Scientist
Philosopher
Great Organon
Logic
Psychology
Biology
History
Political Science
Golden Mean
Education
Political Theory
Common Good
Ideal City State
Moral Virtue
Excellence
Leadership
Justice
Courage
Temperance
Wisdom
Renewal
Refinement
Relationships
Open-Minded
Trustworthy
Kind.
Yu Payne
Blogger
Yu Payne is an American professional who believes in personal growth. After studying The Art & Science of Transformational from Erickson College, she continuously seeks out new trainings to improve herself. She has been producing content for the IIENSTITU Blog since 2021. Her work has been featured on various platforms, including but not limited to: ThriveGlobal, TinyBuddha, and Addicted2Success. Yu aspires to help others reach their full potential and live their best lives.
Related Posts
Our team of experts is passionate about providing accurate and helpful information, and we're always updating our blog with new articles and videos. So if you're looking for reliable advice and informative content, be sure to check out our blog today.