Logistic Management
Achieving Quick Response: Enhance Decision-Making with Tech
26 February 2023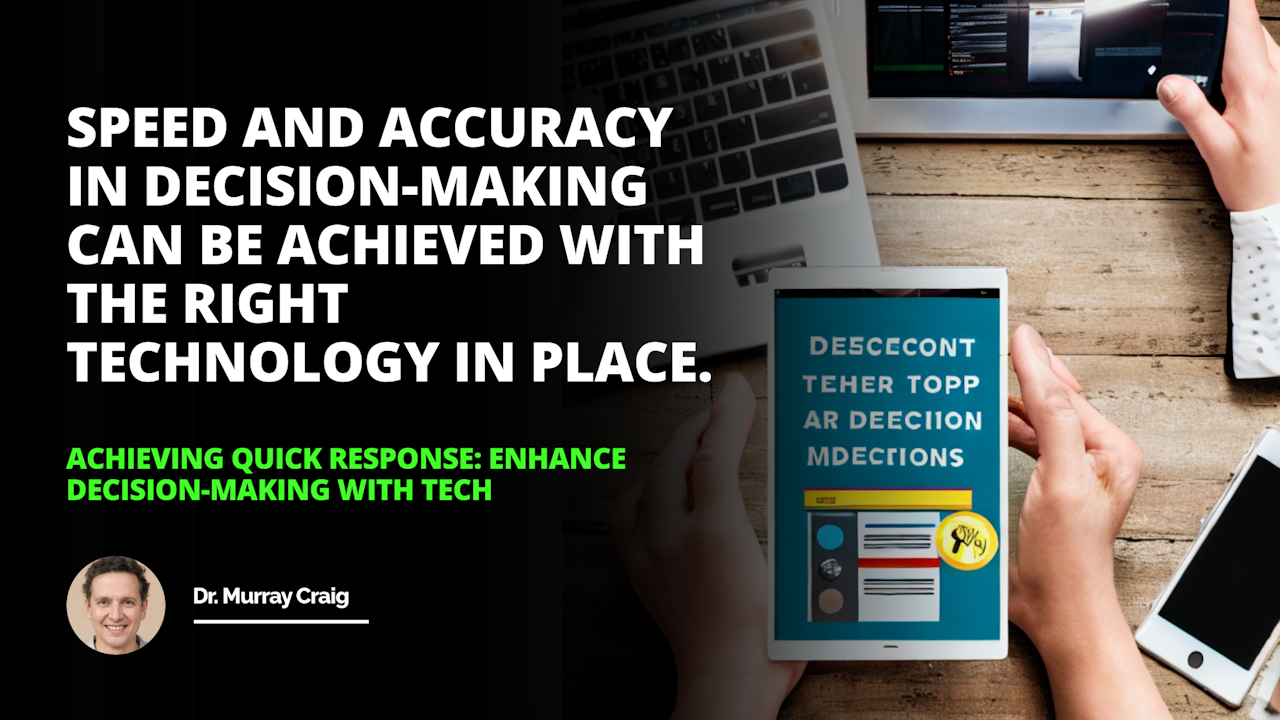 | Key Aspect | Explanation | Importance/Impact |
| --- | --- | --- |
| Tech Role in Decision Making | Modern technologies allow companies to quicken decision-making processes through rapid data analysis | Faster decision-making drives greater efficiency and competitiveness |
| Quick Response | It's a strategy to respond quickly to changes utilizing technology to make effective decisions | Ensures business agility by adapting to internal or external changes fast and accurately |
| Need for Quick Response | Rapid decision-making is required due to increased global competition and shorter disruption cycles | Allows companies to stay ahead of competitors and respond quickly to market changes |
| Benefits of Quick Response | Prompt decisions enhance flexibility, customer satisfaction, revenue, and operational efficiency | Directly impacts bottom line and facilitates swift adaptation to fluctuating market conditions |
| Increased Efficiency | Quick response allows for faster data analysis and informed decision-making | Results in improved operations, increased productivity, and rapid responses |
| Cloud Computing | Secure, scalable data platform accessible globally in real time | Enables real-time decision-making and secure data storage |
| Automation | Assists in real-time data analysis and decision-making without manual intervention | Streamlines decision-making processes and improves accuracy |
| Artificial Intelligence | Trained to analyze data, identify patterns, and make swift decisions | Provides deeper insights into operations and improves decision-making speed |
| Implementing Quick Response | Involves assessment of current tech infrastructure, addressing gaps, and successful tech integration | Requires expertise and resources but results in a significant increase in decision-making speed and efficiency |
| Challenges in Quick Response Implementation | Potential obstacles include lack of resources, technical issues, or complex data integration processes | Mandates expertise and resources to overcome challenges and ensure successful implementation |
Overview of Technology's Role in Decisionmaking

Reasoning Behind the Need for Quick Response

Different Technology Solutions

Implementing Quick Response

Benefits of Quick Response Achieved with Technology
The ever-tightening competition in the business world has forced companies to think fast and act quickly to make decisions that will ensure success and longevity in their respective markets. To achieve quick responses in the decision-making process, companies have turned to the latest technologies to enhance their performance and see results quickly. This blog post will discuss the importance of making efficient decisions, the different technology solutions that enable quick response, and how to implement them.
Overview of Technology's Role in Decisionmaking
Technology has become a critical part of modern business, driving organizations towards greater efficiency and faster turnaround times. This includes decision-making, as newer technologies allow companies to consider different scenarios quickly, ascertain the best possible way forward, and act immediately. This is known as "quick response" and is increasingly sought out by businesses of all sizes to maximize their performance and remain competitive in their markets.
Definition of "Quick Response"
Quick response is responding to external and internal changes quickly without sacrificing accuracy. By utilizing technology to gather and analyze data, companies can make effective decisions faster than ever. The quick response thus enables businesses to stay ahead of their competitors by having the ability to make decisions in shorter timeframes.
Reasoning Behind the Need for Quick Response
The ability to make decisions quickly and precisely is becoming increasingly important in today's globalized world, where the competition is fiercer and the cycles of disruption are shorter. As a result, companies need to be able to respond to external signals and make decisions on the fly to stay ahead of their competitors and remain competitive. This is especially important for businesses that operate in fast-paced markets and need to come up with creative solutions to maintain their success.
Benefits in Business: When it comes to decision-making, quick response allows organizations to be more flexible and responsive and make decisions more rapidly. This can improve customer satisfaction, increase revenue, higher efficiency, and a healthier bottom line. Furthermore, quick response enables companies to respond faster to changing market conditions, allowing them to pivot quickly and stay ahead of the competition.

Increased Efficiency: Quick response also helps organizations become more efficient in decision-making. By utilizing the latest technologies, companies can analyze large amounts of data quickly and accurately, enabling them to make informed decisions faster. This leads to better decisions being made in a shorter timeframe, resulting in improved operations, increased productivity, and faster responses.
Different Technology Solutions
Several technological solutions are available to organizations seeking quick responses in their decision-making process. These include:
Cloud Computing: Cloud computing is a solution that allows companies to access and store data on a secure and scalable platform, making it accessible from any location. This enables organizations to access and analyze data in real time from anywhere worldwide, allowing them to make decisions quickly. Cloud computing also offers the advantage of securely storing data, which can be accessed from any location with an internet connection.

Automation: Automation is a technology solution enabling companies to automate decision-making. Businesses can analyze data in real-time using machine learning algorithms and make decisions accordingly. Automation also helps streamline decision-making, as decisions can be made quickly without manual intervention.

Artificial Intelligence: Artificial intelligence (AI) can also enhance decision-making. AI systems can be trained to analyze data, identify patterns, and make decisions accordingly. AI systems can also give businesses better insights into their operations, helping them make decisions in a shorter timeframe.
Implementing Quick Response
Once a company has decided to use technology to achieve quick response, there are several steps it must take to ensure success:
The company must assess its current technology infrastructure, identify gaps, and determine how best to integrate the various technology solutions that it needs. The company must also ensure that it has the necessary skills and resources to integrate, implement, and maintain the multiple technologies it needs.
There can be obstacles to implementing quick response, such as a lack of resources, technical issues, or complicated data integration processes. Therefore, companies must ensure that they have the expertise and resources to overcome these challenges and that the necessary processes and procedures are in place.
Benefits of Quick Response Achieved with Technology
A quick response can benefit businesses in many ways, allowing them to respond to market signals quickly, improve customer satisfaction, and increase efficiency. In addition, by leveraging the latest technologies, companies can enhance their decision-making process and see results quickly.
Looking Ahead to Future Implementations
With the continual evolution of technology, companies need to continually assess their current decision-making processes and explore new ways of improving efficiency. Organizations must also monitor emerging technology solutions that enable quick responses and remain ahead of the competition in their respective markets.
Quick response is becoming increasingly important in today's business world. As a result, companies looking to remain competitive must explore various technologies to enhance their decision-making processes. By leveraging different technology solutions, companies can respond quickly, improve efficiency, and see results quickly.
Conclusion: In today's business world, companies must be able to react quickly and make decisions on the fly. Technology can be used to achieve quick responses, enabling them to make decisions in a shorter timeframe. This can lead to increased efficiency, customer satisfaction, and revenue.
Speed and accuracy in decision-making can be achieved with the right technology in place.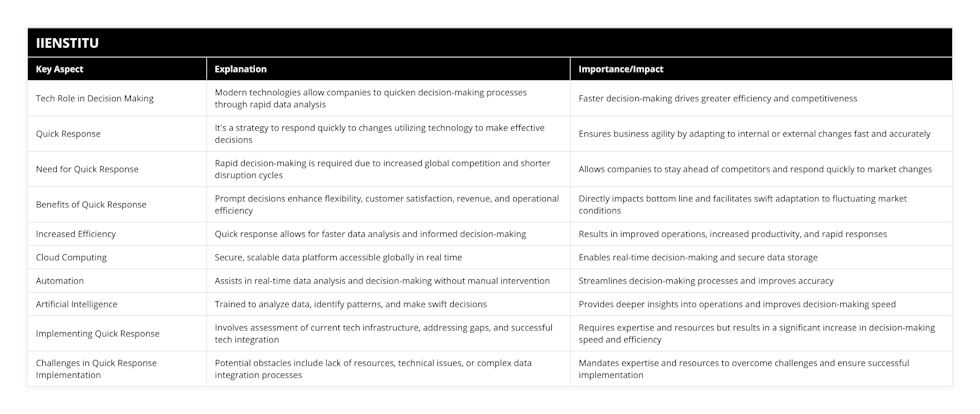 quick response
decision-making
technology
cloud computing
automation
artificial intelligence
integration
overcoming challenges
customer satisfaction
increased efficiency
faster responses
real-time
machine learning algorithms
improve operations
increased productivity
secure storage
scalability
internet connection
technical issues
data integration processes
market signals
competitive markets

Dr. Murray Craig
Academic
Dr. Murray Craig is an academic and researcher who has dedicated his life to the study of human behavior. He has a particular interest in how people interact with their environment, and how that interaction can be used to improve their lives. Dr. Craig has spent many years teaching and conducting research at universities all over the world, and he is widely respected for his work in the field of behavioral science.
Related Posts
Our team of experts is passionate about providing accurate and helpful information, and we're always updating our blog with new articles and videos. So if you're looking for reliable advice and informative content, be sure to check out our blog today.