Logistic Management
Achieving 97% Delivery Consistency: A Key Performance Indicator
27 February 2023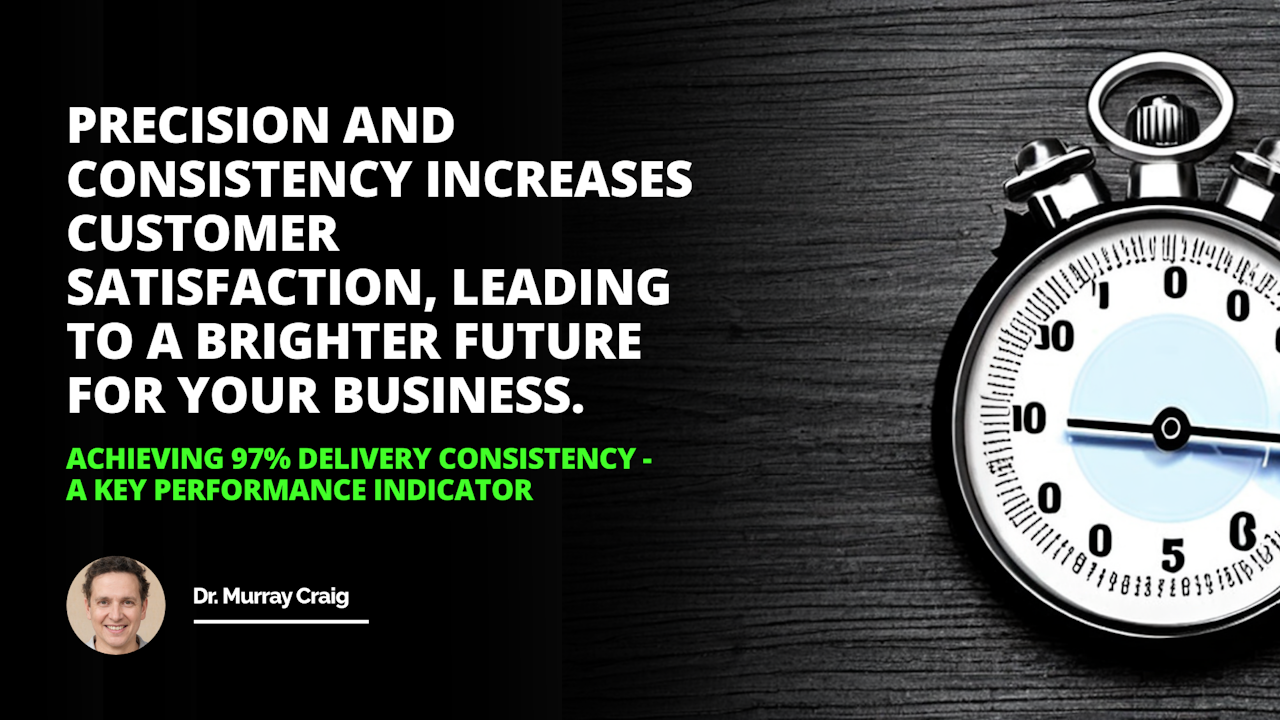 | Key Component | Explanation | Impact on Business |
| --- | --- | --- |
| Delivery Consistency | A measure of a business's ability to manage customer orders promptly and accurately. | Crucial for customer satisfaction and gaining repeat business. |
| 97% Delivery Consistency | The current industry standard for delivery consistency, providing customers with a seamless experience. | Sets the company apart and allows for securing new and repeated customers. |
| Strategic Planning | Mapping out and documenting business processes that affect delivery performance. | Essential for achieving high delivery consistency. |
| Inventory and Warehouse Management | The management of goods in a business's possession or storage area. | Impacts the efficiency and timeliness of delivery. |
| Benefits of High Delivery Consistency | Improved customer satisfaction, increased brand loyalty, competitive advantage. | Can lead to higher profit margins and a competitive edge over rivals. |
| Challenges to High Delivery Consistency | Weather conditions, miscalculations of distances, changes in labor laws, and customer demands during peak seasons. | Can negatively impact delivery performance and consistency. |
| Increasing Customer Loyalty | Achieving high delivery consistency can increase customer loyalty. | Leads to repeated business and could potentially increase profits. |
| Lower Costs | Efficiency gained from improved delivery accuracy can reduce service prices. | Can contribute to higher profit margins. |
| Improving Efficiency | Processes and systems optimized to support high delivery consistency increase overall efficiency. | Can lead to cost savings and improved performance. |
| Logistics Management | Processes involved in efficiently moving goods from one place to another. | Impacts delivery timeliness and efficiency, crucial for reaching high delivery consistency. |
Overview of Policies and Practices Needed to Reach 97% Delivery Consistency

Benefits of Achieving 97% Delivery Consistency

Challenges to 97% Delivery Consistency
Delivery consistency is a key performance indicator that can significantly impact a business's success. It represents a measure of a business's ability to track, assess and respond to customer orders promptly and accurately. Delivery consistency is vital for companies, especially those operating in e-commerce and fulfillment. 97% delivery consistency is currently regarded as the industry standard. It aims to provide customers with a seamless, pleasant experience with the company, setting it apart and increasing the chances of securing new and repeat business.
Overview of Policies and Practices Needed to Reach 97% Delivery Consistency
Achieving 97% delivery consistency begins with comprehensive strategic planning. Every new business process affecting delivery performance must be mapped out and documented. It also requires robust inventory and warehouse management systems and state-of-the-art logistic and navigation platforms for timely and efficient delivery.
Benefits of Achieving 97% Delivery Consistency
The benefits of achieving 97% delivery consistency are numerous:
It improves customer satisfaction. Companies can realize higher profit margins by offering competitive service prices due to the efficiency gained through delivery accuracy.

Improved delivery consistency can increase brand loyalty, building customer and company trust.

Due to the industry's highly competitive nature, increased delivery accuracy can give companies a competitive edge, giving them an advantage over their rivals.
Challenges to 97% Delivery Consistency
However, specific challenges must be overcome to maintain 97% delivery consistency. For example, the weather is an unpredictable variable that can impact delivery performance, as can an incorrect calculation of the distance to the delivery destination or changes in regulations regarding the policing of labor laws. In addition, additional special considerations must be considered on holidays and peak seasons, as customers demand a higher degree of performance.
In conclusion, delivery consistency is one of the most critical KPIs in business. 97% delivery consistency is currently the industry standard, providing the customers with a smooth experience, the company with a competitive advantage, and the ability to secure new customers and retain existing ones. Strategic planning, inventory management, and efficient warehouse and logistics management are essential to achieve 97% delivery consistency. It is also important to consider weather conditions, labor regulations, and holidays to ensure delivery accuracy. Achieving 97% delivery consistency can increase customer loyalty, lower costs, and improve efficiency, ultimately benefiting the business.
Related Course: Logistics Management Courses
Precision and consistency increase customer satisfaction leading to a brighter future for your business.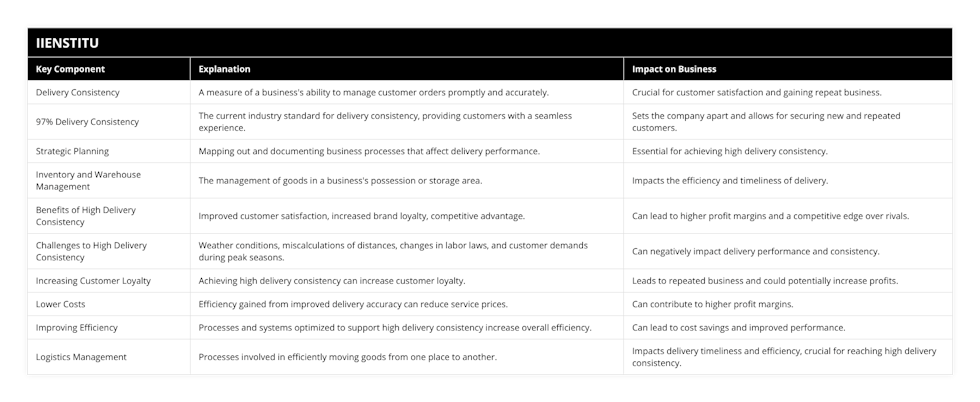 Delivery consistency
KPIs
e-commerce
fulfilment
strategic planning
inventory management
warehouse management
logistics management
customer satisfaction
profit margins
competitive prices
brand loyalty
trust
competitive edge
weather
distance
regulations
policing
labour laws
holidays
peak seasons
customer demands
efficiency
benefit.

Dr. Murray Craig
Academic
Dr. Murray Craig is an academic and researcher who has dedicated his life to the study of human behavior. He has a particular interest in how people interact with their environment, and how that interaction can be used to improve their lives. Dr. Craig has spent many years teaching and conducting research at universities all over the world, and he is widely respected for his work in the field of behavioral science.
Related Posts
Our team of experts is passionate about providing accurate and helpful information, and we're always updating our blog with new articles and videos. So if you're looking for reliable advice and informative content, be sure to check out our blog today.