Problem Solving
A Human-Centered Design: Approach Design Thinking
07 March 2023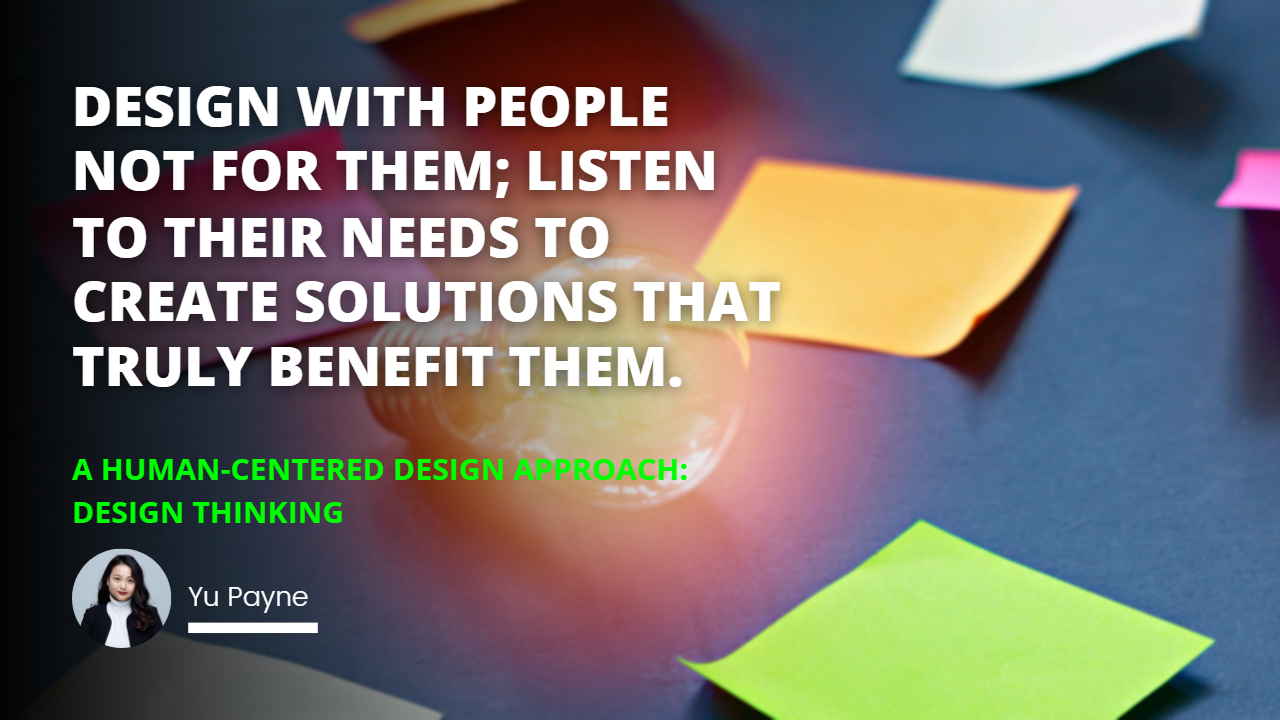 | Aspect | Key Points | Additional Information |
| --- | --- | --- |
| Human-Centered Design (HCD) | Approach focusing on understanding and addressing users' needs. | HCD is used for creating user-friendly, engaging, and usable products. |
| Benefits of HCD | Prioritizes people's needs at all stages of the design process, increases user engagement, improves user experience. | Focus on users leads to designs that are aesthetically pleasing and intuitive to interact with. |
| Design Thinking | Tool used within HCD framework encouraging creative problem-solving and innovative strategies. | Consists of five steps: empathize, define, ideate, prototype, and test. |
| Design Thinking Steps | Understand the user, articulate the problem, brainstorm solutions, build a prototype, test and refine based on user feedback. | Regular iteration and feedback are important to ensure user needs are being met. |
| Best Practices | Identify the problem, involve the user, balance creativity & structure. | Defining the problem & user needs should precede solution generation. User involvement helps meet actual needs. |
| Problem Identification | Define problem before attempting to solve it. | A clear understanding of the problem ensures an effective solution. |
| User Involvement | Involve users throughout the design process. | This ensures product design and features accurately reflect user needs and preferences. |
| Balance Creativity and Structure | Ensure a balance between creativity in brainstorming and structure to stay within the project's scope and budget. | A structured approach keeps the project on track while creativity allows for innovative solutions. |
| Iterative Process | Design is an iterative process and should be refined based on user feedback. | Regular feedback from users helps to refine the product and enhance user experience. |
| Key Philosophy | Design with people, not for them. | Listening to user needs and involving them in the process leads to solutions that truly benefit them. |
Benefits of Human-Centered Design

Design Thinking Framework

Best Practices
Humans have been designing tools and artifacts for centuries. Still, most of these were created without considering how the user would interact with or be impacted by design. Human-centered design (HCD) is a product development approach focusing on understanding and addressing users' needs. Design thinking is a specific tool used within the HCD framework that encourages creative problem-solving and innovative strategies. HCD and design thinking help product design teams create more user-friendly, engaging, and usable products.
Benefits of Human-Centered Design
Human-centered design and design thinking prioritize people's needs at every stage of the design process. This creates a more comprehensive solution that better responds to the user's needs. HCD also aims to increase users' engagement with the product by creating designs that are aesthetically pleasing and intuitive to interact with. Finally, the focus on creating user-friendly designs results in an improved user experience. Users are more likely to use the product if it is easy to navigate and interact with.
Design Thinking Framework
The design thinking framework consists of five steps: empathize, define, ideate, prototype, and test. In the empathize step, the team's first attempt is to understand the user, their needs, and the environment they use the product in. The define step then helps the team articulate the problem and the core issues that must be addressed. The ideate step allows the team to generate possible solutions by brainstorming and assembling ideas into possible prototypes. The prototype step gives the team a tangible representation of the product they are trying to create. Finally, in the test step, the team evaluates the development and refines it based on user feedback.
Best Practices
When utilizing the human-centered design approach and design thinking framework, it is essential to identify the problem before attempting to solve it. The goal should not be to generate an innovative solution but define the user's needs and create a solution tailored to their preferences and context. It is also essential to involve the user throughout the entire design process, from Ideation to collecting feedback. This ensures that the product's design and features reflect the user's needs and that any changes to the plan are user-approved. Finally, it is essential to strike a balance between creativity and structure. Allowing team members to brainstorm and explore different possibilities for the design is encouraged. Still, it is necessary also to have a structured approach to ensure the project remains on track and within budget.
Conclusion: When used correctly, human-centered design and design thinking can improve product design in various ways. Product design teams can create more user-friendly, engaging, and usable products by understanding the user's needs at every stage and involving them in the design process. Utilizing the design thinking framework can help teams brainstorm, prototype, and test their ideas in a logical and structured way. Finally, best practices suggest couples identify the problem before attempting to solve it, involve the user throughout the design process, and balance creativity and structure. These elements work together to create successful products that meet users' needs.
Design with people, not for them to listen to their needs to create solutions that benefit them.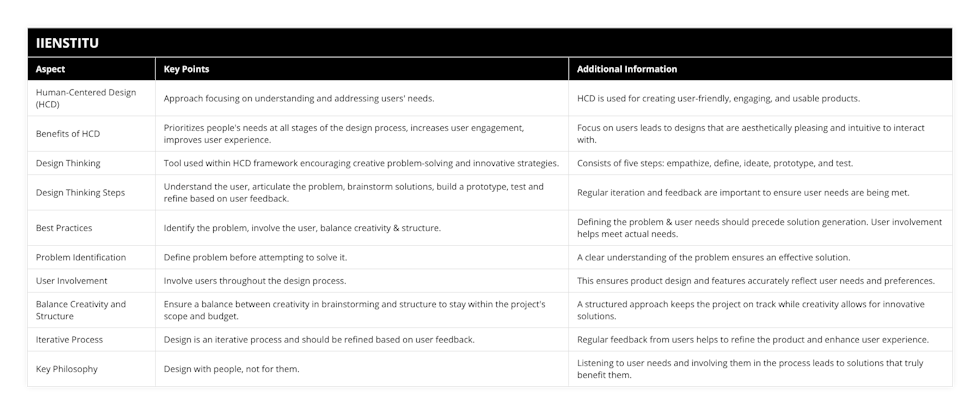 Human-centered design
design thinking
empathize
define
ideate
prototype
test
user-friendly
engaging
usable
user's needs
creative problem-solving
innovative strategies
aesthetically pleasing
intuitive
user experience
brainstorming
user feedback
identify problem
balance creativity
structure
Yu Payne
Blogger
Yu Payne is an American professional who believes in personal growth. After studying The Art & Science of Transformational from Erickson College, she continuously seeks out new trainings to improve herself. She has been producing content for the IIENSTITU Blog since 2021. Her work has been featured on various platforms, including but not limited to: ThriveGlobal, TinyBuddha, and Addicted2Success. Yu aspires to help others reach their full potential and live their best lives.
Related Posts
Our team of experts is passionate about providing accurate and helpful information, and we're always updating our blog with new articles and videos. So if you're looking for reliable advice and informative content, be sure to check out our blog today.