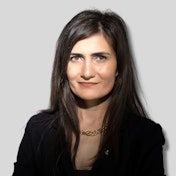 Münevver Birol
Instructor
As a Training Officer, she gives on-the-job training, call management and other vocational training to the personnel who have just started the call center. She worked in one of Turkey's leading cargo companies and established a quality unit in this company. It continues to provide sales training, quality and coaching support to agencies providing boutique call center services.
She entered her first business life with an internship at Garanti Bank in 2005-2006. Later on, she started to work as a contracted officer in Üsküdar District Directorate of National Education in 2007. She moved to the tourism sector, which she believed would be more active and contribute to the development of general culture. While studying Tourism and Travel Services, she started as a sales representative in a travel agency in 2008 and became an office official in a short time after her graduation. In 2011, she worked in the call center of one of Turkey's leading tourism companies. She worked there as a customer representative, office chief, team leader, and as of 2015, as a training and quality officer, respectively. In order to advance in the field of education, she attended many trainings and worked with expert trainers.
In July 2019, she worked in an outsourced call center company, again in one of Turkey's leading cargo companies, and established a training and quality unit in this company. She continued to provide call center, system, communication and personal development trainings to newly recruited personnel.
Currently, she is actively working as a Content Development and Education Specialist at IIENSTITU, developing educational content, and publishing on professional fields that will raise awareness for all students with Institute trainers and external business experts. She continues to provide trainings on consultancy, sales training, quality and coaching support to companies that provide call center services in certain periods, correspondence techniques to corporate companies, feedback in business life, personal development and communication techniques.
Education and Certificates Received
Effective Telephone Sales Techniques - UNIQ

Team and Sales Coaching- UNIQ

Effective Feedback - Utegro

Effective Communication & Body Language – Cem İlkir

Diction Education – Cem EĞİRIR

Effective Coaching Skills - Call Center Masters

Persuasion and Communication Techniques - Call Center Masters

Tele-Sales Techniques - Call Center Masters

Life Coaching - IIENSTITU

Effective Communication Strategies and Body Language - IIENSTITU

Training of the Trainer - IIENSTITU

Effective Presentation Techniques – IIENSTITU

Seo Education – IIENSTITU

Blogging – IIENSTITU

Trainings Given to Outsource Call Centers on behalf of the Company

Webhelp – Customer Relations and Telephone Communication

CMC – Backoffice and Communication

Practicall – Telephone Communication / Sales Techniques

Practicall – Tourism Education

Job Access Client service – Customer Relations and Telephone Communication

Vodatech - Tourism Education and Telephone Communication

Holiday Screen – Tourism Education and Telephone Communication

Holiday Screen – Sales Techniques and Correspondence Techniques

Full Tour – Telephone Communication and Customer Correspondence Techniques
Seminar
E-Commerce Call Center - Alotech