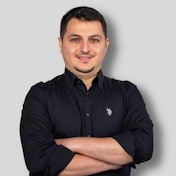 Levent Kantaroğlu
Instructor
He graduated in 2009 as a Computer Engineer. In addition to his work in the maritime sector, he developed many software/web projects. Considering that mobile is the near future in technology since 2018; started to continue its software development activities with Flutter, the future of the mobile world.
 
He continues to actively develop projects on mobile application development and training activities, and currently works as a mobile team leader.
Computer skills
Programming Languages
Advanced - Dart, Flutter, Adobe Animate (Flash), Adobe Illustrator, Adobe Indesign

HTML5, JSON Adobe XD.

Intermediate - React, Php, XML, ActionScript

Basic - C, C++, Java, JavaScript, CSS, Swift5.
Database
Intermediate - SQL, Firebase.
Education & Training
Computer Engineering Bachelor Degree, Turkish Naval Academy, Istanbul.

Mobile Development and Graphic Design Courses

Software Development, Graphic Design, Personel Development Courses

Executive Staff Course

Teaching Technique and Prog. Development Course

Individual-Team-Organizational Leadership Courses

Swimming, Yacht and Sailing Certification
Experience
Dart and Flutter Courses.
Mobile application development as Flutter Developer

Software Developer

Graphic Designer
Languages
Turkish - Mother-tongue
English - Intermediate Conversationally
German Basic Basic - Words and phrases only
Korean Basic Basic - Words and phrases only