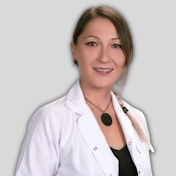 Gökçen Çokar Çoban, PhD
Clinical Psychologist
Gökçen Çokar Çoban works as an institutional psychologist in a special education and rehabilitation center and provides counseling support to children with special needs.
She has worked in this field for more than two years and provides volunteer support to UCIM. Gökçen Çokar Çoban, who graduated from Near East University Clinical Psychology and Family Counseling Master's Degree, interned at Antalya Training and Research Hospital during this period and had the opportunity to apply many tests and work on cases.
She received many training and certificates in Cognitive Behavioral Psychotherapy, objective and projective tests used in the evaluation of children, MMPI, filial therapy, play therapy, fairy tale therapy, Dehb applications, child and adult counseling skills, clinical interviewing, and mindfulness.
She is also a MOXO attention performance and WISC-R test practitioner. In addition to her work in special education and rehabilitation center, she gives many seminars in the field of psychology.
Education
2005 - Osman Gazi University - Computer

2015 - Anadolu University - Pedagogical Formation

2016 - Near East University - Psychological Counseling and Guidance

2018 - Near East University - Clinical Psychology Master's Degree with Thesis
Specialized Training and Certificate Programs
CBT Cognitive behavioral psychotherapy

Objective pediatric tests

Projective child tests

Neuropsychological tests

Image analysis

Filial therapy

Reversing habits such as nail biting, tics, hair plucking

Biruni University - Family Counseling
Awards and Degrees
2016 - 2019 - Near East University - Honorary Certificate
Work Experience
2005 - 30 August I.O.O Computer Teacher

2014 - 2019 - Azize Kahraman Public Education Center

2019 - Antalya Training and Research Hospital - Clinical Internship

2019 - Corporate Psychologist

2019 - still - Expert Clinical Psychologist and Trainer