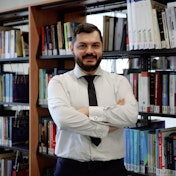 Dr. Mesut Öztırak
Instructor
Dr. Mesut Öztırak, who is the director of a career development center at a foundation university, teaches Organizational Behavior, Human Resources Management, Management and Organization, Introduction to Business Science, Entrepreneurship, Career Planning at associate and undergraduate levels at the same university. Öztırak teaches Corporate Life and Communication Management, Protocol and Social Code of Conduct, Personal Brand Management, World Cultures and Destinations at Istanbul Business Institute.
He has Rectorate approved Education Coaching, Student Coaching, Life Coaching and NLP certificates. Öztırak started his professional career as an Education Specialist at Istanbul Aydın University Continuing Education Center, and then worked as a Training Manager at Istanbul Bilgi University Executive Development Center. She took an active role in Training Needs Analysis, Training Design, Planning and Organization. She has carried out projects especially for companies in the fields of Training of Trainers, Mentoring, Leadership and Management, Understanding Change and Change Management. Some of the companies that carried out the project; Türk Telekom Leaders School, Türk Telekom Assist Group, Perfetti Van Melle Executive Development Program, Koton, TEB, Samsung Marketing School, Arvato Leadership Development Program.
Mesut Öztırak holds a Bachelor of Business Administration from Eskişehir Anadolu University, a master's degree in Human Resources Management from Istanbul Aydın University and a PhD in Business Administration from Istanbul Aydın University. He continues his career by giving trainings and consultancy in order to share and increase the knowledge of the business world for more than ten years.
Academic Publications
Articles
Examination of University Students' Expectations from Business Life in terms of Demographic Characteristics (2021)

The Mediating Role of Self-Leadership in the Effect of University Students' Career Optimism on Job Hope (2021)

The Impact of Industry 4.0 on Employment: A Study on the Civil Aviation Sector (2020)

A Qualitative Study on the Importance of Talent Management in Human Resources Management (2020)

Impact of Sustainable Air Transport on Creative Tourism (2020)

International Marketing and Innovation in the Aviation Industry (2020)

Workaholism and Entrepreneurial Personality Traits: A Study on Trainers (2019)

Reflections of Post-Modernism on Airport Management and Activities(2019)
Books
KNOWLEDGE MANAGEMENT IN FAMILY BUSINESSES Department Name: Approaches of Founding Generations to Digital Transformation in Family Businesses 2021)

MANAGEMENT AND ECONOMY IN THE NEW WORLD ORDER AFTER COVID 19 Name of the Department: Covid-19 and Virtual Organizations (2020)