Time Management
Time Management Skills In Events
26 August 2022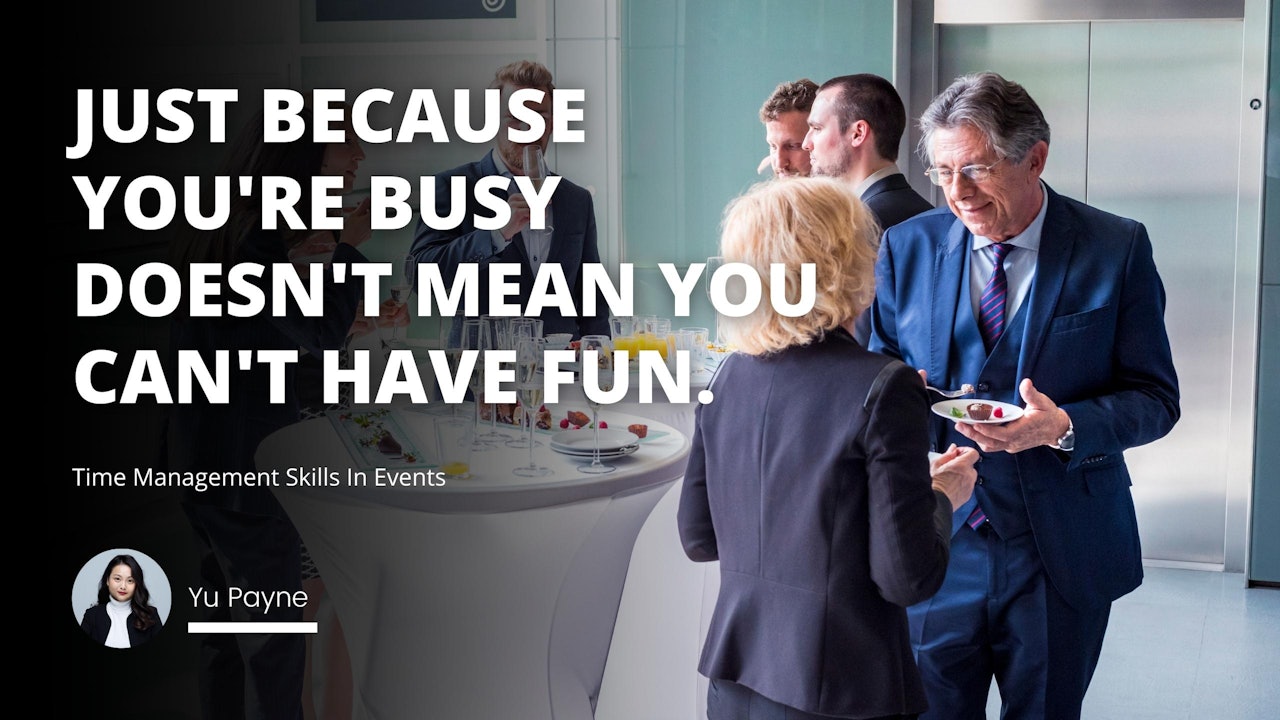 If you've been tasked with organizing an event, you might feel a little overwhelmed now. Where do you even start? And how will you keep everything on track without going insane in the process?
Never fear! With some time management know-how, you can quickly get everything done. The first step is to list all the tasks that need to be completed.
Then, prioritize them by importance and start checking items off. It's also wise to delegate some of the work to other people - after all, there's no need for you to shoulder all the responsibility yourself. Finally, be sure to allow yourself some wiggle room in your schedule in case any unforeseen problems arise. By following these simple tips, you'll be able to organize any event successfully - no matter how big or small.
Now that you know the basics of event management, it's time to start planning your event! Use these tips to make sure everything goes off without a hitch.
What are time management skills?
There's no denying it: Time management skills are essential. If you want to be successful in life, you need to be able to use your time wisely. That means being able to plan, set priorities and deadlines, and stick to a schedule. It also involves knowing how to delegate tasks and manage your time to get the most important things done.
Some people are naturally gifted when it comes to time management. They always seem to know exactly what needs to be done and when. For the rest of us, however, time management skills are something that we have to learn.
Luckily, plenty of resources are out there to help us better manage our time. So if you're feeling a bit lost in time management, don't worry - help is on the way!
In which activities are time management more important?
There are specific activities where time management skills are critical. For example, if you're working on a project with a tight deadline, you need to plan ahead and work efficiently to get it done on time. Similarly, if you're organizing an event, you need to be able to juggle all the different tasks that need to be completed and make sure everything runs smoothly on the day of the event.
Good time management skills will likely benefit anything that requires coordination and planning. So if you're working on a project or task that seems a bit overwhelming, take a deep breath and focus on using your time wisely - it'll make all the difference!
Why are time management skills critical?
Time management skills are essential for several reasons:
They can help you get more done in less time. That means you'll have more free time to do the things you enjoy.

They can help reduce stress levels. When you're not constantly rushing to meet deadlines, you'll be able to relax and enjoy your life more.

Good time management skills can make you more productive and efficient, which is a valuable asset in any career.
Event Management Tips
You can use a few event-specific time management tips to make your event run more smoothly.
1 - Start Planning Early
Time management skills are essential in any industry, but they're crucial to the events industry. This is because event planning is all about dealing with deadlines. If you're not good at managing your time, it will be tough to plan successful events.
The earlier you start planning your event, the more time you'll have to deal with potential problems. This doesn't mean that you should start planning your event a year in advance, but it does mean that you should start planning as early as possible. By creating before, you'll be able to avoid last-minute stress and ensure that your event is successful.
2 - Make a List of Tasks
One of the most important things you can do when planning an event is to list all the tasks that need to be completed. This will help you stay organized and on track, and it will also ensure that you don't forget anything important. However, simply making a list is not enough. You also need to prioritize the items on the list by importance.
That way, you can focus on the most critical tasks first and avoid getting bogged down in the details. Time management skills are essential for this process. Without them, it won't be easy to promptly complete all the tasks on your list. Therefore, if you want to plan your event successfully, ensure you have a good handle on time management.
3 - Delegate Tasks
If you're the type who always tries to do everything yourself, hosting an event will be a real challenge. You'll have to learn to delegate tasks if you want things to run smoothly.
Identify which time-sensitive tasks need to be completed before the event and assign them to team members with the necessary time management skills. This will free up your time to focus on more important matters. Trust me, delegating tasks is a lot easier than doing everything yourself. And your team will appreciate having a role in the event's success.
4 - Allow for Wiggle Room
As any seasoned time management pro will tell you, things rarely go according to plan. Life has a funny way of throwing curveballs, and the best-laid plans often go awry. That's why allowing some wiggle room in your schedule is essential. By building in a buffer of time, you'll be less likely to find yourself scrambling to finish everything at the last minute.
And if things go off course, you'll have a little cushion to help you get back on track. So next time you're planning your day, week, or month, remember to leave yourself some wiggle room. It could make all the difference between smooth sailing and a stressful situation.
5 - Use Technology
To be a successful event planner, you need to master the art of time management. And one of the best ways to do that is to utilize technology. There are several excellent event management software platforms out there that can help you stay organized and on track.
From creating to-do lists and timelines to managing your finances and promoting your event, these tools will make your event planning process more efficient. So if you want to make your event planning business thrive, use technology to your advantage.
Time management software
1 - To-Do Lists
2 - Timelines
3 - Budgeting Tools
4 - Event Promotion Platforms
5 - Social Media Management Tools
Utilizing these time management tools allows you to efficiently plan and execute a successful event. So don't wait any longer; start using technology to your advantage today.
By following these simple tips, you'll be able to manage any event successfully - no matter how big or small. So get started on planning your event today and put your time management skills to good use!
Time management is critical for event planners, ensuring everything runs smoothly or dealing with unexpected delays. You can effectively manage your time and provide successful events using our outlined tips. And if you want to learn more about working your time, join our upcoming time management course.
event planning
event survey
manage your time
time effectively
start planning
event professionals
social media
effective time management
event venues
event planner
time management tips
reduces stress
busy event
event space
virtual events
don t forget
day to day
importance of time management
event management
promote your event
Yu Payne
Blogger
Yu Payne is an American professional who believes in personal growth. After studying The Art & Science of Transformational from Erickson College, she continuously seeks out new trainings to improve herself. She has been producing content for the IIENSTITU Blog since 2021. Her work has been featured on various platforms, including but not limited to: ThriveGlobal, TinyBuddha, and Addicted2Success. Yu aspires to help others reach their full potential and live their best lives.
Related Posts
Our team of experts is passionate about providing accurate and helpful information, and we're always updating our blog with new articles and videos. So if you're looking for reliable advice and informative content, be sure to check out our blog today.