Change Management
The Journey to S&OP Success: A Guide to Supply Chain Management
10 March 2023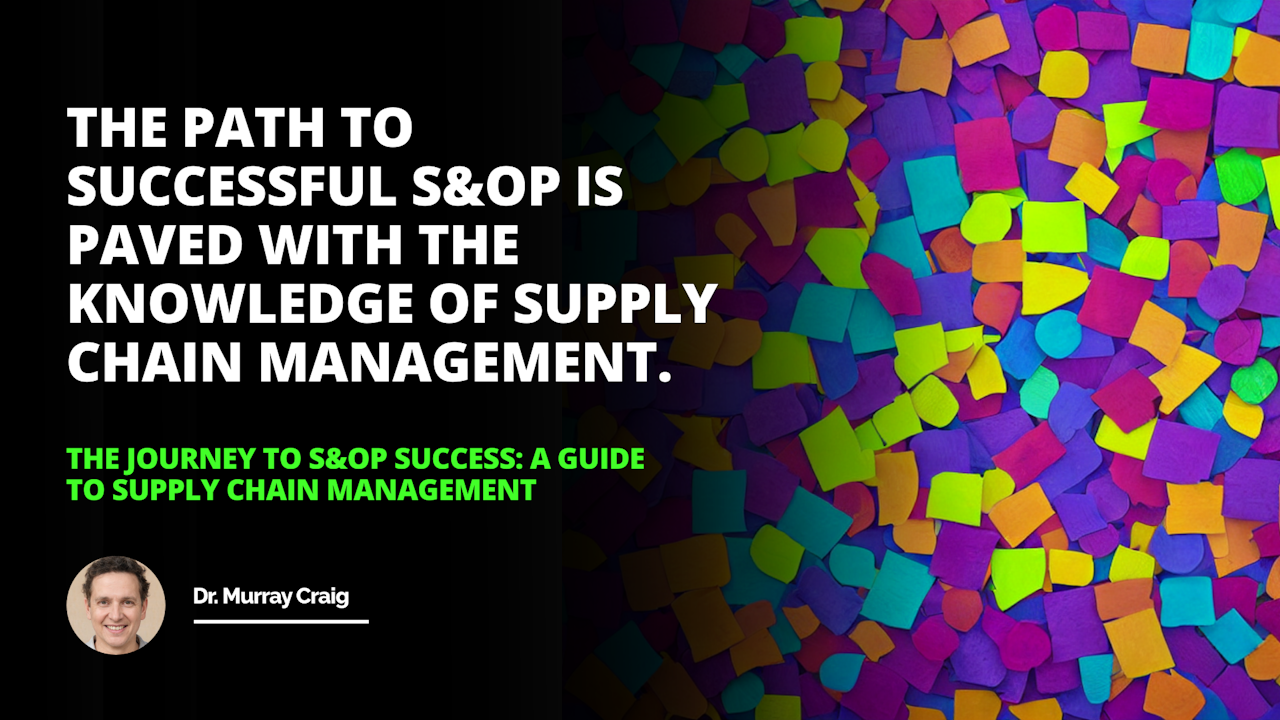 | Aspect of S&OP | Details | Impact in Supply Chain Management |
| --- | --- | --- |
| Integration | S&OP integrates different organizational departments such as sales, marketing, operations, and finance. | Creates a unified strategy that aligns the efforts of all stakeholders in the organization. |
| Resource Management | S&OP aids in efficient management of resources contributing to cost reduction and efficiency enhancement. | Improving production scheduling, inventory management, and resource allocation decisions. |
| Risk Reduction | S&OP helps in minimizing the risk of stockouts and improves customer service. | Efficient operations leading to better customer satisfaction and retention. |
| Challenges | Requires a clear understanding of supply chain, customer needs and have an integrated system for data assimilation. | Adding complexity to the integration of different systems to create an effective S&OP process. |
| Strategic Approach | The implementation of S&OP needs a strategic approach including stakeholder collaboration and setting up a feedback loop. | Ensuring a systematic approach to S&OP implementation. |
| Stakeholder Involvement | Involvement and consensus of all stakeholders are critical for a successful S&OP approach. | Promotes team coherence and common goal orientation. |
| Integration of Data Sources | S&OP requires the integration of different data sources and systems for effective usage. | Requires sophisticated data management tools, hence adding to technology costs. |
| Implementation Monitoring | Effective monitoring and evaluation of S&OP is essential. | Reinforces adherence to the S&OP guidelines and addresses deviations swiftly. |
| Feedback System | Feedback mechanism is important to ensure changes can be made as needed. | Allows for adjustments and improvements in the S&OP process. |
| Future Perspective | The future of S&OP in supply chain management looks promising. | Can significantly enhance the performance of supply chain management with the successful implementation of S&OP. |
Introduction to Sales and Operations Planning

Benefits of Implementing S&OP in Supply Chain Management

Challenges Faced in Implementing S&OP

Strategies for Achieving Successful S&OP Implementation

Conclusion: The Future of S&OP in Supply Chain Management
Sales and operations planning (S&OP) is a critical element of supply chain management that enables an organization to create a unified, cohesive strategy for managing short-term and long-term goals. S&OP integrates sales, marketing, operations, and finance efforts to ensure that all stakeholders work together to achieve the best possible outcomes for the business. As a result, s&OP is a critical process for organizations seeking to optimize their supply chain performance.
Benefits of Implementing S&OP in Supply Chain Management
S&OP enables organizations to optimize their supply chain performance by aligning the efforts of all stakeholders. By utilizing S&OP, organizations can increase efficiency and reduce costs by better managing their resources.
Additionally, S&OP can help organizations make better production scheduling, inventory management, and resource allocation decisions. Furthermore, S&OP can help organizations reduce the risk of stockouts and improve customer service.
Challenges Faced in Implementing S&OP
Implementing S&OP can be challenging for organizations. The process requires organizations to have a clear understanding of their supply chain, their customer needs, and their internal resources. Additionally, organizations must be able to integrate different data sources and systems to utilize S&OP effectively. Finally, organizations must create and maintain a unified S&OP process that all stakeholders can agree upon.
Strategies for Achieving Successful S&OP Implementation
Organizations seeking to implement S&OP successfully must take a strategic approach. This includes understanding the needs of all stakeholders, creating an integrated data system, and establishing a unified S&OP process. Additionally, organizations should ensure that all stakeholders are involved in the process and that their needs are considered. Organizations should also develop a feedback loop to ensure that the S&OP process is followed and that changes can be made as needed.
Finally, organizations should ensure their S&OP process is regularly monitored and evaluated.
Conclusion: The Future of S&OP in Supply Chain Management
S&OP is an essential element of supply chain management and can help organizations optimize their performance. Organizations must take a strategic approach to implement S&OP to ensure successful implementation. With the right strategies and tools, organizations can achieve successful S&OP implementation and take their supply chain performance to the next level.
The future of S&OP in supply chain management looks bright, and organizations can benefit from the advantages of successful S&OP implementation.
The path to successful SOP is paved with the knowledge of Supply Chain Management.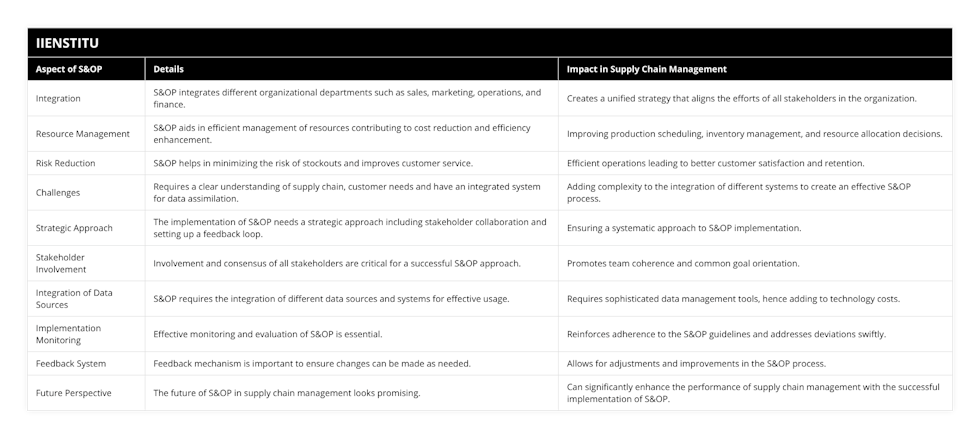 S&OP
Supply Chain Management
Sales
Marketing
Operations
Finance
Efficiency
Cost
Production Scheduling
Inventory Management
Resource Allocation
Stockouts
Customer Service
Clear Understanding
Data Sources
Systems
Unified Process
Stakeholders
Feedback Loop.

Dr. Murray Craig
Academic
Dr. Murray Craig is an academic and researcher who has dedicated his life to the study of human behavior. He has a particular interest in how people interact with their environment, and how that interaction can be used to improve their lives. Dr. Craig has spent many years teaching and conducting research at universities all over the world, and he is widely respected for his work in the field of behavioral science.
Related Posts
Our team of experts is passionate about providing accurate and helpful information, and we're always updating our blog with new articles and videos. So if you're looking for reliable advice and informative content, be sure to check out our blog today.