Problem Solving
Squeezing the Juice Out: Newton's Revolutionary Research
04 March 2023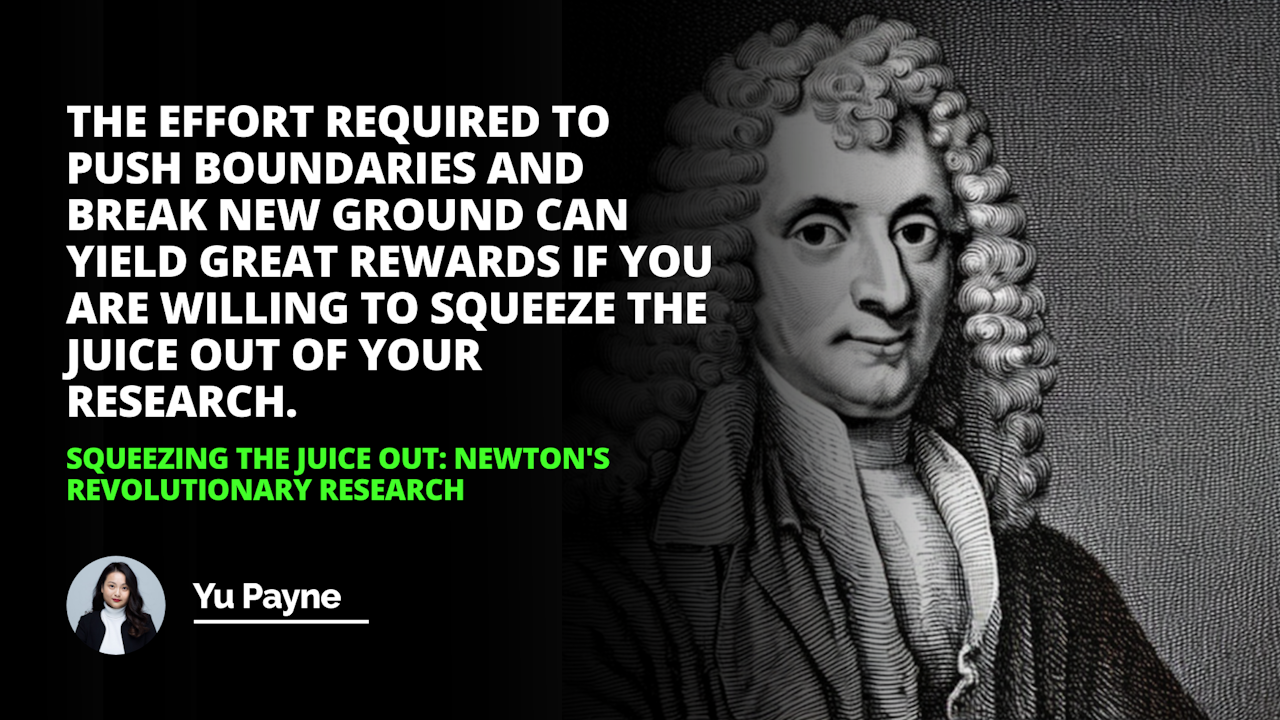 | Research Area | Contributions | Significance |
| --- | --- | --- |
| Laws of Motion and Gravitation | Established the three laws of motion and the universal law of gravitation. | These laws laid the foundation of classical mechanics; they are still used today to describe the motion of objects and celestial bodies. |
| Nature of Light | Proposed that light is composed of particles and demonstrated how light refracts and splits into its component colors. | These findings formed the basis of our understanding of light, explaining both reflection and color. |
| Calculus | Developed the basic techniques of calculus. | Calculus is a fundamental tool used in fields such as physics, engineering, and economics to model and solve complex problems. |
| Scientific Method | Conducted rigorous experiments to develop and test his theories. | Establishing a suitable method for scientific inquiry, he demonstrated the importance of experimentation in science. |
| Universal Physics | Applied the same laws of motion and gravity to both earth and the heavens. | His work unified the scientific understanding of physics on earth and in space. |
| Influence on Future Scientists | His revolutionary research laid a foundation that others built on. | Inventors and scientists continue to benefit from his pivotal work in the sciences. |
| Photonics | Newton's hypothesis about the particle nature of light paved the way for the field of photonics. | Photonics technology is now used in multiple areas, including the telecommunications and medical industries. |
| Astronomy | Used calculus to model the motion of celestial bodies. | His contributions helped explain astronomical phenomena and formed the basis of celestial mechanics. |
| Optics | Showed that white light is made up of a spectrum of colors. | Led to the development of spectroscopy, important in identifying substances in astronomy and chemistry. |
| Popularizing Science | His book Philosophiæ Naturalis Principia Mathematica explained complex ideas in ways that non-scientists could appreciate. | This helped bridge the gap between science and the public, promoting wider understanding and interest in scientific topics. |
Sir Isaac Newton's name conjures images of a man of extraordinary intelligence and ambition. Born in the 17th century, Newton was a scientific pioneer whose groundbreaking research revolutionized our understanding of natural phenomena.
His theories of motion, gravity, refraction of light, and calculus laid the foundations of modern science, opening the door to advanced applications in mathematics, physics, and astronomy. But before Newton's work was celebrated and his theories accepted, he had to develop his ideas and prove them with a logical set of experiments.
Head Start:
Newton was born in Woolsthorpe, England, on December 25, 1642. Newton originally studied to become a minister, but his interest in the sciences blossomed when he took classes at the University of Cambridge. Inspiration for his work came from other scientists, such as Galileo and Kepler, who were already making inroads into the universe's mechanics.
But Newton took this concept one step further. He realized that the same fundamental laws of gravity and motion could be applied to the solar system and earth.
Breaking New Ground:
Newton laid out his research in his renowned book Philosophiæ Naturalis Principia Mathematica. In these writings, he established the three laws of motion underpinning the universe's mechanics.
These laws are the law of inertia, the law of linear momentum, and the law of action-reaction. He also introduced the universal law of gravitation, which states that all bodies of mass attract each other and act according to the universal law of gravitation. This law explains planets' orbits and galaxies' movement with precision.
Plenty of Juice to Squeeze:
Newton did not stop there. He proposed a hypothesis regarding the nature of light, which was correct. He suggested that light is composed of particles, which we now know is true. He also showed that light refracts when it passes through a prism and splits into its component colors. This elegant experiment was the first to show that light has a dual nature and can be described by science.
The invention of calculus was also attributed to Newton. He developed the basic techniques of calculus, which are used today in the sciences and engineering. In addition, he used calculus to model the motion of planets and other heavenly bodies, providing a new way to explain the behavior of natural phenomena.
Conclusion:
Sir Isaac Newton's legacy lives on as one of the most brilliant minds of the 17th century. His revolutionary research would influence future generations of scientists and inventors. His theories of motion, gravity, refraction of light, and calculus laid the foundations for physics and mathematics. In addition, his addition to his research gave us a glimpse into how the universe operates and unlocked the secrets of the cosmos for all to explore.
Through his genius, Newton gave us a toolbox of knowledge so that we may continue to understand better, predict, and shape our world.
The effort required to push boundaries and break new ground can yield great rewards if you are willing to squeeze the juice out of your research.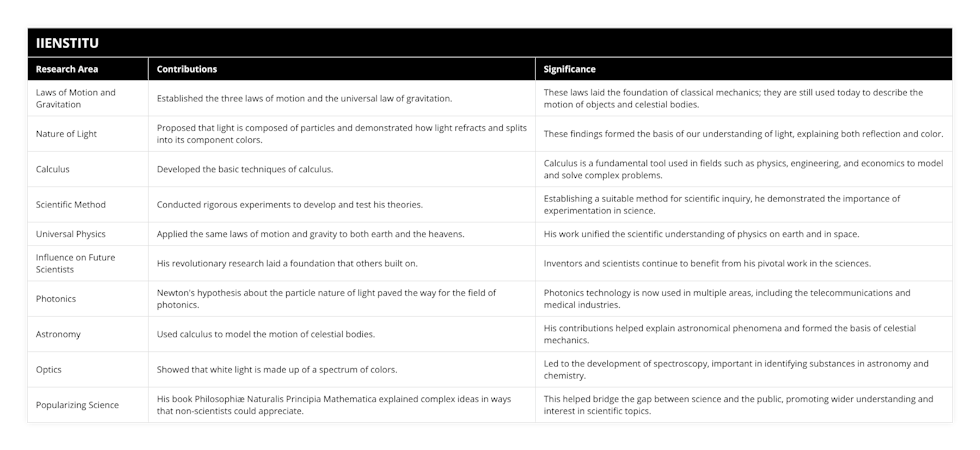 Sir Isaac Newton
Woolsthorpe
England
December 25
1642
University of Cambridge
Galileo
Kepler
Philosophiæ Naturalis PrincipiaMathematica
law of inertia
law of linear momentum
law of action-reaction
universal law of gravitation
particles
light refracts
prism
dual nature
calculus
motion of planets
heavenly bodies
physics
mathematics
cosmos
toolbox of knowledge.
Yu Payne
Blogger
Yu Payne is an American professional who believes in personal growth. After studying The Art & Science of Transformational from Erickson College, she continuously seeks out new trainings to improve herself. She has been producing content for the IIENSTITU Blog since 2021. Her work has been featured on various platforms, including but not limited to: ThriveGlobal, TinyBuddha, and Addicted2Success. Yu aspires to help others reach their full potential and live their best lives.
Related Posts
Our team of experts is passionate about providing accurate and helpful information, and we're always updating our blog with new articles and videos. So if you're looking for reliable advice and informative content, be sure to check out our blog today.