Supply Chain Management
Personality Tests Group Culture: Supply Chain Master It Now
18 February 2023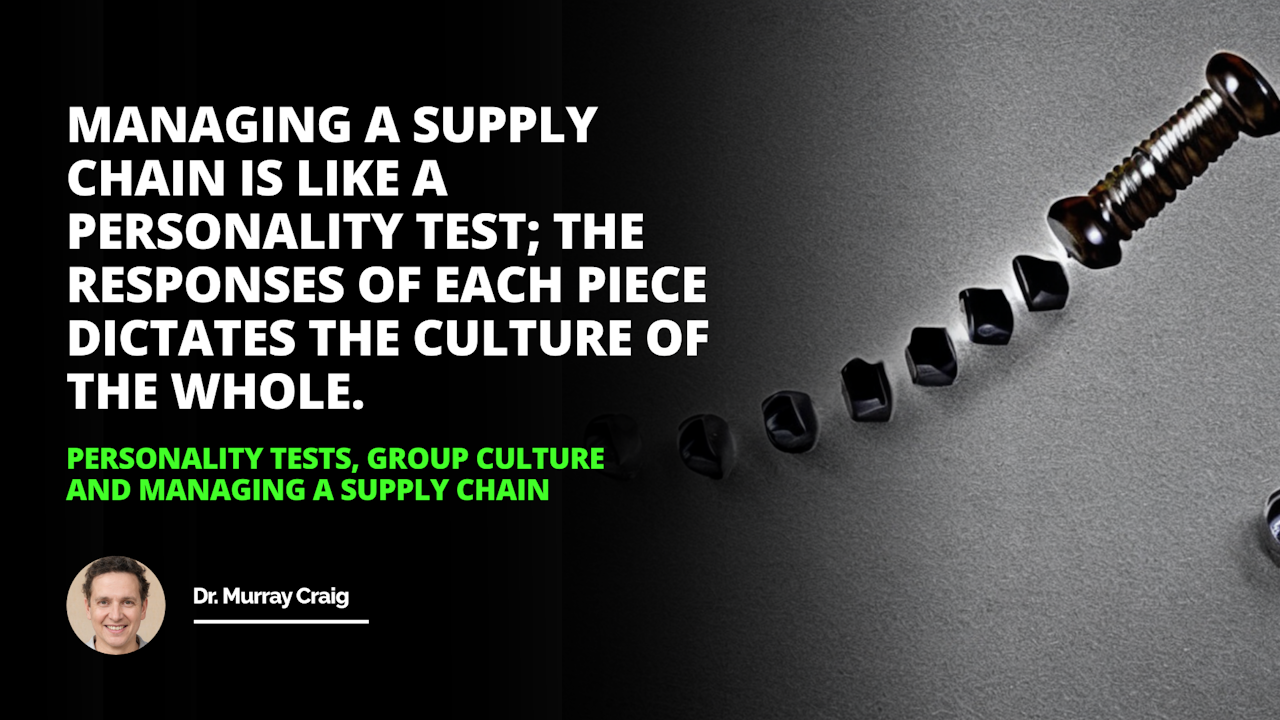 | Areas in Supply Chain Management | Role of Personality Tests | Key takeaways for Managers |
| --- | --- | --- |
| Role assignment | Determines employees' attitudes, values, and beliefs to assign specific roles | Can ensure precision in task assignment and improve overall team efficiency |
| Group Culture Understanding | Sheds light on shared values and beliefs of the team | Helps in aligning the group's dynamics with their goals and vision |
| Open Communication | Encourages the sharing of ideas and feedback | Fosters creativity and effective problem-solving |
| Communication with partners and suppliers | Not Directly involved | Maintaining open lines can improve the overall efficiency of the process |
| Team Dynamics | Identifies the personnel's strengths and shared values | Helps create an efficient functioning team |
| Role Understanding | Clarifies roles and responsibilities | Ensures everyone knows their part in the team |
| Efficiency | Helps maximize the use of individual strengths | Aligns the right personnel with the right job for efficiency |
| Creativity | Enables the identification of creative individuals | Enhances the problem-solving capabilities of the team |
| Cooperation | Discerns teams' shared beliefs and values | Promotes cooperation and understanding within the team |
| Supply Chain courses | Provide insights and tools for better Supply Chain management | Improves management by fostering harmonious and productive group culture |
I. Introduction

II. Personality Tests in the Supply Chain

III. Understanding the Group Culture of Supply Chain Teams

IV. Tips for Managing the Supply Chain

V. Conclusion
Personality tests and natural aptitude assessments are becoming popular tools in the modern business world, particularly the supply chain. These tests offer valuable insight into the different roles that a person should take when forming and managing a supply chain. They can also shed light on the group culture of the team – giving people a better understanding of each other's motivations and abilities. This blog post will look at the value of personality tests for supply chain management and provide insights on managing a supply chain team effectively.
Personality Tests in the Supply Chain
Personality tests measure attitudes, values, and beliefs that give people a distinct identity. In the supply chain, these tests can play an important role in gauging employees' strengths and assessing the best ones to assign specific roles within the team. By determining which employees best fit particular parts, the supply chain managers can ensure that tasks are assigned with precision in mind. This can improve the team's overall efficiency, as each employee can make the most of their strengths.
Understanding the Group Culture of Supply Chain Teams
Understanding the group culture of a supply chain team is also essential for successful management. Group culture refers to the shared values and beliefs that every member must agree on to cooperate effectively. These values establish the team's environment, helping everyone communicate better and collaborate to get results. In addition, personality tests can be used to ensure that the group's dynamics align with their goals and vision.
Tips for Managing the Supply Chain
Once the right personnel is in order and the team culture has been established, several practical tips can help managers develop and maintain an efficient supply chain.
Firstly, managers should ensure that team members understand their roles and responsibilities. This ensures that everyone knows their part in making the team successful.

Secondly, managers should create an environment of open communication where ideas and feedback can be shared freely. This will help to foster creativity and effective problem-solving.

Finally, supply chain teams should have open lines of communication with partners and suppliers. This can help to improve the overall efficiency of the process.
Conclusion
In conclusion, personality tests are a valuable tool for better understanding and managing a supply chain team. They help identify the personnel's strengths and the shared values that contribute to the team's culture. With the right combination of personnel and team dynamics, managers can ensure that the team functions efficiently. Following the tips outlined in this blog post, managers can implement effective strategies to enhance the supply chain.
Managing a supply chain is like a personality test. The responses of each piece dictate the culture of the whole.
The text sheds light on the significance of personality tests and natural aptitude assessments in managing a supply chain team effectively. It highlights how these tests help discern the strengths, values, and attitudes of team members and assign them roles that best suit their individual abilities, thereby improving the efficiency of the team. Understanding the group culture forged through shared beliefs and values also plays a crucial role in fostering open communication and cooperation among team members. Practical tips are further provided for managing the supply chain more efficiently. Overall, the application of tools and insights from supply chain courses, including personality tests, can significantly enhance supply chain management by fostering a harmonious and productive group culture.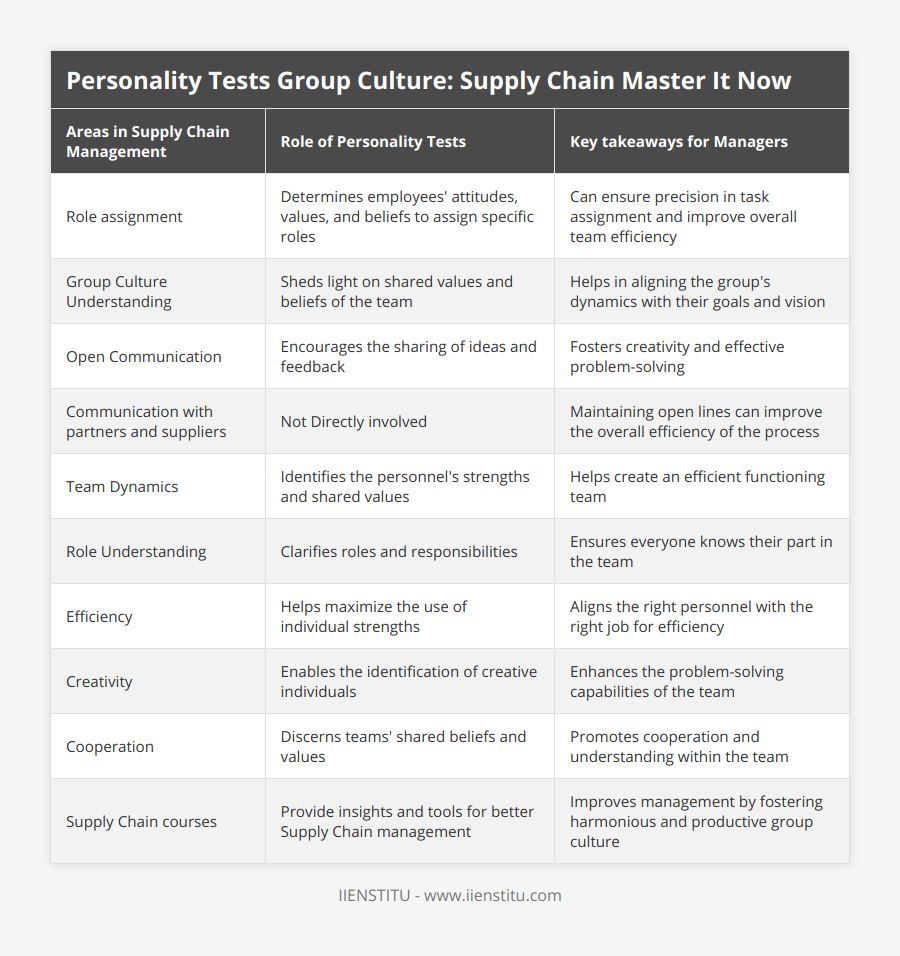 Personality Tests
Natural Aptitudes Assessment
Supply Chain
Group Culture
Roles
Individual Strengths
Communication
Partners
Suppliers
Strategies

Dr. Murray Craig
Academic
Dr. Murray Craig is an academic and researcher who has dedicated his life to the study of human behavior. He has a particular interest in how people interact with their environment, and how that interaction can be used to improve their lives. Dr. Craig has spent many years teaching and conducting research at universities all over the world, and he is widely respected for his work in the field of behavioral science.
Related Posts
Our team of experts is passionate about providing accurate and helpful information, and we're always updating our blog with new articles and videos. So if you're looking for reliable advice and informative content, be sure to check out our blog today.