Human Resources Management
Performance Management: Whats In It For Me
19 February 2023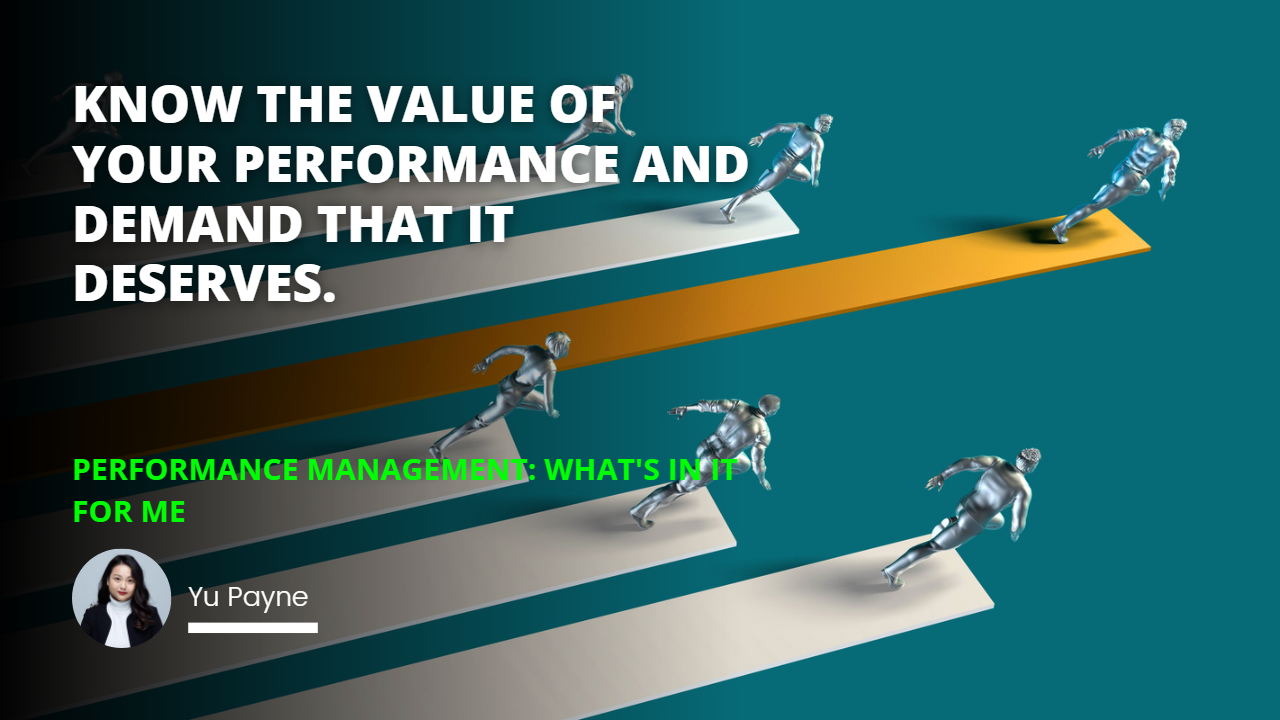 | Performance Management Aspect | Impact on Individual | Organizational Benefit |
| --- | --- | --- |
| Job Satisfaction | Increases engagement due to clear expectations and positive feedback. | Engaged employees enhance productivity and organizational climate. |
| Productivity & Efficiency | Empowers employees to take ownership of roles, fostering self-motivation. | Increased productivity and efficiency impacts the overall organizational bottom-line. |
| Building Development Plans | Helps the employee to identify their strengths and weaknesses for their own growth and improvement. | Development plan facilitates succession planning and competence mapping. |
| Goal & Objective Setting | Visualize personal goals, remain focused, inspired, and retain motivation. | Proper goal alignment ensures that everyone is working towards organizational objectives. |
| Talent Development | Supports the learning and development of new skills. | Helps identify, nurture, and retain top talent within the organization. |
| Employee Retention | Improves the feelings of respect and value amongst employees. | Boosts employee retention, decreasing turnover-related costs. |
| Ongoing Feedback | Enables self-improvement and mutual understanding with co-workers and superiors. | Creates a culture of improvement and achievement. |
| Continual Skill Enhancement | Opportunities for career development and personal growth. | Strengthens organization's human capital and competitiveness. |
| Career Progression | Helps to understand the career roadmap and strive towards it. | Fuels employee motivation, supporting the organization's growth. |
| Motivation | Achievement of personal goals leads to enhanced self-motivation. | Higher motivation levels directly link to increased productivity and performance. |
How Performance Management Affects the Individual

Building Development Plans

Benefits of Effective Performance Management
Why should you pay attention to performance management, particularly if you're an individual? Sure, it's an HR function that can help with team management, productivity, and efficiency, but what's in it for you? What are the benefits of performance management that relate to you?
When performance management is done right, it can hugely benefit the individual; it can help increase job satisfaction, streamline their work, and even build career development plans. Moreover, it helps boost individual growth and success, so it should not be solely managed at the team/organizational level.
Performance management is an ongoing process of setting performance expectations and objectives, tracking progress against those objectives, providing feedback, and offering guidance and support to individuals to help them progress. It's a cyclical process that allows the organization and its people to achieve their goals.
When individuals recognize the increasing role of performance management in their success and career development, they can tap into significant benefits. Here are the key benefits to consider when it comes to performance management:
How Performance Management Affects the Individual
Positive Effects on Job Satisfaction - Performance management can positively impact job satisfaction by providing employees with clear performance expectations. Knowing what's expected regarding tasks and results can help employees feel a sense of purpose and remain engaged in their work. In addition, positive feedback and recognition of exemplary performance reinforce job satisfaction and allow employees to challenge themselves.
Increased Productivity and Efficiency - Performance management can encourage employees to take ownership of their roles and to be self-driven and motivated. Employees can become more productive, efficient, and goal-oriented by identifying goals, setting objectives, and providing feedback and guidance.
Building Development Plans
When implemented effectively, performance management provides opportunities for employees to identify their strengths and weaknesses, understand how to improve their skills, and assess how their performance impacts the organization's success. Employees can build development plans through honest and constructive feedback that helps them grow and produce better outcomes.
Identifying Strengths and Weaknesses - Performance management can help employees identify their strengths to expand their knowledge and expertise in particular areas. On the flip side, it can also help them become aware of their weaknesses and assess how they can use those as a tool for development and growth.
Establishing Goals and Objectives - Performance management can help employees visualize their goals and objectives and set benchmarks for their performance. This can help employees stay focused and make progress toward their goals, which in turn can inspire them to stay engaged and motivated.
Benefits of Effective Performance Management
Improved Employee Retention - Performance management can help create an environment where employees feel respected and valued for their contributions. Establishing a culture of feedback and continuous learning can help employees stay engaged and, in turn, can boost employee retention rates.
Developing Talent - Performance management can help create a learning-focused culture encouraging employees to learn and develop their skills. This is especially important for organizations looking to recruit and retain talented employees. Performance management can help identify, nurture, and retain top talent and set the stage for long-term growth and success.
Conclusion: Performance management is vital in helping employees reach their goals and better manage their work. When done right, it can provide individuals with greater job satisfaction, help them become more productive and efficient, contribute to their growth and development, and even improve employee retention. All of these can greatly benefit an individual, so paying attention to performance management and ensuring it's working for you is essential.
Know the value of your performance and demand the reward that it deserves

Performance Management
Job Satisfaction
Productivity
Efficiency
Career Development
Goals
Objectives
Feedback
Guidance
Strengths
Weaknesses
Improved Employee Retention
Developing Talent
Yu Payne
Blogger
Yu Payne is an American professional who believes in personal growth. After studying The Art & Science of Transformational from Erickson College, she continuously seeks out new trainings to improve herself. She has been producing content for the IIENSTITU Blog since 2021. Her work has been featured on various platforms, including but not limited to: ThriveGlobal, TinyBuddha, and Addicted2Success. Yu aspires to help others reach their full potential and live their best lives.
Related Posts
Our team of experts is passionate about providing accurate and helpful information, and we're always updating our blog with new articles and videos. So if you're looking for reliable advice and informative content, be sure to check out our blog today.