Personal Development
Opting Out: Procrastination and its Costs
23 February 2023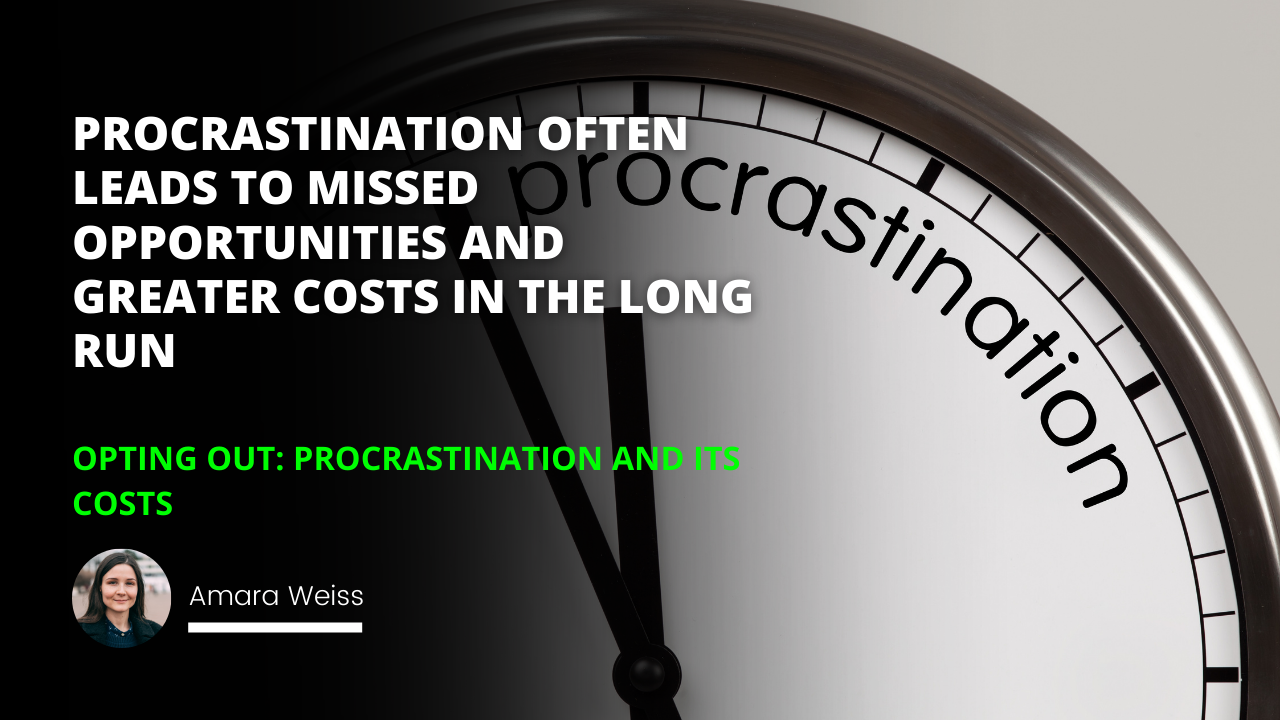 | Key Factors | Explanation | Outcomes |
| --- | --- | --- |
| Consequences of Procrastination | Missed deadlines, lost opportunities and feelings of inadequacy. | Reduced productivity, stress, and impacts on mental and physical health. |
| Causes of Procrastination | Fear of failure, perfectionism, and lack of motivation. | Stagnation and avoidance of risks, failure to start projects. |
| Strategies for Overcoming Procrastination | Setting realistic goals, breaking tasks into manageable steps, and being aware of negative thought patterns. | Increased productivity, focus, and sense of accomplishment. |
| Benefits of Overcoming Procrastination | Increased productivity, better mental and physical health, improved organization and well-being. | Achievement of goals, boosted confidence, continued striving and setting of new goals. |
| Implication of Perfectionism | The need to complete everything perfectly often causes procrastination. | Paralysis due to fear of non-perfection, inaction, and delay in projects. |
| Fear of Failure | Anxiety about failure can result in procrastination. | Delay in commencing projects, stagnation, and risk aversion. |
| Lack of Motivation | Inability to begin a project due to insufficient motivation. | Delayed commencement of projects and constant avoidance of tasks. |
| Task Management | Breaking down tasks into smaller, manageable steps helps to overcome procrastination. | Maintained focus and motivation, easier accomplishment of tasks. |
| Mindset Modification | Focusing on the process of achieving a goal rather than on the goal itself aids in reducing procrastination. | Effective management of negative thoughts, improved performance. |
| Goal Setting | Setting realistic and achievable goals is a practical strategy for overcoming procrastination. | Increased productivity and sense of accomplishment, achievement of goals. |
Negative Consequences of Procrastination

Causes of Procrastination

Strategies for Overcoming Procrastination

Reaping the Benefits of Overcoming Procrastination
Procrastination is the act of delaying or postponing an important task or activity. In today's busy world, staying focused on your goals and functions has become increasingly challenging. As a result, we are all tempted to engage in activities far from productive, taking us away from our intended path. Only when our procrastination's long-term consequences become too great do we realize that!
Negative Consequences of Procrastination
When we manage our time efficiently, we stay calm and energized, leading to better performance in our work and school. Conversely, missing deadlines, losing opportunities, and feeling inadequate are all expected consequences of procrastination. In addition, staying up late to finish work causes our physical and mental health to suffer. As a result, we become lazy, prone to illness, and have difficulty focusing. This can, in turn, lead to decreased productivity and a feeling of helplessness.
Causes of Procrastination
Perfectionism is a common cause of procrastination. Wanting to do everything perfectly can be paralyzing, as perfectionists are often unable to take action for fear of failing or not doing something perfectly. Additionally, many of us have an unconscious fear of failure. As a result, we often delay starting something because we are anxious about how it will happen. This keeps us stagnant and prevents us from taking risks and pushing ourselves. Finally, those lacking motivation often need help getting started on a project, leading them to put it off.
Strategies for Overcoming Procrastination
The good news is that overcoming procrastination is possible! Setting realistic and achievable goals, breaking tasks into smaller steps, and pushing through mental barriers are all excellent strategies for conquering procrastination. Breaking an extensive assignment or task into manageable tasks can make it easier to stay focused and motivated. Being conscious of negative thought patterns and pushing back against them can also be beneficial. Lastly, it is helpful to focus on the process of achieving a goal rather than the goal itself.
Reaping the Benefits of Overcoming Procrastination
Once you overcome procrastination, the positive effects will start to be felt. Increased productivity and a sense of accomplishment will be the first benefits that you experience. Then, improved mental and physical health and better focus, organization, and overall well-being will follow. Finally, once you have achieved your goals, you can use your newfound confidence and perspective to continue striving and setting new goals!
Conclusion: Procrastination can be daunting, but it is possible to overcome it. Setting realistic goals, breaking tasks into manageable pieces, and pushing through mental barriers can increase productivity and lead to healthier, more productive lives. With the right strategies and focus, we can combat the adverse effects of procrastination and reap the many benefits of achieving our goals!
Procrastination often leads to missed opportunities and higher costs in the long run.

Procrastination
Perfectionism
Fear of Failure
Motivation
Strategies
Goals
Process
Benefits
Productivity
Accomplishment
Mental health
Physical health
Focus
Organization
Wellbeing

Amara Weiss
Institute Secretary, Author
I am Amara Weiss and for many years I have worked in the field of education, specifically in the area of technology. I firmly believe that technology is a powerful tool that can help educators achieve their goals and improve student outcomes. That is why I currently work with IIENSTITU, an organization that supports more than 2 million students worldwide. In my role, I strive to contribute to its global growth and help educators make the most of available technologies.
Related Posts
Our team of experts is passionate about providing accurate and helpful information, and we're always updating our blog with new articles and videos. So if you're looking for reliable advice and informative content, be sure to check out our blog today.