Human Resources Management
Maximizing Performance: Corporate HR Strategic Manpower Planning
18 February 2023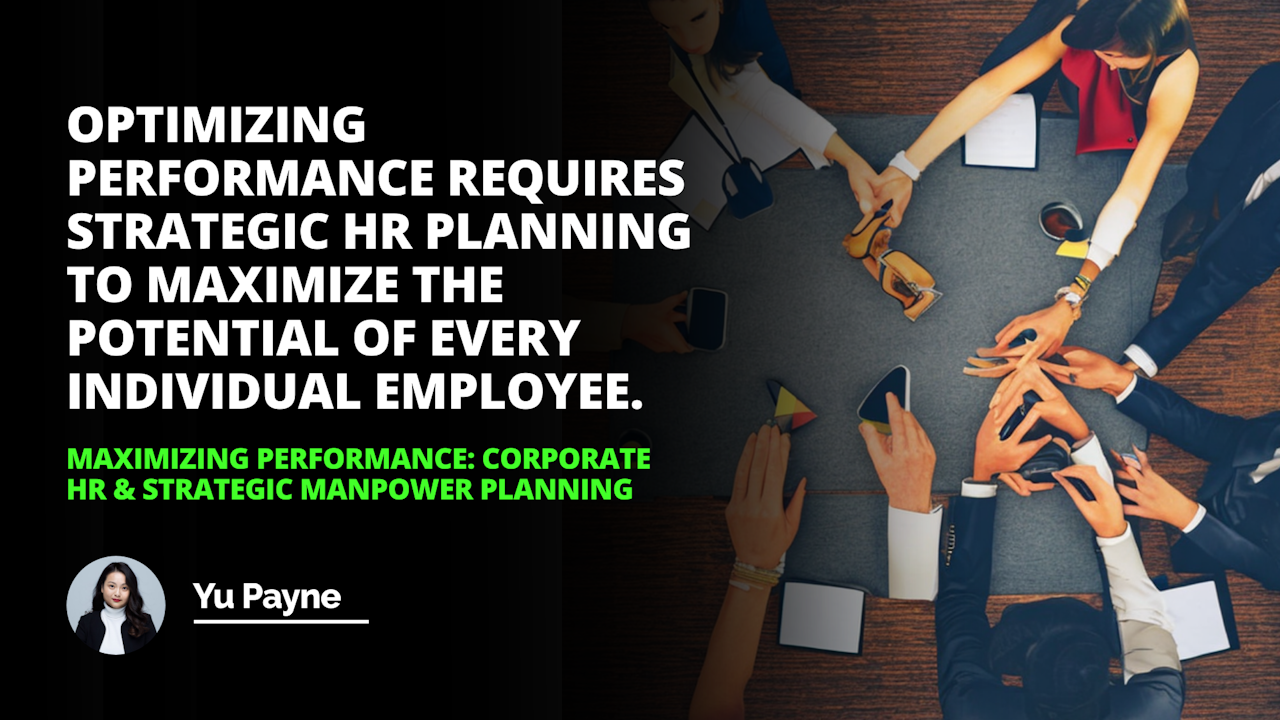 | Key Topics | Summary | Additional Information |
| --- | --- | --- |
| Definition of Strategic Manpower Planning | Strategic workforce planning (SMP) involves proactively managing and investing in human resources to ensure the successful operation of a business. | SMP ensures the right people are in the right roles at the right time by aligning with the business's strategy and its ability to execute. |
| Overview of Corporate HR | Corporate HR supervises the benefits, policies, and services an organization offers to its employees and the public. It shapes culture, values, and goals within the organization. | Through corporate HR activities, an organization supports recruitment, boosts individual and team performance, and fosters workplace diversity. |
| Barriers to Corporate HR & Strategic Manpower Planning | Challenges include unclear job profiles, misalignment of goals and roles, lack of organizational understanding, trust issues, and insufficient training opportunities. | Comprehensive strategies and focused efforts are needed to overcome these barriers and maximize the benefits of corporate HR and SMP. |
| Maximizing Performance through Corporate HR & SMP | The importance of setting clear objectives, establishing accurate roles, aligning goals, incentivizing, leveraging technology, and promoting open communication all contribute to performance maximization. | The continuous review and adjustment of these factors are vital to staying competitive and maintaining high performance in the ever-evolving business environment. |
| Successful Practices & Examples | Companies like Microsoft and Google have thrived by implementing employee engagement, open communication, flexible working arrangements and wellness programs. | Employee-centric approaches to productivity and performance have proven to be successful in these organizations. |
| Conclusion: The potential of corporate HR & SMP | Robust HR and SMP can significantly improve organizational performance when implemented strategically. | An alignment between human resources and company goals leads to increased efficiency and performance. |
| The Importance of Accurate Job Profiles | Without precise job profiles, it's challenging to fit the right people into the right roles, leading to performance inefficiencies. | A company must invest time and resources to create and update accurate job profiles for successful workforce planning. |
| Aligning Employee Goals with Organizational Objectives | For successful corporate HR, it's essential for employees to understand the company's goal and how their own role contributes to these objectives. | Combining individual and company goals promotes employee engagement and productivity, vital for attaining organizational success. |
| Use of Modern Technology | Keeping up with the latest technology developments supports employee productivity and creates an appealing work environment. | Investments in technology such as AI, automations, and communication platforms can significantly boost corporate productivity. |
| The Power of Incentives and Rewards | Rewarding employees for attaining performance targets fosters motivation, collaboration, and a sense of achievement. | Both tangible and intangible rewards can be used to motivate and cultivate high-performance teams in an organization. |
Definition of Strategic Manpower Planning

Overview of Corporate HR

Examining Barriers to Corporate HR & Strategic Manpower Planning

Understanding How to Maximize Performance through Corporate HR & Strategic Manpower Planning

Exploring Successful Practices & Examples
At the heart of an organization's success lies the ability to match its goals and objectives with the right people, processes, and resources. The two essential tools in enabling an organization to effectively deliver on its goals and embrace the ever-evolving business environment are corporate HR and strategic workforce planning.
Definition of Strategic Manpower Planning
At its core, strategic workforce planning (SMP) is the process of proactively managing and investing in people resources to ensure the successful operation of a business. It is a vital link between the business's strategy and its ability to execute. By carefully selecting, accessing, and utilizing the organization's human resources, SMP ensures that the right people are in the right roles at the right time.
Overview of Corporate HR
Corporate HR provides and supervises the benefits, policies, and services an organization offers its employees and the wider public. It is an essential element of an organization's Human Capital Management function. In addition, corporate HR activities help to shape an organization's culture, values, and goals by supporting recruitment, developing individual and team performance, and nurturing a diverse and inclusive workplace.
Examining Barriers to Corporate HR & Strategic Manpower Planning
Despite the importance of corporate HR and strategic workforce planning, several barriers exist to successfully implementing these practices. One of the most common barriers is the lack of an accurate job profile for each role, limiting the ability to match people with the right jobs accurately. Other barriers can include a lack of alignment between the organization's goals and the individual employee, a lack of understanding of the importance of these practices within the organization, difficulty building trust between senior management and employees, and a lack of suitable and accessible training opportunities.
Understanding How to Maximize Performance through Corporate HR & Strategic Manpower Planning
To maximize performance and ensure that a business is set up for success, the following steps should be taken into consideration:
Set clear goals and objectives. Ensure the goals and objectives of the business are well communicated and understood by all stakeholders.

Establish accurate job profiles. Develop detailed job profiles to match individuals with roles accurately.

Align employee goals with the organization's objectives. Ensure that every employee understands the organization's goals and objectives and how their individual goals and objectives fit with this.

Offer incentives and rewards. Reward employees for reaching performance targets and promote team activities that encourage collaboration and creativity.

Make use of the latest technology to sustain employee productivity. Ensure that the organization keeps up with the latest trends and technology to maintain a competitive edge and create an attractive working environment.

Foster an open culture of communication. Encourage open dialogue and collaboration between employees, management, and other stakeholders to ensure that issues and ideas can be addressed effectively.
Exploring Successful Practices & Examples
Several organizations have successfully implemented corporate HR and strategic workforce planning to maximize performance. Microsoft, for example, places a strong emphasis on employee engagement in its workforce and its approach to strategic planning. It fosters an open culture of communication where ideas and constructive feedback are actively encouraged. Alternatively, Google strongly emphasizes its people-centric approach to productivity and performance. It has developed several best practices, such as flexible working arrangements and wellness programs, to foster a productive and motivated workforce continuously.
Conclusion: Corporate HR and strategic workforce planning have the potential to improve organizational performance significantly. Organizations should ensure clear goals, accurate job profiles, and an open communication culture to ensure success. In addition, organizations should explore modern technologies such as flexible working arrangements and wellness programs to provide the best chance of success. By taking these steps, organizations can ensure that their human resources are effectively aligned with their goals and objectives, resulting in greater efficiency and increased performance.
Optimizing performance requires strategic HR planning to maximize the potential of every individual employee.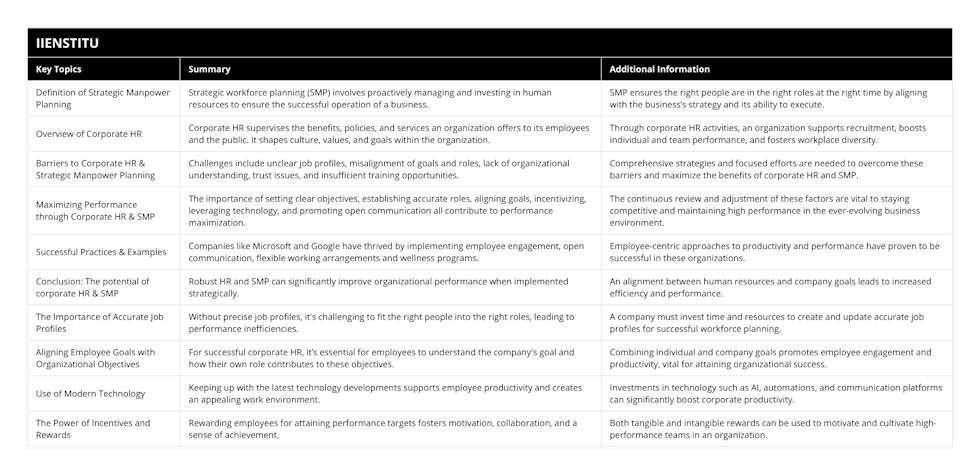 Corporate HR
Strategic Manpower Planning
goals
objectives
job profile
alignment
trust
training opportunities
incentives
rewards
technology
communication
flexible working arrangements
wellness programs
human resources
efficiency
performance
Yu Payne
Blogger
Yu Payne is an American professional who believes in personal growth. After studying The Art & Science of Transformational from Erickson College, she continuously seeks out new trainings to improve herself. She has been producing content for the IIENSTITU Blog since 2021. Her work has been featured on various platforms, including but not limited to: ThriveGlobal, TinyBuddha, and Addicted2Success. Yu aspires to help others reach their full potential and live their best lives.
Related Posts
Our team of experts is passionate about providing accurate and helpful information, and we're always updating our blog with new articles and videos. So if you're looking for reliable advice and informative content, be sure to check out our blog today.